Pairing the warm, earthy sweetness of maple with the soft, creamy texture of bread pudding is comfort food at its finest. Simply adorned with some coarse sugar or a sprinkle of toasted nuts, these little bowls of winter warmth elevate the classic, humble dessert from a child's nursery food to a deeply satisfying adult dessert.
The heart of a good bread pudding lies in the custard. For this version — Individual Maple Bread Puddings — I combine whole eggs and cream (half 'n' half or light cream) along with a double dose of maple flavor —syrup and granulated — for next-level flavor and richness. I will look the other direction if you chose to use milk in place of some of the cream but promise me that you'll only use whole milk (2% or less will make a watery pudding) and you'll still include some cream.
For the main flavor-drivers, use a pure maple syrup and not imitation or pancake syrup. I prefer the stronger, more robust flavor of grade B, but grade A (medium or dark amber) can be substituted. Granulated maple sugar is available in gourmet stores and widely available through online sources. In a pinch, you can use the same amount of light brown sugar but the flavor isn't as maple-y.
Dinner rolls or a loaf of challah or brioche are all good choices for this pudding but of course you don't need to bake up a loaf just for this recipe — store-bought is A-ok, and in fact using leftover bread when possible is not only fine, but good. Drier bread cubes will soak up more of the yummy custard for a more evenly textured pudding, but I've had decent results when using a fresh loaf in a pinch.
For a smoother, creamier texture, I trim away the crusts. But for a more rustic feel, skip this step. We are making individual servings here so I suggest cutting the bread into small cubes for the simple reason that they fit more evenly in the ramekins. While my preference is to always list weights for ingredients, the weight of bread in this recipe would vary depending on the type and age of the bread. For volume measuring, it's best to use a 1-cup metal measure and lightly pack the cubes. Too tightly packed and you'll have more bread than custard and the pudding will end up "stodgy", as the Brits would say.
This is our 20th installment of Baking Together. If you're new to our Baking Together column, be sure to check out our other recipes: One Bowl Vanilla Cupcakes with Milk Chocolate Frosting; Pumpkin Cream Cheese Tart with Crushed Pretzel Crust, Butter Pecan Slice-and-Bake Cookies, Lemon Rosemary Parmesan Scones, Pie Plate Chocolate Chippers, Cream Cheese Pound Cake, Strawberry Shortcake, Lemony Blueberry Bars with Chunky Almond Crumble, Make-Ahead S'mores Squares, Streusel-Topped Ginger Pear Coffee Cake, Classic Apple Crumb Pie, Strawberry Hand Pies, Vanilla Rice Pudding for Two, The Ultimate Flourless Chocolate Cake, Coconut Cinnamon Tea Cake, Cheesy Biscuits Squared, Buttery Small-Batch Dinner Rolls, and Lemon-Ginger Butter Cookies.
We'd love to hear from you! Please drop a note in the comments section under the recipe and let us know your thoughts and if you made any changes so we can all learn from each other. It's the goal of our Baking Together sessions here on Cook the Vineyard!
KITCHEN NOTES
For a clean pour into the ramekins, use a 4-cup measure with a spout as your mixing vessel.
While the bread is soaking, gently press down on the cubes, turning over the top ones so they soak up as much of the custard as possible.
Baking time will depend on your ramekins, ones with thicker sides (like heavier ceramics) will likely take a little longer.
Fashion your own homemade gripper tongs (wrap rubber bands around tongs; see photo) or use a canning jar lifter for the most secure moving of ramekins.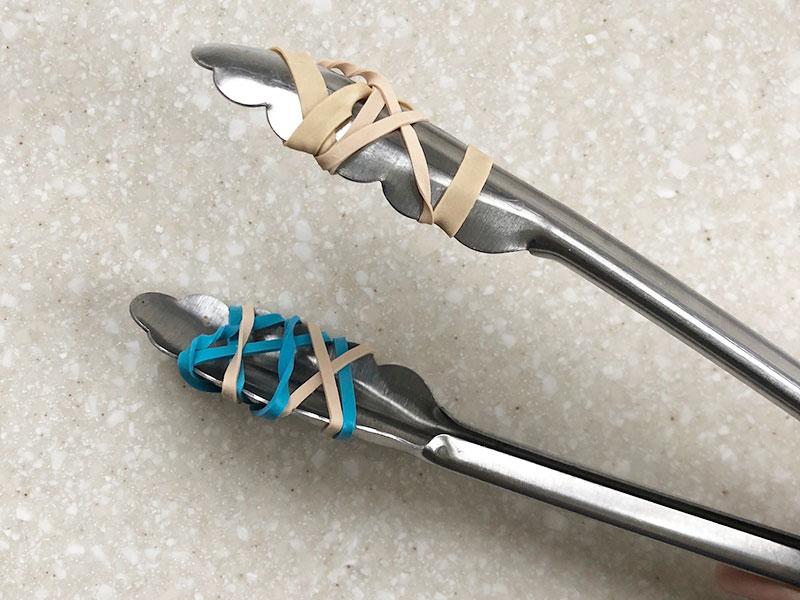 ADD-INS
Use slightly less bread cubes and tuck small pieces of fruit into the ramekins before adding the custard. Ripe banana slices or blueberries pair well with the maple flavors as does chopped white chocolate.
MAKE AHEAD
The puddings can be assembled, covered, and refrigerated for up to 8 hours. Press down on the bread occasionally to cover with the custard. Let them sit at room temperature while the oven heats.
The puddings can be baked, cooled, covered, and refrigerated for up to two days. Serve at room temperature or warm slightly in the oven or microwave with any of the suggested toppings.