Call it a quick bread or a tea cake, but this treat is one recipe you'll want to keep very handy. It's so easy to put together (no mixer required) and it takes well to all kinds of variations (check them out here or see below). I think the variation with chopped chocolate is my favorite, but one with diced apples is lovely, too. The cake can be made in a loaf pan (like a traditional quick bread) or a cake pan (even glazed if you like — see recipe below), so all you really have to do is stock up on shredded coconut and coconut milk and you can make this anytime.
Whenever you do make it, be sure and leave us a note in the comments section under the recipe and let us know how you customized it. After all, we're Baking Together (this is our 13th installment!).
Editor's note: The variation with chopped chocolate, in a round cake pan, was baked for the photos on the top and middle of this page. The bottom photo on this page was the apple version, baked in a loaf pan.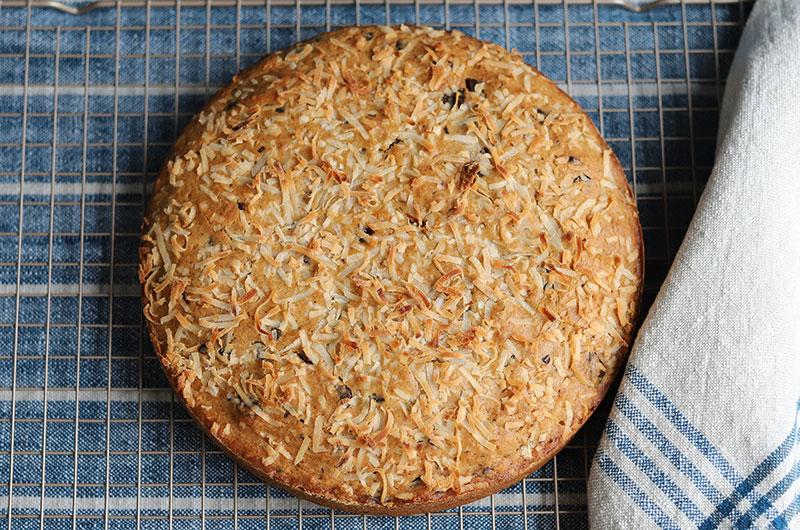 Tips for Success:
To assure the softest texture and crumb, fold the batter just until the liquids and dry ingredients are blended. A heavier hand will result in a denser texture.
Room temperature ingredients are always best for an even blended batter but, if you are short on time, the cake can handle cooler ingredients with success.
Serves 8 to 10
2 cups (9 ounces) unbleached all-purpose flour
2/3 cup (4 5/8 ounces) firmly packed light brown sugar
1 tablespoon baking powder
1 1/4 teaspoons ground cinnamon
3/4 teaspoon table salt
1 cup (8 1/2 ounces) coconut milk, at room temperature
1/2 cup (3 7/8 ounces) neutral oil
2 large eggs, at room temperature
1 1/2 teaspoon pure vanilla extract
1/2 teaspoon coconut extract (optional)
1/2 to 3/4 cup (3 to 4 1/2 ounces) chopped chocolate (bittersweet or white chocolate are my favorites) or 1 cup (3 3/4 ounces) diced apples
1/4 cup (5/8 ounce) sweetened shredded coconut , plus more for the top
1. Position a rack in the center of the oven and heat the oven to 350°F. Lightly grease and flour the bottom and sides of a six-cup loaf pan (I use Pyrex) or an 8-inch square baking pan or a 9-inch round cake pan.
2. Put the flour, brown sugar, baking powder, cinnamon, and salt in a medium bowl and whisk until well blended. Put the coconut milk, eggs, oil, vanilla, and coconut extract, if using, in a small bowl (or measure the coconut milk and oil in a 2-cup glass measure and add the eggs, vanilla and coconut extract, if using) and whisk until well blended.
3. Pour the liquid over the dry ingredients and add the chopped chocolate (or diced apples) and shredded coconut. Using a silicone spatula, gently fold until just blended. Scrape into the prepared pan and spread evenly. Scatter 2 to 3 tablespoons shredded coconut evenly over the top of the batter.
4. Bake until a pick inserted in the center comes out clean, 56 to 60 minutes for the loaf pan, 40 to 45 minutes for the square pan or round cake pan. (The top will be golden brown.)
5. Move the pan to a rack and let cool for 15 to 20 minutes. Run a knife between the cake and the pan to loosen the cake, then invert onto a rack and lift off the pan. Arrange the cake right side up and let cool completely.
The cake can be covered and stored at room temperature for up to 4 days.
---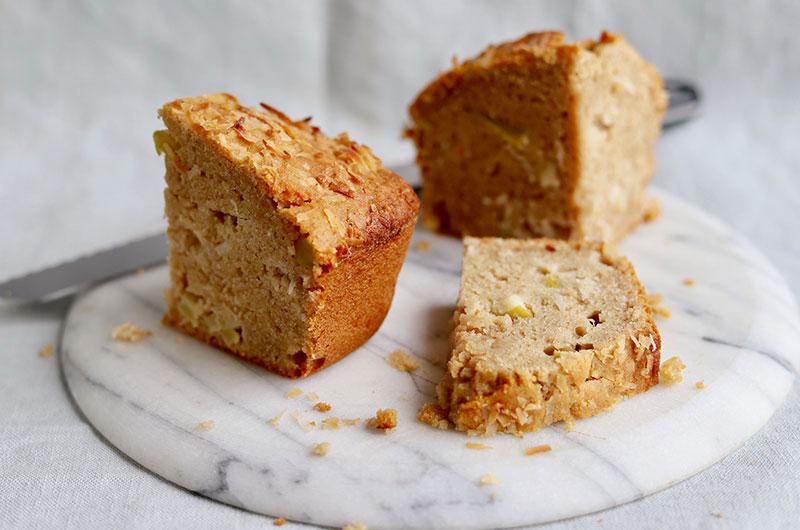 Flavor Twists
Want to go with fruit but don't have apples? No problem. You can swap in another fruit. Pears or any ripe fruit will work. Right about now, I'm dreaming of all of those summer fruits that will be coming soon. The first chance I get, I'll make a sugar-topped blueberry version with the shredded coconut and grated lemon zest using buttermilk. Yum. I can almost smell it baking now.
As I mentioned, chopped chocolate is my favorite addition and comes in handy when the crisper is empty. White or bitter/semisweet plays well with the cinnamon flavor and has a similar taste to a coffee cake streusel filling. Mini chips are an easy substitution if a bar isn't on hand.
Nut additions are cool too. Feel free to replace the chocolate or fruit with your choice of chopped nuts.
Topping your batter makes a pretty presentation and adds a crunchy goodness to the cake. I like to scatter some coarse sanding sugar (like Sugar in the Raw) on top of the batter before baking but you can also use a couple of tablespoons of medium-fine chopped nuts to the top. And shredded coconut, of course! Of you can dress your tea cake up with a little glaze (recipe follows).
Creamy Sugar Glaze
If you want to turn up the fancy on your tea cake, feel free to drizzle this quick glaze over the cooled cake.
1/2 cup (2 ounces) confectioners' sugar, sifted if lumpy
1 tablespoon heavy cream, plus more as needed
1/8 teaspoon pure vanilla, almond or citrus (lemon or orange) extract

1. Put the confectioners' sugar, cream and extract in a small bowl and stir until well blended. Add a drop or two more cream until the glaze is smooth, very thick, and shiny.
2. Using a teaspoon, drizzle over the top of the cooled cake.