This small batch of individual bread puddings is a perfect dessert to whip up for the family with ingredients you'll mostly have on hand in your fridge and pantry. (Maple sugar may be the one exception; find it at Vineyard Grocer on the Vineyard or mail order from King Arthur Flour. Or substitute brown sugar).
Pairing the warm, earthy sweetness of maple with the soft, creamy texture of bread pudding is comfort food at its finest. Simply adorned with some coarse sugar or a sprinkle of toasted nuts, these little bowls of winter warmth elevate the classic, humble dessert from a child's nursery food to a deeply satisfying adult dessert. You'll want to be sure to read Baking Together #20 before you start on the recipe to get all the tips for success and suggestions for variations.
Serves 4
To make the puddings:
Butter for greasing ramekins
2 cups (lightly packed) bread cubes (about 1/2 to 3/4-inches each), preferably from egg-based bread like brioche or challah
3 tablespoons (2 ounces) pure maple syrup (darker grade if possible)
2 tablespoons granulated maple sugar or firmly packed light brown sugar
1/8 teaspooon table salt
2 large whole eggs
1 1/3 cups (10 5/8 ounces) half-and-half or light cream
1 tablespoon bourbon or 1 teaspoon pure vanilla extract
For serving (optional):
Pearl sugar (also called nib sugar; I like Lars Own)
Chopped and toasted pecans
Chopped chocolate or chocolate crispearls (Callebaut is my favorite brand)
Whipped cream
Maple syrup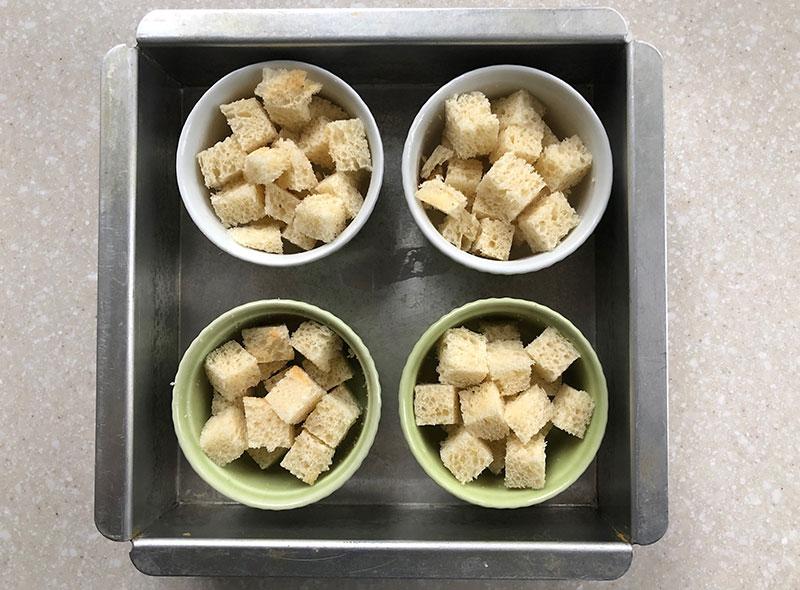 Make the pudding:
1.Lightly grease four 6-ounce ramekins (or shallow custard cups) and arrange in a larger baking pan that can comfortably hold the ramekins (8 or 9-inch square works well). Divide the bread cubes evenly among the ramekins.
2. Put the maple syrup, granulated maple sugar or brown sugar, and salt in a medium bowl and whisk until blended and any lumps of sugar have dissolved. Add the eggs and whisk until well blended. Add the half-and-half or light cream and the bourbon or vanilla and whisk until well blended. Pour the egg mixture over the bread cubes filling the ramekins evenly. Set aside at room temperature, pressing down on the cubes occasionally to cover with the custard, until the bread cubes are well soaked, about 45 minutes. (See Make-Ahead notes.)

To bake and serve:
1. Position a rack in the center of the oven and heat the oven to 350°F. Pull out the oven rack slightly and put the baking pan on the rack. Carefully pour very hot tap water into the pan to reach about halfway up the sides of the ramekins (see note).
2. Bake until the centers of the puddings spring back when gently pressed with a finger, 30 to 34 minutes. Carefully move the baking pan to a rack and let cool for about 15 minutes. Using gripper tongs, lift the puddings out of the water (careful – they are hot) and move to a rack to cool. Serve warm or at room temperature with any (or all) of the serving suggestions.