Hello friends! I'm so excited to be baking together with you again here at Cook the Vineyard. For this installment of Baking Together, I'm back on the sweet side of my kitchen to bring you my version of a classic. It's a cream cheese pound cake. This vanilla beauty is so super moist (psst… it's the cream cheese) and deeply flavorful (hello, salt and vanilla) that I'm hard-pressed to allow the loaf time to cool completely before slicing off just a bit for a nibble or two.
This cake is also wonderfully versatile both in flavor and in serving possibilities. Much like a little black dress, it can take you anywhere and to any function. It can be a casual picnic snack or a delicious breakfast toasted and smeared with jam. It can also be the star of your summer berry pudding or your winter holiday dessert trifle. I've included more serving ideas in the recipe. I hope you have some fun with this cake!
As a kid, I spent many Sunday afternoons in the kitchen baking alongside my Mom. We baked everything from simple brownies to classic French pastries. But one of my all-time favorites was her cream cheese pound cake. I marveled at how the batter came together so easily and quickly and how such simple ingredients created such a deep and rich flavor. Truth be told, I've tinkered with the recipe a bit, but it's still very similar to Mom's.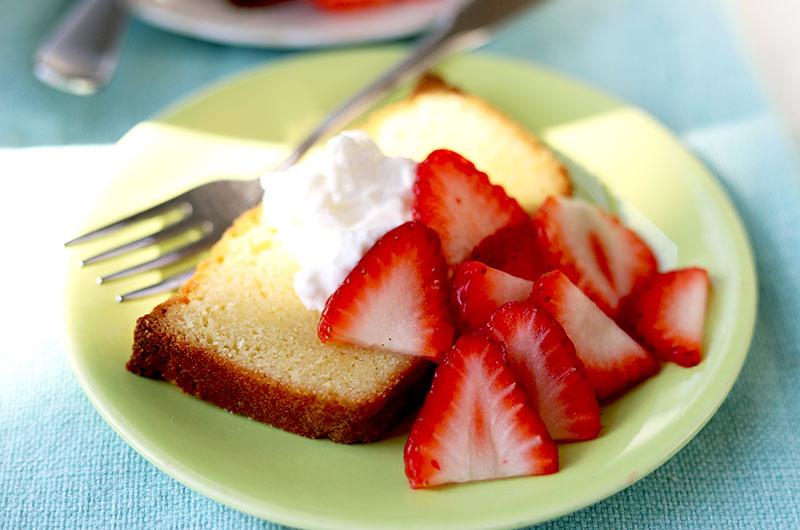 When short on time, Mom simply sliced up the pound cake and served it without any garnish. For a Sunday night in the summer, she might toss some fresh berries with sugar and a hint of vanilla to serve alongside gently warmed slices. And sometimes there would be a dollop of whipped cream, too. On the rare occasions that there were leftovers, Mom had a few tricks up her sleeve. Turns out cubed pound cake is mighty tasty when used as a substitute for the bread in a bread pudding. Layering smaller cubes with whipped cream, fruit, and lemon curd in glass jars was another house specialty. (Mom was ahead of her time with that trick.) Today I use that inspiration to make a gorgeous winter trifle.
I love all of these serving ideas, but if you ask my family, they'll tell you that my favorite way to eat this pound cake is to toast a slice for breakfast. While it isn't technically a "coffee" cake, it does pair beautifully with my morning tea. I can't imagine a better way to start a day on the Vineyard or anywhere you find yourself.
To make sure your pound cake is as good as it can be, I've included plenty of tips (both in the recipe and below) for those of you who want to dig a little deeper into some secrets for pound-cake baking success.
And if you're new to our Baking Together column, be sure to check out our first four recipes: One Bowl Vanilla Cupcakes with Milk Chocolate Frosting; Pumpkin Cream Cheese Tart with Crushed Pretzel Crust, Butter Pecan Slice-and-Bake Cookies, Lemon Rosemary Parmesan Scones.

Keep in touch, stay warm and bake on!
---
Tips for Pound Cake-Baking Success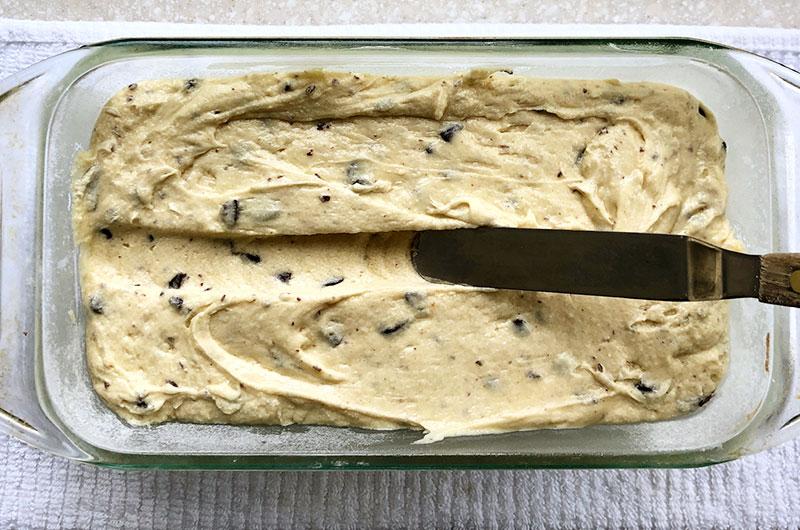 Ingredients
For proper blending and the best texture, make sure all your ingredients are at room temperature.
For a deep richness and a yellow-y cake, I like to use two whole eggs plus two yolks. That said, you can replace the two yolks with one egg for a total of three whole eggs if it's easier for you.
Don't skimp on the salt! The amount (3/4 teaspoon table salt) might seem like a lot but it's imperative to achieve the fullest flavor.
You'll notice I add a little light brown sugar along with the granulated sugar to the batter. I love how it adds a hint of butterscotch-y / brown butter nuance that elevates and accentuates the loaf's butter-y goodness.
You can vary the pound cake with a variety of add-ins (see the recipe) like the chopped chocolate in the batter above.
Techniques
Gently fold the flour into the batter until it is just blended. Over mixing can make the texture of the baked loaf a bit tough. It can also lead to pesky air pockets. Neither are end-of-the-world issues but it's best to avoid them if you can.
And speaking of air pockets, I recommend rapping the batter-filled loaf pan on the counter several (four to six ) times to settle the batter and release any air bubbles that might be lingering below the surface. Because I like using my Pyrex loaf pan for this recipe and I don't want it to break, I spread a folded dishtowel on the counter to use as a soft-landing spot for the pan.
What about that gorgeous split-top look? Once I've tapped down the batter, I use the blunt side of the tip of a small metal spatula (the tip of a wide, flat side of a table knife works too) and drag the tip down the center of the batter leaving about a 1/2-inch deep strip/indentation.
Make-ahead and serving notes
The cake can be served slightly warm or at room temperature on the same day it is baked. If you can resist, wait a day or two as the vanilla flavor develops and deepens as it sits. Either way, stow it tightly covered and at room temperature.
Use a serrated knife to cut the cake into slices. The cake is delicious served as is, but a schmear of jam or a scoop of chopped berries are mighty tasty companions.
Leftovers are delicious grilled or toasted until golden brown around the edges and smeared with preserves.