While I love to make a big batch of dinner rolls, I realize these days many of you are cooking for a smaller crowd. So I've devised a recipe for eight rolls (Buttery Small Batch Dinner Rolls) that can be baked in a loaf pan.
Let's talk a bit about mixing and kneading a yeast dough. If you have a smaller-sized stand mixer with a dough hook, feel free to let it do the kneading work for you. However, if there isn't a stand mixer on your counter or you only have a larger one – no problem! The small batch of dough in this recipe can be made without the mixer. Sure, hand-kneading a sticky dough like this one can seem daunting at first but it really just takes some patience and faith in the process.
Making the dough takes a bit of elbow grease but once you have accomplished that step, you can relax as I've taken the stress out of shaping the rolls. Instead of the normal practice of precise measuring and perfect shaping technique, I've opted for a more carefree method to create charming, rustic rolls. They might vary a bit in size but every bite is just as soft and buttery with a slight hint of honey sweetness.
Kitchen Notes
Loaf Pans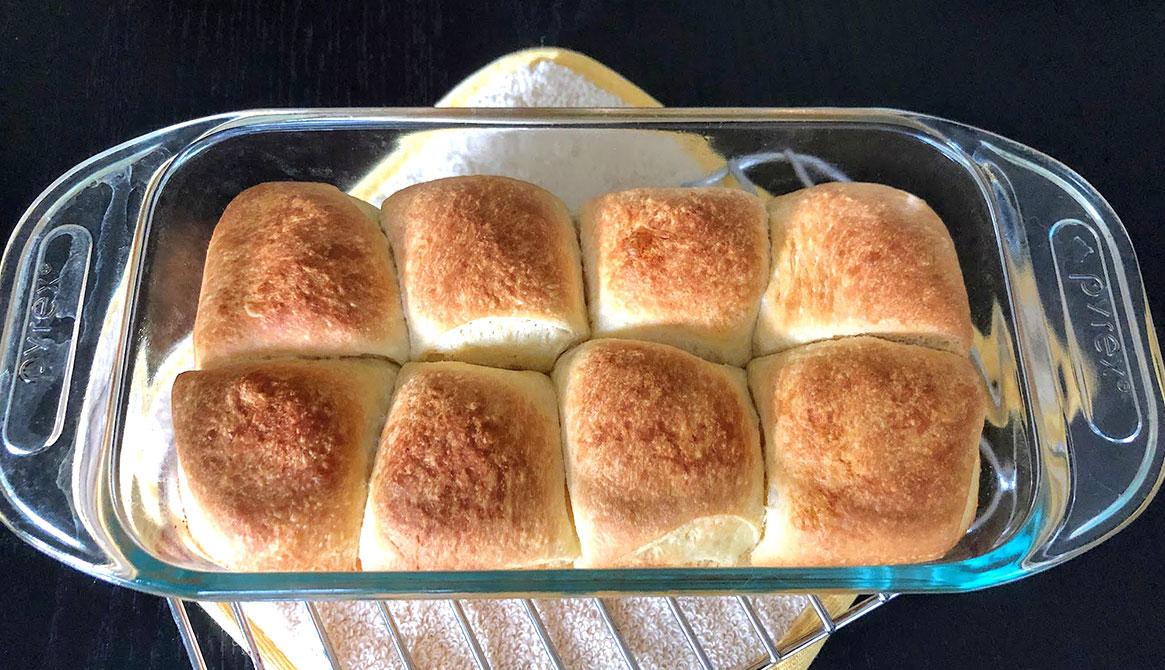 Loaf pans vary in size and shape depending on the manufacturer. Some are straight-sided and others are more sloping; some are slightly larger. This recipe doesn't require an exact size or shape. The baked results will differ slightly – taller and straighter versus wider and more rounded respectively – but the taste and texture won't change a bit. For reference, I bake mine in an older model 6-cup Pyrex (8 1/2 x 4 1/2 x 2 3/4 inches) but an 8-cup loaf pan (10 x 5 x 3 inches) will work out just fine. Metal loaf pans will brown the rolls a tad more than Pyrex.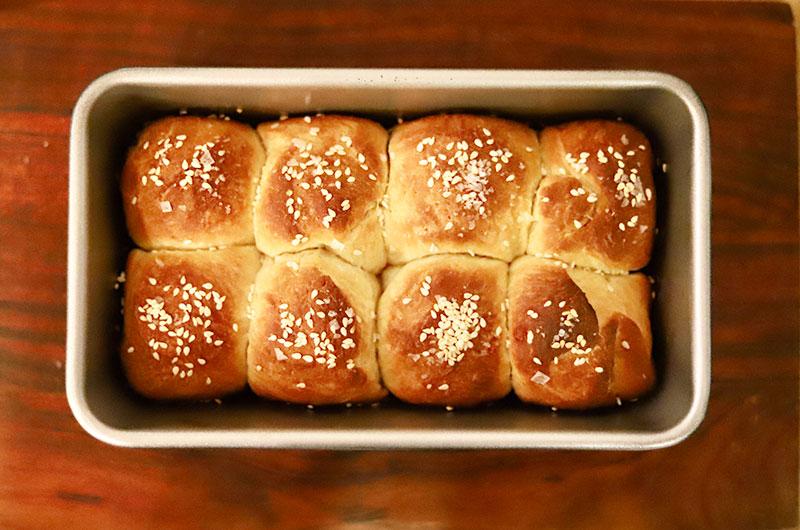 Kneading technique

I like to use a French-style kneading technique. All you need is a clean, unfloured counter and a bench scraper tool. Scrape the super sticky dough onto an unfloured counter. With the bench scraper in your dominant hand, use it along with your opposite hand to lift the dough and slap it back onto the counter once or twice, stretching and folding the dough over on top of itself and giving it a quarter turn. Repeat the lifting, slapping, folding and turning process until the dough no longer sticks to the counter and passes the "windowpane" test (see note), about 15 minutes.
For more traditional American-style kneading, read on.
With bench scraper in your dominant hand and using the heel of your opposite hand, push the top part of the dough away from you and fold that piece over the dough nearest to you and give the dough a quarter turn, using the bench scraper as needed. Repeat the pushing, folding and turning process until the dough no longer sticks to the counter and passes the "windowpane" test (see note), about 15 minutes.
Windowpane Test
This is the best way to test to see if the dough has been kneaded enough.
Use the bench scraper to cut off a piece of the dough. Holding it between the thumb, index and middle fingers on both hands, gently pull in opposite – north to south and east to west - directions. If the dough breaks apart, continue kneading and retest after a minute or so. If the dough stretches evenly and thinly until it holds an opaque film or "windowpane", it's ready to set aside to rise.
---
If you're new to our Baking Together column, be sure to check out our other recipes: One Bowl Vanilla Cupcakes with Milk Chocolate Frosting; Pumpkin Cream Cheese Tart with Crushed Pretzel Crust, Butter Pecan Slice-and-Bake Cookies, Lemon Rosemary Parmesan Scones, Pie Plate Chocolate Chippers, Cream Cheese Pound Cake, Strawberry Shortcake, Lemony Blueberry Bars with Chunky Almond Crumble, Make-Ahead S'mores Squares, Streusel-Topped Ginger Pear Coffee Cake, Classic Apple Crumb Pie, Strawberry Hand Pies, Vanilla Rice Pudding for Two, The Ultimate Flourless Chocolate Cake, Coconut Cinnamon Tea Cake and Cheesy Biscuits Squared.
We'd love to hear from you! Please drop a note in the comments section under the recipe and let us know your thoughts and if you made any changes so we can all learn from each other. It's the goal of our Baking Together sessions here on Cook the Vineyard!