My Cheesy Biscuits Squared make everyone happy. What's not to love about savory, peel-apart flaky layers of buttery pastry with salty, crispy edges? Add a double dose of cheese – cheddar and Parmesan – with a hint of heat and mustard and you've got yourself a winner for any lunch, brunch or dinner. They are ideal dance partners for soups, stews, or braises and they are equally satisfying when served alone (perhaps with a smear of butter) or split and layered with baked ham or sliced roast chicken.
To make the dough for these multi-layered beauties, I like to use a folding method similar to the technique you'd use to make puff pastry. I begin by shredding and freezing the butter before gingerly tossing it with the dry ingredients and the buttermilk. A few rolls and folds later, you'll have a cohesive dough package ready to trim (see below for a note about baking off the trimmed pieces) and cut into squares. This lamination process creates layers of butter within the dough which create pockets of steam that will push these biscuits sky high when they hit the oven. Yes, it's a bit more of an effort but one that delivers extra special results.
That said, if you'd prefer, you can employ the mixing technique we used in the Rosemary Scones (Baking Together #4), and then return to following the instructions in this recipe for shaping and cutting. You'll still end up with rich, tender, flavor-filled biscuits but without the peel-apart layers.
The only special equipment you'll need is a rolling pin, a bench scraper or a large wide metal spatula, and a large-holed hand or box shredder. A ruler is helpful here but not mandatory as you can eye-ball the dimensions. The biscuits will likely have a more rustic look but will still rise mighty high and taste heavenly.
Notes:
You can add a gloss and/or a topping. Brush the tops with a bit of extra buttermilk and sprinkle with extra cheese or poppy seeds or a dash of Everything but The Bagel Seasoning mix – my personal favorite.
Don't toss the trimmings – bake them into yummy croutons for soups and salads! While the biscuits are baking, cut the trimmed edges into 1-inch pieces (they will have irregular shapes and ragged edges), arrange them on a small, lined cookie sheet and refrigerate. Once the biscuits are out of the oven, bake the trimmings until they are browned, 8 to 12 minutes depending on their thickness and size. Cool completely and stow in an air-tight container in the freezer for up to one month. Just before serving, refresh their flavor and texture in a 350°F oven until warmed.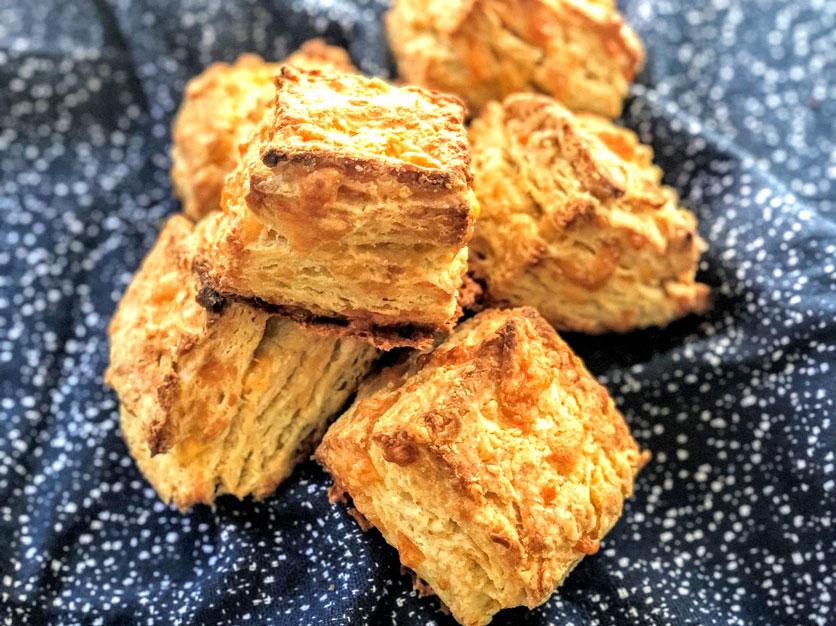 We'd love to hear from you! Please drop a note in the comments section under the recipe and let us know your thoughts and if you made any changes so we can all learn from each other. It's the goal of our Baking Together sessions (this is number 17!) here on Cook the Vineyard!
If you're new to our Baking Together column, be sure to check out our other recipes: One Bowl Vanilla Cupcakes with Milk Chocolate Frosting; Pumpkin Cream Cheese Tart with Crushed Pretzel Crust, Butter Pecan Slice-and-Bake Cookies, Lemon Rosemary Parmesan Scones, Pie Plate Chocolate Chippers, Cream Cheese Pound Cake, Strawberry Shortcake, Lemony Blueberry Bars with Chunky Almond Crumble, Make-Ahead S'mores Squares, Streusel-Topped Ginger Pear Coffee Cake, Classic Apple Crumb Pie, Strawberry Hand Pies, Vanilla Rice Pudding for Two, The Ultimate Flourless Chocolate Cake and Coconut Cinnamon Tea Cake.