I know, I know – you're wondering when I'm going to get past this whole strawberry phase. But I have a really good excuse for drawing it out one more week – the crispiest, crunchiest, most ethereal granola I've ever made. (Granola + Mermaid Farm yogurt + Morning Glory Farm strawberries = yum.) The recipe came to me from Judson Macrae, who was raised on Chappaquiddick and has been in the food and beverage business for 15 years, most recently in Manhattan.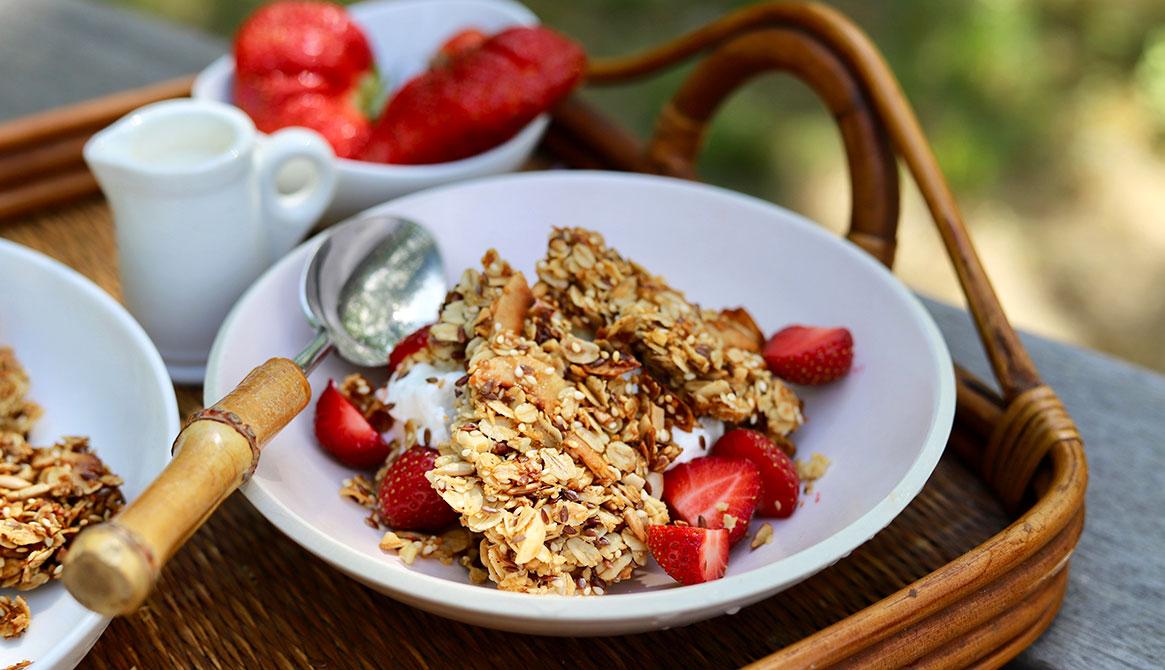 I should have known this recipe was going to be a keeper — I'd heard from co-workers (including Judson's mom, Vineyard Gazette editor Julia Wells) that it was something special. The recipe came in with meticulous instructions; it just took me a few grocery trips to update my pandemic pantry with the ingredients (nuts, seeds, coconut) I needed.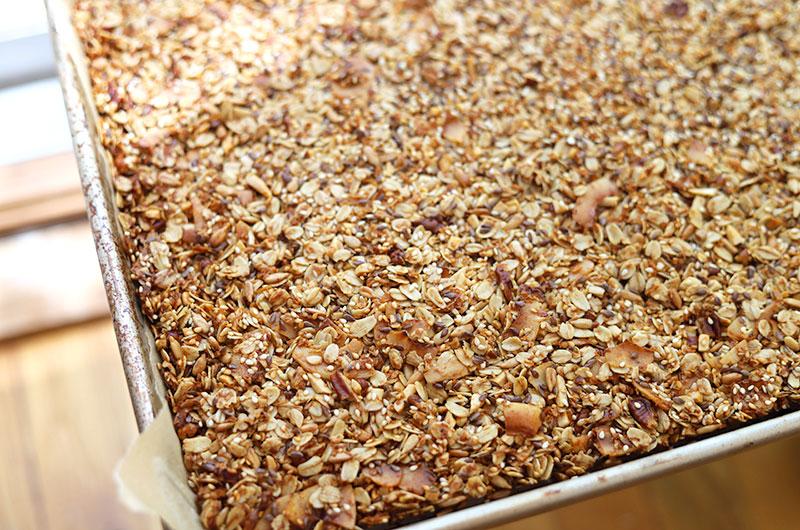 I can't believe I sat on this gem for weeks, but at least now I've got it tacked to my fridge for frequent use. Judson's goal of a crisp, almost bar-like granola (baked in a rimmed sheet pan) is achieved by thoroughly hand-mixing the dry ingredients with a heartily whisked mixture of honey and coconut oil – but only just enough to coat all the dry ingredients lightly. Boy, I love a good technique.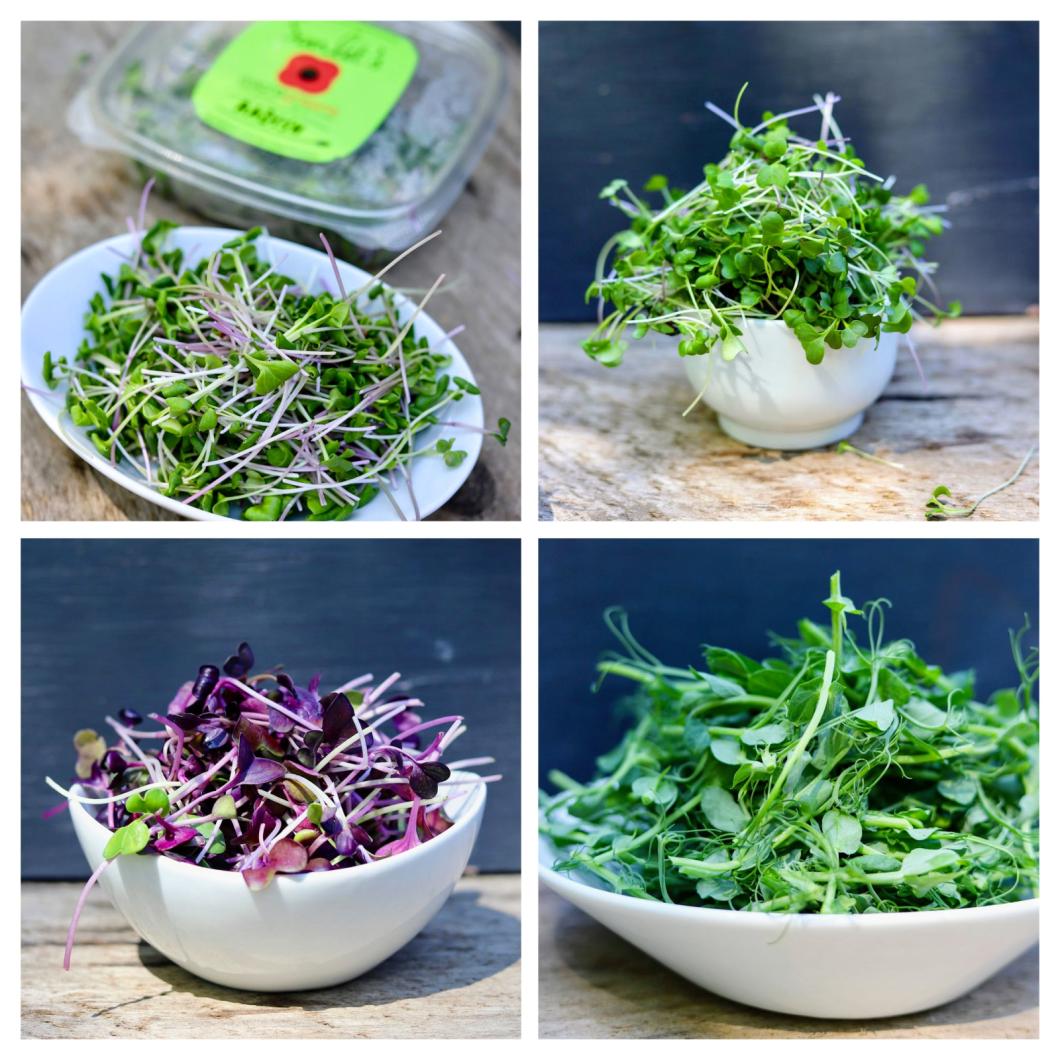 You know what else I love? When I find a beautiful and tasty new Island-grown product by an adventurous young Islander starting up a new business. That's why news of Scarlet Blair's organic microgreens (aka Scarlet's Greens) got me excited. I was lucky enough to sample a whole bunch of different ones: purple radish, arugula, broccoli, spicy mix, and kale microgreens, as well as pea shoots. And my salads are so grateful. Remember these citrusy beets?
But as Scarlet points out, these nutritionally dense and environmentally friendly veggies are more than just a garnish. For more ideas on how to use them, check out this piece Cathy Walthers wrote for Edible Boston. Or try them on Chef Nathan Gould's Fluke Crudo. (That recipe even has a strawberry sauce!) Scarlet's Greens are available at Vineyard Grocer, North Tisbury Farm and Market, and Edgartown Meat and Fish. She will also deliver them to your home.
One last thing I'm loving this week is freshly caught bluefish. We're lucky that Cathy Walthers has been out fishing and cooking again and has written an update for us on bluefish. "Bluefish are in our Island DNA," Cathy writes. (Just ask Johnny Hoy and the Bluefish.) Recipes for them are in every Vineyard cookbook, and as it happens, bountiful on cookthevineyard.com.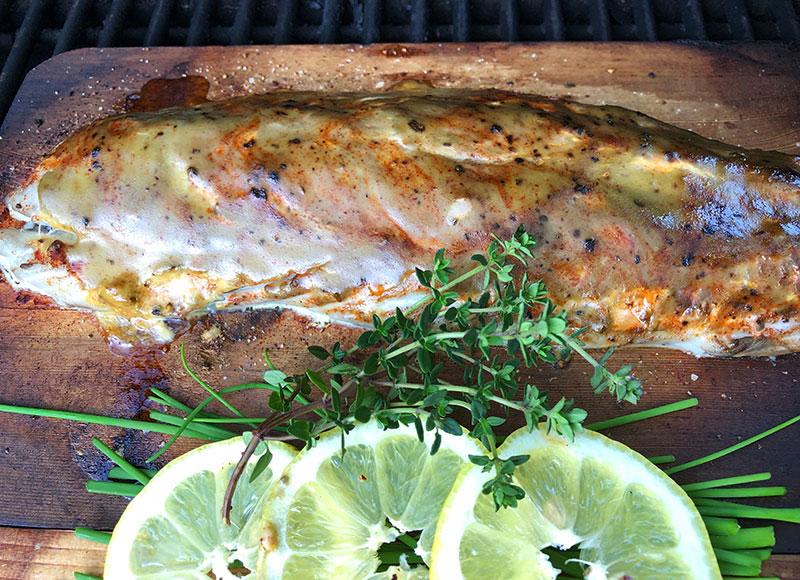 I'm especially excited about two new recipes Cathy did for us. The first is Cathy's update of a Steven Raichlen recipe for Maple-Dijon Plank-Grilled Bluefish. It has a spice rub and a glaze for great flavor. The second, Broiled Cajun Bluefish, is ridiculously easy and comes to us from Mike Holtham at The Net Result who used to make this dish when he was a chef at the Home Port.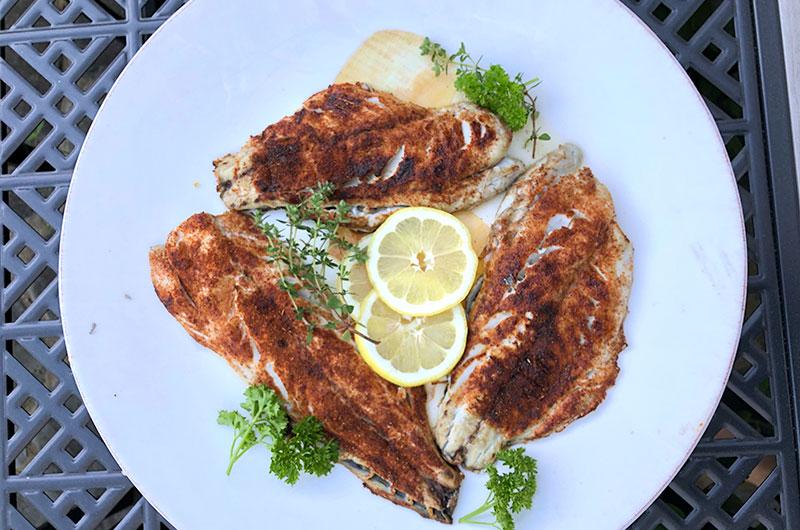 But after you make those, you can try mystery writer Philip Craig's favorite Stuffed Bluefish, Jasper White's Bluefish with Soy Ginger Sauce, Chris Fischer's Paper-Salted Bluefish, Bluefish Tacos, Bluefish with Lemon-Mustard Crust and even a hearty bluefish breakfast frittata.
On the Vineyard, you know our seafood markets are only going to sell you fresh bluefish (it's best soon after caught); if you're off-Island be sure to ask when the bluefish came in before purchasing.
Hey, this is No. 52 of our Cookthevineyard.com weekly newsletters. We sent our first one out just before July 4th last year. Happy birthday to us, and may we all make the most of a summer we could never quite have anticipated. See you on Instagram @cookthevineyard!