It's the season for bluefish here on Martha's Vineyard — for both fishing and eating.
Bluefish is in our island DNA. Aquaundunt is the Wampanoag word for bluefish. Fishing for "blues" was probably the first Vineyard sport, wrote the late Joseph Chase Allen, who penned a fishing column for the Vineyard Gazette for decades. Blues have long played a major role in the Martha's Vineyard Striped Bass & Bluefish Derby and are immortalized by Menemsha Blues tee shirts and the popular band Johnny Hoy and the Bluefish.
Local officials thought enough of the Island bluefish to send one to President Dwight D. Eisenhower in 1957 when he was on a visit to his Newport summer home. An 11-pound, four-ounce bluefish, caught on the South shore by Arthur Ben David during the 12th annual derby, was packed on ice and shipped on the railway express with a letter that said the Island hoped the President and First Lady would "enjoy this delicacy from our New England waters." The president sent back his "thanks" in a letter from Newport dated Sept 17, 1957, though it never indicated whether or not the first couple had actually eaten the bluefish.
They could have been in the camp of bluefish doubters, claiming bluefish is oily or too strong or even fishy. There does seem to be a line drawn in the sand over enjoyment of this species. The Martha's Vineyard Cookbook, a classic for everything Island-produced and still in print, says many consider bluefish the "finest-flavored fish of all, rating them even higher than striped bass or swordfish."
Recipes for preparing bluefish are included in most every cookbook (that's not vegetarian) penned by Vineyard authors. In Chris Fischer's Beetlebung Farm Cookbook, he wraps fillets in parchment with lots of dill and lemon so that they bake in their own juices. Tina Miller included one of the classic preparations for bluefish, slathered with mayonnaise and Dijon with a bit of lemon, then wrapped in foil and grilled, in her cookbook Vineyard Harvest. Few people get through a Vineyard summer without sampling another favorite — smoked bluefish or smoked bluefish pate on crackers — at one party or another.
I've been fishing for bluefish and enjoying the free catch since I arrived on the Island in the mid '90s. I followed the fictional detective J.W. Jackson to Wasque at the tip of Chappaquiddick where he often fished for blues in the popular Martha's Vineyard mystery book series by the late Philip Craig. Craig wrote so much about fishing for bluefish and shellfish and enjoying the catch in his two dozen mystery novels that it was suggested he write a cookbook. Delish: The J.W. Jackson Recipes, was published in 2006 and co-authored by Craig's wife, Shirley Craig, who is often found fishing for blues herself. Philip Craig's favorite recipe for cooking blues was Stuffed Bluefish. To this day, like the character J.W., I too use the word "delish" as my top adjective for any dish I particularly enjoy.
Bluefish does have to be properly handled after being caught, and generally consumed soon after being caught (bled, gutted and placed on ice), ideally on the same day. Former Net Result seafood market owner Louis Larsen said bluefish contains an enzyme that causes the fish to deteriorate quickly and prevents it from freezing well. When I'm cooking for people off-island and buying at a fish market, I shake my head sadly when I see what passes for bluefish elsewhere. It's probably these lackluster facsimiles that give bluefish a bad rap.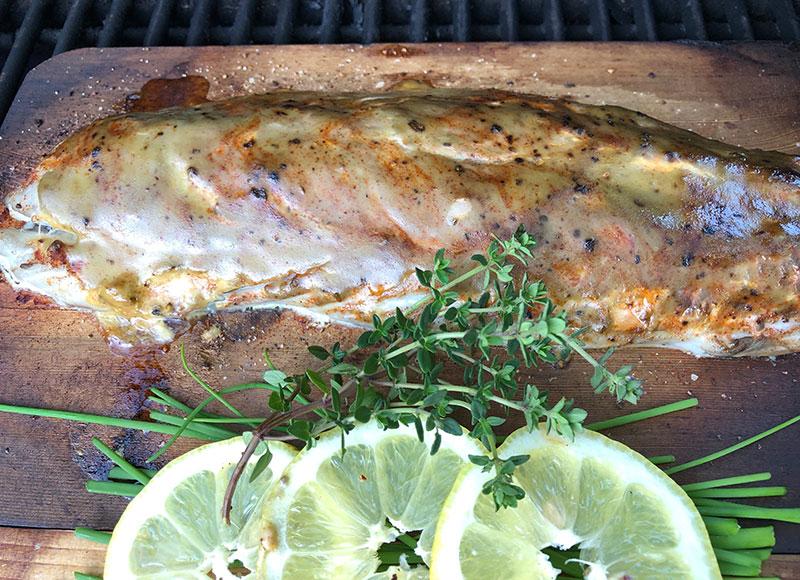 Bluefish does contain a good Omega-3 oil, which makes it an equal to salmon for health properties.
In past articles about bluefish, I've included a number of recipes that showcase the versatility of preparing and serving this local catch, everything from an Italian Baked Bluefish with Tomatoes, Garlic, and Olives to one that's grill-roasted with a spicy honey-orange sauce.
So, I was pleasantly surprised when this spring I found what could be my two favorite – and easiest – preparations.
One came from Chappy seasonal resident Stephen Raichlen, a TV host and cookbook author specializing in grilling and BBQ. He grills bluefish on cedar planks, coated with a spice rub and a maple-mustard glaze. The other recipe came from Michael Holtham, a manager at The Net Result. When he worked as a chef at the Homeport Restaurant in Menemsha, they served Cajun bluefish simply rubbed with the spice and broiled. "I like to taste the bluefish," says Holtham.
There are still a few ideas for me yet to try, including using leftover bluefish in a fishcake, which sounds good. And it's certainly an idea with staying power —in centuries past, sailors would bring their potatoes and a pot along to make fresh caught bluefish chowder on the spot.

Editor's note: Regulatory changes along the East Coast that reduced bag limits for bluefish this year. The daily limit for private anglers is three fish.