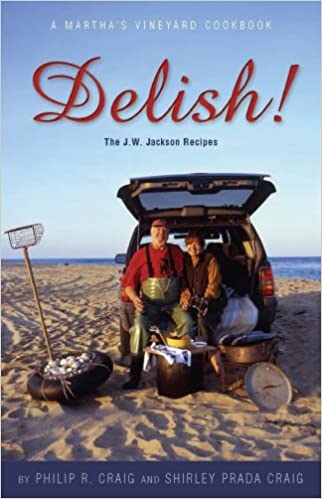 Recipe from Delish! The J.W. Jackson Recipes by Philip and Shirley Prada Craig (Vineyard Stories, 2006). Mystery writer and cook Philip Craig passed away this year. We'll remember him for his Martha's Vineyard mystery series, of course, but also his love of the Vineyard, especially fishing, and eating from his garden. This is Phil's favorite bluefish recipe, says his wife Shirley. They made this recipe each year with their first bluefish of the season. She often adds sautéed onion and celery to the stuffing mix, and sandwiches the stuffing between two bluefish fillets before baking in the oven. "A lot of people have tried this recipe and said they loved it," says Shirley.
Serves 4 to 6
• 1 medium (6- to 8-pound) bluefish (cleaned whole fish or filleted)
• Herb stuffing mix, enough to fill fish cavity or sandwich between fillets
• Italian salad dressing
• Lemon wedges
1. Preheat oven to 400 degrees. Place fish in baking pan that has been lined with greased foil.
2. Mix stuffing according to package directions, or make your own. Fill cavity of fish with stuffing, or put stuffing between fillets. Drizzle salad dressing over fish.
3. Bake for about 20 minutes, or until fish flakes easily. Remove fish to heated platter and garnish with lemon wedges.