While I love to make French toast with challah from Orange Peel Bakery, lately I've also been using brioche from The Grey Barn and Farm. Either is a good choice because they soak up custard efficiently and quickly. (Brioche can be delicate so don't soak for long and handle gently.) For the syrup, I use whatever berries I've been able to buy or pick, depending on the season.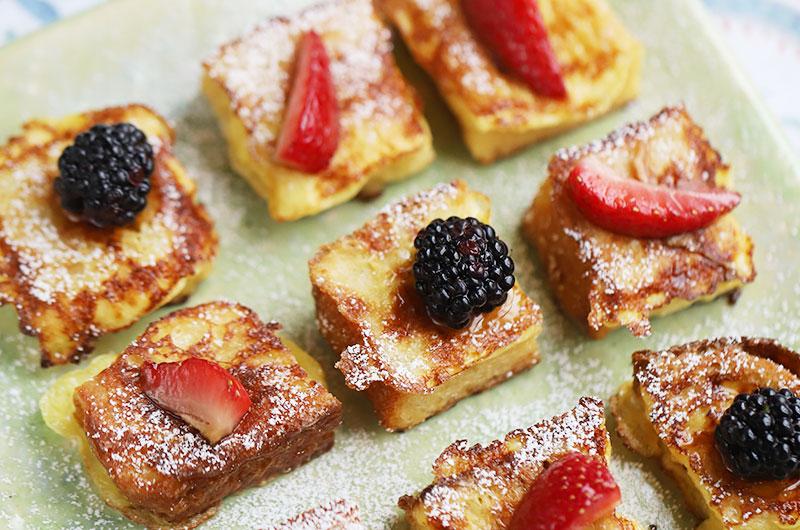 For a brunch party, try making French toast "bites" instead of slices. (Cut the bread into squares before soaking.) Arrange these on a platter and serve buffet-style.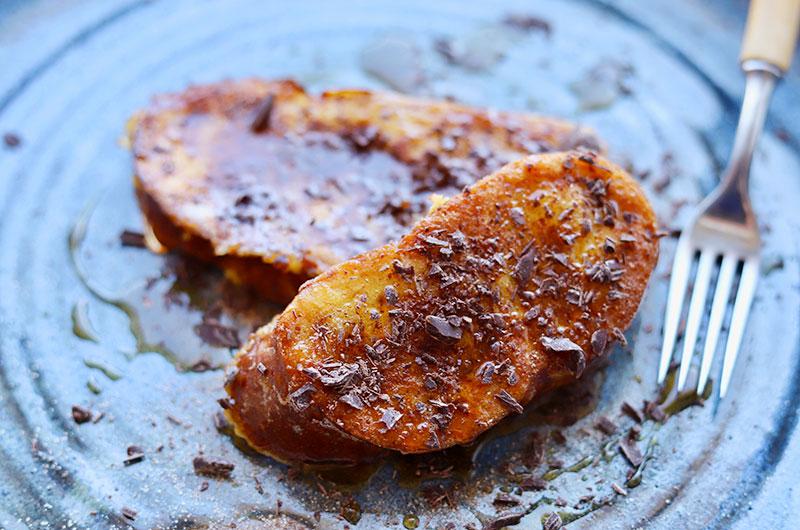 Another fun twist for finishing is to skip the berry syrup and sprinkle the toast with finely chopped best-quality dark chocolate right when it comes out of the pan. Serve with warm maple syrup.

Serves 4
1 teaspoon ground cinnamon
3 tablespoons sugar
6 large eggs, at room temperature if possible
1 1/4 cups half 'n half
1 cup plus 1 tablespoon pure maple syrup (Preferably Vermont Grade A, Dark Color, or Grade A, Very Dark Color)
2 teaspoons pure vanilla extract
1 teaspoon kosher salt
1/8 teaspoon ground nutmeg
Eight or nine 3/4-inch-thick slices Challah or brioche (from a 1-pound loaf, slightly stale is fine)
3 tablespoons unsalted butter
11/2 cups cup fresh ripe summer berries (any kind)

1. In a small bowl, combine the cinnamon and 1 tablespoon sugar. Set aside.

2. In a large, shallow mixing bowl, whisk together the eggs and the remaining 2 tablespoons sugar until well combined. Add the half 'n half, 1 tablespoon maple syrup, the vanilla, salt, and nutmeg. Whisk again until well combined.

3. Submerge two or three slices of the bread (whatever will fit into the bowl and into your skillet in one batch) in the egg custard to soak for about 5 minutes. Meanwhile, heat 1 tablespoon butter in a large nonstick skillet over medium heat. When the butter has melted and is bubbling, add the bread slices to the skillet. Cook without moving until the bottom side is a mottled golden brown, 4 to 5 minutes. Carefully turn the bread over and cook on the remaining side until golden brown, 3 to 4 minutes. Transfer to warm plates and sprinkle with cinnamon sugar if desired. (Alternatively, you can put the French toast on a platter in a warm oven if you want to serve all at once.) Leave the skillet off the heat for a minute. Put two to three more pieces of bread in the custard to soak.

4. Meanwhile, combine the remaining maple syrup and all of the berries in a (separate) medium skillet. Mash some of the berries with the back of a fork while the syrup is heating. When the syrup is bubbling and the fruit is releasing its juices (3 to 4 minutes), take the pan off the heat. (The syrup will thicken as it begins cooling. But if it is too liquidy while warm, simmer on the heat for just a minute more. It will thicken up too much if left on the heat for too long.) Reheat gently if necessary before serving.

5. Return the large skillet to medium heat, add another tablespoon of butter, and cook the second batch of soaked bread. Sprinkle with cinnamon sugar if desired. Repeat with the third and last batch of bread. Serve with syrup.
.