Back-to-back storms on the Vineyard this past week prevented local commercial fishermen from heading out on their regular trips, Mike Holtham of The Net Result told me Monday. Local cod and flat fish are either unavailable or very expensive, so Mike is temporarily bringing in Icelandic cod and haddock for customers. (Find ideas for those here.)
The good news: The first bay scallops are coming in from Edgartown commercial scallopers (the season opened November 1), and Mike will have them in the case this week. Yippee! Shellfish constables are predicting a lower-than-average season, so you might want to think of them as a treat — one of the very best the Vineyard has to offer.
The smartest way to cook these sweet morsels is quickly — in a very hot pan. To get the hang of it, start with these Simple Sautéed Bay Scallops with Lemon-Orange Pan Sauce. (You always want to make a little sauce from the browned bits scallops leave behind in the pan.) I like to serve these over polenta, but they'd be delicious over Green Rice, too. For more ingredient-pairing ideas, read The Short Story of Cooking Bay Scallops.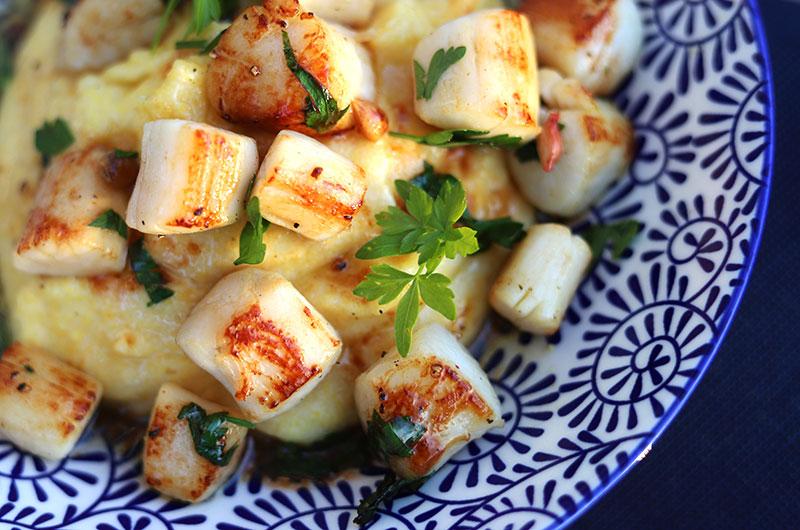 Then you could try Cathy Walthers' Bay Scallops with Butternut and Basil Sauce (top photo) for an elegant presentation. Or this citrus-jazzed Scallop Ceviche.
Bay scallops may be dear, but Island-raised meat is a great bet right now with meat prices skyrocketing across the country. We recently had some delicious pork loin chops from Morning Glory (grilled simply with a rosemary-garlic rub) that had true old-fashioned pork flavor, so much better than the bland, lean (factory-farmed) pork. Even when the Island-raised pork is more expensive, we'd prefer to eat that occasionally over the other pork more frequently.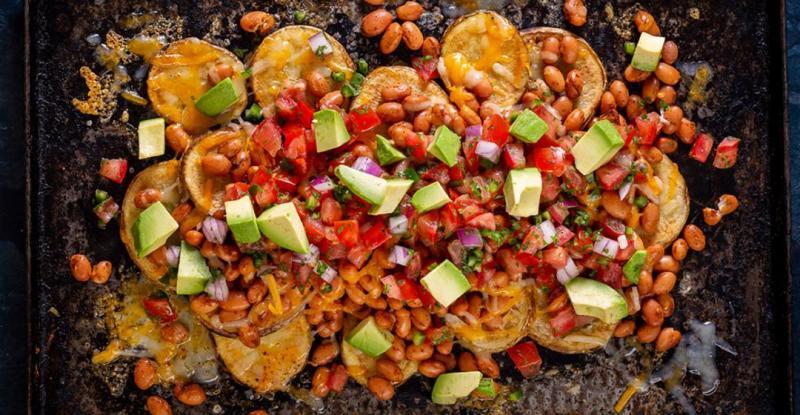 And we don't mind taking a night off from meat. Having one or two meatless meals every week is not only budget- and health-friendly, but climate-friendly, too. If you need more ideas on how to accomplish this, read 10 Ways to Eat Less Meat + 10 Recipes with Big Flavor. Recipes like Loaded Potato Nachos and this Warm Salad of Farro, Brussels Sprouts and Spinach with Cilantro and Peanut Vinaigrette are just two of them.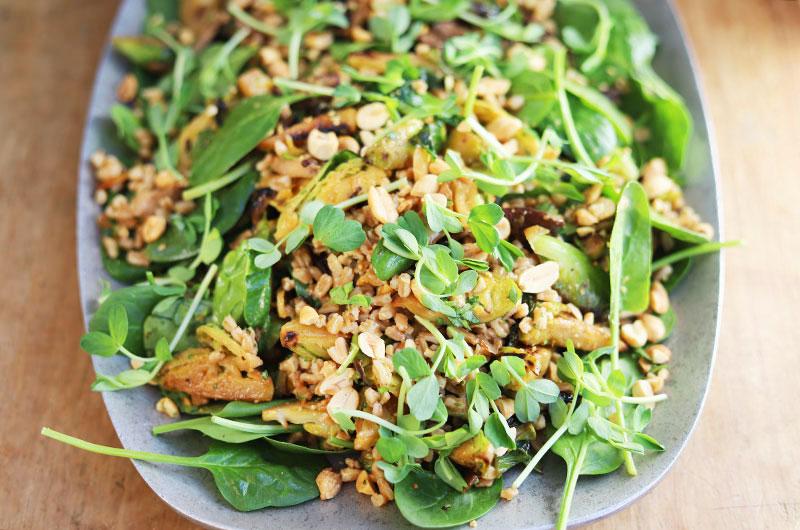 Speaking of veggies and sides, I started gathering some ideas for your Thanksgiving menu (culled from our entire Thanksgiving recipe collection). I was thinking that while a big batch of Smashed Yukon Gold Potatoes With Roasted Garlic is an easy choice, you might want to switch up the potatoes this year and do Crispy Smashed Potatoes instead. Or pair your potatoes with sweet potatoes in this Sweet Potato-Potato Gratin with Caramelized Leeks, Spinach, and a Pecan Crumb Topping. Or if you don't do that gratin, put your greens into a Creamy Parmesan Greens Gratin.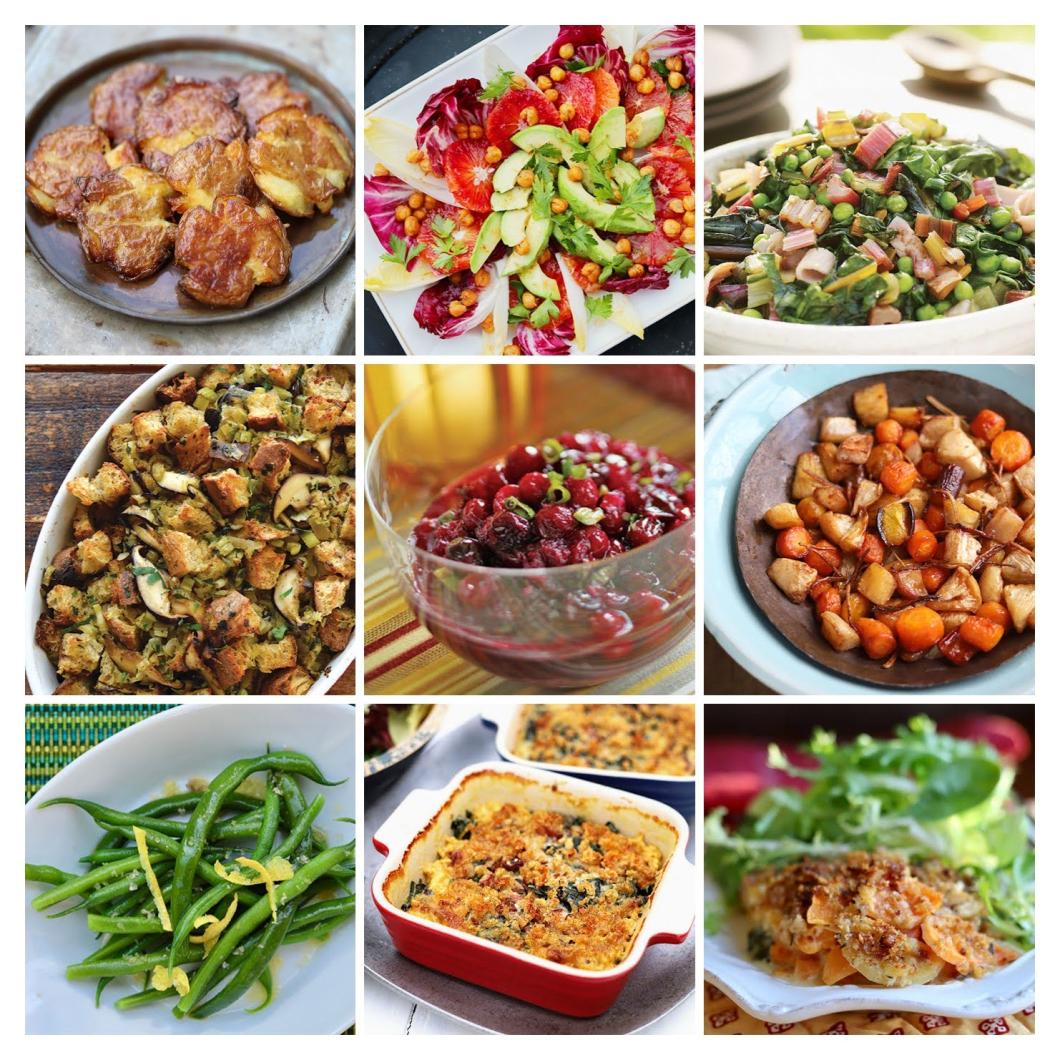 If you want to go fresher and brighter with your greens, Swiss Chard and Peas with Maple-Balsamic-Lemon Sauce (using frozen peas) is delightful, though Lemony Green Beans are easier and also light.
If you're planning a super-simple Thanksgiving like I am, you could check off all your vegetable and potato requirements in this one dish of Roasted Root Vegetables with Ginger Batons. Roast the bird, make Vineyard Stuffing with Shiitake Mushrooms and Leeks, and maybe add something bright like Cranberry Citrus Compote or a starter salad of Endive & Radicchio Salad with Blood Oranges and Avocado.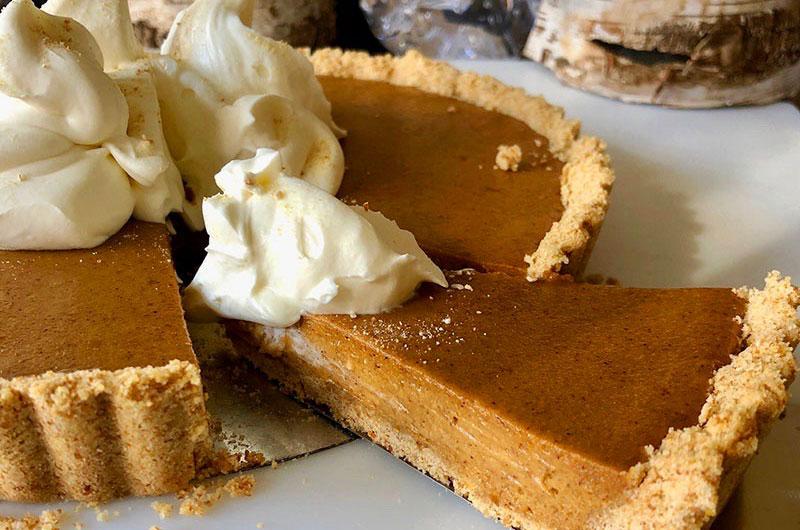 For dessert, I'm making Abby Dodge's Pumpkin Cream Cheese Tart with Crushed Pretzel Crust a couple days ahead. It can hang out in the fridge.
In the mean time, I'm hanging out on Instagram @cookthevineyard. See you there!


P.S. To order a fresh turkey or prepared food for Thanksgiving, see our list of Island sources below.
Find out which restaurants, farm stands, markets and retail shops are open (or closed) around the Island in one handy resource, updated daily: What's Open on Martha's Vineyard.
This time of year, a guide to Thanksgiving shopping and dining options is added. Here's the list so far, and visit What's Open (scroll down) for daily updates.
Thanksgiving Dining Options
Bettini Restuarant, five-course dinner. Pre-order take out will also be available. Call to make a reservation: harborviewhotel.com, 774-563-5205
Black Sheep, order from an à la carte Thanksgiving menu by Nov. 15: blacksheeponmv.com, 508-338-7770
Edgartown Meat & Fish Market, order a turkey from Misty Knoll Farms: nantucketsmarket.com, 508-627-6200
Juice by the Sea, order from an à la carte Thanksgiving menu by Nov. 17: 508-338-2920
Katama General Store, order from an à la carte Thanksgiving menu by Nov. 12: katamageneral.com
Kitchen Porch Catering, order an organic pasture raised turkey. Pick up on Nov. 22 from 10 a.m. to noon: kitchenporch.com/turkey-order-1/p/turkey-pre-order
Morning Glory Farm, order from an à la carte Thanksgiving menu by Nov. 22 at 6 a.m.; order turkeys by Nov. 12: morninggloryfarm.com/thanksgiving
Pie Chicks Bakery, order pies: piechicks.com, 508-693-0228