I first developed a smashed potato recipe for Fine Cooking magazine more than 15 years ago, but these days, these delicious twice-cooked favorites are everywhere. I've also played around with the method for cooking these and sometimes, after boiling and smashing, I sauté the potatoes rather than roast them. Both methods are nice but this roasting method yields the crispest patties.
After roasting, you can simply gobble these up. I put them on a platter and bring them to potlucks with Limey Drizzling Sauce and they disappear in a heart beat. But I also like to tuck them in salads or serve them with chunky toppings. I've given you a Chunky Olive and Sundried Tomato Topping as option here. Either serve it on the side or tuck the potatoes in a bed of greens and spoon some of the chunky sauce on. (Add crumbled feta cheese, too, if you like!) Or serve with both Limey Dipping Sauce and the topping!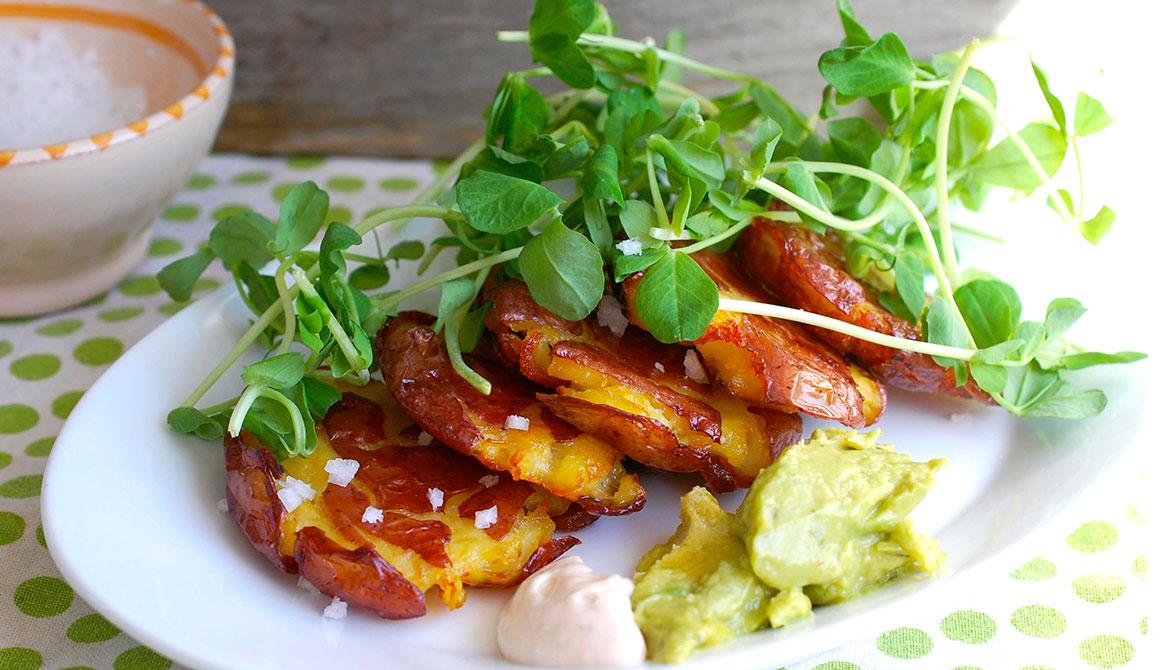 I find that baby red potatoes work best in this recipe because their flesh gets tender (but not too flaky) when boiled but the skins hold together when smashed. But feel free to experiment with other small potatoes. Local and recently dug are wonderful!
The other thing I've discovered over the years is that a neutral-flavored oil with a high smoking point, like grapeseed oil, is the best choice for roasting at high heat. But other vegetable oils can work.

Serves 4

1. Preheat the oven to 475°F. Line a heavy-duty rimmed baking sheet with aluminum foil. Put a piece of parchment paper on top. Arrange a double-layer of dishtowels on a large cutting board or your kitchen counter.

2. Put the potatoes in a Dutch oven or other medium-large pot and cover with at least 1 1/2 inches of water. Add 2 teaspoons kosher salt, cover loosely, bring the water to a boil, and reduce to a simmer. Uncover and cook until the potatoes are tender all the way through, but not falling apart, about 18 to 22 minutes. (Check with a paring knife.)

3. Drain and transfer the potatoes to the dishtowels. (I like to use tongs or a slotted spoon to lift the potatoes out of the water onto the dishtowels, rather than draining them all at once.) Arrange the potatoes a few inches apart, and let them cool for a few minutes. Using another folded dishtowel, gently press down on each potato to flatten it into a patty about 1/2 inch thick (or up to 3/4-inch). Let the patties cool for a few minutes more, transfer them to the baking sheet, and let them cool for 10 to 15 minutes longer. (Or, at this point, you can hold the potatoes in the fridge for up to 24 hours, covered with plastic. Bring to room temp before roasting.)

4. Season the top of the potatoes with salt and and pour the oil over them. Carefully flip the potatoes over and gently rub them in the oil so they are well coated. Season the top side with more salt. Roast for about 15 minutes, carefully slip the potatoes over with a spatula, and continue roasting another 10 to 15 minutes (a total of about 28 to 30 minutes) or until they turn a deep orange brown color and are crisp around the edges.

5. Serve warm (seasoned with more salt if necessary) with Limey Drizzling Sauce (optional) or with salad greens and Chunky Olive and Sundried Tomato Topping (optional).