Maybe you, like me, want to eat a little less meat these days. Need tips on how to do that? I've got plenty, culled from years of wandering back and forth over the vegetarian/meat-eating line. There's definitely a sweet spot somewhere in the middle where the flexitarians dwell (and the carnivores don't starve). Here's help getting there.
1. Redesign your dinner plate. Reduce the amount of meat you've got on your plate to about four ounces and fill the rest of the plate (or bowl) with vegetables. You won't even notice the four-ounce portion of chicken in the Pollan family's Udon Noodle Soup with Miso-Glazed Vegetables and Chicken.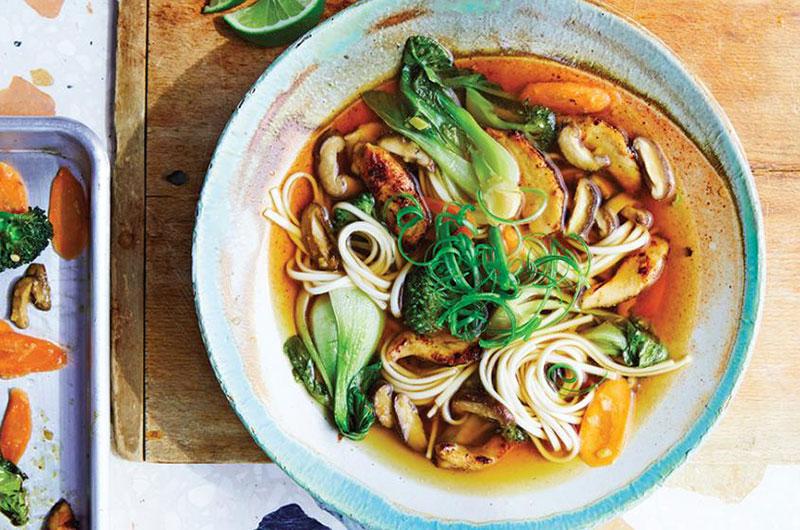 2. Learn to cook with meaty tasting (umami) ingredients that satisfy. Mushrooms, eggplant, avocado, soy sauce, fish sauce, oyster sauce, miso, sundried tomatoes, caramelized onions and roasted garlic, even asparagus and broccoli will do the trick. The Spring Miso Broth with Stir-Fried Asparagus, Romaine, Scallions, Tofu and Mint (pictured at top) has no meat in it, but is plenty flavorful thanks to the miso, the asparagus, and the caramelized lettuce (yes lettuce!).
3. Eat meat only once a day. If you have bacon or sausage for breakfast, don't have a turkey sandwich for lunch and pork tenderloin for dinner. Eating lunch at home these days? Try making a custom toast with Whipped Lemon-Thyme Feta, Roasted Cherry Tomatoes, sliced cucumbers and fresh mint or basil.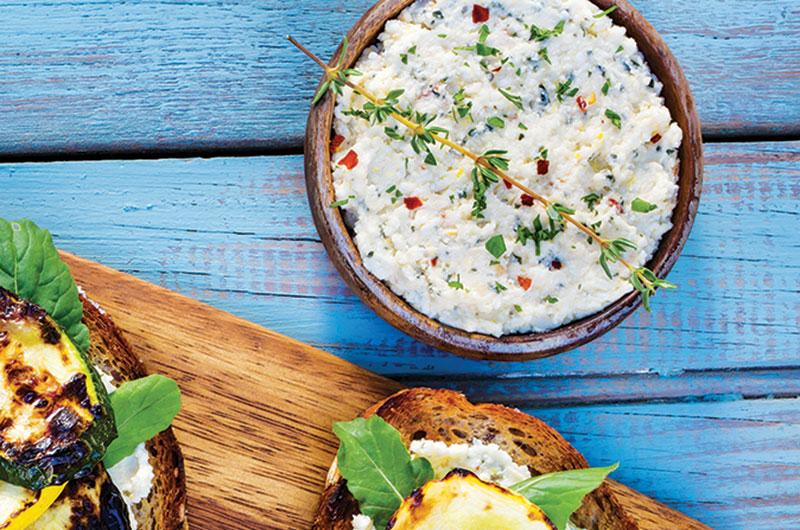 4. Better yet, go entirely meatless once or twice a week. You could make a grain salad like this Quick-Roasted, Beet, Arugula, Strawberry and Wheatberry Salad the centerpiece of dinner.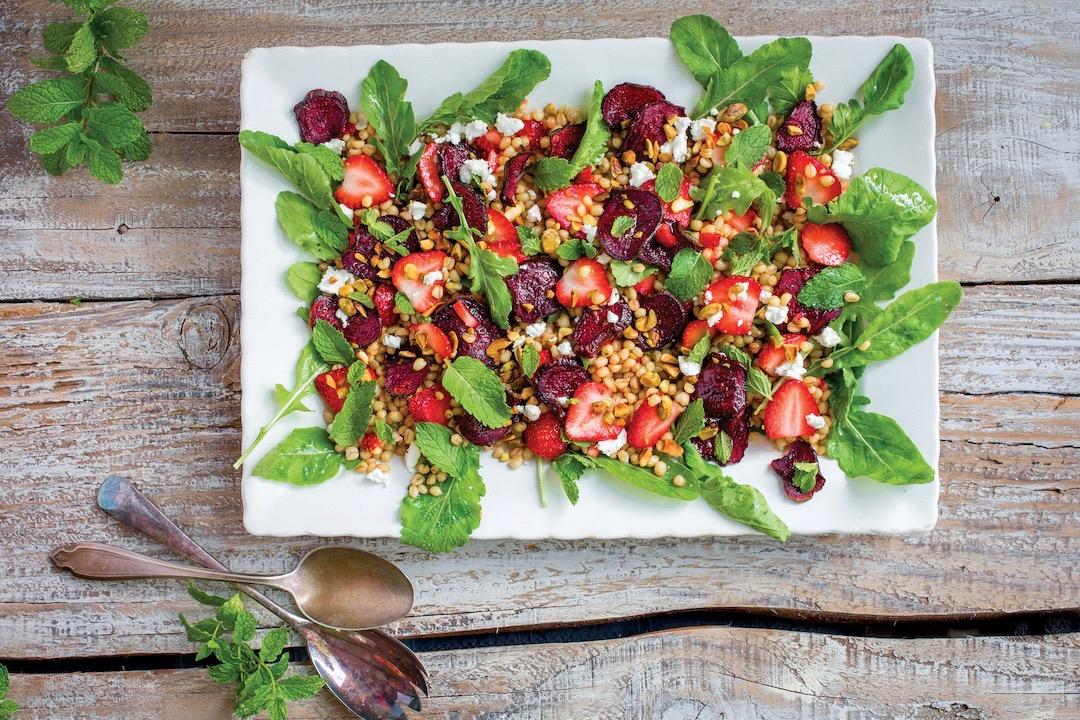 5. Or use meat like a condiment. To make vegetable dishes feel more substantial, start by sautéing a small amount of meat, along with onions and garlic, before adding vegetables. This recipe for Smoky Sugar Snap Peas with Chorizo, Lemon, and Yogurt shows you how.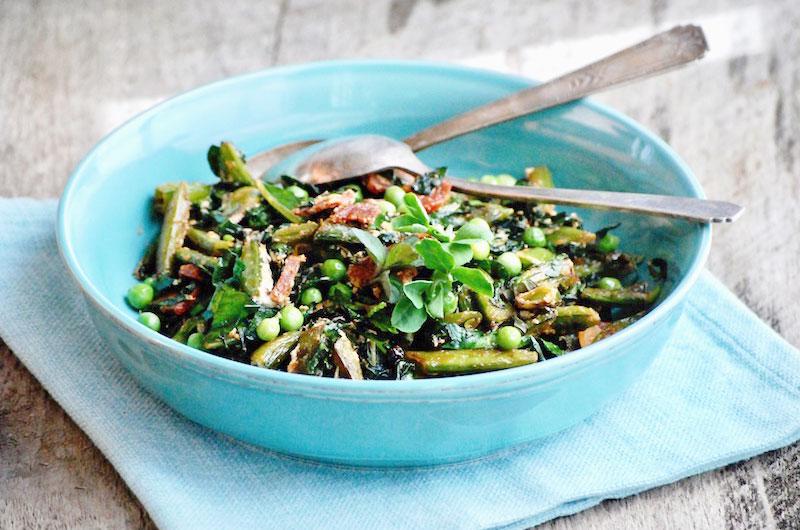 6. Stretch meat in soups and sauces. Here's a brothy soup with mini-meatballs that turns a small amount of ground beef into many servings.
7. Turn salad into dinner. Main dish salads by definition have less protein and more veggies — and lots of flavor and pleasing texture if you make something like Spinach Cobb Salad with Bacon, Blue Cheese, Avocado & Derby Dressing.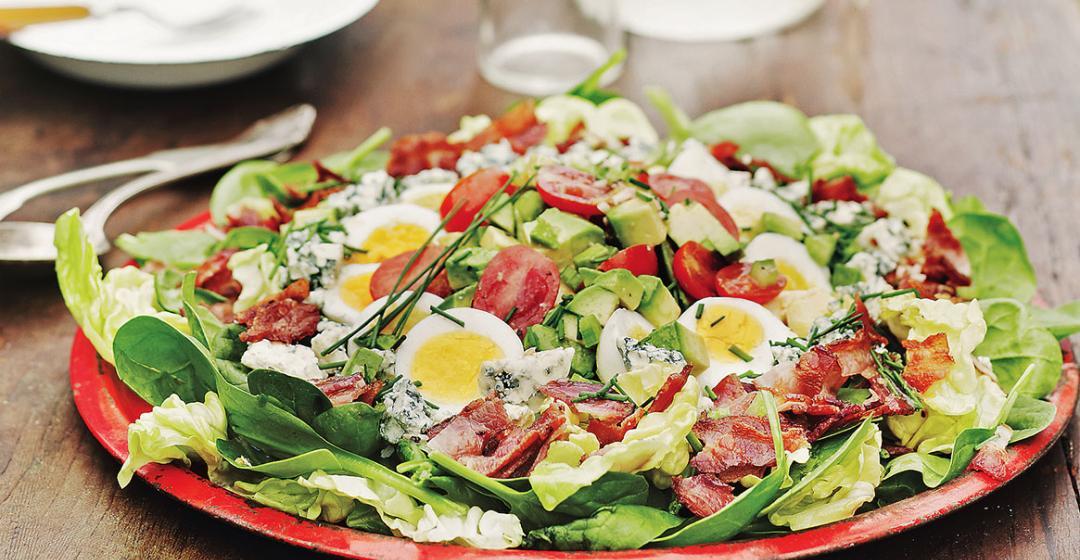 8. Cook more fish and shellfish. If you live on the Vineyard (or anywhere), please eat oysters and scallops and everything for which local fishermen need a market right now. Need an easy sheetpan fish dinner? Try Roasted Salmon and Asparagus with Honey Mustard Sauce from Cathy Walthers.
9. Turn eggs into meals. Yeah, I know, you've heard this one from me before. (Blame it on the 400 laying hens I once had.) Baked Eggs Pizzaiola anyone?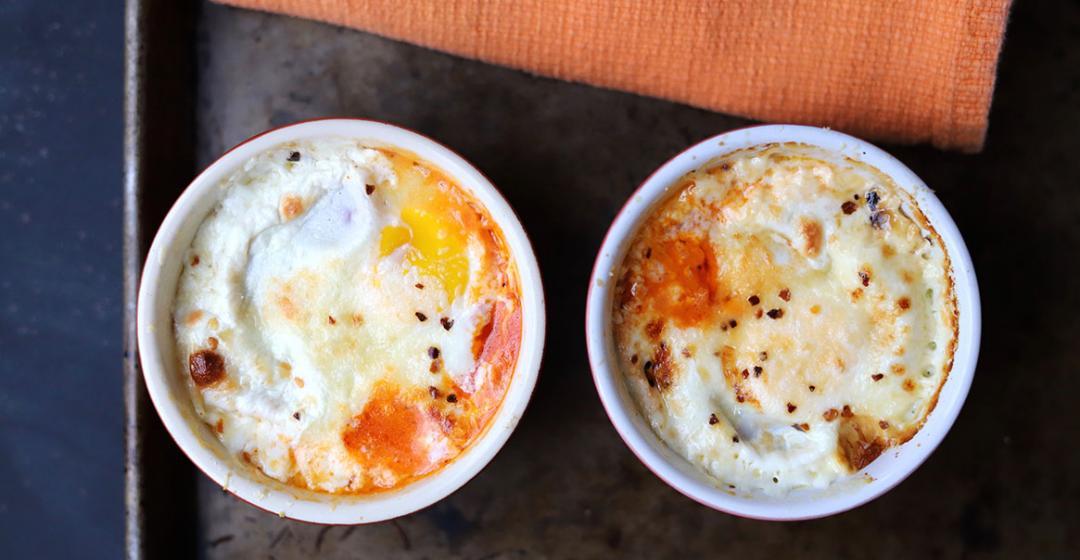 10. Beans — yes. You knew I was going to get to them. I won't belabor the point. Just take one bit of advice: Cook a pot of beans from scratch on Sunday afternoon. You'll be amazed at what you can do with them throughout the week — Ellie Krieger's Loaded Potato Nachos for one.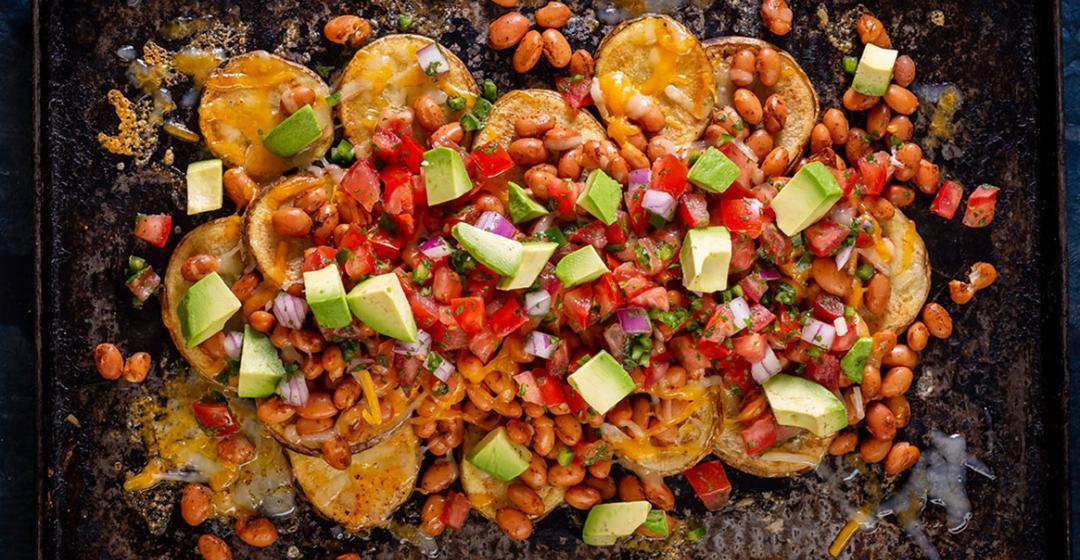 Happy flexing! See you on Instagram, veggies or not.