Our farms are growing the most beautiful greens this spring. (Oops, I mean summer!) It makes me want to eat every meal on top of a salad. Fortunately, roasted and sautéed veggies have the personality to star in main dish salads.
The other day I came home from Morning Glory with arugula, kalebration mix, Salanova baby lettuce, and spinach, as well as shiitake mushrooms, red spring onions, and a brown bag stuffed with fingerling potatoes. The purple snow peas are ready to harvest in my garden, and with lots of herbs flowering (especially cilantro), I was able to put together a pretty and delicious Farm Stand Salad with Roasted Fingerlings, Spring Onions, Shiitakes and Snow Peas.
I used my Farmhouse Vinaigrette, but Herbed Buttermilk Dressing, Crystallized Ginger-Miso Dressing, or your favorite vinaigrette would also be fine.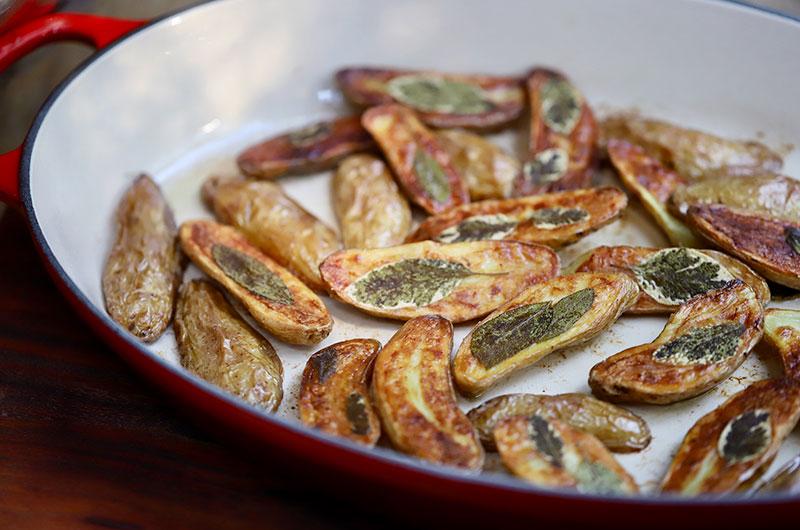 I tucked a fresh sage leaf under each fingerling potato before roasting. Who cares that sage and rosemary are fall herbs? They seem to really flourish in my summer garden, so I've got to find ways to use them. (So sue me, but you could make a Gruyere Potato Galette in the summer, too – and put it on top of salad greens, of course.)
Hey did you know that after more than a year of pre-order only, Ghost Island Farm now has a market tent set up outside their farm building on State Road? They're still encouraging folks to place big orders online, but if you want to stop by for a bag of greens or some other staples, Coco Brown has you covered. I got the most gorgeous head of iceberg lettuce as well as some leafy spigiarello (essentially large broccoli leaves) over the weekend.
For lunch, I made a deconstructed chopped salad (salad — what a surprise!) with the iceberg, an avocado, more herbs (Thai basil), and an incredible greenhouse tomato from Morning Glory Farm (forgot to tell you about those!). I meant to add feta cheese but spaced that. (Consider that a no-recipe recipe!) The dark-fleshed hybrid beefsteak tomato is called Medusa, but I promise you, it's not scary. Just delicious.
I realize your idea of a main dish salad might actually include a bit more protein. Would Lemony Caesar Salad with Grilled Chicken and Grilled Bread Croutons do? Or Greek Salad with Grilled Lemony Squid? Or maybe a salad without greens — Lobster Salad or even Peanut Noodles?
That Spicy Peanut Sauce is so versatile. As is that Lemony Blender Caesar Dressing. I love keeping a stash of homemade sauces around in the summer for quick meals.
Have you made strawberry ice cream yet?
I'll just leave that right there and see you on Instagram. Be sure to follow us @cookthevineyard if you haven't already!