One of the best things about growing your own herbs – in addition to super freshness and lower cost – is the chance to try different varieties. If you like to cook, it's a lot of fun to be able to pluck a few leaves of something like Thai basil (above) or lemon thyme off a plant growing outside your kitchen door and add them to a stir-fry, a pan sauce or a salsa. You can experiment without making a big investment. This time of year I always visit the herb hut at Vineyard Gardens in West Tisbury. Herb gardener Irene Fox tends the robust selection of herbs there and she always helps me find something new. But by the time Memorial Day rolls around, I've probably checked out the herb section at every Island nursery. I love the hunt. Over the years, some of the most beautiful herbs I've grown are those with edible flowers. Two favorites are garlic chives and pineapple sage.
Garlic chives (below), like all members of the allium family, produce a cluster of tiny flowers on thick stems. These ones are white and arrive in late summer. You can cut the stems to add to flower arrangements or use the pungent flowers in pickles, on tomato sandwiches, mixed into a soft cheese or as a garnish for pizza or toasts. Garlic chives are hardy perennials, returning every year with enthusiasm, thanks to the large black seed heads that form after the flowers go. The seeds drop in late fall, and you'll always find new garlic chive plants the following year. So plant your first clump where they have room to spread.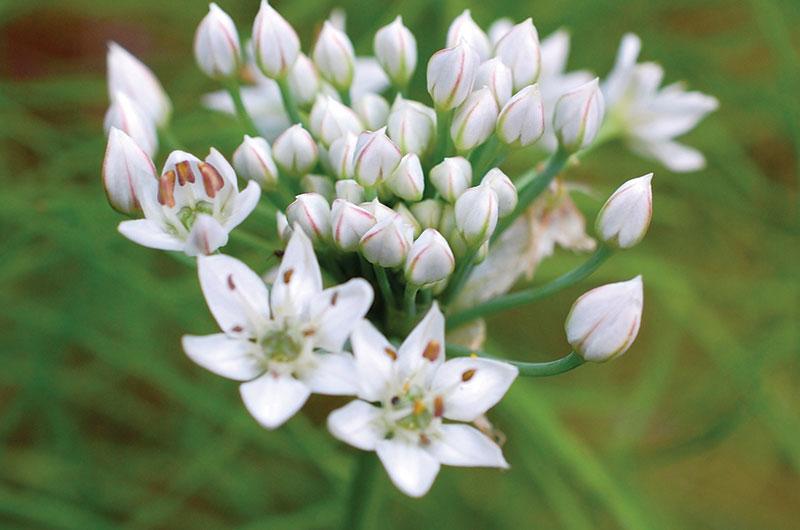 Pineapple sage (below) has tender green leaves that really do smell like pineapple, but what I find most endearing about this herb are the sweet red flowers that bloom profusely in the early fall. The plants can get three or four feet tall in one season, so when the red flowers cover all the branches, the sight is arresting. Pollinators love the flowers too. Add leaves and flowers to fruit salads and iced tea.
Pineapple sage is a tender perennial, and I have not had a lot of luck bringing it through the winter outside. I do have a Vineyard friend who overwintered it in a pot inside by a sunny window. I think it would be best to put it in a container before it blooms rather than digging it up while it's blooming. Then you can just bring the pot in before the first frost.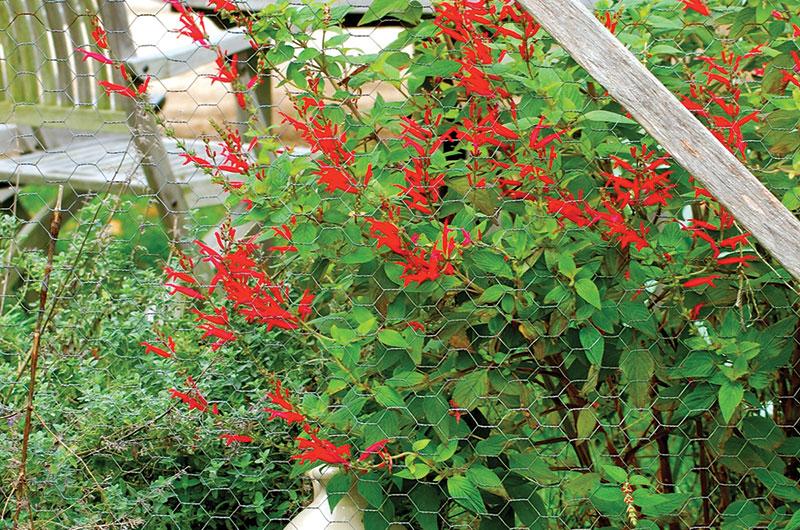 Cilantro is an herb that can be frustrating to grow until you develop a strategy. It likes cool weather, tends to "bolt" or flower quickly (and seemingly automatically around the June solstice), and one plant does not yield a lot of leaves before flowering. Instead of buying one or two plants, buy a whole package (or two) of seeds and sow them in the ground or in a wide and deep container. Let the seeds germinate and the plants grow for only a couple weeks and then pull up individual plants. If possible plant a batch of seeds every week or two so you'll have a continuous harvest of cilantro.
The leaves and the tender stems of cilantro (below) are both equally edible. You can also use the tender roots in cooking; they are a traditional ingredient in Thai curry pastes. Another advantage to pulling cilantro plants up with the roots is that they will hold in a glass of water in the kitchen for a few days.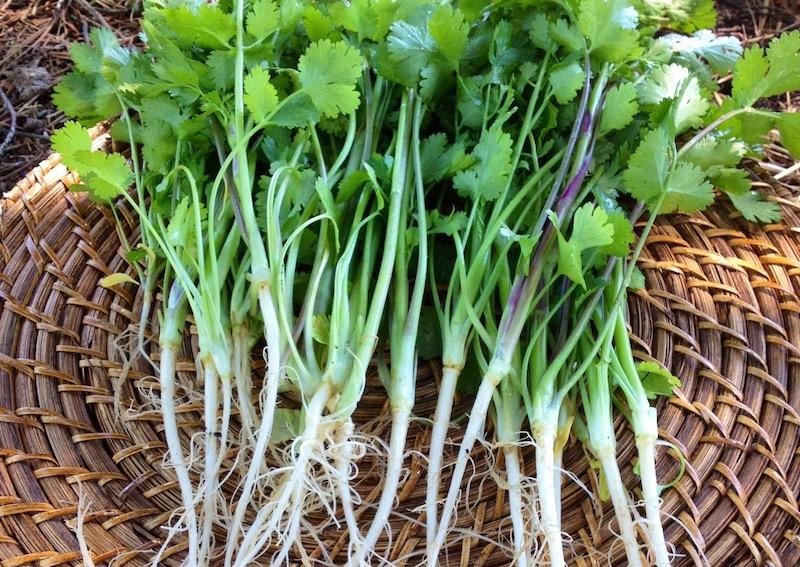 If you're doing the Vineyard shuffle and moving around a lot, planting herbs in containers is a great way to have an instant garden that you can also take with you to your next place.
Mint (below) is a star candidate for a container because it's such a vigorous grower and can become invasive if planted uncontained. There are dozens of mint varieties with which to experiment, including chocolate mint and apple mint. But if faced with a choice between just spearmint and peppermint, I always choose to grow peppermint (look for the red stems). I prefer its clean, sweet, intensely minty flavor over spearmint, but I know plenty of chefs who like to cook with spearmint, especially in Mediterranean dishes. Vineyard Gardens has a Mojito Mint which is a spearmint variety. One of my favorite uses for mint in the summertime is to add the tiniest leaves or slivered leaves to green salads.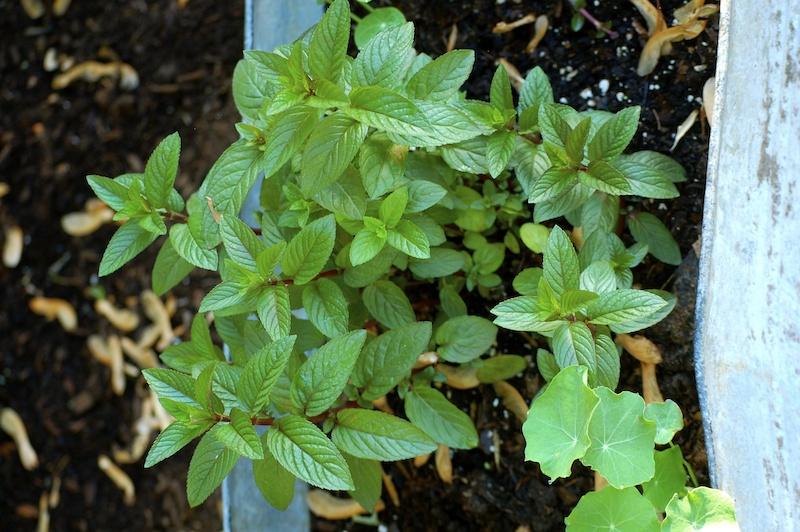 If you decide to grow herbs in containers, choose pots that are deeper than they are wide, allowing the roots plenty of room to grow. Hardy herbs with tough stems like rosemary, sage and thyme like to dry out a bit between waterings and don't appreciate overwatering. This makes them good candidates for planting in the ground too. If you go away, you won't need to worry about watering them. (Cooking tip for woody herbs: Don't over-chop the leaves or the strong oils will become bitter. Use a very sharp knife to chop or slice, rather than bruise the leaves.)
Tender herbs like basil, parsley and cilantro drink a lot of water. If you've got them in containers, you'll probably need to water them daily during high summer. Also remember that basil (in all of its lovely varieties including lemon and lime basil), while it loves sun, also appreciates a little shade during long hot days so that it doesn't get parched. This is why it sometimes performs better in a pot close to the house (partial shade) than in the center of the vegetable garden. Basil also loves rich soil and can benefit from liquid fish emulsion fertilizer during the summer. If Japanese beetles are a problem in your garden, grow basil under fabric row cover (available at garden centers).
No matter your skill or experience level, either as a cook or a gardener, growing herbs is rewarding – fragrant, delicious and beautiful too.