Monday morning I had trouble settling into my desk seat after a week away. So I jumped in the car and drove up to Beetlebung Farm. My excuse? A beautiful photo of radishes on Beetlebung's Instagram feed. (True confession: I also wanted to hear the end of the 21-hour audio book I'd been listening to on the road. It was a Tana French mystery (The Trespasser), and I needed to know who the killer was!
So one beautiful drive (and solved mystery) later, I was at the Beetlebung farm stand where a nice surprise awaited: Japanese turnips in addition to radishes. (Salad greens, too.)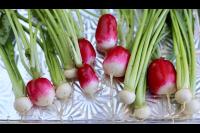 When I was a farmer, I grew a lot of Japanese turnips (aka Tokyo or Hakurei turnips) and radishes under cover in early spring; the little roots like cool weather but a bit of cover warms up the atmosphere enough to speed them along as fast as Jack's beanstalk (and protects from bugs, too). It was thrilling to peek under the fabric and see a canopy of leafy greens over the red and white orbs – and even more thrilling to have vegetables to sell in April.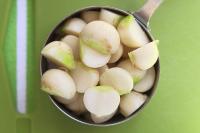 In the kitchen, Japanese turnips and radishes are both super versatile; they can be eaten raw or cooked (yes!) and the greens are edible, too. Crisp-tender turnips need only a few minutes in a hot pan with scallions and ginger (greens added at the end) to be dinner-ready. If you've never had roasted radishes with a squeeze of lime and a drizzle of honey, give that a try. Or use the roots and greens of both vegetables in Soba with Japanese Turnips, Radishes, Greens, Ginger and Miso (pictured at top).
Or add them to fried rice or Cool Peanut Noodles with Crunchy Vegetables.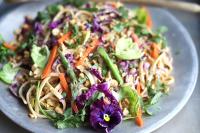 Prefer raw radishes to cooked? Spring Radish and Fresh Herb Salad with Lime-Maple Dressing would be perfect with grilled sirloin tip steak.
Or you could bring summer into spring with Lobster Salad Rolls with Fresh Peas, Radishes, Lemon, and Chives.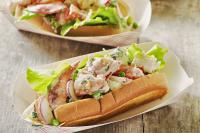 Hey, you notice all these spring recipes are packed with fresh herbs? Not a coincidence. April is the month on the Vineyard when perennial herbs come back to life. My oregano and tarragon are in full swing, my garlic chives are as bushy as a chia pet, a pot of over-wintered parsley is on the deck, and dozens of cilantro "volunteers" are popping up in the garden. I brought three new mint plants back from Delaware – chocolate mint, orange mint, and peppermint. (My old peppermint strangled itself.) I'm starting my favorite annual herbs like Thai Basil and mildew-resistant sweet basil inside under lights.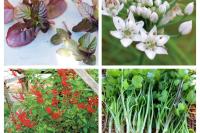 If this is the year you plan to start an herb garden, check out these two stories: Up Your Herb Game and Parsley, Sage, Rosemary, and...Lovage?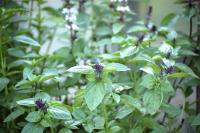 Dinner tonight? Why not use that first bit of mint in a Little Kale and Feta Frittata with Chorizo and Mint.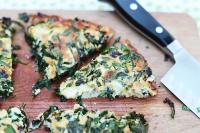 Or make Improv Quesadillas.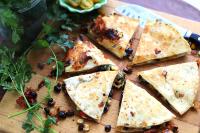 Next week we'll offer some ideas for Mother's Day. In the meantime, check out the reopened Up-Island Cronig's. I did a quick fly-by on Monday and was so impressed with the bright, clean, uncluttered space. Yay! We'll see you there or on Instagram @cookthevineyard.