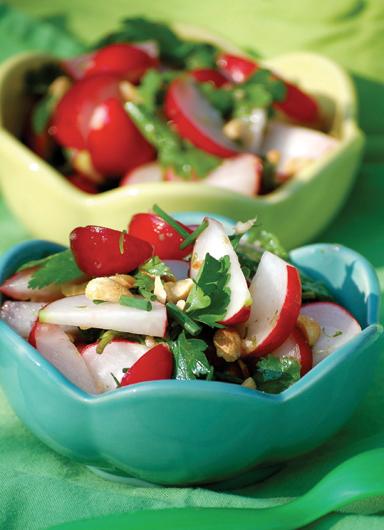 Serve this bright, Asian-inspired salad with grilled fish or shrimp on Mother's Day. Prep ingredients ahead, but don't dress more than thirty minutes before serving. Rip, tear, or snip the herbs (don't chop) to keep from bruising. The chopped peanuts are optional, but I think they make the salad.
Serves 6
1 pound trimmed fresh round red radishes (from about 2 bunches)
3/4 to 1 cup loosely packed whole small or snipped herb leaves (preferably a combination of cilantro, mint, Italian parsley, and chives)
2 tablespoons plus 1 teaspoon fresh lime juice
2 tablespoons maple syrup
1 tablespoon vegetable oil
1 tablespoon finely chopped fresh ginger
1 teaspoon freshly grated lime zest
Kosher salt
2 to 3 tablespoons chopped roasted peanuts (optional)
1. Cut the radishes in half lengthwise; then cut each half lengthwise into wedges about 1/4–inch wide. You should have about 3 1/2 cups.
2. Put the radishes and most of the herb leaves in a mixing bowl.
3. In another small bowl, whisk together the lime juice, maple syrup, vegetable oil, ginger, lime zest and 3/4 teaspoon salt. Let sit for a few minutes, then whisk again. Pour and scrape the dressing over the radish-herb mix. Toss and mix well and let sit for 10 to 20 minutes, stirring frequently and tasting occasionally. (The radishes will release some liquid and will absorb some of the flavor of the dressing as they sit. They will stay crisp, but the herbs will begin to wilt.)
4. Serve the salad in one big bowl, garnished with the (optional) peanuts and the remaining herbs. Or portion into small bowls and include some of the juices with each portion.
This recipe was originally published with the article, Fresh From the Farm: The Radish Revolution.