Pie Chicks founder and owner Chrissy Kinsman created this recipe for a special Cook the Vineyard event, a conversation with NYT Cooking editor Sam Sifton. Adjusted for a smaller batch at home, this recipe works best in a 9 x 13-inch heavy-duty rimmed sheet pan (sometimes called a quarter sheet pan), but if you don't have one, a 9 x 13-inch Pyrex baking pan will work. (The bottom crust may be a bit thicker.)
Makes 24 two-inch square bars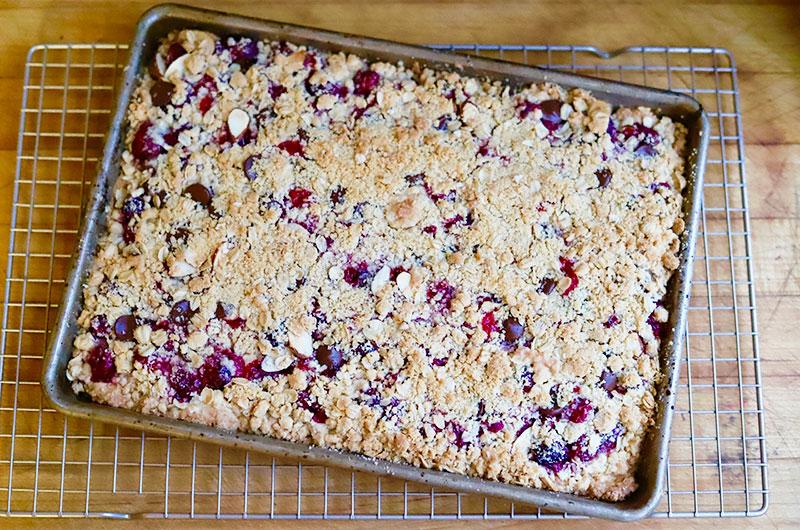 For the filling:
10 ounces frozen or fresh whole cranberries
1/3 cup sugar
1 tablespoon flour
1/8 teaspoon table salt
For the crust and the crumble:
½ pound (16 tablespoons) unsalted butter, cut into pieces and softened at room temperature, more for the pan.
2 ¼ cups flour
1 cup oats
½ cup sugar
½ cup brown sugar
¼ teaspoon table salt
1 large egg
For the assembly:
1/3 cup sliced almonds
1/3 cup (scant) semisweet chocolate chips
1/2 teaspoon flaked sea salt
1. In a bowl, combine the cranberries, sugar, flour, and salt. Toss together. Set aside somewhere warm so that the cranberries (if frozen) can thaw a bit while you are preparing the rest. Heat the oven to 350 degrees F.
2. Lightly butter a rimmed quarter sheet pan (9 x 13") or shallow rectangular baking dish with the same dimensions.
3. In the bowl of a stand mixer fitted with the paddle, combine the flour, oats, sugar, brown sugar, and salt. On low speed, mix until just combined.
4. Add all of the butter and mix until well combined (some butter will still be visible; don't overmix), stopping the mixer if necessary to clear the paddle.
5. Set aside 4 cups (not packed) of this crumble.
6. Add the egg to the remaining mixture in the mixer. Mix on medium speed until the mixture begins to clump together as a crumble topping would. Again, don't overmix.
7. Transfer the mixture from the mixer to the greased pan and press into an even layer covering the entire bottom of the pan.
8. Spread the cranberry filling on top of the bottom layer, leaving a border of about ¼ inch. Sprinkle the almonds overall. Sprinkle the chocolate chips overall.
9. Top the pan with the reserved crumble. It's okay to have some filling visible.
10. Sprinkle salt over all.
11. Bake for about 35-40 minutes (look for the top crust to be lightly golden), rotating often.
12. Let cool in the pan and cut into two-inch squares or whatever size squares or pieces you like.