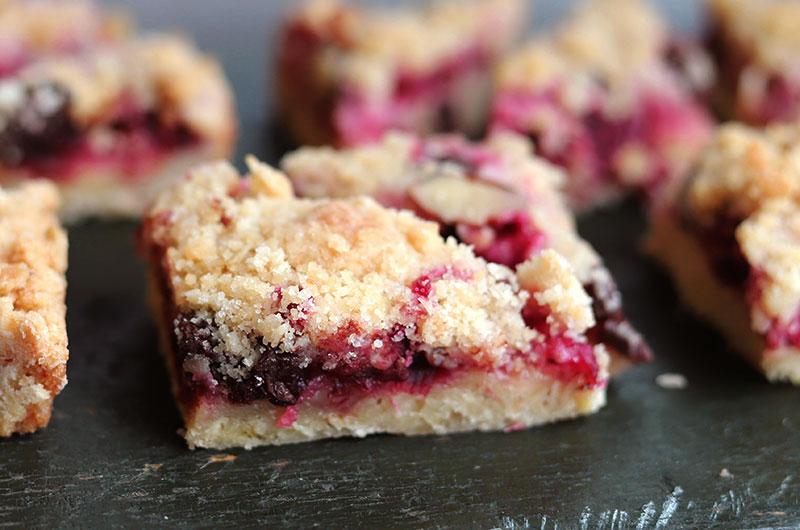 If cookies could talk, they'd all have stories to tell, right? For the Salted Vineyard Cranberry Bar, a life of fame (and perhaps fortune!) began this fall with a call from Cook the Vineyard to Pie Chicks founder Chrissy Kinsman.
Chrissy likes a challenge. "Creation is where all the fun is for me," she admits.
So of course she said yes — yes to the challenge of creating a delicious signature Martha's Vineyard cookie for Cook the Vineyard's first event this past October at the 2019 Martha's Vineyard Food and Wine Festival.
Since we were hosting NYT Cooking's Sam Sifton for an afternoon talk at the Harbor View Hotel, we thought a cookie reception (with a bit of wine, of course) might be a nice idea. Of course we'd have New York's famous Black and White cookie for a nod to Sam's home base (Magnolia Bakery in Manhattan signed on to send them up to us), but we needed a Vineyard cookie, too. Something, we thought, to honor the harvest, perhaps with a fall fruit, since growing food is an important part of our Island identity.
Apples or pears, maybe, but even better— why not cranberries? Maybe a bar cookie? While brainstorming with Chrissy, chocolate and almonds and oats all came up in the conversation. This was starting to sound delicious.
Chrissy went into the kitchen with Raquel Ferrera, her kitchen manager, who had a killer raspberry bar recipe up her sleeve that seemed a good place to start. The first test with cranberries was a success, Chrissy said, crediting Raquel.
"I just made a couple tweaks for the next round," she explained, "And added a sprinkling of flaky salt at the end."
With a bar cookie, the top is the bottom and the bottom is the top. To be clear, the same shortbread dough is used for the bottom of the cookie and the top. But Chrissy wanted the top of this cookie to feel more like a crumble topping, with a bit more texture, a bit drier. So instead of dividing the shortbread base after adding the egg, she divided it before and only added the egg to the dough for the bottom crust.
A smattering of chocolate chips and sliced almonds also moves the cookie beyond basic bar status. And the easy cranberry filling doesn't need to be pre-cooked; the cranberries pop just enough in the oven to yield the perfect texture.
The result was a fabulous cookie with all the good stuff going on — great contrasting textures and a range of flavors. Plus, the bar cookies could be cut in small pieces or large, depending on the occasion.
After Chrissy delivered 200 cookies to Cook the Vineyard's event (where Pie Chicks and Magnolia Bakery cookies were also joined by the Harbor View's Rainbow Cookie), those of us who sampled it that day really wanted the recipe.
Chrissy was kind enough to share it with us, and we tested it at home after scaling the recipe down to fit a 9 x 13-inch pan (a "quarter" sheet pan is ideal). Just in time for holiday baking, we have the recipe for you, and Chrissy also plans a roll-out of Vineyard Salted Cranberry Bars this week in her outlets, which include both Cronig's Markets, Alley's General Store, Tony's Market, Ghost Island Farm, and Edgartown Meat & Fish Market. You can also find Pie Chicks at the winter West Tisbury Farmers' Market Saturdays at the Ag Hall through December 14, 10 a.m. to 1 p.m. Chrissy will also have her holiday cookie bags – a baker's dozen of everything from sugar cookies to snowballs — as well as her individual cookie bags, for sale during the holiday season.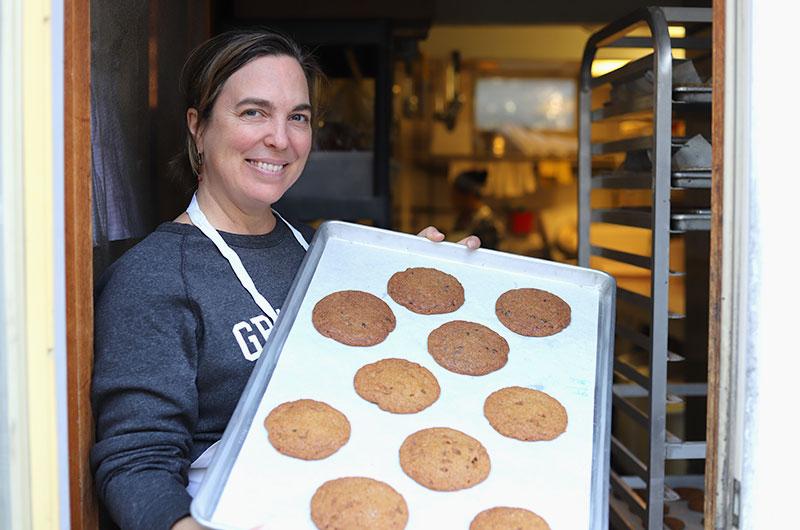 For more information visit piechicks.com.