These pickles will last three or four weeks in the fridge. You can use regular canning jars to hold them, or any jars with tight-fitting lids. You will need 4 pints or 8 half-pints, or any equivalent volume. You might have enough brine to make another pint, so if you've got extra veggies, keep them on hand. Please note that some veggies require blanching or cooking before pickling. And one other handy piece of equipment to have is a funnel for pouring the brine into jars. This recipe allows you to make as many different pickle combinations as you like – for my favorites, see the list at left.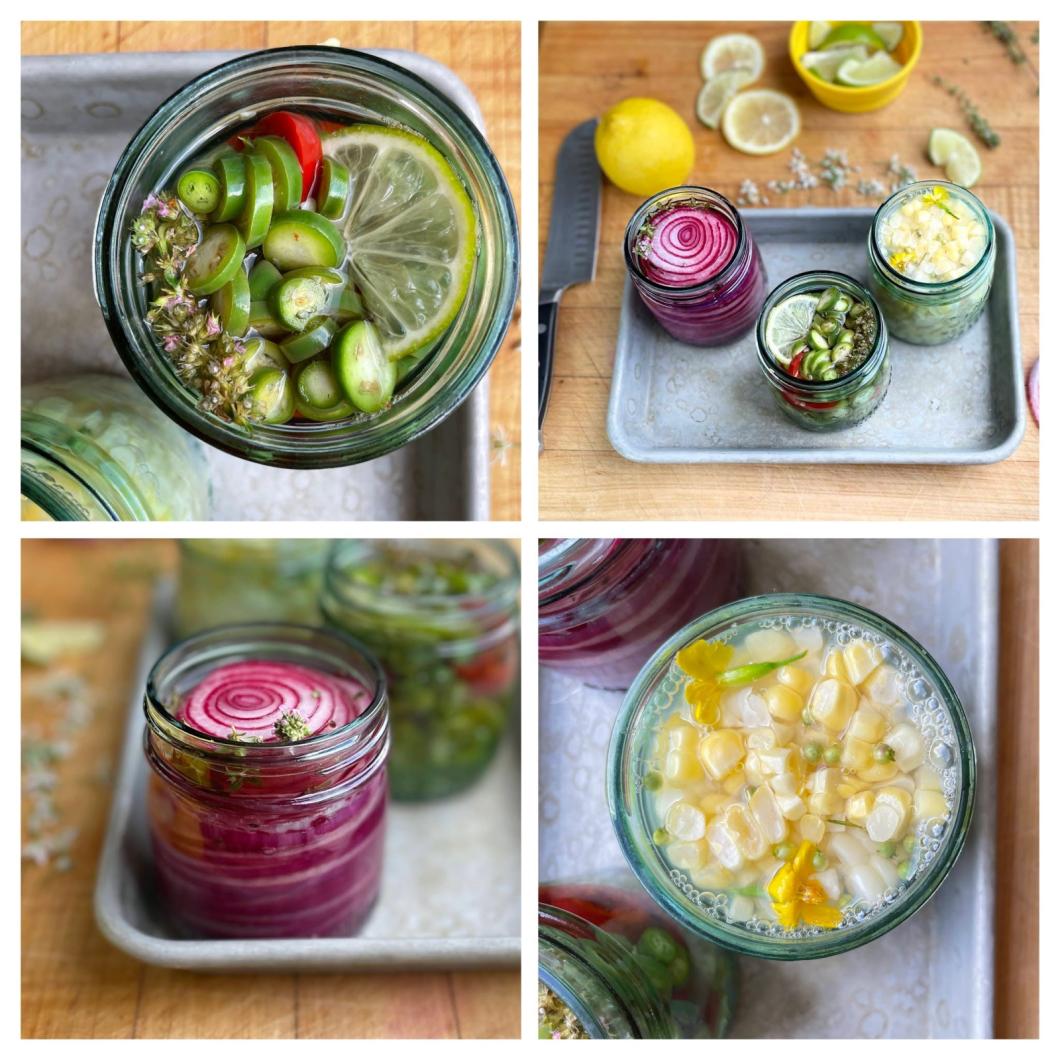 Makes 4 pints or 8 half-pints
For the veggies
2 pounds vegetables (total after trimming); choose one for each jar or combine two or three (a half-pint jar holds about 4 ounces of veggies)
Beets (preferably small or baby), cooked in boiling water until tender, peeled and cut into quarters or slices
Carrots, trimmed and peeled, cut into ½-inch sticks about 4 inches long (or the height of your jar), and blanched for 2 minutes
Cauliflower, cut into very small flowerets (blanching optional)
Corn kernels (freshly cut from cob)
Pickling cucumbers, ends trimmed, sliced (sprinkle with a few pinches of kosher salt, toss, let sit ten minutes, drain and rinse with cool water, pat dry)
Green beans, topped and tailed (choose thinnest beans, blanching optional)
Fennel bulb, cored and thinly sliced
Hot peppers (such as jalapeños or serranos), tops removed and thickly sliced
Onions (any kind), peeled and thinly sliced if large, peeled and quartered if small
Radishes, trimmed and sliced or cut in wedges
For the flavorings
2 to 3 teaspoons spices (total – 1/4 to ½ teaspoon per jar); any combination of the following. (Don't be tempted to use strong spices like allspice and cloves in refrigerator pickles – they'll take over.)
Mustard seeds
Bay leaves, crushed
Cumin seeds (toasted if you like)
Coriander seeds (dried, or fresh green seed heads from garden plants)
Fennel seeds
Dill seeds (dried or fresh green seed heads from garden plants)
Fresh green seed heads of garlic chives
Red pepper flakes (use judiciously)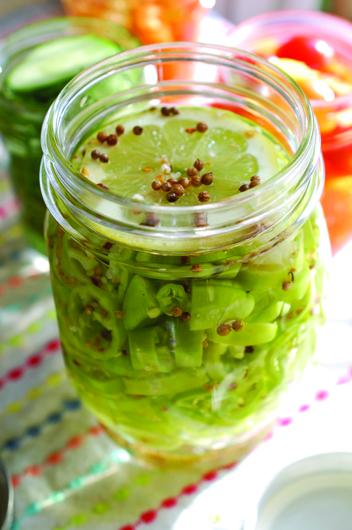 Aromatics
(Choose one to three; I put garlic in every jar!)
4 to 8 garlic cloves, smashed
4 to 8 wide strips citrus (lemon, lime, or orange) zest or 1 teaspoon (total) finely grated citrus zest; plus extra half-moon slices for keeping veggies weighted down in jars if necessary
4 to 8 slices of fresh ginger, smashed
4 to 8 sprigs fresh thyme, dill, rosemary or mint (include flowers if you like)
8 thin slices fresh serrano or jalapeño pepper
For the brine
3 cups white or cider vinegar (or a combination)
3 cups non-chlorinated water
1/3 cup plus 1 tablespoon sugar
1 tablespoon plus 1 teaspoon kosher salt
Directions
1. Wash your jars and lids with hot, soapy water and rinse well.
2. Choose and prep your veggies. You can use just one kind of vegetable (about 2 pounds will be enough for 4 pint or 8 half-pint jars, though depending on the veggie, you may have some left over) or you can use 4 to 8 different kinds of vegetables, one kind in each jar, each with different aromatics. (Again, for a total of about 2 pounds, you'll need about ½ pound per pint jar or ¼ pound per half-pint jar.) You can also combine any of the vegetables (except for the hot peppers) to make mixed pickles. When you trim your veggies, make sure they will fit in jars if you intend to stand them up vertically.
3. Choose your spices and fresh aromatics and set aside. (Amounts are totals for the 4 pints or 8 half-pints; divide evenly).
4. Make the brine. Stir the vinegar, water, sugar, and salt together in a medium saucepan. Bring just to a simmer over medium-high heat, stirring to dissolve the sugar and salt, and immediately remove from the heat. (This will take 7 to 9 minutes or so, depending on your stove.) Let sit for a few minutes off the heat.
5. Assemble the pickles. Distribute the aromatics and spices among the 4 or 8 jars. Pack the vegetables tightly into each jar. Using a canning funnel, pour the brine into each of the four jars, leaving about a ½-inch of headspace at the top. If the vegetables are popping up, use a slice of citrus on top of them to help keep them submerged.
6. Let the pickles cool at room temperature for a few minutes, then screw on the lids, label if you like, and refrigerate to cool completely. You can begin tasting pickles after as little as one day, but they will continue to develop flavor for several days. They will be good for three or four weeks but should be discarded after a month.
This recipie is from the Susie Middleton article, The Pickles' Republic.