This year I wanted to make life a little easier for Thanksgiving so I decided to turn my Creamy Mashed Yukon Gold Potatoes into a make-ahead dish – and one that would serve a crowd. I scaled up the recipe, added a bit more cream and gruyere cheese, transferred to a casserole after making and cooling, and refrigerated overnight. Then for reheating at serving time, I topped with some grated Parmigiano and baked for about 30 minutes until hot. To serve, I topped with caramelized shallots and chives. It was successful and delicious.
There's no doubt that you lose a soupçon of smooth texture by cooling and reheating mashed potatoes (though I hear using the microwave is one trick). But these potatoes are still plenty moist, and the added flavor from the cheese and shallots is a nice boost. Give it a try this year and see what you think.
If you are tight on oven space, pop the potatoes in the oven when the turkey comes out and rests. The potatoes will be hot in about 30 minutes. (Tip: pull the casserole dish out of the fridge at least an hour before you plan to cook it to take the chill off.) If you don't have a 3-quart baking dish (a 9 x 13 rectangular dish or oval equivalent), you can use 2 smaller dishes.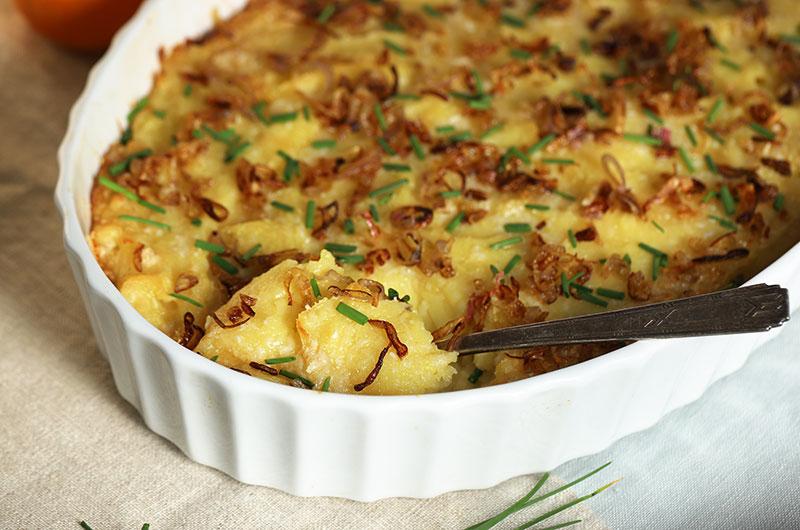 Serves 10
3 ½ pounds Yukon gold potatoes, peeled and cut into 1-inch pieces
Kosher salt
1 cup heavy cream
10 tablespoons unsalted butter, cut into 20 pieces, plus more for greasing pan
4 ounces (about 1 ¾ cup) grated gruyere cheese
1 ounce (about ½ cup) finely grated Parmigiano
Olive oil
3 large shallots, thinly sliced
Sliced chives (2 to 3 tablespoons)

1. Put the potatoes and 2 teaspoons kosher salt in a Dutch oven or small stockpot and cover with two inches of water. Bring to a boil over high heat, reduce the heat to a simmer, and cook the potatoes until completely tender but not falling apart, about 30 minutes.
2. Strain the potatoes, reserving the pot. Return the potatoes to the hot pan and put them over a warm burner briefly. Toss them for a few seconds to evaporate any water left in the bottom of the pan. (You're basically "drying off" the potatoes. Do this quickly and pay attention or the starchy potatoes will begin to stick to the bottom of the pan.)
3. Off the heat, add ¾ cup of the cream, all of the butter, and 1 ½ teaspoons kosher salt. Using a hand masher, mash the potatoes, cream, and butter together. Rotate the hand masher around the edges of the pan to reach everything. Don't use a lot of force though. You don't want to turn your potatoes into glue by overmixing them. When you feel like you're mostly (but not completely) done mashing, pause and stir the mash gently with a silicone spatula to smooth it out. Mash briefly again and smooth.
Stir in up to ¼ cup more heavy cream (I use it all since it will help with reheating) and incorporate that with the silicone spatula. Add the gruyere cheese and stir until well incorporated.
Taste for salt. Potatoes can take a lot of salt and should be full-flavored so don't be afraid to season with a bit more. Do ¼ teaspoon at a time and stop to taste after each addition.
4. Let the potatoes cool in the pot for 10 minutes, stirring once or twice. Meanwhile, lightly grease a 3-quart baking dish or shallow casserole dish with a little butter. Transfer the potatoes to the baking dish and smooth them out. Refrigerate until fully chilled, then cover with plastic wrap. This can be done up to a day ahead. Also refrigerate your Parmigiano in a little bowl near the casserole.
5. Make your caramelized shallots ahead as well. Heat a good splash of olive oil in a medium nonstick skillet over medium-low heat. Add the sliced shallots and a good pinch of salt. Cook stirring occasionally, until softened. Raise the heat a bit and continue cooking until most of the shallots are nicely browned, a total of about 6 to 8 minutes. Transfer to a paper towel-lined plate. When cool, cover and refrigerate, storing close to the potatoes and Parmigiano.
6. Remove the potatoes from the fridge an hour or so before baking. (They will be very cold and will cook more quickly in the oven if some of the chill is off.) Remove the shallots as well. Heat the oven to 375 degrees. Uncover the potatoes, sprinkle the Parmigiano evenly over all, and transfer to the oven. Bake until heated through (I used an instant-read thermometer), about 30 minutes.
7. Garnish with the shallots and the chives and serve from the casserole dish.