It would be nice to bottle these brilliant September days in a mason jar like fireflies. Alas, both fireflies and September are fleeting, reminding us to enjoy the moment while we've got it. (Did you catch that harvest moon on Sunday?) And to my mind, this moment in time is nearly perfect for eating. The saturated, fruity flavors of summer – beefsteak tomatoes, juicy plums and nectarines – still linger, while the rich, earthy flavors of fall, from squash and sweet potatoes to pears and apples, are coming on strong. The overlay is magic.
One of my favorite late summer/early fall pairings is squash and corn. I've been roasting wedges of the red kuri squash I got at Ghost Island Farm last week and topping them with sautéed corn. Spritzed with a gingery-herby dressing and tangled up with arugula, this is all I really need for dinner.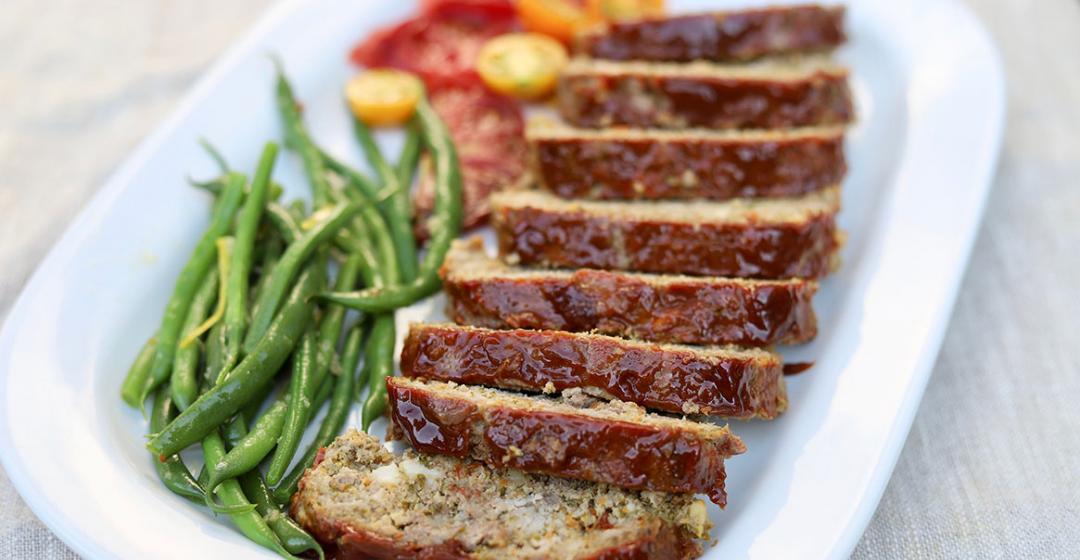 Keeping the carnivore happy with a side of Glazed Market Meatloaf is smart, though.
That little squash salad has a big sister, Roasted Squash and Farro Salad with Fall Greens, Cranberries, and Nuts. Many of you will remember this beauty; it takes a bit more time to prepare, but I bring it up in case a Friday night family gathering is in the plans. Bonus: That Double-Lemon Tahini Dressing.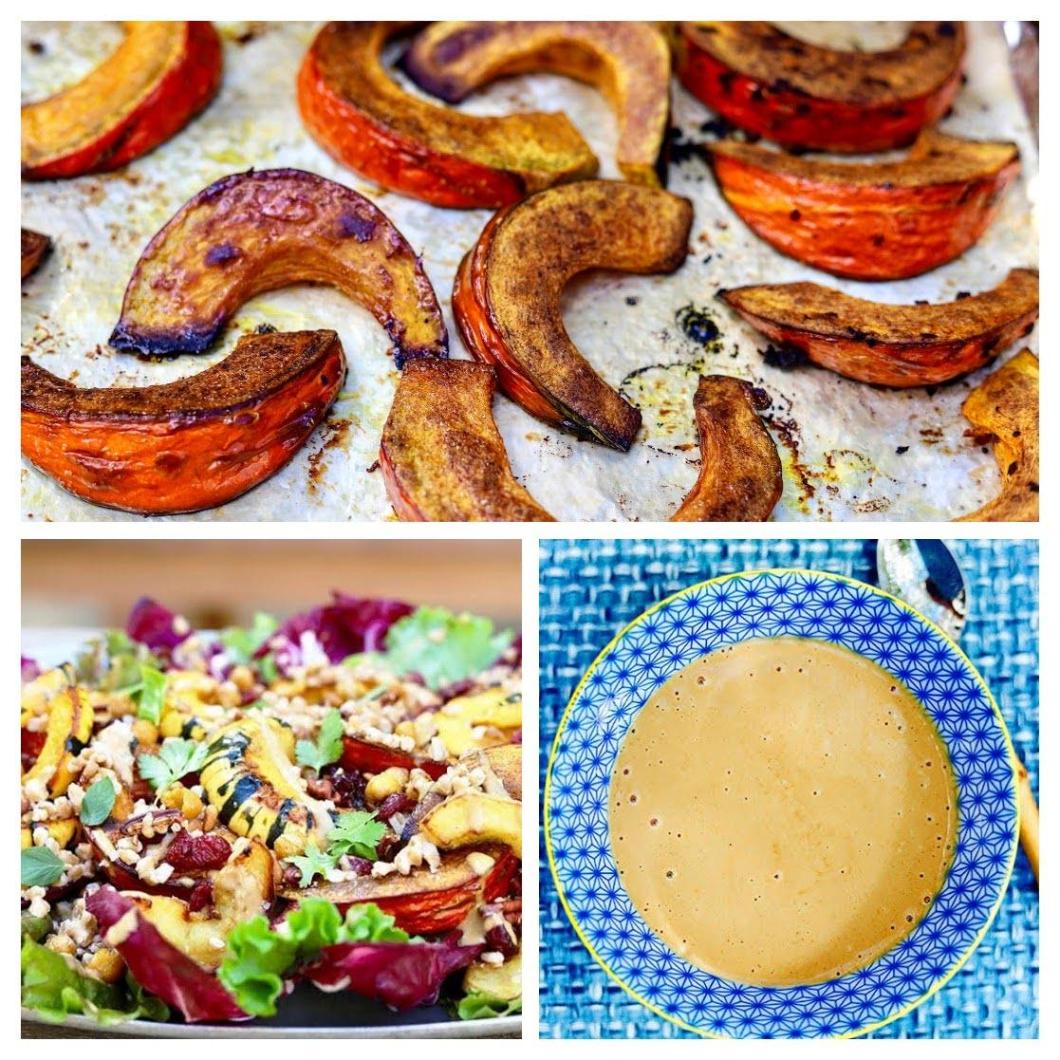 And first cousin, once removed, to those gals: Kale Salad with Sweet Potato Fries & Blackberry-Lime Dressing. Talk about a season-bridger!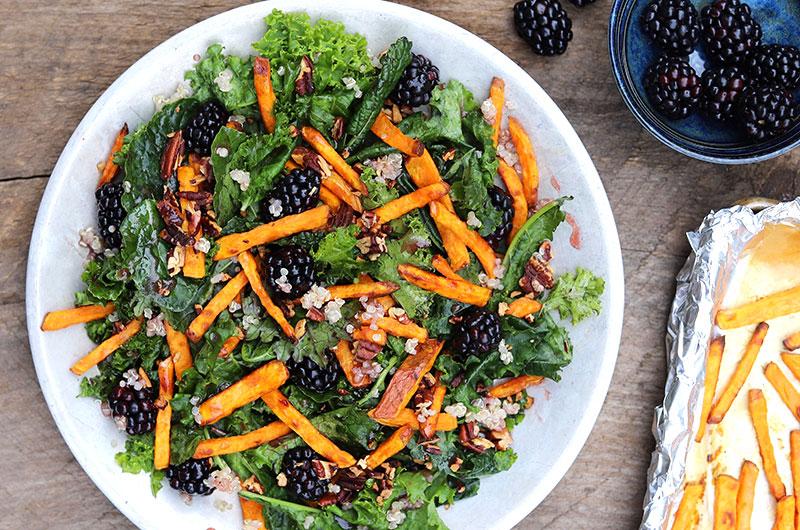 Rounding out the family of fall salads you could make this week is the matriarch of the whole clan (well, she thinks she is): Roasted Cauliflower, Frisée, Apple & Walnut Salad.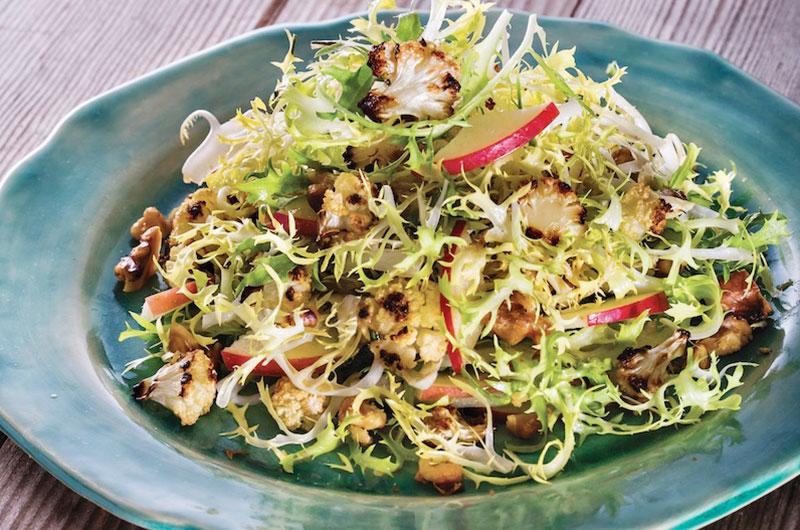 Speaking of moms, I'm hoping to make a version of my mom's spaghetti sauce this weekend. Slow-Simmered Meat Sauce for Pasta should give us a bit for the freezer, too.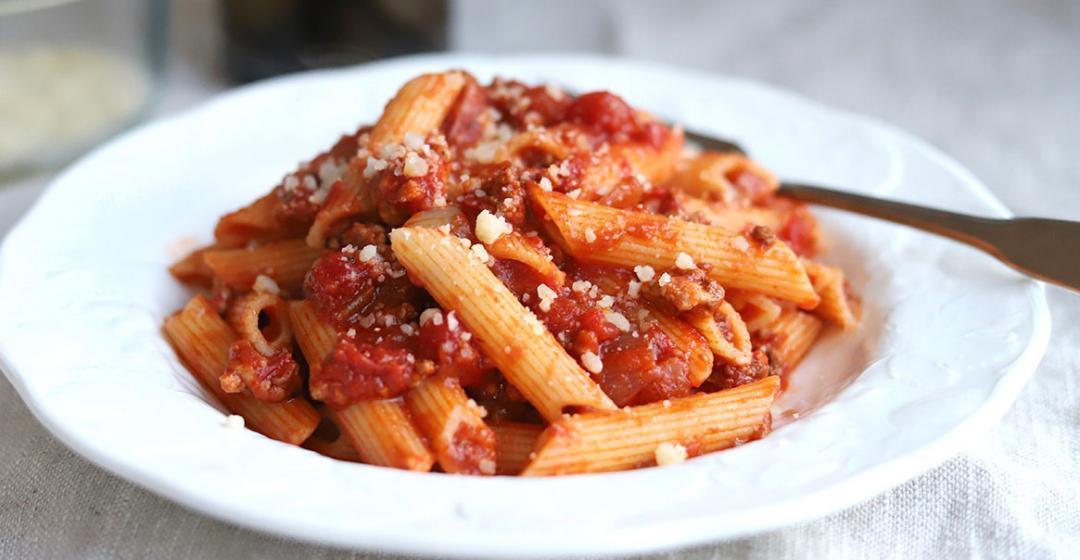 I've been thinking a lot about my mom lately; it's something about September, I guess. So this weekend I'm going to bake my first batch of Pumpkin-Ginger Quick Bread for the season (without the cranberries just yet). The recipe is an update of the one my mom made and brought to friends and neighbors whenever an occasion called for a food-drop. It was so loved that I imagine some of the neighbors feigned illness or tragedy for a loaf.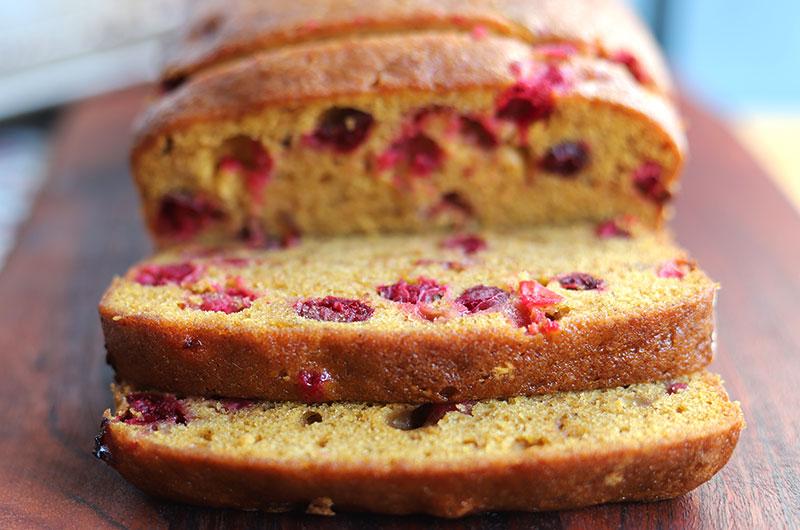 It's a nice tradition, that food-dropping-off thing. Call that a random act of kindness. Maybe you could try that with a loaf of Coconut Cinnamon Tea Cake.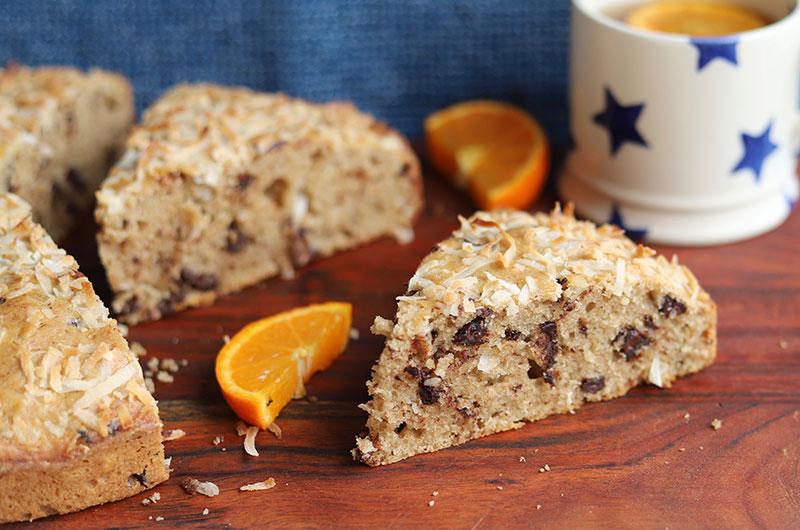 Or a batch of Double Chocolate Cream Cheese Fudge Brownies.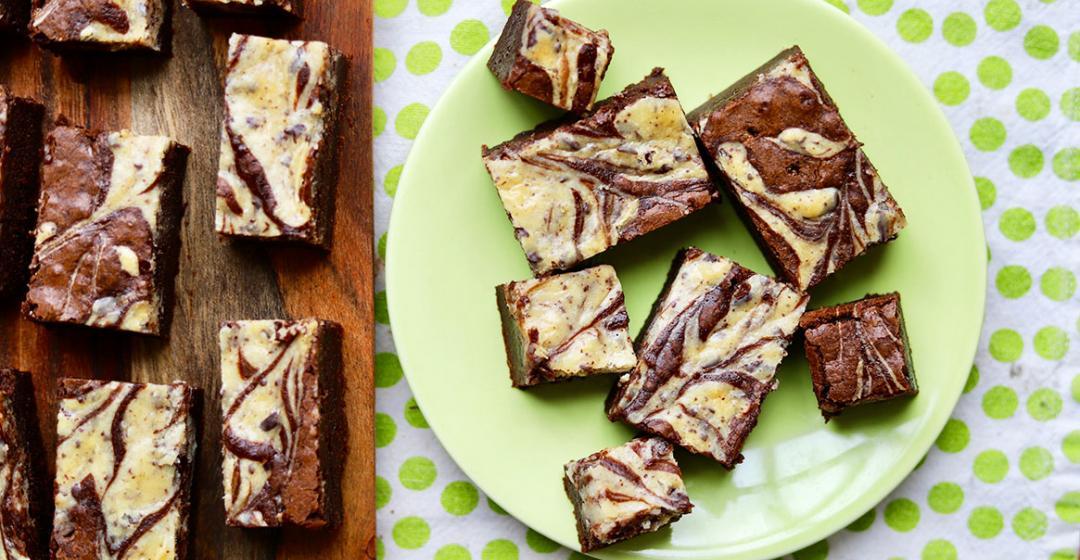 Or if real sustenance is required, a warm Broccoli, Bacon, and Gruyere Bread Pudding on the back doorstep could go a long way towards feeding a cold or changing a mood.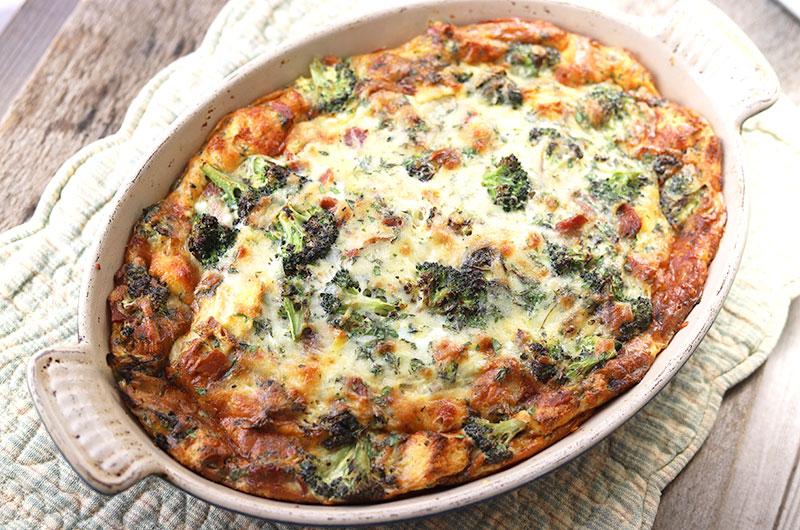 Or perhaps a batch of Stuck-at-Home Bean Chili with chicken is the comfort your friends are looking for.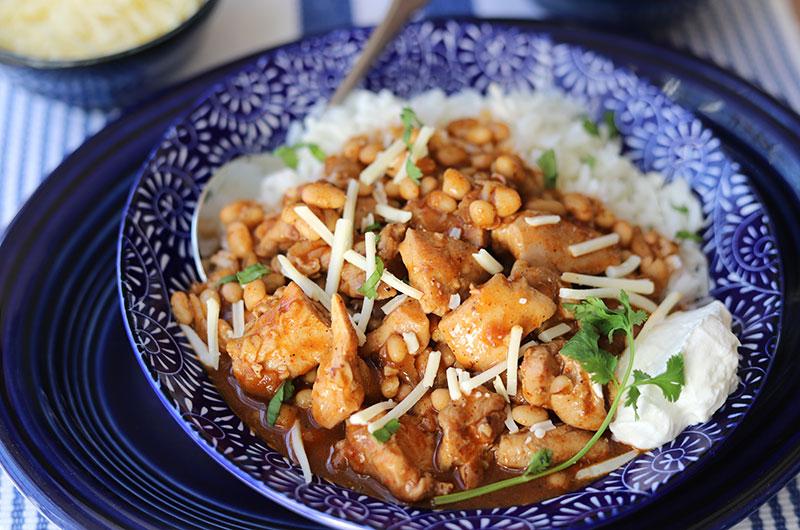 Maybe all of your neighbors are healthy and happy (we hope so!). In that case, why not redirect your energies and help other Islanders by volunteering with Island Grown Initiative: help out at the food pantry, try gleaning, or process pickles and soups in the commercial kitchen.
We'll see you on the farm, and on Instagram. Hey, be sure to follow us @cookthevineyard if you haven't already.