This is the most straightforward and versatile chili recipe I could devise for using when grocery store trips are limited and your pantry may only have the basics in it. It's a good starter recipe for a new cook or a jumping off point for a more experienced cook. (For instance, feel free to add more chili pepper or other spices or add diced fresh peppers to the onion sauté.)
You can use any kind of canned bean, and I've given you meat options. I've tested the recipe with both chicken thighs and ground beef, and I feel it would work fine with any ground meat, though if you are using (lean) ground venison, I would combine it with ground pork. I'm also hopeful this would work with just vegetables. I'd suggest replacing the meat with meaty mushrooms or with a combination of mushrooms, carrots, and small cauliflower florets. I've also given you a choice of liquids.
I think this is best served over rice (or another grain if you like) and topped with sour cream, shredded cheese, scallions and cilantro. But again, you choose the toppings.
Now here's a Betty Crocker casserole moment for you: Leftover chili mixed with rice and spooned into a shallow casserole dish, reheated covered for 30 minutes, then topped with cheese for a few minutes, is very tasty. Can't tell you how I found that out. But you will feel like a thrifty meal-stretcher if you try that.
Also, leftover chili (it will have absorbed much of its liquid overnight) makes a great taco or burrito filling, too.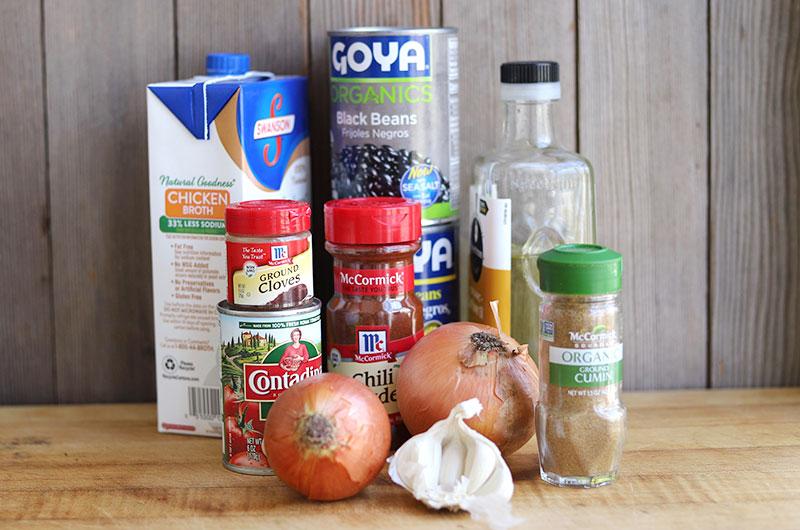 Serves 4
2 to 3 tablespoons cooking oil (any kind)
2 pounds boneless chicken thighs, trimmed and cut into 1-inch pieces, or 1 ½ pounds ground beef (or a combination of ground pork and ground beef or ground venison)
1 ½ cups chopped onions
1 tablespoon chopped fresh garlic
2 tablespoons tomato paste
2 tablespoons chili powder (or 1 to 2 more teaspoons more if you like)*
1 teaspoon ground cumin
¼ teaspoon ground cloves
2 15-ounce cans small white beans, black beans, or pinto beans (or any beans you like), drained and rinsed
3 cups chicken broth (or salted water, homemade vegetable broth, or commercial vegetable or beef broth cut in half with water)
Lime juice, balsamic vinegar, or other acidic ingredient
For serving (choose any or all):
Cooked rice
Grated cheddar or Montery jack cheese (about 1 ½ cups)
Sour cream (about ½ cup)
Cilantro (chopped, about ¼ cup)
Scallions (sliced, any part, about ½ cup)
Avocado (one, peeled, pitted and diced)
1. In a medium (4- to 5-quart) Dutch oven, heat 2 tablespoons of the cooking oil over medium heat. When the pot and the oil are hot, add a third or half of the meat (don't crowd the pan), season with about 1/4 teaspoon salt, and turn the heat to medium-high. Cook until well-browned and shrunken, 6 to 8 minutes, flipping once if necessary. (Ground meat has a tendency to steam rather than brown, so if that happens, just cook the meat until it has rendered its fat and is just barely cooked).
2. Remove the meat or vegetables from the pot with a slotted spoon and transfer to a plate. Repeat with remaining batches of meat or vegetables. Spoon off any fat in excess of a couple tablespoons. If there is a lack of fat (which there might be with chicken), add 1 tablespoon more for the next step.
3. Add the onions and ½ teaspoon salt, stir, and cover the pot for 3 to 4 minutes, stirring occasionally. Uncover and continue cooking until the onions are lightly browned. Stir in the garlic and sauté until fragrant, about 30 seconds.
4. Add the tomato paste and stir into the onions and garlic, pressing slightly against the bottom of the pan to cook it a bit. Add one teaspoon salt, the chili powder, cumin, and cloves and sauté until fragrant, a few seconds.
5. Add the chicken broth (or whatever liquids you're using) and stir well to scrape off any bits stuck to the bottom of the pan. Add the beans and the reserved meat and stir well. Bring the liquids to a boil, reduce to a simmer, cover loosely, and cook for 25 to 30 minutes to blend flavors and reduce liquids slightly.
6. Take the chili off the stove and let cool a bit. Season with a squeeze of lime juice or a couple dashes of vinegar to pick up the flavors. Taste and adjust seasonings as needed.
7. Serve over rice with cheese, sour cream, cilantro, scallions, and avocado, if desired.

* If you don't have chili powder, you can make your own by enhancing regular paprika (or even better, smoked paprika if you've got it) with ground cumin, ground coriander, and dried oregano. You can add a bit of garlic powder or onion powder if you keep those things around, and a bit of cayenne or ground dried chipotle pepper for heat if you like.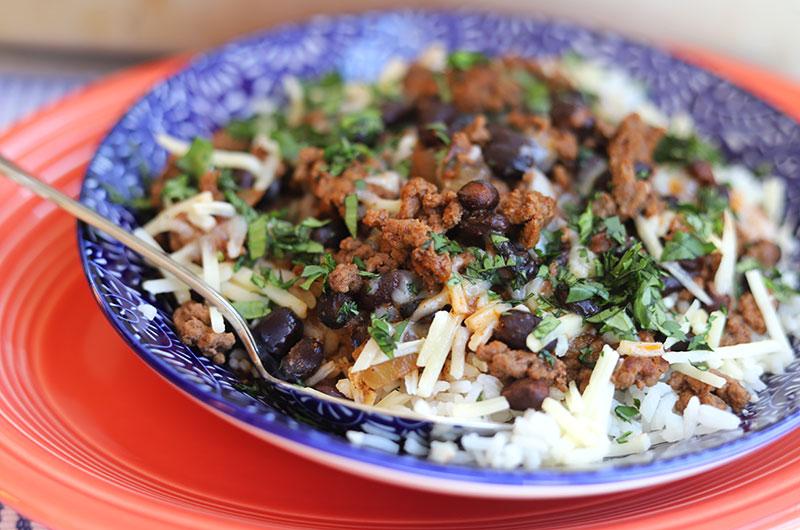 *