The trick to this flavorful pasta recipe (other than having a well-stocked pantry!) is to measure and chop all the ingredients before you start cooking, which will then go quickly.
Serves 3-4
12 ounces of spaghetti
1/4 cup extra virgin olive oil
6 garlic cloves thinly sliced
3/4 teaspoon red pepper flakes
12 anchovies, minced (2 ounce can, drained)
3 tablespoons drained capers, plus 2 tablespoons brine from the caper jar
2 teaspoons freshly grated lemon zest
3 tablespoons lemon juice (from about 1 ½ lemons)
3/4 cup chopped fresh parsley
2 ounces (about 1 cup) grated Parmesan (preferably Parmigiano Reggiano)
1/4 cup or more pitted, halved kalamata or green olives
1. Bring a large pot of lightly salted water to a boil. Add the pasta and cook until just tender but not fully cooked, about 2 minutes less than the package directions. Reserve 2 cups of cooking water, then drain.
2. In a large skillet over medium heat, combine the oil, the garlic, the pepper flakes, the anchovies and the capers. Cook, stirring occasionally, until fragrant and the garlic is golden, about five minutes. Add the reserved pasta water and bring to simmer.
3. Add the pasta and the olives (if using) and stir occasionally until the pasta is al dente, about three to five minutes.
4. Off the heat, stir in the lemon zest and juice, the caper brine, the parsley and half of the cheese. Taste and season with salt and pepper.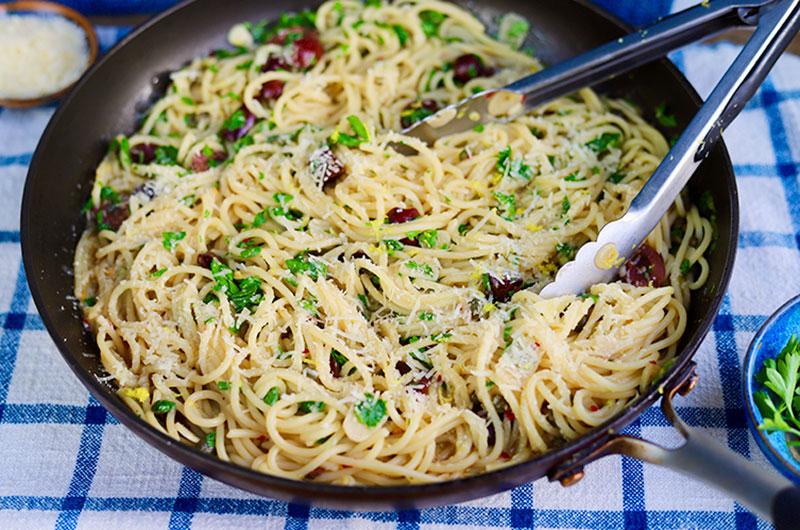 *