The longer days and a hint (ok, a very faint hint, but a hint nonetheless) of warmer temps and (slightly) greener grass brings fresh hope of gathering with friends for a sunset and chatting aimlessly about nothing in particular.
Daydreaming about those carefree evenings has me thinking about my spring nibbler menu. My pals are a casual, laid-back bunch so nothing too fancy or prim, and it should be easy to eat as well as to serve. Along with some fresh veggies and hummus, I'll be serving up these buttery, cheesy nibblers. You could call them crackers, but since these Savory Parmesan Crisps are made with butter and loaded with Parmesan cheese (Parmigiano-Reggiano is the best and you can buy it already ground at Cronig's), the texture is more like pie crust. The bottom line is that these crispy bites are ridiculously addictive. Optional toppings like extra Parm, everything bagel seasoning, or a spray of coarse sea salt take the flavor one step further. And I say it's worth it! I've suggested a few flavor swaps below if you want to go "off menu."
Using a similar technique to making pie dough, I whiz up the dough in a food processor. This speedy little dough comes together in minutes, can be rolled immediately and then chilled while the oven heats up. That's what I call (almost) instant and delicious gratification*.
For uniform cooking and crisp results, it's important to roll the dough into a thin, even layer (see below for tips). After that slightly finicky process, brush any excess flour from the dough, evenly coat with some egg white, and sprinkle any toppings you like over the dough. Now it's time to have some fun. Using a pastry wheel (fluted or plain edged) cut the dough into random shapes and sizes.
I know we are all looking forward to seeing friends – old and new – soon, but in the meantime, drop a note in the comments section under the recipe and share what you are looking forward to serving. And, as always, let us all know what you and your friends thought of these little Parm crisps so we can all learn from each other and from Baking Together (it's our 14th!) here on Cook the Vineyard.
If you're new to our Baking Together column, be sure to check out our other recipes: One Bowl Vanilla Cupcakes with Milk Chocolate Frosting; Pumpkin Cream Cheese Tart with Crushed Pretzel Crust, Butter Pecan Slice-and-Bake Cookies, Lemon Rosemary Parmesan Scones, Pie Plate Chocolate Chippers, Cream Cheese Pound Cake, Strawberry Shortcake, Lemony Blueberry Bars with Chunky Almond Crumble, Make-Ahead S'mores Squares, Streusel-Topped Ginger Pear Coffee Cake, Classic Apple Crumb Pie, Vanilla Rice Pudding for Two, The Ultimate Flourless Chocolate Cake and Coconut Cinnamon Tea Cake.
Tips for Success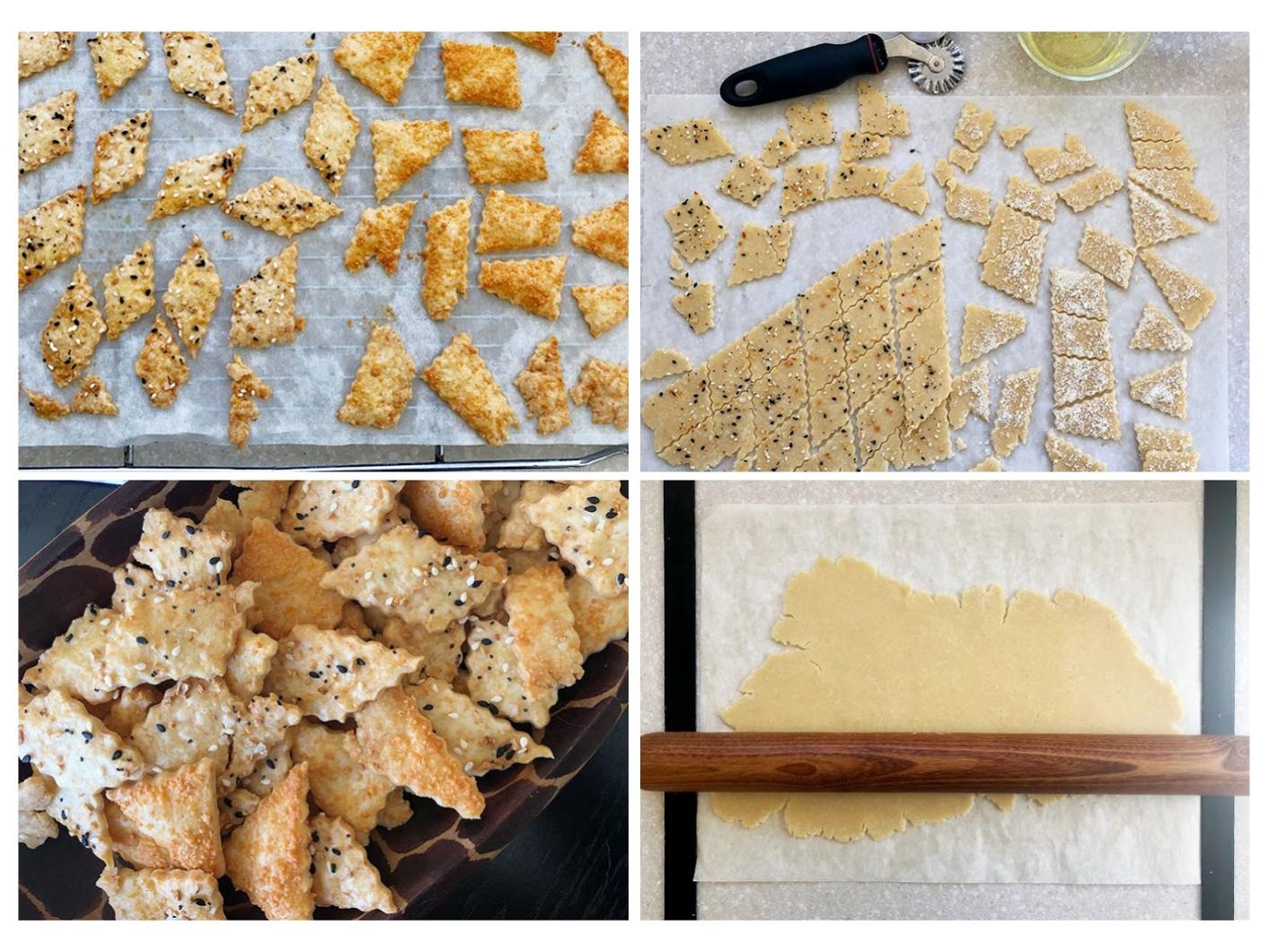 *Of course, if you are planning ahead, the dough can be refrigerated for up to 2 days or frozen up to 3 months ahead of rolling and baking.
For the most even rolling, I use 1/8-inch wooden slats (rolling pin rings work too) to keep me honest and my dough perfectly even. Sold in packs of three or four different thicknesses, you can buy rolling pin guides on Amazon.
For maximum crisp and delicate crunch, make sure to bake these gems until they are golden brown. Underbaked crackers will taste flat and the texture will be too soft.
Baking a full recipe? Use two cookie sheets and bake them one at a time, monitoring the crackers' baking progress and rotating the sheets in the oven as necessary.
If you baked the crackers ahead, you can serve them at room temp or, if you prefer, you can refresh them in a 350°F oven for a couple of minutes. This is helpful if they have been sitting on your counter for a day or two and you want to re-ignite the flavors and texture.
Other hard cheeses like aged gouda or extra sharp cheddar will work here in place of the Parmesan.
Parmesan pairs nicely with finely grated lemon zest (1 to 2 teaspoons) and chopped fresh herbs like thyme or rosemary (1/2 to 1 teaspoon). Add them along with the flour and Parmesan.
Feel like spicing it up? Add a dash (or two) more of the cayenne pepper for some kick in your crackers.