I first posted this recipe many years ago as Mini Savory Bread Puddings with Kale, Bacon & Cheddar. But I always intended it to be a "template" recipe – in other words, a recipe that had plenty of opportunity for substituting different ingredients, depending on what you had on hand.
Recently I made a variation with sausage and broccoli that I loved. Instead of the kale and bacon, I sauteed 8 ounces of crumbled local sausage and about 1 ½ cups of chopped veggies (broccoli and shallots) for the filling. I used fresh thyme for the herb and gruyere for the cheese. It was delicious (see photo at top).
So I think it is high time to change the title of this recipe to just plain Mini Savory Bread Puddings. As long as you keep the amount of custard (the eggs and half 'n' half ) and the amount of cheese and bread consistent, you can't go too far wrong. I just think with all of us trying to cut down on food waste that you should feel free to use what you've got on hand.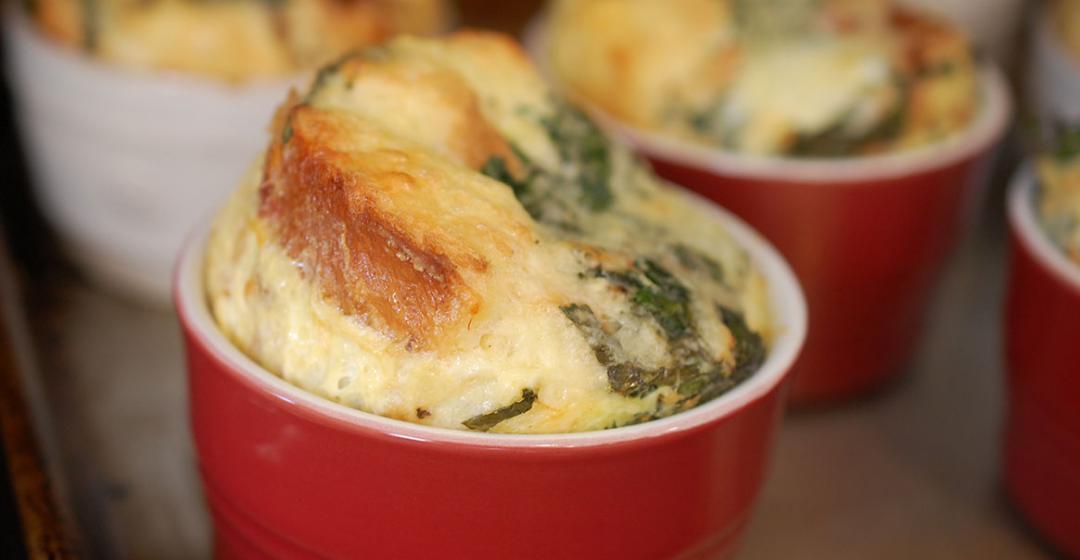 The wonderful thing about these is that if you want to serve them for a breakfast or brunch, they can be completely assembled the night before, covered well, and refrigerated. Then remove them from the fridge while the oven heats up and bake them. (Don't prebake them and reheat them if you're having people over – perfectly fine to do with leftovers but they're nicest freshly baked.)
The puddings will rise up in the oven and then collapse as they cool. The flavor develops as they sit, so let them rest out of the oven for a little bit – at least 10 minutes and even 20.
You will need 1-cup ramekins for this; ceramic is nice but Pyrex will do. That said, you can also layer all the ingredients into a 2-quart baking dish and bake one big pudding, too, as in this Broccoli, Bacon, and Gruyere Bread Pudding.
Serves 8
• 2 tablespoons unsalted butter, plus more for rubbing the pan
• 5 cups cubed challah (about 6 ounces, cut into ¾-inch pieces) or other bread
• 2 tablespoons maple syrup
• Kosher salt
• 4 strips bacon or 6 to 8 ounces sausage
• Extra-virgin olive oil
• 2 to 2 ½ cups very thinly sliced Tuscan kale (ribs removed first) or other green veggie (reduce amount of veggies if using sausage)
• 1 teaspoon minced fresh garlic
• 7 eggs
• 2 ½ cups half and half
• 1/2 teaspoon Worcestershire sauce
• Freshly ground black pepper
• 1 ½ cups coarsely grated cheddar, gruyere, Monterey jack or Swiss cheese or 1 cup crumbled feta cheese or goat cheese
1. Heat the oven to 375 degrees. Rub 8 1-cup ramekins all over with a little butter. Put the bread cubes on a baking sheet and bake until lightly toasted, about 8 minutes. Let the bread cool for a few minutes on the pan and then transfer to a mixing bowl.
2. In a small saucepan, melt the 2 tablespoons of butter over medium-low heat. Add the maple syrup and stir together. Pour the maple butter over the bread cubes and stir well. Season the bread with a pinch of salt and toss well.
3. Put the bacon or sausage in a medium or large skillet and cook over medium-low heat until crisp or browned. Transfer to a paper towel–lined plate and crumble or chop when cool. Drain all but a few teaspoons of the fat from the pan and add 2 teaspoons olive oil. Turn the heat to medium-high. When the pan is hot, add the kale (or other chopped or thinly sliced vegetable), season with a bit of salt, and cook, stirring, until the kale is wilted or the other veggies are softened and starting to brown. Add the garlic and cook until softened, a few seconds. Remove the pan from the heat.
4. In a large mixing bowl, combine the eggs, the half and half, the Worcestershire, several grinds of black pepper, and a scant teaspoon of salt (a tad less if using a salty cheese). Whisk well to combine.
5. Arrange the 8 ramekins on a rimmed baking sheet.
6. Divide half of the bread cubes evenly between the 8 ramekins. Scatter half of the bacon or sausage, half of the veggies, and half of the cheese over the bread. Repeat with the remaining bread cubes, meat, veggies and cheese.
7. Pour the egg mixture evenly over each ramekin. Using your fingers, gently press down on the bread and veggies to force the custard to evenly surround everything. Let sit for 10 to 15 minutes.
8. Bake until the puddings are risen, set, and golden colored, about 25 to 30 minutes. Let rest for 10 to 20 minutes before serving.