It's a strange holiday season, to be sure. My travel plans are nixed, replaced by a Zoom meetup with my Dad and sister on Christmas Eve. Maybe you're in the same boat. All we can do is be good to ourselves and find joy wherever we can. Among other things, that means cooking whatever you like for your holiday meal.
For me, doing everything at the last minute is stressful (why I wasn't a good line cook in restaurants!), so I'm going to take advantage of the slower pace this year to make some things ahead. Instead of a big roast, we're going to have my Beef Ragu with Bacon, Tomatoes, and Mushrooms.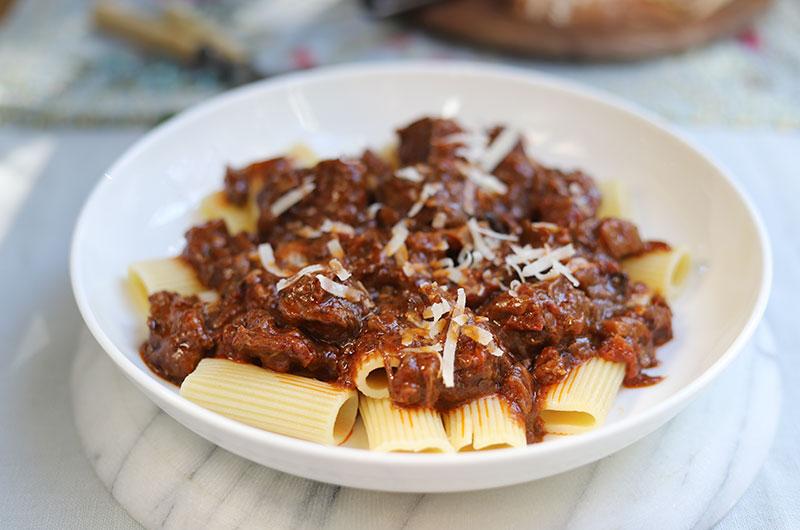 This is a lovely stew recipe I created for the latest edition of Martha's Vineyard magazine with the goal of marrying a French red-wine daube and a Neapolitan beef ragu. (Read "Slow and Heady.") Basically, that means a rich wine-and-tomato sauce and lots of tender beef. It can be served over pasta (rigatoni would be perfect) or mashed potatoes. The flavor improves overnight, so definitely make it ahead.
I'm totally ahead of schedule on dessert, as I made Abby Dodge's Ultimate Flourless Chocolate Cake this weekend and froze some of it. I hadn't made a cake like this in years and had forgotten how straightforward the technique is – not fussy at all. And then when I tasted the results of Abby's recipe, I swooned – so much chocolate flavor and such an ethereal texture.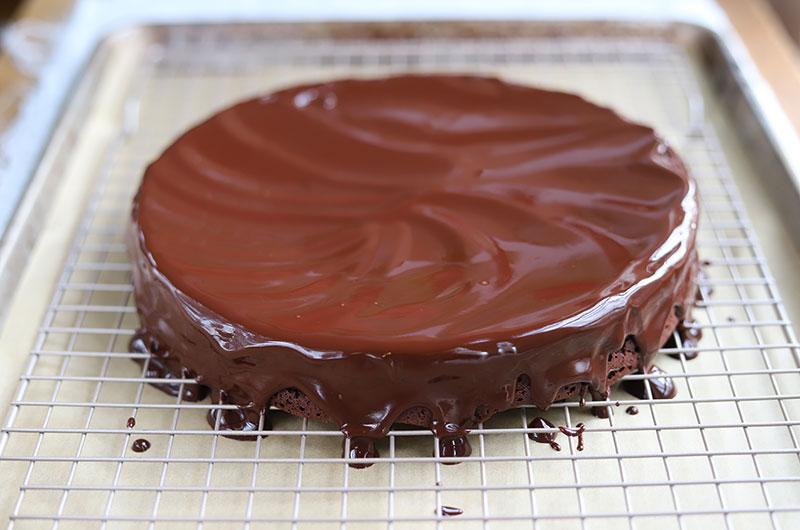 You can dress the cake up or down, glazing it or not, garnishing it or not. Abby writes that it keeps well in the fridge for three days after glazing, but that in a pinch you can also cut slices, freeze them on a sheet tray, wrap well, and keep in the freezer for up to a month. Check out the rest of Abby's tips and variations for the cake in our latest installment of Baking Together (No. 11!). And be sure to leave notes on the recipe after you make it.
In Delaware, we often have Crab Cakes or Crab-Stuffed Shrimp on Christmas Eve. Those recipes are hard to pass over and both can be partially made ahead. But since we're home on the Vineyard, I think we'll have oysters and sea scallops.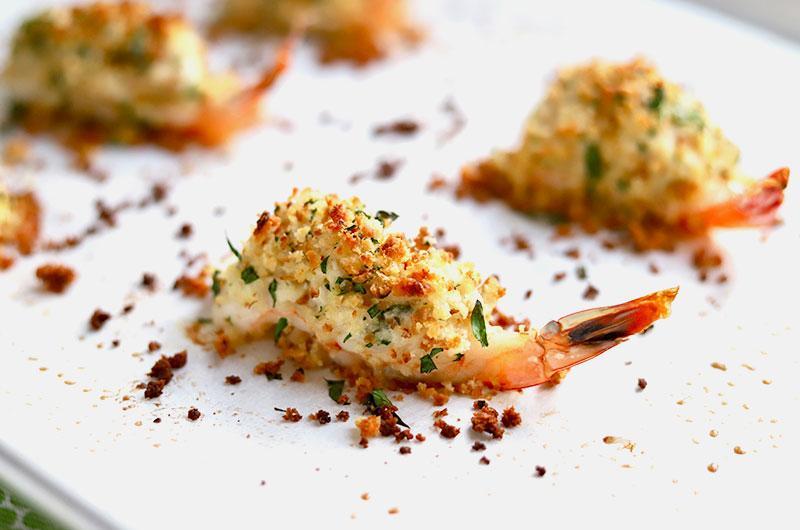 For the scallops, I'll use this Seared Sea Scallops technique, but instead of serving them over mashed potatoes with Sautéed Asparagus with Prosciutto Crisps and Parmigiano (as in the photo below), I might serve them over Roasted Butternut Squash Risotto with a tangle of Collard Green Confetti. And I will violate all risotto laws and cook it (mostly) ahead.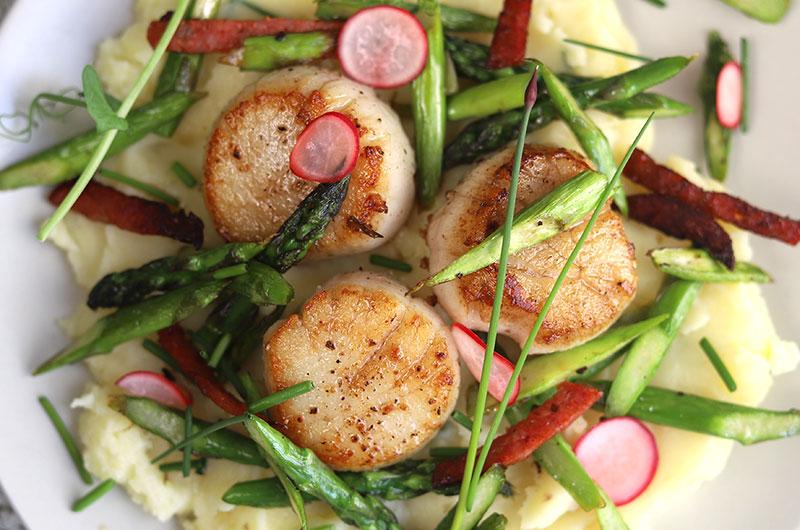 Between scallops and beef, you'll need something light. I'm thinking this Quick-Roasted Beet and Arugula Salad could go wintery if you substitute sliced oranges or clementine segments for the strawberries. You wouldn't need the optional grains, of course, unless you want to use this for a vegetarian supper this week.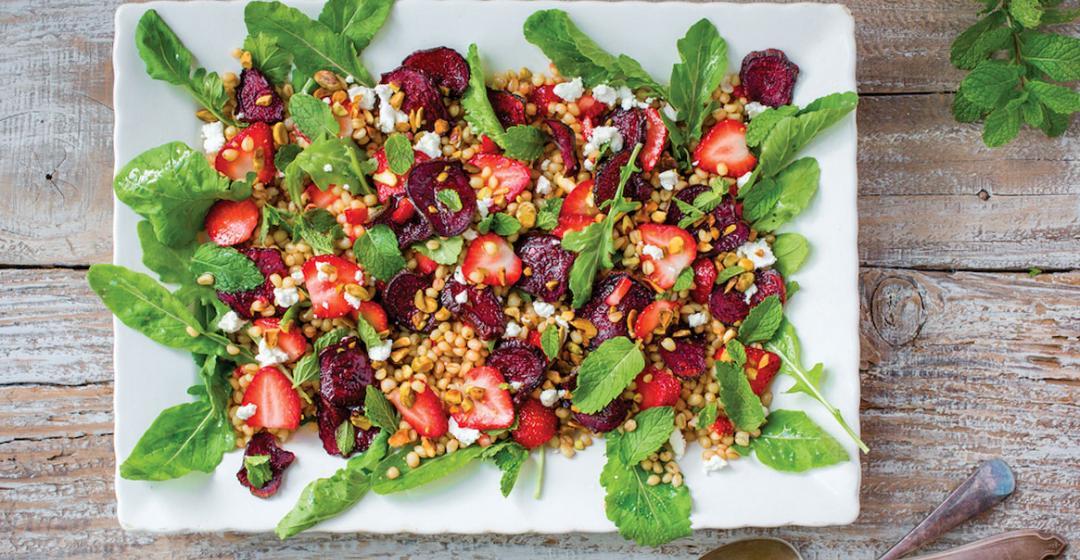 Now if you're still in cookie-baking mode, don't forget to check out our holiday collection. But if you're looking to make an edible gift that might last a little longer than cookies, we recommend Judson's Crispy Granola or Chocolate Sauce for Ice Cream.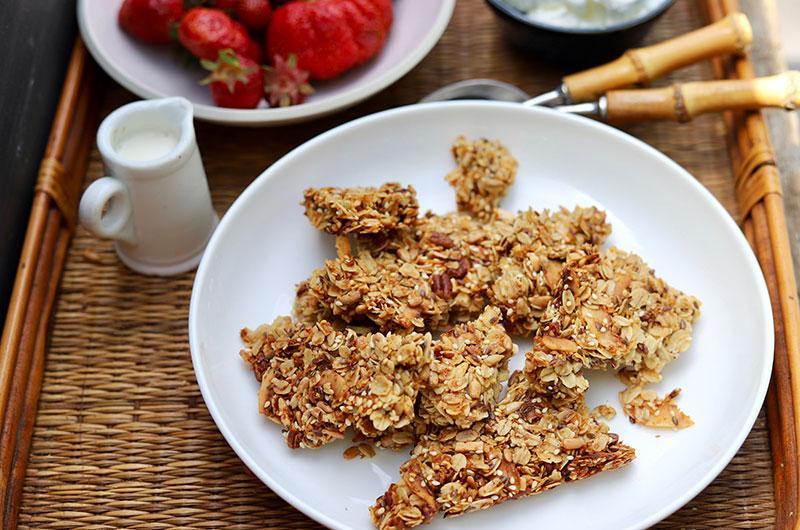 And how about gifting yourself a new cookbook? Catherine Walthers has a great roundup of the winning cookbooks in the Readable Feast Awards, which honored New England culinary talent last week. I just got my hands on Pastry Love, Boston chef and restaurant owner Joanne Chang's latest cookbook. It's a beautiful book — every recipe has at least one photo — and since Joanne is so generous with her pastry knowledge, it's no surprise that the book took top honors. But Molly Stevens and many other great New England cooks won awards, too.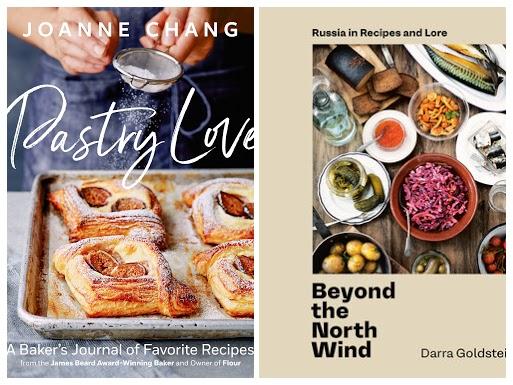 Keep the lights aglow and I'll see you on Instagram!