Flourless chocolate cake might have risen to prominence in the 80's and 90's, but to me it's a timeless, elegant dessert that's still taking its star-turn. Deeply rich and densely chocolate-y, the cake's texture is silky smooth and decidedly decadent. Each bite is an indulgent celebration. Simply stated, The Ultimate Flourless Chocolate Cake is the ideal dessert to celebrate the holidays, no matter what size your gathering. You can make it ahead, too (see below).
As chocolate blends and pairs beautifully with so many companion flavors, this cake is an ideal blank canvas for variation. That makes the recipe a perfect candidate for our series of Baking Together recipes (this is our eleventh!). Serve it exactly as written (that's what I'll be doing) or you can change up the flavor pairings to suit your preferences — think espresso, orange, or peppermint for starters (see options below).
Of course, you might not want to get too fancy this year; if so, you could skip the glaze altogether. Top the cake with only a sprinkle of graham cracker crumbs or confectioners' sugar and serve alongside a glass of cold milk – a certain red-suited someone might enjoy it this way too. Or you can have some fun and serve it as a glazed, glamorous dessert. Add a glass of bubbly and a candle or two and you're guaranteed to have a good night.
If you're new to our Baking Together column, be sure to check out our other recipes: One Bowl Vanilla Cupcakes with Milk Chocolate Frosting; Pumpkin Cream Cheese Tart with Crushed Pretzel Crust, Butter Pecan Slice-and-Bake Cookies, Lemon Rosemary Parmesan Scones, Pie Plate Chocolate Chippers, Cream Cheese Pound Cake, Strawberry Shortcake, Lemony Blueberry Bars with Chunky Almond Crumble, Make-Ahead S'mores Squares and Streusel-Topped Ginger Pear Coffee Cake.
We look forward to hearing from you about your experiences with this and every recipe. What did you, your family, and friends think of the recipe? How did you celebrate the season this year? Tell us if you did anything differently. Give us the scoop in the comments section below the recipe and we will all learn from each other here on Cook the Vineyard.
Cheers!
---
Tips and Variations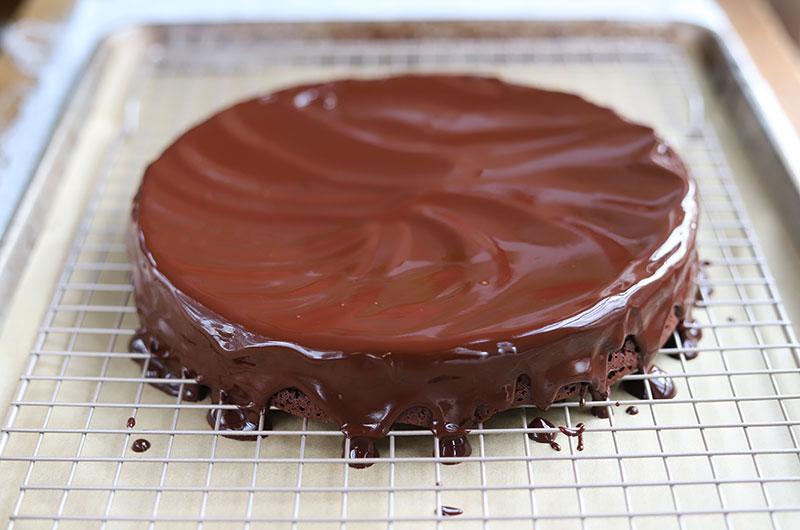 Make Ahead Tips
• The unglazed cake layer can be baked, cooled, and refrigerated for three days or wrapped in plastic and frozen for up to three months. If frozen, thaw in the refrigerator for one day before glazing.
The glazed cake can be prepared and refrigerated for three days ahead of serving. Leftovers are delicious for days. Slices can also be frozen on a small cookie sheet then stowed in a freezer bag or container for up to a month. Thaw your slices at room temperature. The glaze won't be glossy but the cake will still taste delicious.
Serving Tips
• For the fullest flavor and smoothest texture, make sure to serve the cake when fully at room temperature and, yes, depending on the ambient temps in your home, it can take a long time.
• Serve small slices - This cake is rich!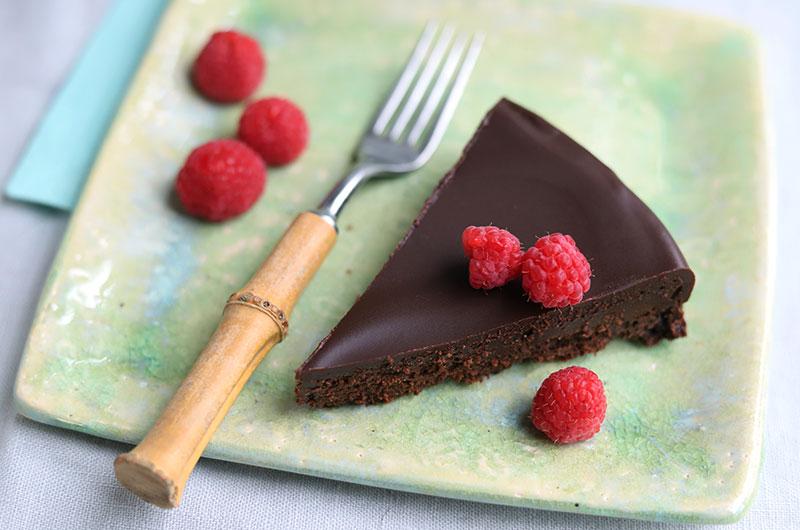 Garnish with a few fresh raspberries or pomegranate seeds and a dollop of whipped cream (or even better, whipped mascarpone cream).
How to cut clean slices:
• To cut this cake (or any thick, sticky cake) into clean slices, heat the knife first, either by dipping it in a tall container of very hot water or by holding it under hot running water for a few seconds. Then wipe it dry before cutting the cake. The knife will cool quickly so expect to wipe the knife clean and rewarm it between cuts.
---
Flavor Swaps
Rum or Hazelnut
• In place of the Bourbon, use the same amount of dark rum or hazelnut liqueur.
Espresso
• In place of the Bourbon, use the same amount of coffee liqueur along with 2 teaspoons instant espresso powder or instant coffee. Just before serving, arrange chocolate covered espresso beans around the edge of the cake or sprinkle the top with chocolate covered cacao nibs.
Orange
• In place of the Bourbon, use the same amount of orange liqueur along with 2 teaspoons finely grated orange zest. Serve with orange suprêmes (optional).
Peppermint
• In place of the Bourbon, use 1 tablespoon of peppermint flavored liqueur and 1 tablespoon water. Just before serving, sprinkle the top with crushed peppermint candies or candy canes.