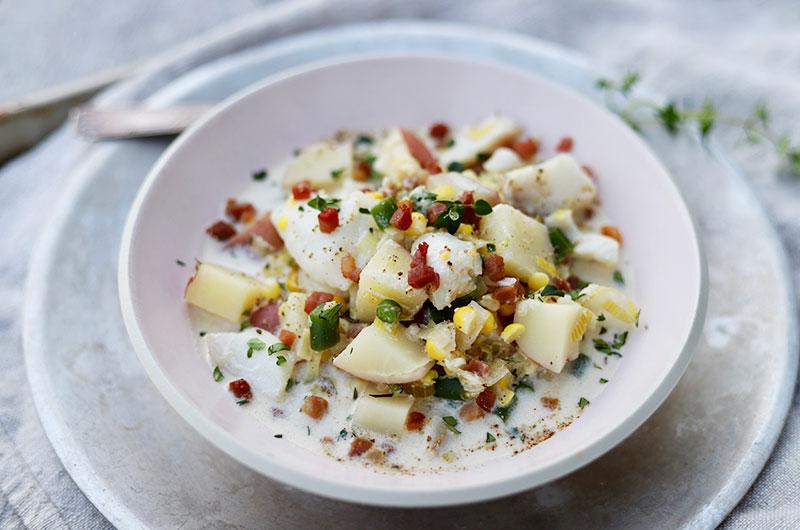 Dinner inspiration comes from so many different directions. One night it's a special on cod loins at The Net Result that inspires a Cod and Corn Chowder with Bacon, Leeks and Thyme. (Yes, I felt a little guilty about using non-local corn, but sometimes…)
Another day it's the weather.
Here on the Island, Sunday was so much nicer than the Saturday deluge that we spent most of the day working in the garden. It seemed important to keep the outdoor thing going by grilling, but by the time we got around to making dinner, it was getting late.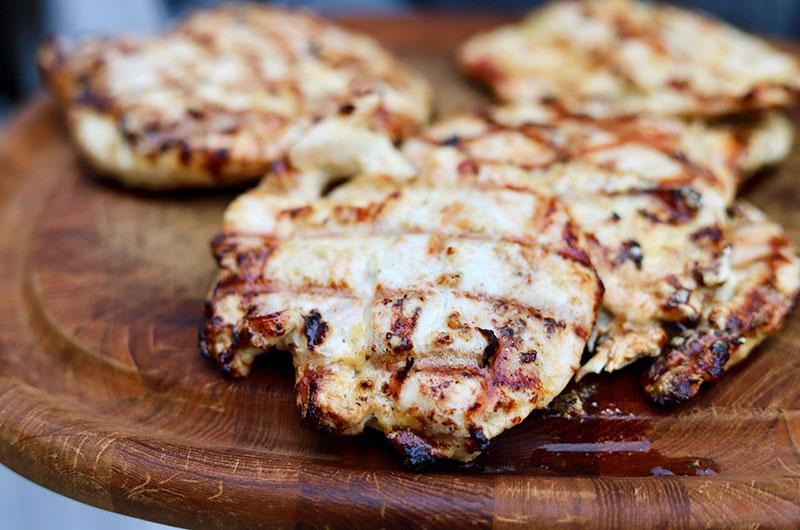 Voila, our go-to, most-moist-ever Grilled Mayonnaise-Mustard Chicken breasts on top of a Lemony Caesar Salad With Grilled Croutons.
I took the 15 minutes to make Creamy Blender Caesar Dressing, even though we didn't have any anchovies.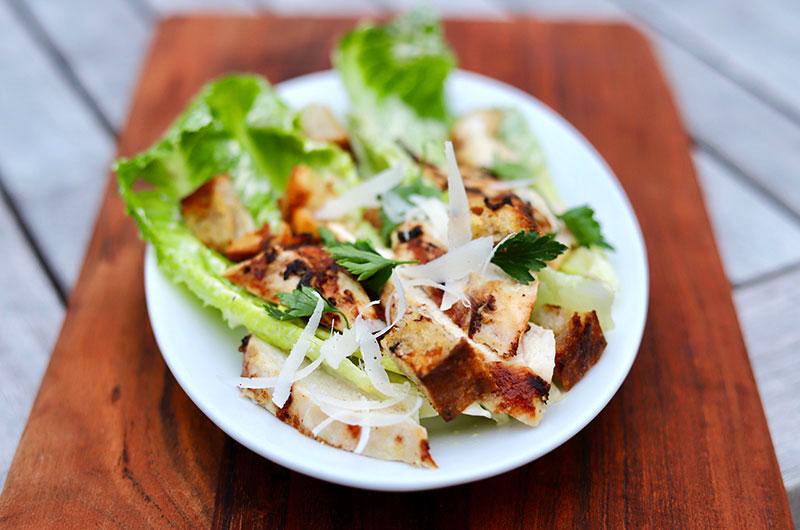 I learned the technique for making the emulsified dressing while I was on the salad station as a young cook at Al Forno restaurant in Providence, R.I., years (and years) ago. There's a lot I could say about that dressing, those grilled croutons, the potential to be fired if the romaine wasn't absolutely perfectly clean, but I'll leave it there. The generous amounts of lemon and garlic in the dressing make it plenty flavorful without the anchovies (though a dash of fish sauce doesn't hurt).
By the way, you can eat that grilled bread every single day of the summer. That good.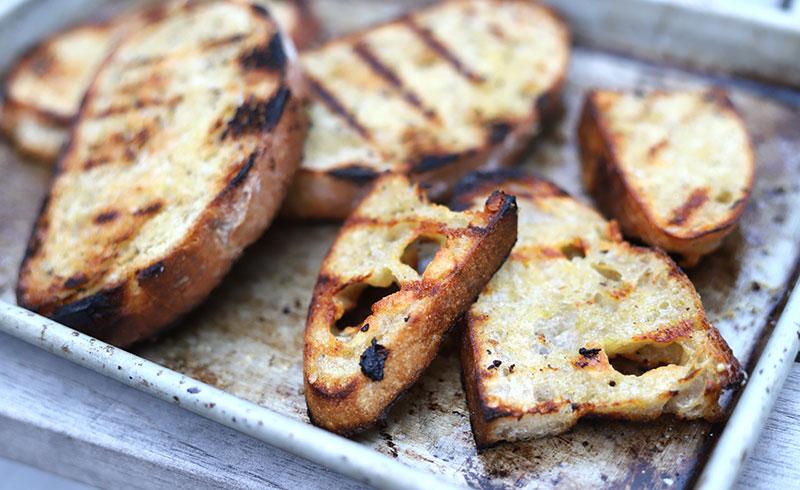 Sometimes inspiration comes from bright colors on grey days. On my Friday grocery outing, I spied some beautiful orange beets at Cronig's and stuck them in my cart. I also happened to pick up some Cara Cara oranges for he-who-loves-fruit. Somehow a package of the most beautiful Island-grown micro greens (from IGI's Thimble Farm) landed in my cart, too.
The weather on Saturday required something bright, so I retrieved my orange beets and used my favorite "walk-away," foil-roasting method to cook them. (I also love quick-roasted beet slices, so take your pick when time matters.) I combined the beets with the segments and juice from one of the Cara Caras and juked up the dressing with zest, balsamic, and maple. I served this bright beet salad with a bit of crumbled feta, toasted almonds, and some of those charming microgreens. Just what Saturday needed.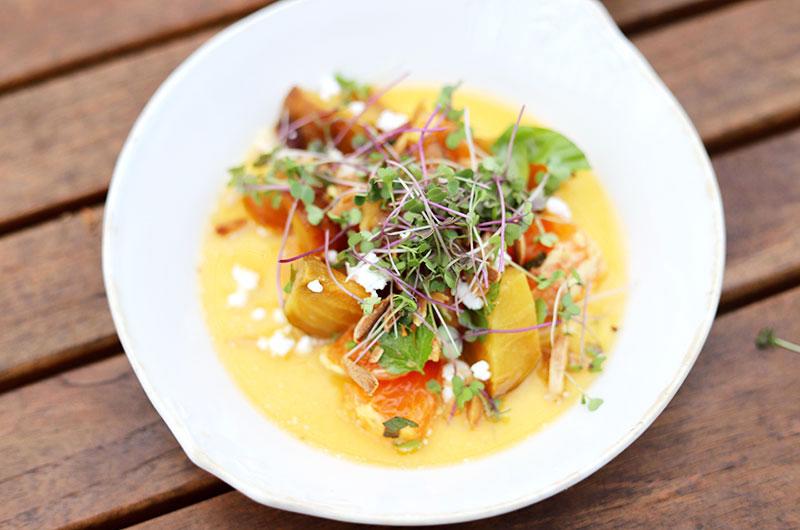 Speaking of inspiration, this summer we've got it coming and going every which way on the Island. Many Island farm stands have added new features like pre-ordering, curbside pickup, CSAs, and pre-packed produce. I compiled as much info as I could for the Vineyard Gazette last week in "Farm Stands Adapt to New Paradigm."
For now, keep taking advantage of that wonderful asparagus: Make Cathy Walthers' Lemony Asparagus and Artichoke Bowtie Pasta or her Spring Asparagus Soup.
And strawberry time is on the horizon. Hallelujah! We're working on some new strawberry recipes for you, but in the meantime, here's a tease from last year's very first Cook the Vineyard newsletter, Gingery Strawberry Rhubarb Crisp.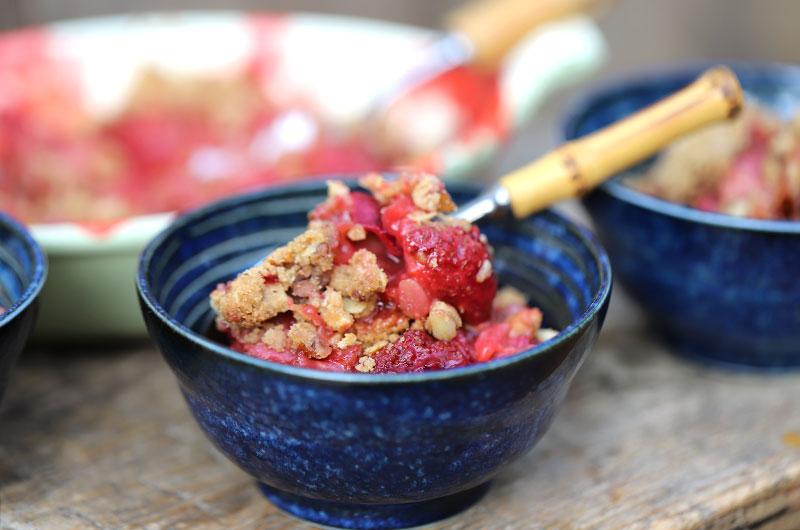 See you on Instagram!