Small victories: Tomorrow will be two weeks since I last went to the grocery store, and we haven't yet had to resort to eating the panettone that has been in the back of the cabinet above the fridge since 2012.
But to be honest, I have cheated. I've made three quick forays to farm stands: Grey Barn for a loaf of bread, a wedge of cheese, and a chocolate bar. Morning Glory Farm's porch fridge for eggs. And Mermaid Farm for a big bag of pea shoots — on about day nine when leafy items in our fridge were scarce.
And yesterday I called The Net Result to stretch our protein supply. I paid for cod, clams, a few scallops, and smoked salmon over the phone and picked them up at the takeout window. I made a stovetop version of Vineyard Clams alla Griglia last night with canned tomatoes and white beans. Tonight, a simple roast cod with breadcrumbs. The vacuum-packed smoked salmon is an emergency item — a bit of that with some mustardy potatoes and a few capers makes a nice light supper.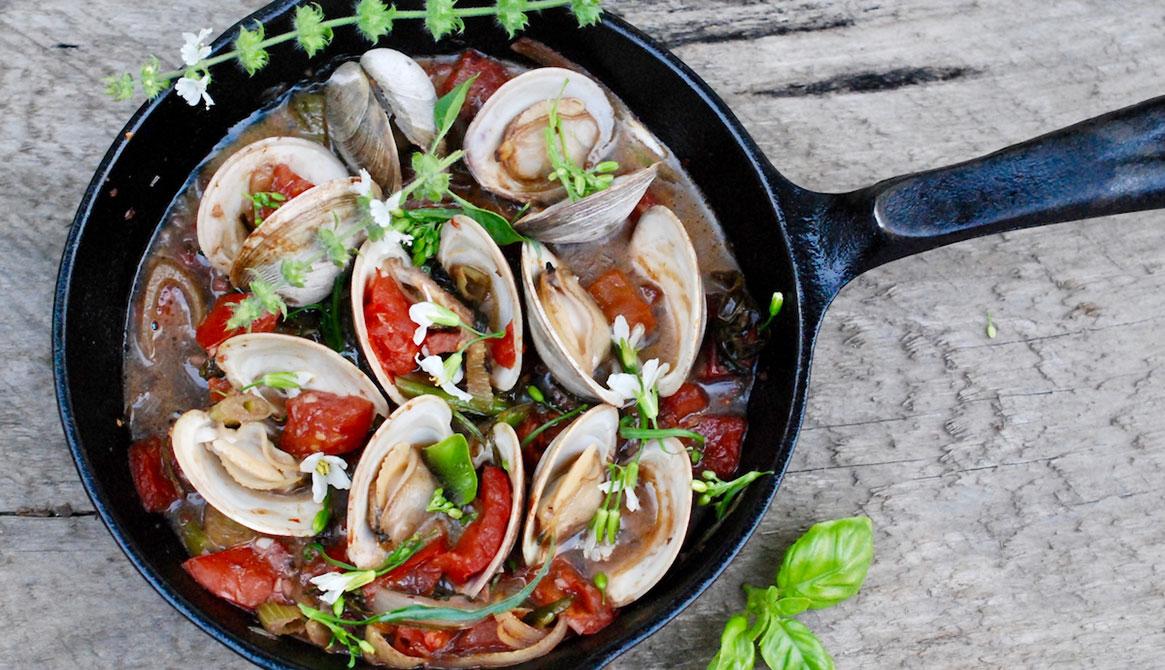 The only conclusion to draw from all this is not that I'm a great planner, but that we are truly lucky to live in a place where we have alternatives to the grocery store. All we can do is be grateful and take advantage of these options; our farmers and fishermen, having lost wholesale accounts, need our direct business now.
By the way, those few scallops I got yesterday are going to be a test run for Easter.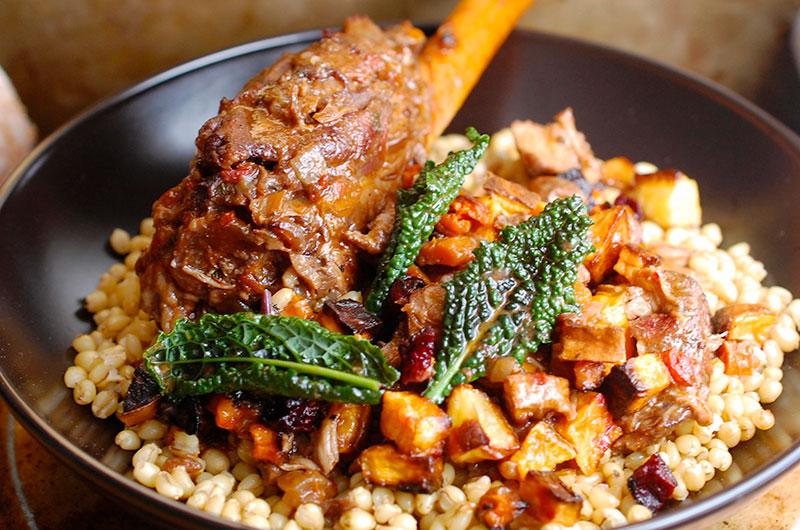 If there were such a thing as a crowd, I might be making Braised Lamb Shanks, Hunter's Style for Easter dinner. Or Grilled Rosemary Garlic Lamb. Either of those would be nice for Passover, too.
But for quarantine Easter on the Vineyard, I think something light. I'll start with Deviled Eggs with Spinach Pesto (or no pesto!) for noshing throughout the day. Then, if I can score some sea scallops straight off the Martha Rose in Menemsha this weekend, I'll sear them, using the technique in this sea scallop recipe with the simple lemon-orange sauce in this bay scallop one.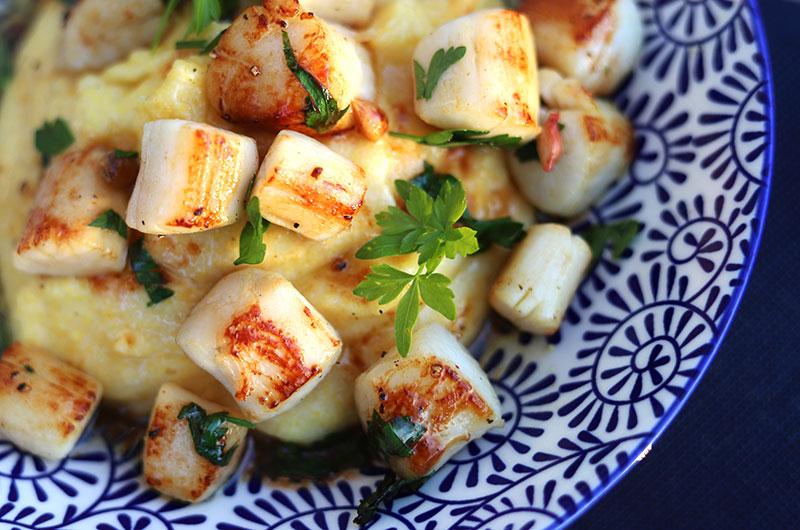 What to serve them on? Basmati Rice Pilaf, I think. I've been making a lot of rice pilafs lately as a way to stretch meals. Because despite the infusion of local products, I still need to make all my ingredients work as hard as they can. For instance, I keep a big hunk of Spanish chorizo in my fridge that makes every vegetable sauté (like these Smoky Sugar Snap Peas and Greens with Chorizo, Lemon and Yogurt) taste better.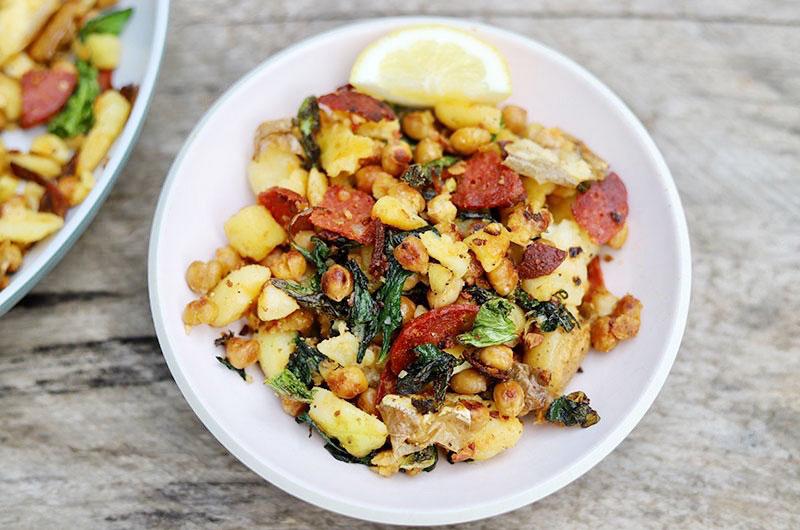 The other day, I thought to turn the last few baby potatoes into Crispy Smashed Potatoes, but then realized I could stretch them into New Potato, Greens, Garlic, and Chickpea Crush – with sliced Brussels sprouts instead of greens.
Other than chocolate, I haven't stocked any sweets. But I've had an overwhelming desire to bake chocolate chip cookies. Happily, Abby Dodge came to the rescue with this small-batch recipe for Pie Plate Chocolate Chippers. And I had exactly half a bag of chips in the pantry to make them. They were so good for such little effort—freeze half before you devour them all!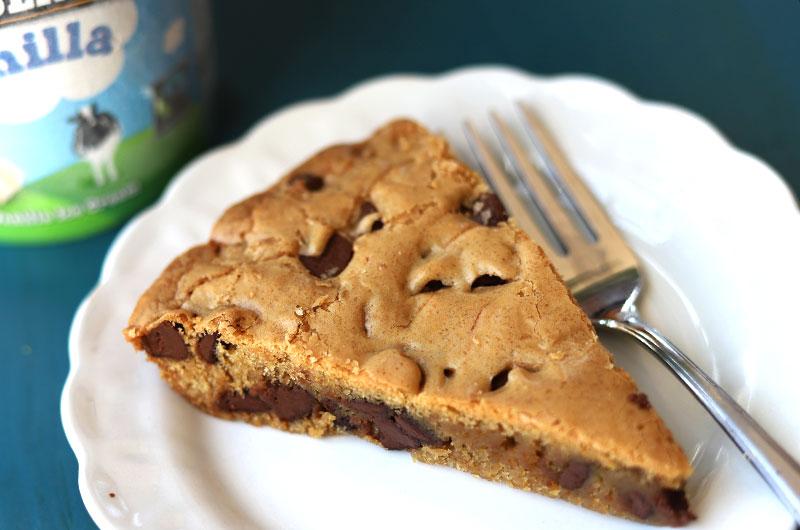 Okay, hang in there, eat chocolate daily, and stay in touch with us on Instagram.