This year, as Molly and Eric Glasgow celebrate the tenth anniversary of Grey Barn and Farm in Chilmark, they'll mark the occasion not just with a special edition Bon Anniversaire cheese, but also a robust selection of organic breads, the result of a collaboration between the Glasgows and baker Christian Walter. From boules to challah, baguettes to burger buns, the latest addition to Grey Barn's offerings aims to delight lovers of loaves of all kinds.
"Bread is my passion," Christian, twenty-eight, said on a recent late spring day. We sat with Molly behind the farm stand where pre-season prep work was underway and a former barn was being transformed into a commercial kitchen. Born in Atlanta, Christian moved to the Island with his family in 2002, eventually settling on Chappaquiddick, where he helped sister Lily open Slip Away Farm in 2012. He fell in love with baking after building a pizza oven on the farm property, which in turn led to a stint baking croissants and pies at Behind the Bookstore in Edgartown. The past three years he's spent in Asheville, North Carolina, honing his baking skills at the restaurant of a James Beard–nominated chef. "We used all naturally leavened bread," he said of that experience. "It was a combination of old world flavors and new school techniques."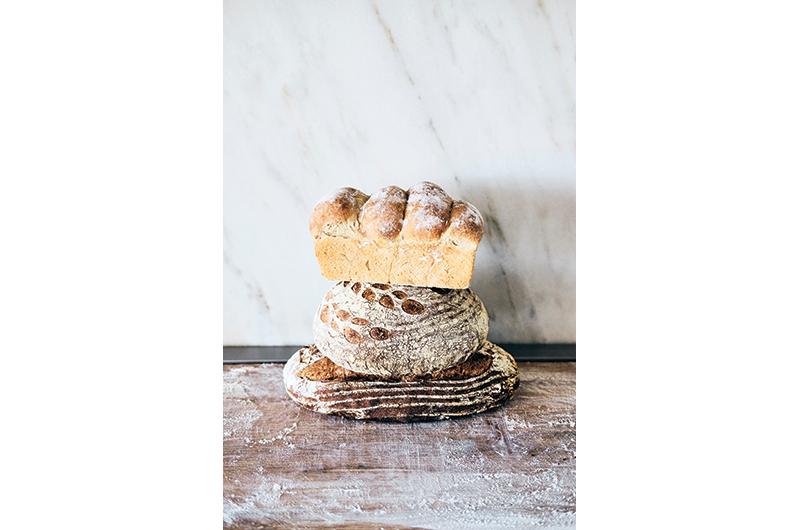 It was always Christian's plan to bring those new techniques back to the Island and start baking here, but the logistics were complicated. Start-up costs for a baking operation can be prohibitive. "The equipment alone is pretty substantial overhead," he said. So when Christian's friend Ethan Buchanan-Valenti, who was heading up Grey Barn's new vegetable farming operation, mentioned that the Glasgows might be interested in baking bread, conversations began and a partnership was born.
Grey Barn opened its doors in 2009. At the time, "we just had a fridge on the porch with milk, eggs, and cheese," remembered Molly. The Glasgows were ambitious, though, and hoped to operate a full-service dairy and expand into meat and vegetables. A devastating fire in 2013 caused them to take a step back and re-prioritize. "We were too scattered," Molly said. "We came back to the idea that we wanted cheesemaking to be the heart of the operation. We had to focus on it and get it right."
Today, Grey Barn is beloved for its creamery, offering six farmstead cheeses, including the popular Eidolon and Prufrock. Molly and Eric also have achieved their goal of expanding, gradually adding veal, pork, beef, and vegetables to their farm stand offerings. Each period of growth has developed organically in collaboration with the people they've met along the way. "We wouldn't have a bakery if it wasn't for Christian," said Molly.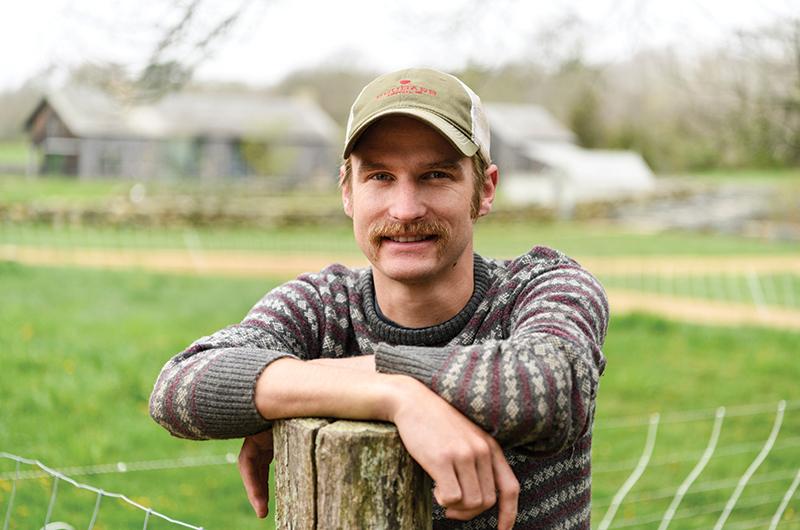 As for Christian, he just might be the perfect fit for a farm-based baker. From the beginning he's approached baking as a science, and sees this work as an extension of his first career at Slip Away. "I've always been interested in applied sciences," he said. "It was one of the things I loved about farming….It's a lot like breeding animals: you want to highlight the qualities you want from good stock."
"Breeding" bread, then, means sourcing freshly milled grains from small, regional farms using organic practices, which keeps the bread pure and chemical-free. "The millers we're working with mill to order. There are a lot of benefits to having freshly milled wheat: more carbs for yeast to feed on, and the flavor profile changes as the flour ages," Christian explained.
Using all organic ingredients might also make a difference to those with gluten sensitivities. "Some of the problems people have with gluten intolerance has to do with the pesticides and chemicals and processes used to grow the wheat," Molly said.
Visitors to the farm stand will find Christian's offerings for sale each day, rotating weekly but with a standby selection of sourdough, challah, and a specialty French country boule. Baguettes will be available at the West Tisbury Farmers' Market and as part of Slip Away's summer CSA shares.
After an intense off-season period of research and development – including a scouting trip with Molly and Eric to New England bakeries – Christian is eager to share his bread with the Island community and is awed by the good fortune of connecting with the Glasgows and landing at Grey Barn. "It really takes a team," he said. "I feel really grateful for this support."