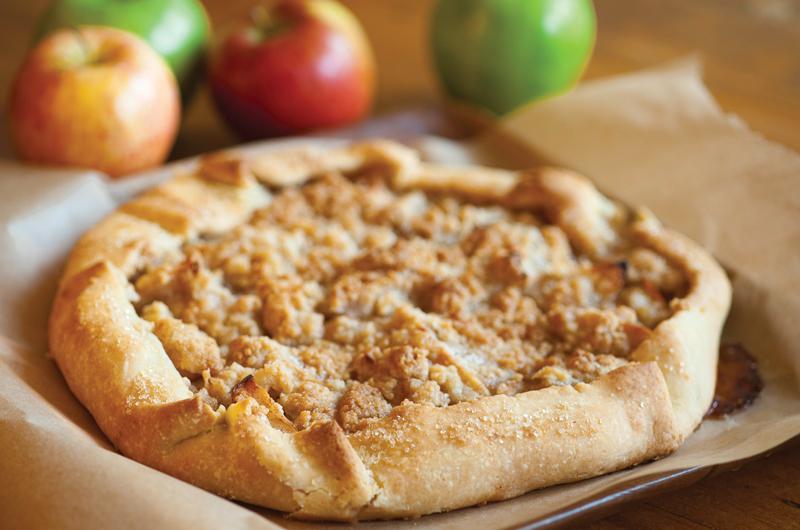 Rachel Vaughn, a private chef who works on Martha's Vineyard and in Bozeman, Montana, started making these rustic fruit crostatas years ago. She suggests placing the flour for the dough in the freezer for at least an hour before using; it helps make the dough easier to handle and fairly forgiving.
Serves 6
For the filling:
6 to 7 medium-sized apples, peeled and cut into quarters

2 to 3 tablespoons sugar, to taste

1/2 teaspoon cinnamon
For the crust:
1

1/4 cup flour, preferably King Arthur, chilled in freezer for minimum of 1 hour

1 tablespoon sugar

1/4 teaspoon salt

1 stick plus 1 tablespoon unsalted butter, cut into pieces

3 to 4 tablespoons ice cold water
For crostata topping:
1/2 cup flour

1/2 cup white sugar

1/4 cup brown sugar

1/4 teaspoon salt

1/2 teaspoon vanilla

6 tablespoons unsalted butter, cut into pieces
1. Preheat the oven to 400 degrees.
2. For the filling, mix apples, sugar, and cinnamon in a bowl, and set aside while you make the pastry.
3. In a stand mixer, pulse the flour, sugar, and salt together. Add butter into flour mixture. Pulse the mixer until the flour-butter mixture looks like large peas.
4. With the mixer running, dribble in the water carefully, adding just enough so the dough shapes itself into a ball as it goes around in the bowl.
5. When it is a ball or almost so, dump it out on a lightly floured surface. Shape into a disc and roll it out, turning it so it does not stick to the surface. Roll it out to a rough-edged circle about 11 to 12 inches in diameter. Transfer the rolled-out dough onto a baking sheet lined with parchment paper. Refrigerate until ready to assemble.
6. In a food processor, add all the topping ingredients together and pulse until the mixture has a crumbly texture.
7. Place the fruit filling on the dough. Sprinkle the crumble topping over the fruit; be sure to cover most of the fruit with the topping. Wrap edges of the dough up over the edges of the filling, taking care not to tear dough. Remember, this is a rustic-looking pastry, so it doesn't have to be perfect.
8. Bake for 30 to 45 minutes (rotating the pan halfway through cooking), until apples are tender and topping and crust are lightly browned. Cool for 15 minutes. Cut and serve with vanilla ice cream or vanilla whipped cream.
This recipe was originally published with the article, Apple Farming.