Here's something easy and tasty to do with that one-pound package of ground pork you've picked up at Grey Barn or Morning Glory or the grocery store (I like Applegate Naturals). Just a few ingredients (in generous amounts) give these patties a ton of flavor, and the three-ingredient Sriracha Mayo doubles as an ingredient in the patties and as a sauce.
The little patties are versatile, too. They're great on the dinner plate topped with the sauce and maybe some cilantro or pea shoots. (Serve with rice or roasted sweet potatoes). You can also serve them on top of a savory pancake, or use a lettuce leaf to turn them into wraps. Or serve them as an hors d'eouvre.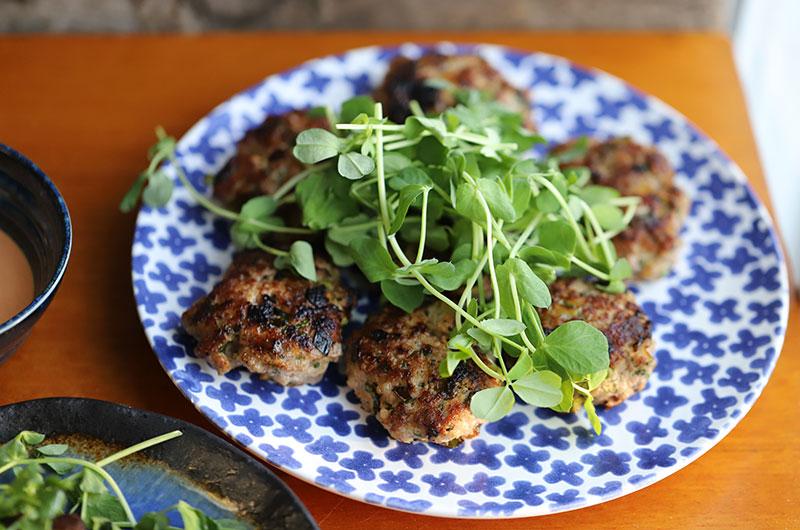 One recipe works for our household of two – and probably most households of three – but if you want to serve more, feel free to double all the amounts and make more patties.
Makes 9 to 10 patties, serves 2 to 3 as a maindish
For the Sriracha Mayo:
5 tablespoons mayonnaise
1 tablespoon Sriracha hot chili sauce
2 teaspoons soy sauce
For the Pork Patties:
1 pound ground pork
4 scallions, sliced (all parts), about ½ cup packed
2 tablespoons chopped cilantro
1 tablespoon plus 1 teaspoon chopped ginger
¾ teaspoon kosher salt
2 tablespoons Sriracha Mayo
For cooking and serving:
Olive or grapeseed oil for cooking
Cilantro sprigs and/or pea shoots for garnish
Make the Sriracha mayo:
1. In a small bowl, combine the mayonnaise, Sriracha and soy sauce. Whisk until smooth.
Make the patties:
2. In a medium bowl, combine the ground pork, scallions, cilantro, ginger, salt and 2 tablespoons of the Sriracha Mayo. Gently mix until well-combined.
3. Shape the pork mixture into about 9 or 10 flat patties (about ½-inch thick and 2 ½ inches wide).
4. In a large nonstick skillet, heat a few teaspoons of oil over medium heat. When the oil is hot, add half of the pork patties and cook until the bottom side is nicely browned, 5 to 7 minutes. Flip the patties over and continue to cook another 5 to 7 minutes or until the bottom side is browned and the patties have shrunk somewhat (that will indicate that they are cooked through). If your patties are browning too quickly or slowly, adjust the heat. Remove the patties from the pan and put on a baking sheet in a warm oven if you like.
5. Add a few more teaspoons of oil to the pan. When the oil is hot, add the remaining pork patties and cook as above.
6. Serve the pork patties with the remaining Sriracha mayo and cilantro or pea shoots for topping.