I wish I could think of a better name for this recipe — your suggestions appreciated! And I have to say this is more of a preparation than a recipe. I remember doing these rolled fish filets when I was a cook in a gourmet shop years ago, and the other night thought I would try it with a fluke filet I brought home from The Net Result. I cut the filet into two long pieces, spread each with a homemade sundried tomato "pesto," rolled up, brushed with butter, and sprinkled with a breadcrumb mixture. It was tasty so I wanted to pass the idea along to you.
When I get time, I'll retest this to scale it up and to try different "spreads." I think basil pesto (thickened with a bit of breadcrumbs) or any pesto, or a little tapenade with the sundried tomatoes, would be nice. (I'll also try a more substantial stuffing at some point, but the filets in that case would not really be roll-ups; they'd be more like wraps.)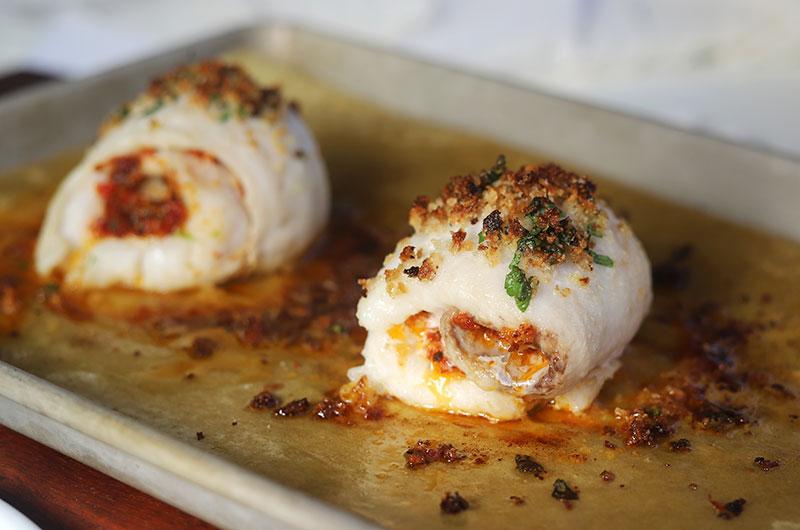 The fluke filet I used for this was meaty – I think about ½-inch thick, so I initially thought it might be too thick to roll up, but it wasn't. (Regular flounder will be a bit thinner and will work well here, too.) I also wondered how long to bake the filets for. I went with about 14 minutes at 400 degrees F and the fish was cooked through when we cut into it. It's possible that the cooking time could be shorter, and you could go longer if you were at all worried about getting a food-safety-certified temperature in the middle – but you'll risk overcooking. And much will depend on the accuracy of your oven temperature. (Mine runs hot.)
Lastly, I wanted to mention that our fluke had a few bones; be sure to carefully feel for them and pick them out before you assemble the roll-ups.
Makes two roll-ups, serves one or two
For the spread:
Olive oil for brushing parchment, plus 1 to 2 teaspoons for filling
3 large sundried tomatoes in oil, drained
2 tablespoons fresh breadcrumbs
2 tablespoons grated Parmigiano
2 teaspoons chopped parsley or basil
Pinch kosher salt
For assembly:
½ pound fluke filet (about 1 large filet, about ½-inch thick), picked over for bones
Kosher salt
1 tablespoon plus 1 teaspoon melted butter
2 tablespoons fresh breadcrumbs
1 tablespoon Parmigiano
Pinch chopped parsley (optional)
Make the spread
1. Heat the oven to 400 degrees F (or 375 F if your oven runs hot). Arrange a piece of parchment paper on a rimmed heavy duty baking sheet. Rub a small amount of oil on the parchment.
2. Put the sundried tomatoes in a mini food processor and pulse until finely chopped, scraping down the sides if necessary. Add the 2 tablespoons fresh breadcrumbs, the 2 tablespoons Parmigiano, and the parsley or basil. Pulse again until well-combined. Add 1 teaspoon oil and a pinch of salt and process until just spreadable (it will still be fairly loose and chunky). Add a little more oil if you like and pulse again. (Alternatively, hand-mince the sundried tomatoes and stir everything together.)
Assemble the roll-ups
1. Lay the fluke filet on a cutting board and check for bones, especially on the edges. Remove any you find. Run a sharp knife lengthwise down the middle (the line where the backbone would have been) to separate the filet into two long pieces. If it looks like one side will be much longer than the other feel free to cheat a bit and steal part of one side when cutting.
2. Season the pieces with a little salt, and using a small silicone spatula or sandwich knife, loosely spread the sundried tomato filling across as much surface area of both pieces as you can. Gently roll the pieces up, starting with the narrowest end. Transfer both pieces to the baking sheet.
3. Melt the butter in the microwave or on the stovetop. Using a pastry brush, brush some of the melted butter over all sides of the rolled-up fish. Sprinkle with salt. Combine the remaining butter, the breadcrumbs, the Parmigiano, and the parsley (if using) and sprinkle and pat this mixture over the fish pieces.
4. Bake the fish for 13 to 15 minutes. The breadcrumbs will be golden brown and the fish will be firm and opaque.