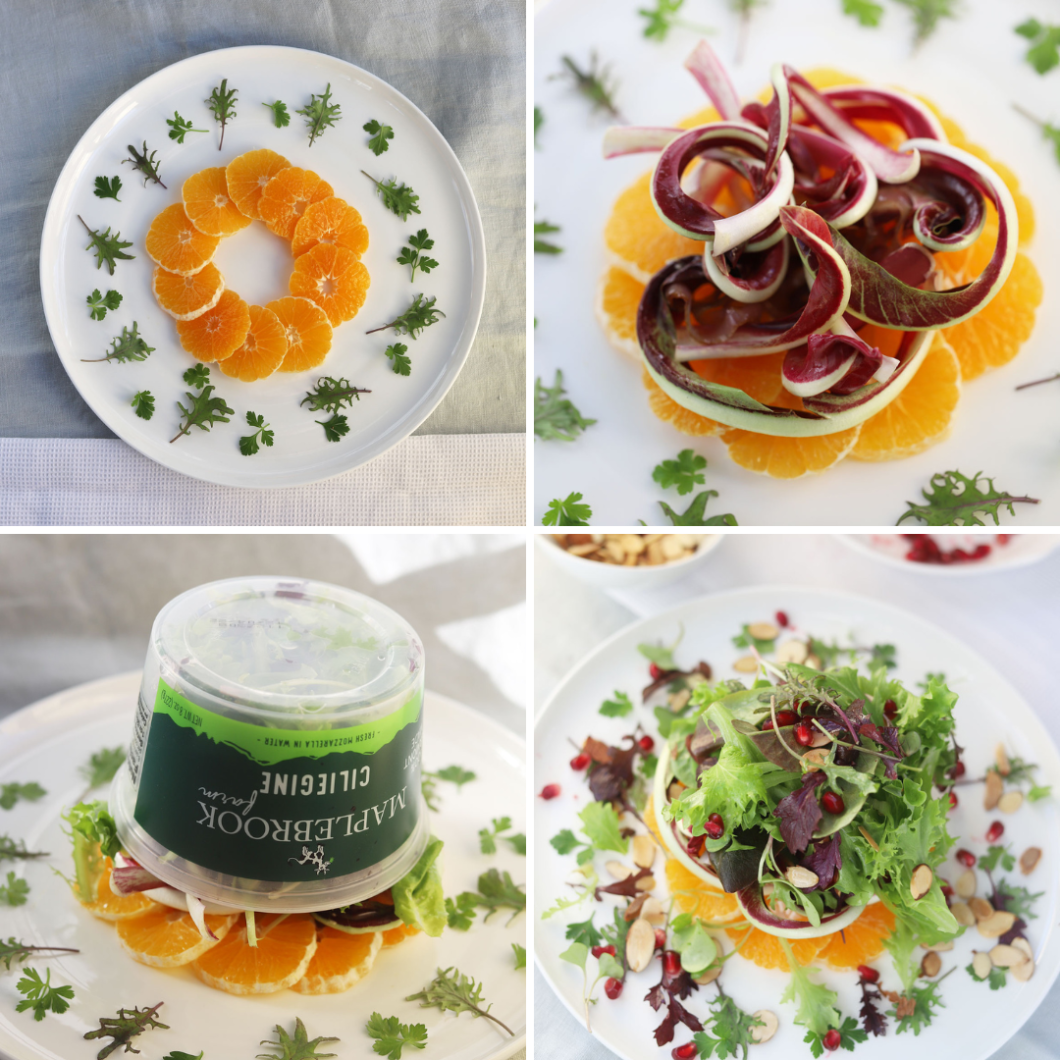 This is a non-recipe recipe – a suggestion, really, for how to build a beautiful winter salad if you are inspired by crisp winter greens and juicy winter fruit. My inspiration came from a pop-up winter market at Beetlebung Farm, where I found a bag of stunning candy-cane-ish Treviso radicchio, as well as baby kale and the farm's signature baby greens (aka Party Mix). I had clementines in my fridge drawer and a pomegranate as well, so my color palette was set. A salad like this would be a perfect first or last course for your holiday menu.
Serves 1 (make as many as you like)
Follow these steps to put together a single (plated) serving.

1. Arrange peeled, sliced clementines (you will need two or three, depending on how thinly you slice!) in a circle on a wide white plate. Sprinkle or arrange small parsley leaves and/or tiny baby kale leaves (or other baby greens) sparsely around the outside of the circle.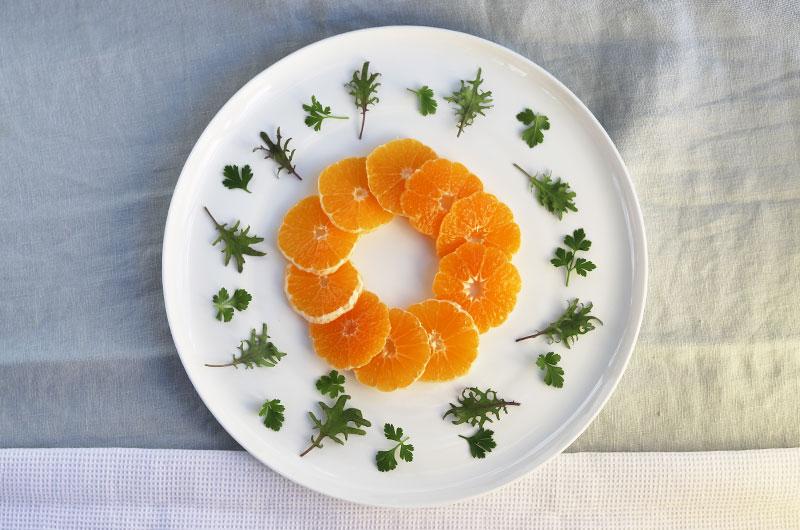 2. In the center of the circle, arrange a small mound of sautéed shallots. Put a handful of chopped Treviso radicchio or a combination of sliced endive and other radicchio in a small mixing bowl. (To this add a small amount of very thinly sliced fennel if you like.) Spoon or drizzle a small amount of vinaigrette or other salad dressing (I like Lemon Tahini Vinaigrette) over the radicchio and toss lightly. Arrange in a mound over the clementines, allowing the clementines to peak out.
3. In the same bowl, combine a couple handfuls of baby lettuces and other salad greens (whatever mix you like) with a little more salad dressing. Toss gently. Pile the greens into a clean, empty pint container (or a slightly smaller plastic storage container if you've got one) and gently pack them in. Carefully flip the plastic container over on top of the radicchio mix and gently lift it off. Most of the greens will stay in a tower, but if you need to rearrange some, that's fine.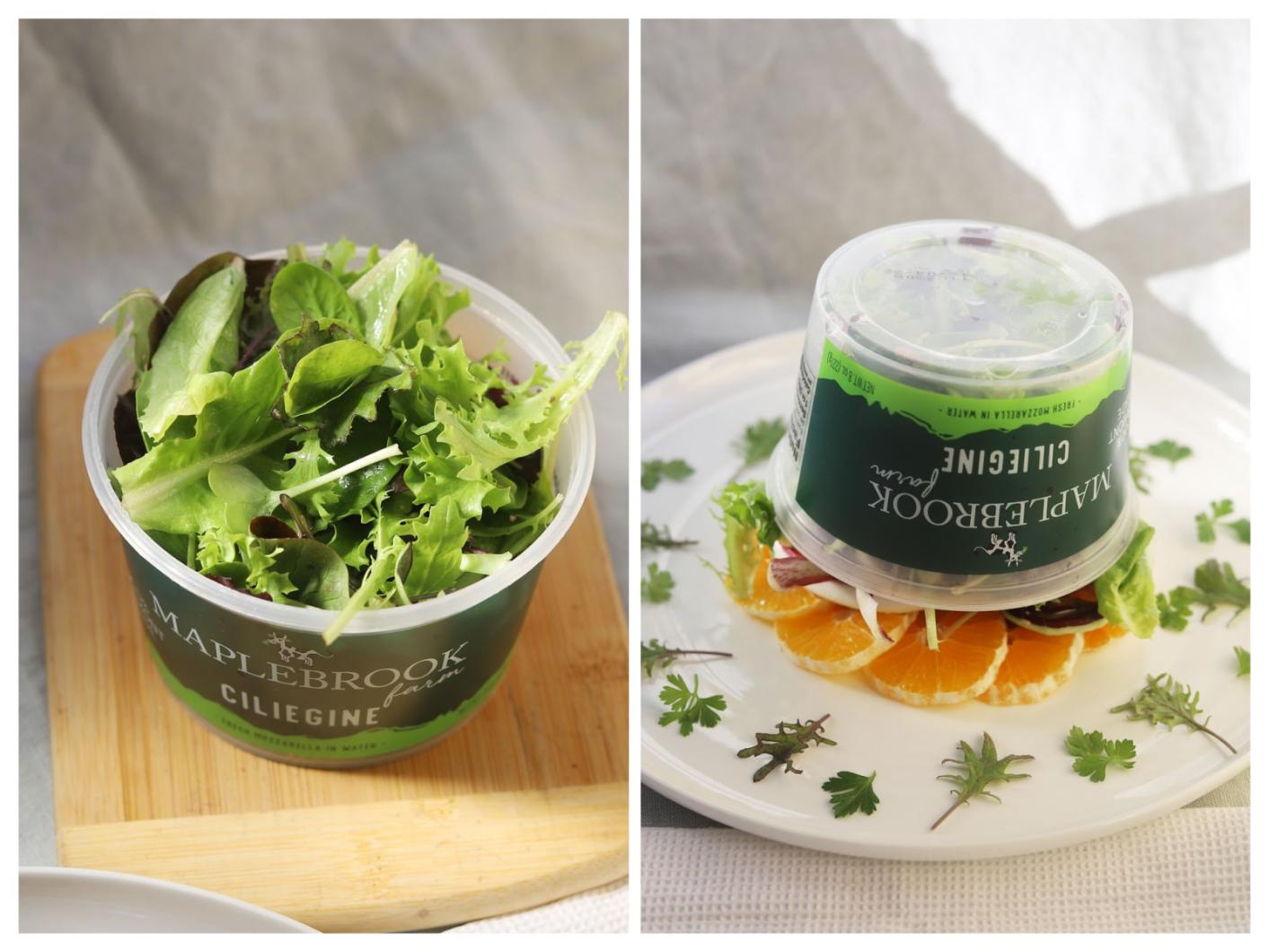 4. Garnish the salad with a sprinkling of sea salt, pomegranate seeds, toasted sliced almonds, and shaved Parmigiano. Serve right away.