This barley salad is designed to be flexible. It can be served warm and freshly made – excellent as part of a Hanukkah menu. Or it can be made ahead, leaving out the walnuts and pomegranates, and gently reheated before adding the nuts and fruit in. (Have extra cilantro on hand, too.) Or the whole thing can be made ahead and refrigerated and brought to room temperature before serving. (It keeps well and makes an excellent office lunch!)
You will also notice that I've given you the option of gently cooking the apples or adding them to the salad raw. I think most people will opt to use them raw, but I happen to have a slight allergy to raw apples so I gently sauté them first so that I can eat this yummy salad.
Originally I planned to use pomegranate molasses in this recipe, because I have some I bought at Olive Branch Fair Trade in Vineyard Haven. I was going to offer the balsamic-lemon combination as a substitute. But I decided it would be friendlier to go ahead and offer the balsamic-lemon option up front. But feel free to use pomegranate molasses if you have it. You will still want to add the maple syrup to balance the tartness. Also feel free to play around with the proportions in the dressing. You don't need a lot of oil for a barley salad – go heavy on the acidic ingredients to counter the earthy flavor of barley (which I happen to love – don't get me wrong!).
You can also tweak the spices here – add more or less. I do like "blooming" them in the sauté pan after cooking the shallots. It helps to soften them and also to infuse the oil in the pan.
Serves 6 to 8 as a sidedish
4 cups cooked barley (see directions below), rewarmed if you like
Kosher salt
3 tablespoons olive oil
2 tablespoons balsamic vinegar, more to taste
1 tablespoon plus 1 teaspoon fresh lemon juice, more to taste
1 tablespoon maple syrup
1 cup sliced shallots (from about 2 large or 3 medium shallots)
¼ teaspoon cinnamon
¼ teaspoon ground coriander
½ teaspoon ground cumin
1 medium Granny Smith apple, not peeled, cored and diced (about 1 ½ cups)
½ cup sliced or diced pitted Medjool dates
½ cup pomegranate seeds
½ cup chopped toasted walnuts
1/3 cup chopped cilantro, more sprigs for garnish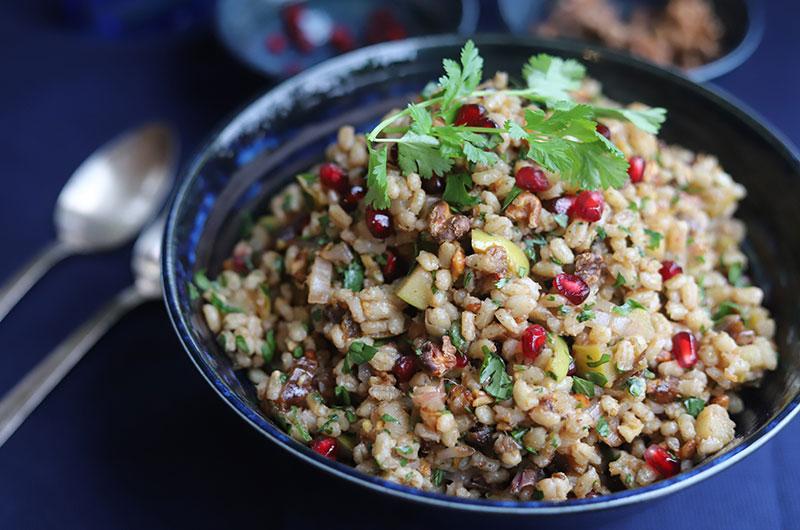 1. Put your cooked barley in a medium-large mixing bowl. Season with ½ teaspoon kosher salt and stir.
2. Combine 1 tablespoon of the olive oil with the balsamic vinegar, lemon juice, maple syrup and a pinch of salt. Whisk together and reserve.
3. In a medium skillet, heat the remaining 2 tablespoons of olive oil over medium heat. Add the shallots and season with salt. Cook, lowering the heat a bit if necessary and stirring regularly, until the shallots are well-softened and just beginning to turn golden.
4. Optional: At this point you can add the apples to the pan and sauté, stirring regularly, for two to three minutes or until they are just softened. Otherwise, hold the apples to add into the salad raw.
5. Add the dates to the pan and break up a bit. Add the spices and stir until just fragrant. Add the olive oil/balsamic/lemon/maple mixture and lower the heat to medium low. As the liquids bubble up and begin to reduce, continue to stir and break up the dates for just a minute. Then remove the pan from the heat to prevent the liquids from reducing further. Immediately pour and scrape the contents of the pan into the bowl of barley and stir well to combine.
6. Add most of the pomegranate seeds, most of the chopped walnuts, the raw apple if you have not sauteed it, and all of the chopped cilantro. Stir well.
7. Taste the barley salad and adjust the seasoning with more salt, balsamic or lemon.
8. Garnish with remaining pomegranate seeds, chopped walnuts and cilantro sprigs. Serve right away.

To Cook Pearled Barley
2 cups pearled barley
Kosher salt
Yields: 6 cups cooked grain
1. Fill a pasta pot or other medium-large stockpot three-quarters full of water, add ½ teaspoon salt, and bring it to a boil.
2. Rinse the barley in a fine-meshed colander or strainer and add it to the boiling water. Set a timer for 25 minutes and begin tasting the grain for texture when the timer goes off. Continue timing and tasting until you like the texture, up to about 35 minutes.