One of my favorite ice cream concoctions is vanilla ice cream topped with a snowstorm of malted milk powder on top. It's similar to the old-time soda fountain favorite, a malted milk shake, only it's in a bowl — and the malted milk powder is definitely the star of the show. This powdery ingredient (see more below), while only slightly sweet and a touch tangy, doesn't seem that special on its own but when paired with a couple of scoops of vanilla ice cream, takes on a slightly chewy texture and a rich, earthy flavor. I love this flavor combo so much that I've turned it into a no-churn ice cream (no fancy machinery needed!) that makes an easy scoop-and-serve dessert or afternoon snack.
My recipe has only five ingredients - heavy cream, malted milk powder, vanilla, salt and sweetened condensed milk. Go ahead and order the malted milk powder if you can't find it in your grocery. (Carnation is the most widely available brand and will be in the section of the grocery store where dried milk is.) The other ingredients you likely have on hand or can get easily.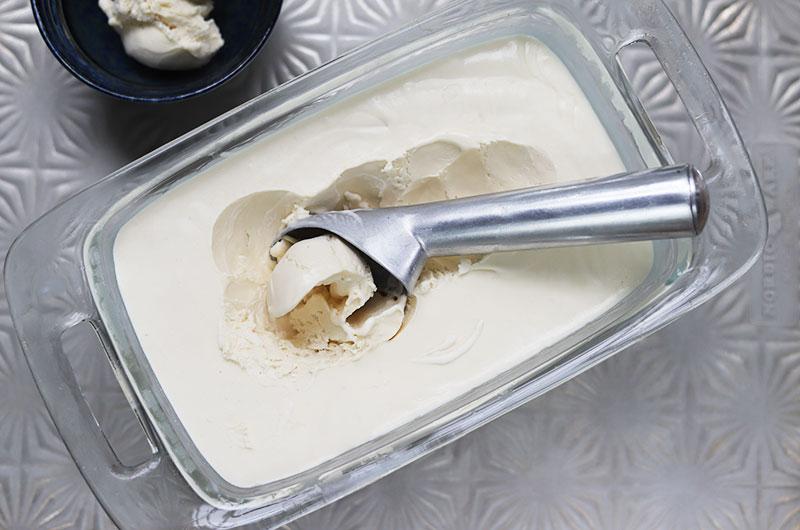 I add the malted milk powder to the heavy cream and chill it, stirring occasionally, until the powder is dissolved. This takes a couple of hours but, for those that like to plan ahead, it also keeps well stowed in the refrigerator for up to 3 days. While the cream-malted powder mixture is chilling, I also slide the can of sweetened condensed (not evaporated) milk in the fridge too. Chilling both components helps create the lightest, fluffiest texture once the cream mixture is whipped and folded together with the condensed milk. Working with two well-chilled elements also speeds along the freezing time so that everyone gets to dig in sooner.
The malted-vanilla base is divine as is, but I encourage you to play around with folding in add-ins at the very end. I like finely chopped chocolate (mini chips work too), but toffee bits and toasted and chopped nuts are good, too. Toppings are a fun addition as well but, again, totally optional. A drizzle of chocolate sauce and a dusting of additional malted powder on top makes this a souped-up version of the classic Dusty Sundae (aka Dusty Miller). Crushed cookies are fun if you have them on hand. Thinking of adding an "a la mode" to your next cobbler, crisp or pie? A scoop or two of this ice cream is a perfect partner to all fruit desserts.
We'd love to hear from you. Let us know how you like our No-Churn Malted Vanilla Ice Cream and if you made any changes (add-ins!) or have new serving suggestions for us!
No-Churn Malted Vanilla Ice Cream

Makes about 6 cups
1 3/4 cups (14 ounces) heavy cream, chilled
1 cup (4 1/2 ounces) malted milk powder
2 1/2 teaspoons pure vanilla extract
Pinch of table salt
1 can (14 ounces) sweetened condensed milk
1 recipe Chocolate Shards, optional, see page 000
1. Arrange a 6 to 8 cup loaf pan (I use a Pyrex) in the freezer so that it is level.
2. Stir the heavy cream, malted milk powder, vanilla and salt in a large bowl (I use my stand mixer bowl with the whisk attachment or a large bowl if you are using an electric handheld mixer fitted with wire beaters so the mixture is ready for whipping). Cover and refrigerate, stirring occasionally, until well chilled and malted powder dissolves, about 2 hours or up to 3 days. Slide the unopened sweetened condensed milk into the refrigerator to chill alongside the heavy cream mixture.
3. Using a stand or handheld mixer, beat on medium-low speed until the mixture is blended and smooth. Increase to medium-high speed and beat until thick enough to hold firm peaks when the beater is lifted, about 2 minutes. Make sure to scrape the sides of the bowl.
4. Add half of the sweetened condensed milk and, using a rubber spatula, fold together until just barely blended. Add the remaining condensed milk and broken up chocolate shards, if using, and continue folding until blended.
5. Pour and scrape into the chilled loaf pan and freeze until the top is firm, about 2 hours. Cover the surface directly with plastic and freeze until very firm, about 3 more hours or up to 3 days.
What is Malted Milk Powder?
According to bonappepetit.com, "Malted milk powder is a fine light-yellow powder with a mellow, nutty flavor and a natural sweetness. The term "malt" refers to a grain (usually barley) that has been sprouted and quickly dried… Once the grain is ground up, it becomes the base of malted milk powder, which also contains wheat flour and powdered milk." Carnation brand is nationally available and can be purchased online and in grocery stores. I store it in my pantry and it keeps well and for a long time.