On the Vineyard, I've been to pig-roast potlucks, harvest potlucks, solstice potlucks, wedding potlucks, Fourth of July potlucks, work potlucks, boat potlucks, beach potlucks, you-name-it-potlucks. The best potlucks are down a dirt road, over a sandy dune, around a bonfire, or back by the barn. Seated on picnic benches or hay bales or lawn chairs or beach towels – it doesn't matter, as long as you're with friends and preferably, outside.
In the August issue of Martha's Vineyard magazine, I write about potluck strategies for the cook in Potluck Gold. Have a read when you can and pick up some pointers. But in the meantime, I'll share with you the one dish I bring over and over to Vineyard potlucks. Call it cheating, but I know it's a crowd pleaser: Crispy Smashed Potatoes. At least I vary the presentation a bit. This year I decided to turn the potatoes into a salad — Crispy Smashed Potatoes with Summer Corn-Cherry Tomato Dressing and Limey Drizzle. All the components can be made ahead and assembled when you arrive at your destination. I hope you run with this – even if that destination is your back yard.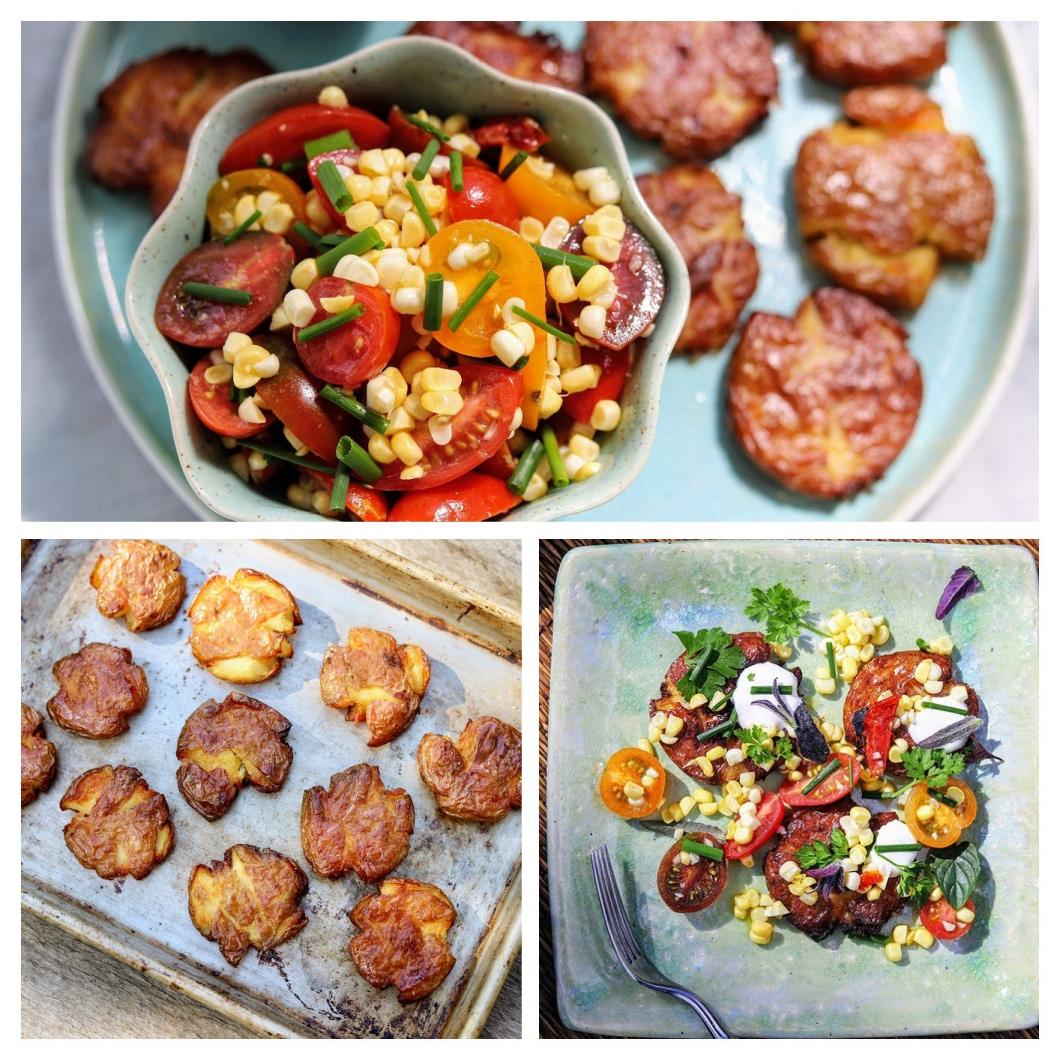 Other potluck ideas? A savory tomato tart (served at room temperature, of course), for one.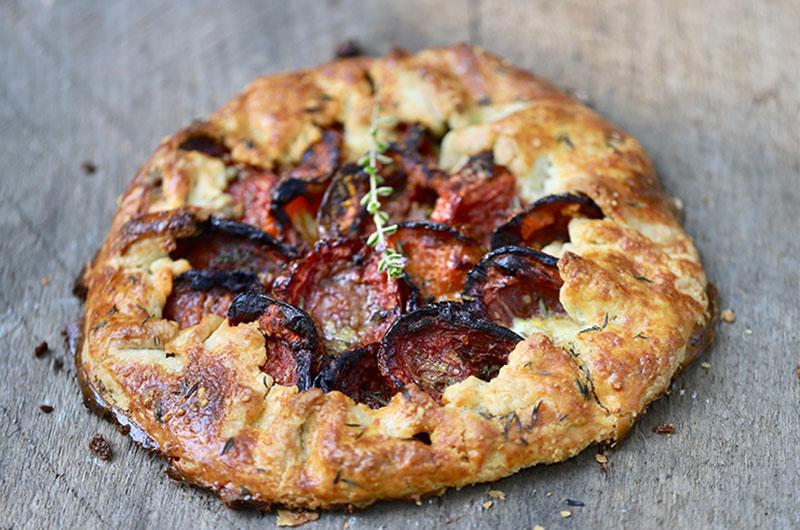 Here are two takes – A Rustic Tomato Tart and an easier recipe made with store-bought puff pastry, Roasted Tomato Parmesan-Ricotta Puff Pastry Tart.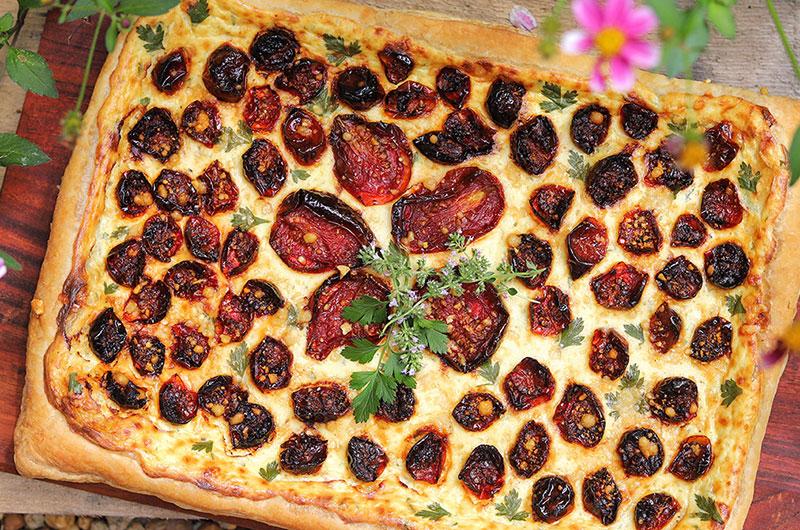 A grain or fruit salad will be welcome. Or how about a salad that combines grains and fruit (and beans!) like this Colorful Quinoa and Fruit Salad with Tomatoes and White Beans?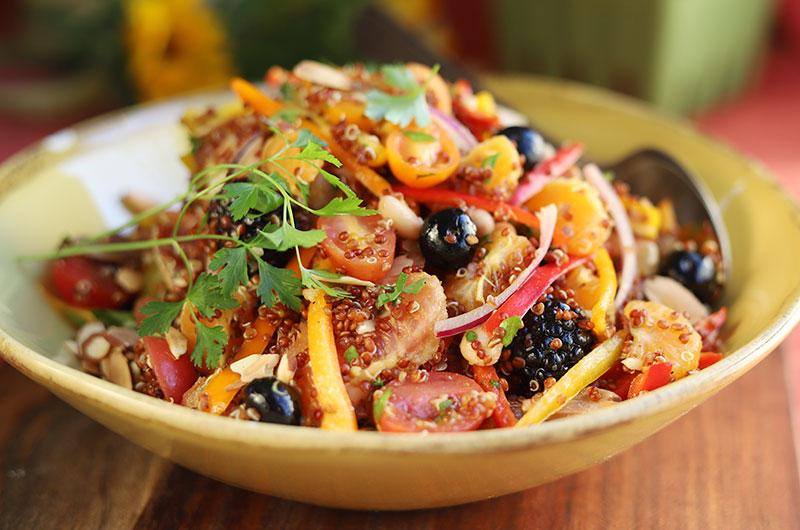 Or Quick-Roasted Beet, Arugula & Strawberry (or Raspberry) Salad? And ahem, let this be a reminder to you of how versatile those Quick-Roasted Beet Slices are...and how much non-beet lovers love them!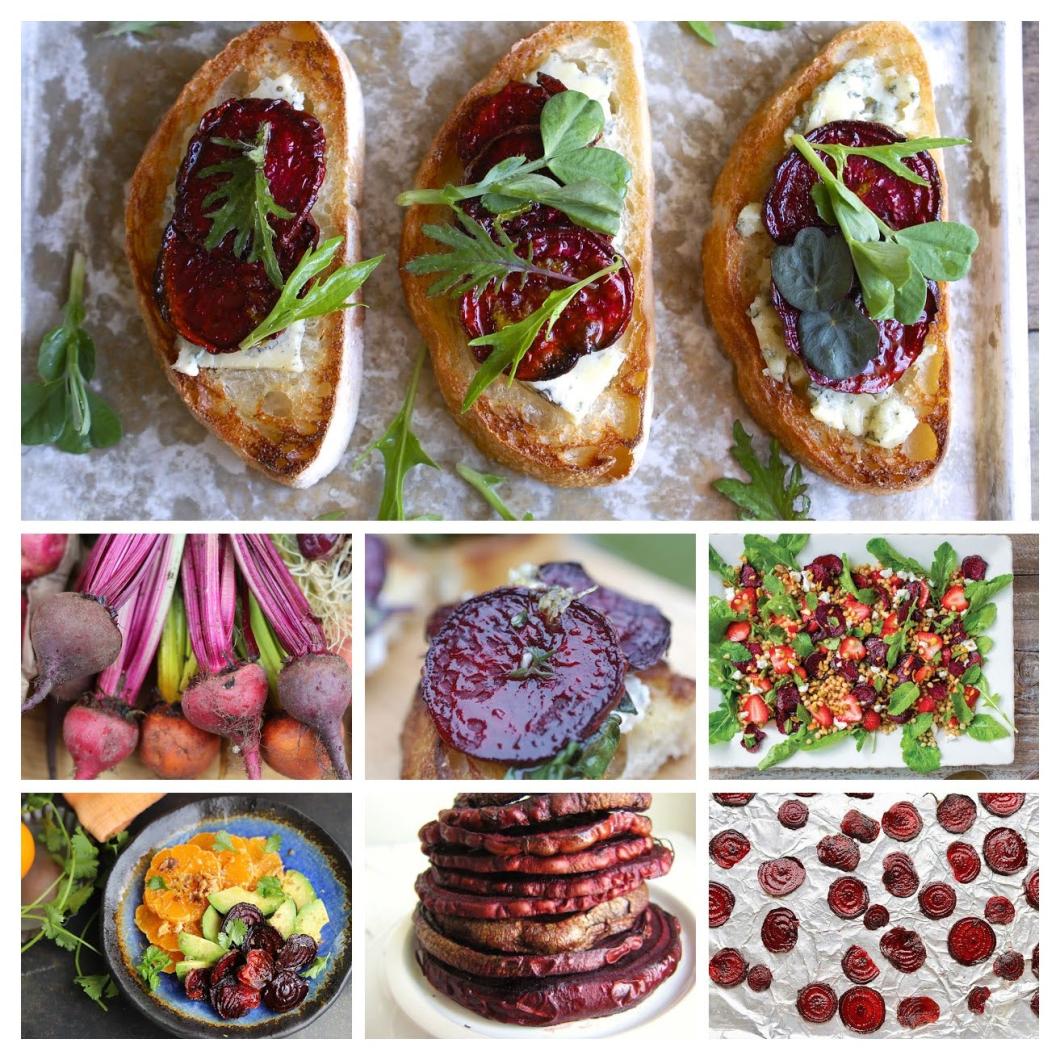 Think fruity (and seasonal) when it comes to dessert, too. Both North Tabor Farm and Ghost Island Farm are picking blueberries now and we hear that some of Susan Murphy's old blueberry bushes have a new home at Beetlebung Farm.
So we have lots of berries to look forward to, and the most Vineyard-y thing to do with them is to make Louise Tate King's Blueberry Crisp (the one that appeared in multiple editions of The Martha's Vineyard Cookbook by King and Jean Stewart Wexler).
But of course we have plenty more ideas for blueberries, including eating them for breakfast. Blueberry Crumble Coffee Cake anyone? Leftover berries? Read Ask Jenny below for a fruit vinegar idea.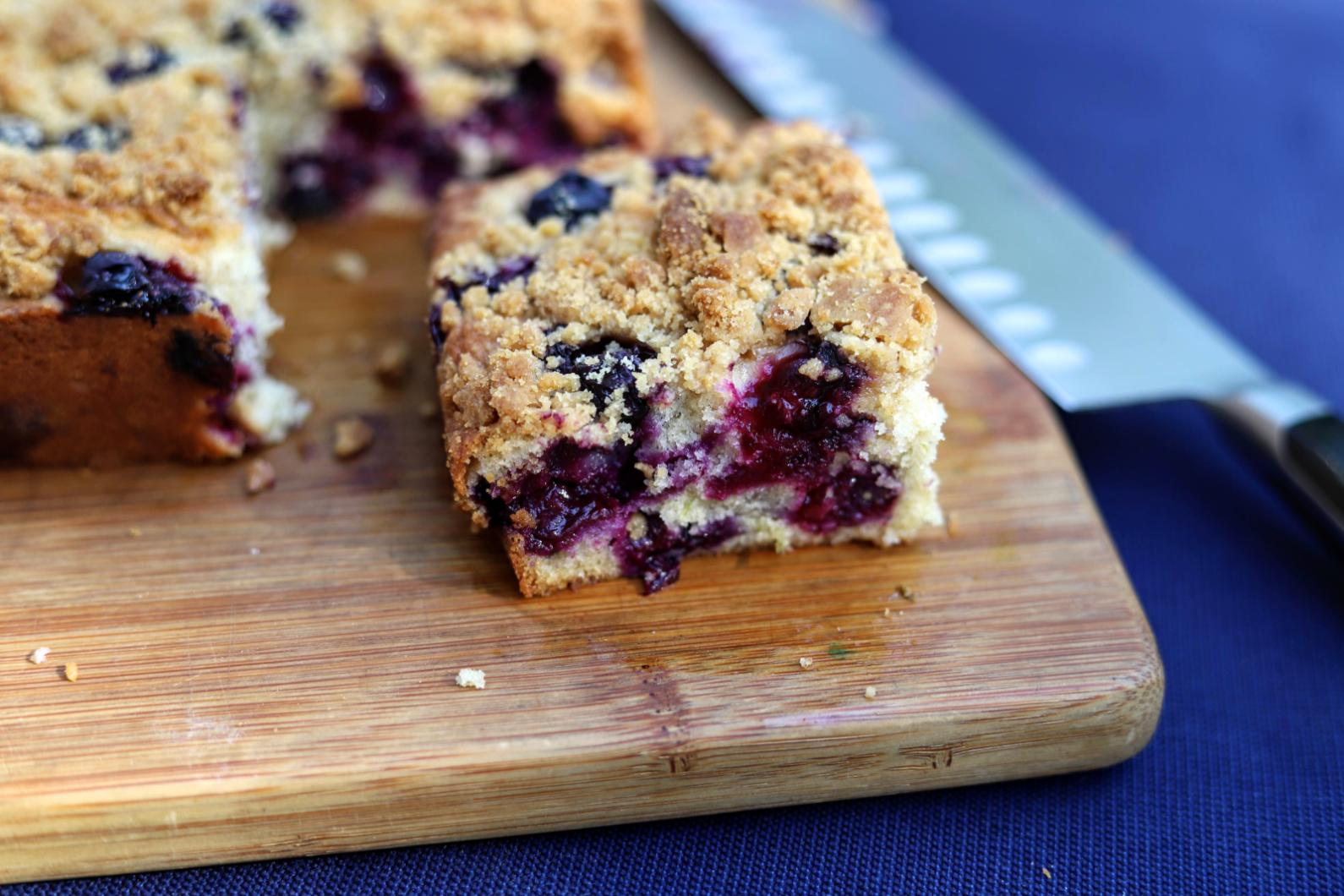 In between potlucks, what to eat for supper? The Martha's Vineyard Fishermen's Preservation Trust is promoting local fluke right now because it is plentiful. So this satisfying all-in-one sheetpan dinner of Fluke with Parmesan Crumbs, Potatoes, Tomatoes, Bell Peppers and Thyme is a no-brainer. Or you could go super-simple with Mike Holtham's Pan-Roasted Fluke.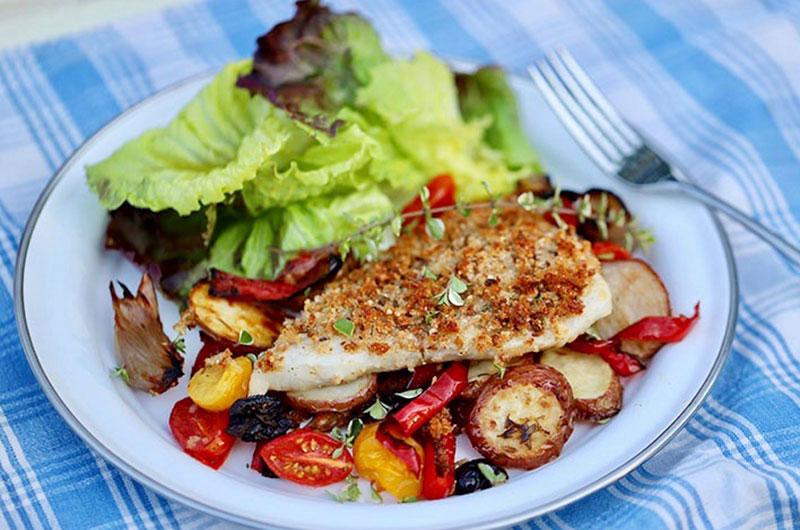 I've also been waiting for the corn to make my favorite chowder – Cod, Corn, Bacon and Leek Chowder with Fresh Thyme.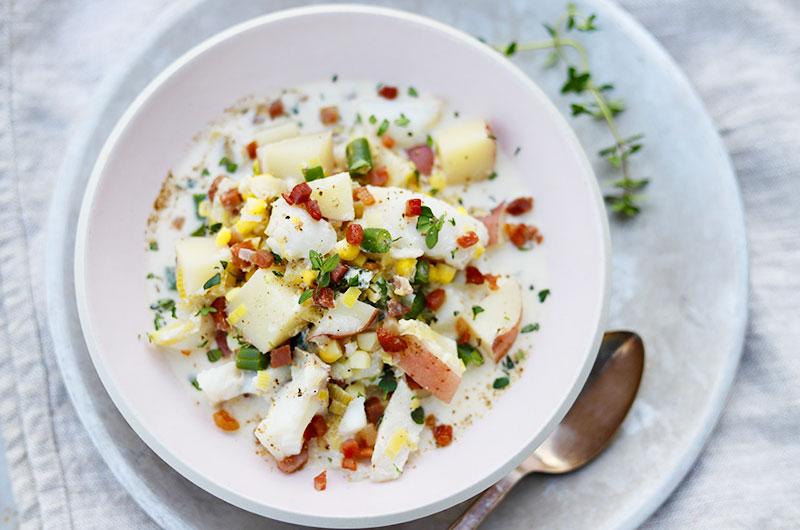 I can't believe it's almost August! The Fair poster was released, and it's a beauty. (Local artist Saundra LaBell won the design contest.) Pretty soon it will be time to pick up your entry forms. In the meantime, we'll see you at potlucks and farm stands – and on Instagram @cookthevineyard. Be sure to follow us if you haven't already!
And don't miss this week's Farm and Field Report.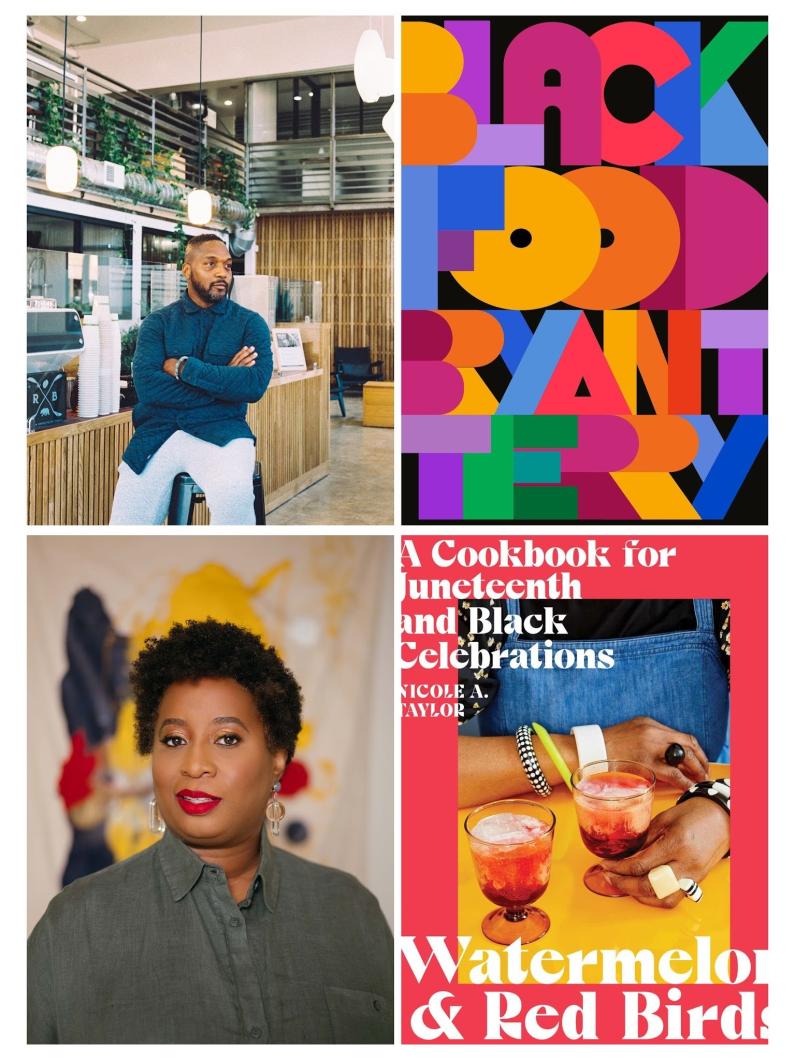 P.S. You are going to love our Cook the Vineyard event next week — a conversation between cookbook authors Bryant Terry (Black Food, Vegetable Kingdom) and Nicole A. Taylor (Watermelon & Red Birds) on August 2 at Atria restaurant. It will be moderated by Bon Appetit editor Dawn Davis, and I'll be there, too. (I hope to see you!) A light lunch will be served.
Buy your tickets for Beyond Recipes: How Stories Shape the New Cookbook now before they sell out.
---
What's Open on the Vineyard
POP-UPS
• Tonight (Wednesday, July 27) is Island Greek Night at S&S Kitchenette (48 Main Street, Vineyard Haven), with chicken souvlaki, spinach falafel, spanakopita, courgette fritters and more. Available for take-out or eat in, 5 p.m. until sell out.
CLASSY
• Jenny DeVivo's Cooking from the Island: Eating What's Fresh and What's Local happens every Wednesday from 5:30 to 7 p.m. at the FARM Institute.
• Learn to make Flatbreads of India with the Vineyard Baker at the FARM Institute tomorrow (Thursday, July 27) from 5:30 p.m. to 7:30 p.m.
And don't forget, you can find a complete list of open restaurants — as well as farm stands and retail stores — at What's Open on Martha's Vineyard.
---
Q. Help! We are enjoying all the lovely summer fruits that are around right now. I'm wondering if there is anything we can do with all the leftover fruit scraps?
A. Yes, you can turn fruit scraps into vinegar! Bruised fruit, and even skins, tops, and cores, can be made into flavored vinegars. All you need is some sugar and time.
Fruit-scrap vinegars take minutes to prepare and last for years. You can use these sweet, acidy mixtures in salad dressings, marinades, or drinks like shrubs (or even cocktails).
You can combine all of your fruit scraps to make a mixed vinegar, or you can experiment with just one or two fruits. Berries make particularly good vinegars.
Fruit Scrap Vinegar
1 to 2 cups strawberry tops or other fruit scraps
1/2 cup sugar, divided
8 cups water
1. Put the fruit scraps in a half-gallon glass jar. Add 1/4 cup sugar.
2. Fill the jar with water and stir well. Cover the jar with a coffee filter or clean cloth and secure with a rubber band.
3. Stir the contents of the jar daily. After a couple of days, add the remaining 1/4 cup of sugar to the jar and stir well to incorporate. Continue to stir the contents of the jar daily.
4. In about 2 to 3 weeks the vinegar should have developed. Test by smell and taste.
5. Strain out the fruit and pour the vinegar in a clean glass jar or bottle (preferably tinted) with tight fitting lid. Store in a cool dark place.
Note: These directions are intended to be basic guidelines for making fruit vinegars. If you are new to fermentation, you can find more information on making and storing vinegar here.