My corn radar is spot on. I was standing in the Morning Glory Farm store, right next to the corn stand, when the first corn of the season dropped on Monday morning.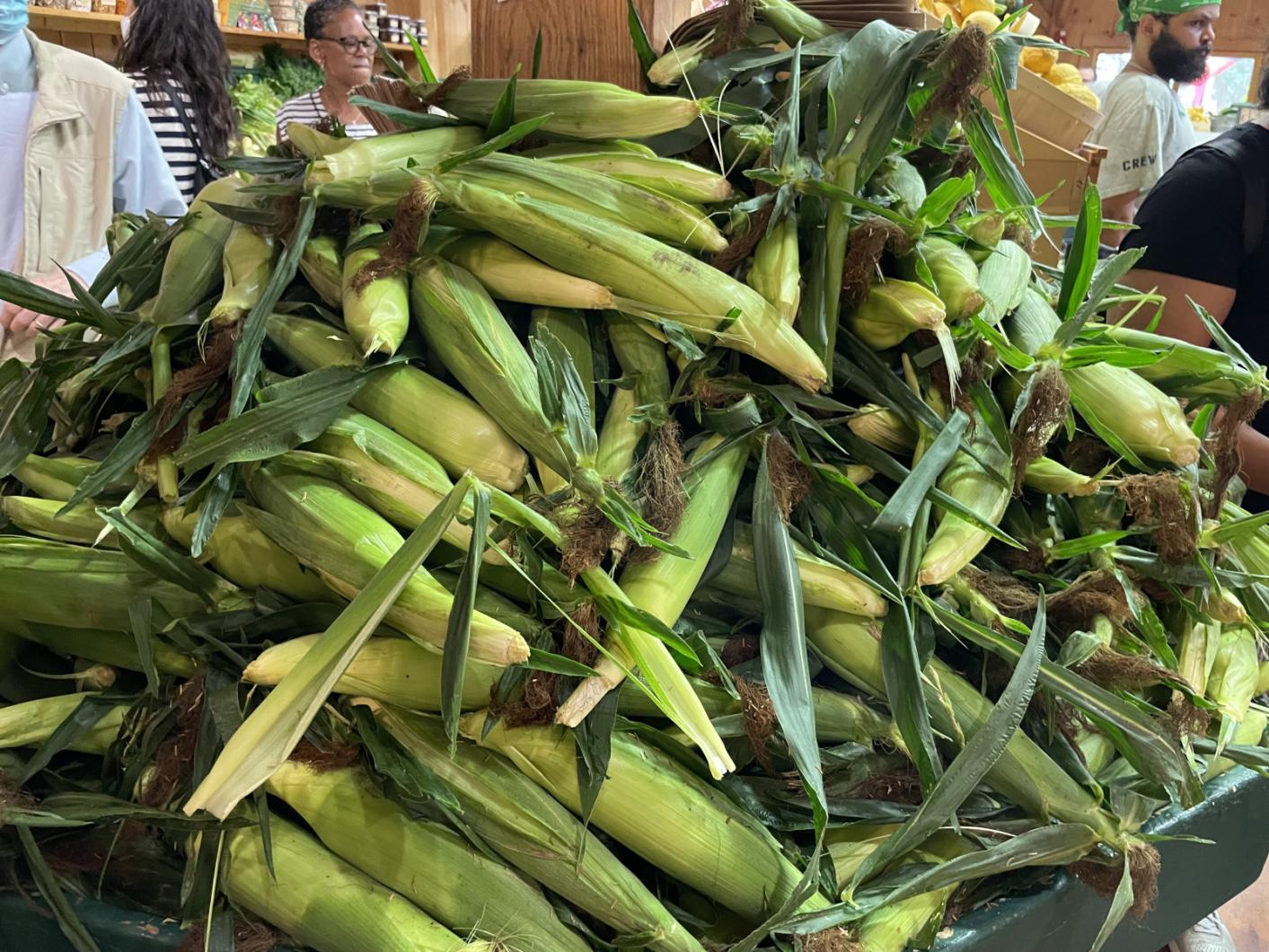 A young crew of workers, corn bags piled high on their shoulders, surrounded the circular display stand and began unloading until the tower of fresh green ears (Harris F1001 early bicolor variety) was shoulder high. I grabbed a brown bag, tried not to knock any small children or little old ladies over, and snatched eight ears. (I never, ever, peel back the husk of the corn while in the store; that is an insult to farmers. Photo below taken at home!)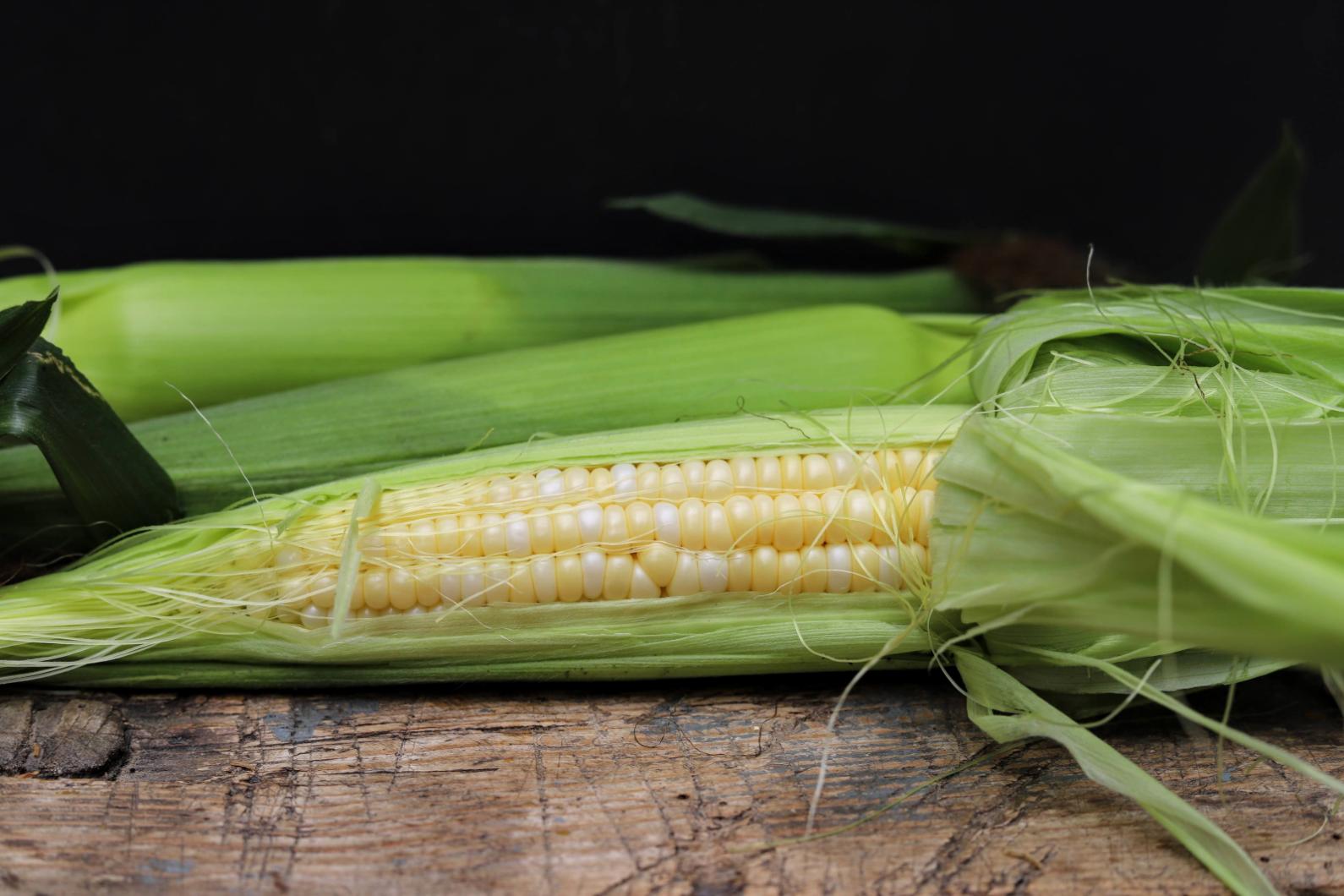 I paused, wondering if I should take more, but by then the sea of corn seekers had surrounded me. Besides, I had already filled my tote bag with fresh yellow wax beans, peppers, and beefsteak tomatoes. I knew what I wanted to make – a variation on my Corn and Yellow Bean Sauté with Bacon and Herbs, but without the bacon and with the addition of some yellow bell peppers.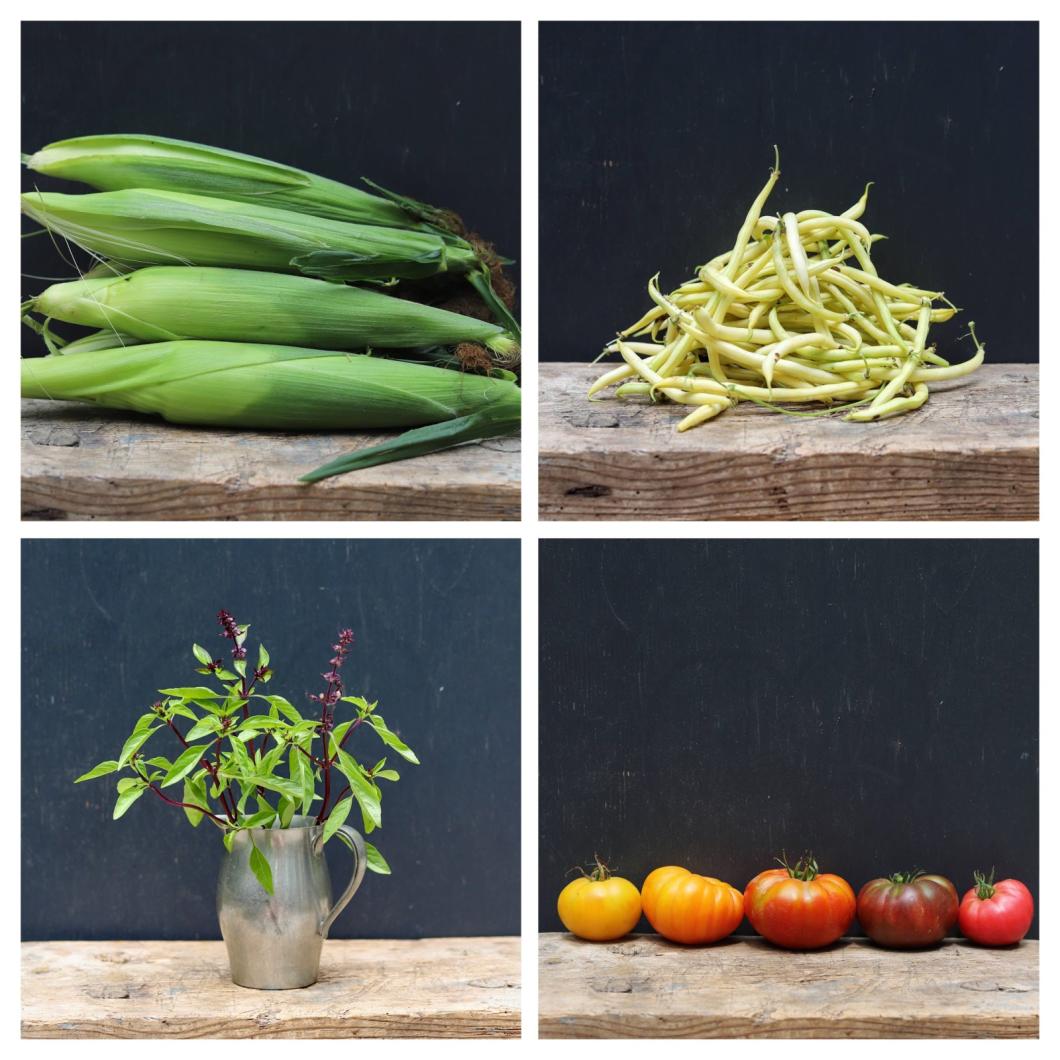 I had another sneaky thought. Last year, I used Sam Sifton's idea of drizzling brown butter over raw beefsteak tomatoes and just loved it. It seemed to me like it might be fun to serve the corn-bean sauté over slices of the yellow and dark red tomatoes I'd just bought – after dousing the tomatoes with brown butter of course.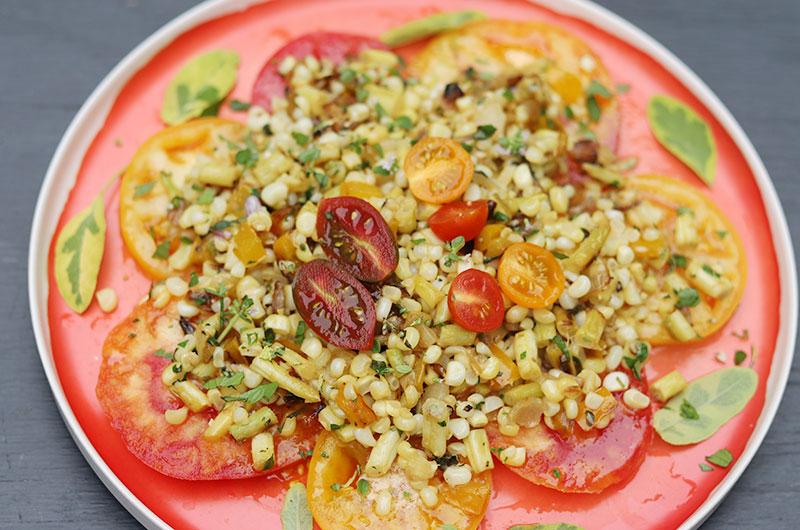 Yes, it was fun – but not entirely necessary. There's something very comforting about the warm corn sauté right out of the pan, spooned up against roast chicken (or even better, Grilled Butterflied Spice-Rubbed Chicken), that doesn't need the distraction of the tomato. But see what you think!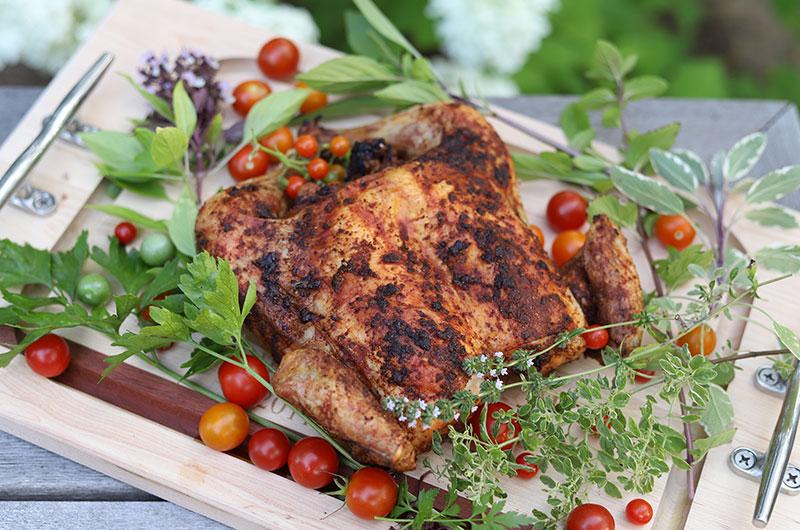 Corn season means it is now officially time for grilled corn, too.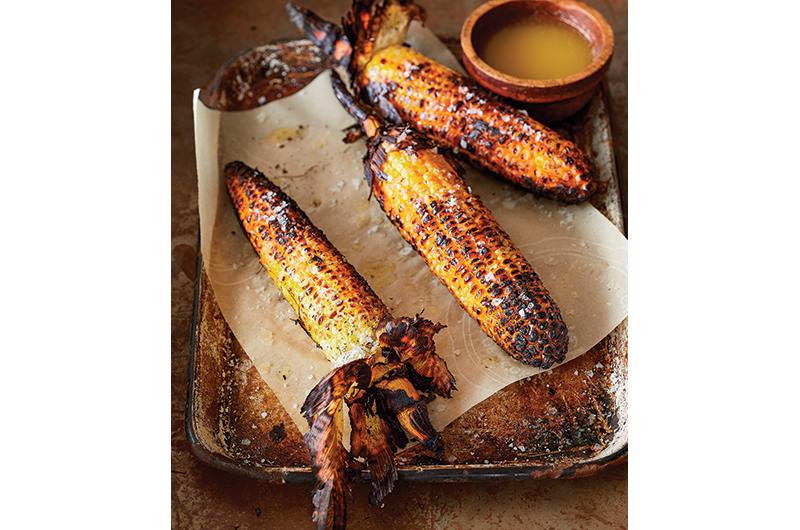 We've got two approaches for you: Emilia-Romagna Elote – Steven Raichlen's Italian twist on Mexican street corn, grilled with garlic, basil and cheese — and Corn Grilled in Foil with Herbs and Butter.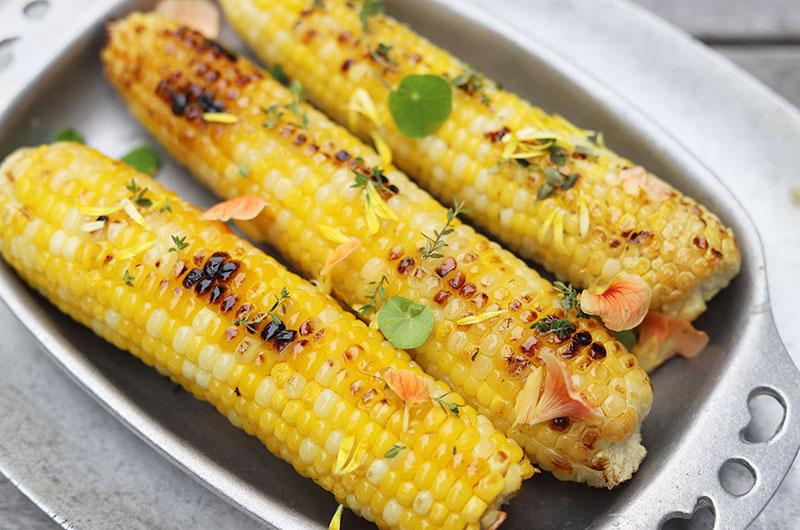 You can always just boil your fresh corn and serve it with a Zesty Flavored Butter (and lots of salt and pepper). I use my grandmother's method: I drop the shucked ears of corn into a big pot of salted boiling water, bring the water back to a boil, and turn off the heat. I then let the corn sit (depending on how young and fresh it is) in the hot water (loosely covered) for 5 to 10 minutes.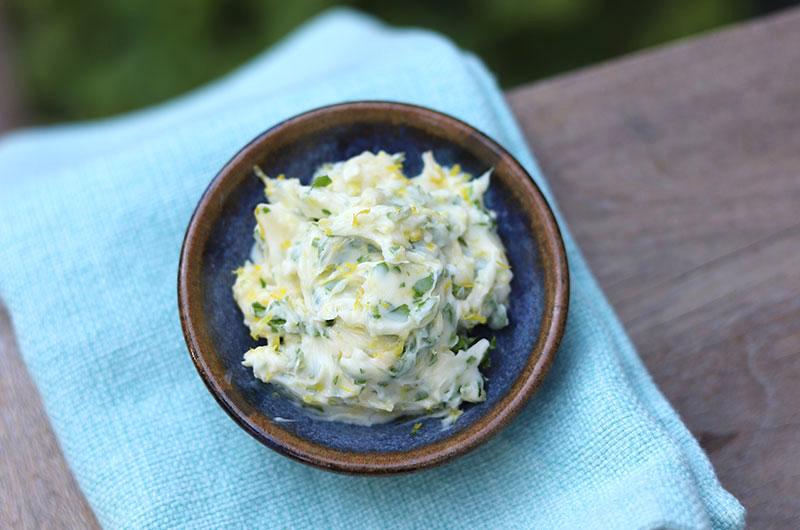 But if you're like me, you'll be cutting your corn kernels off the cob (before cooking) for many dishes, like the recipes above and this Sirloin Tip Steak with Summer Tomato-Fresh Corn Dressing, Feta, and Arugula.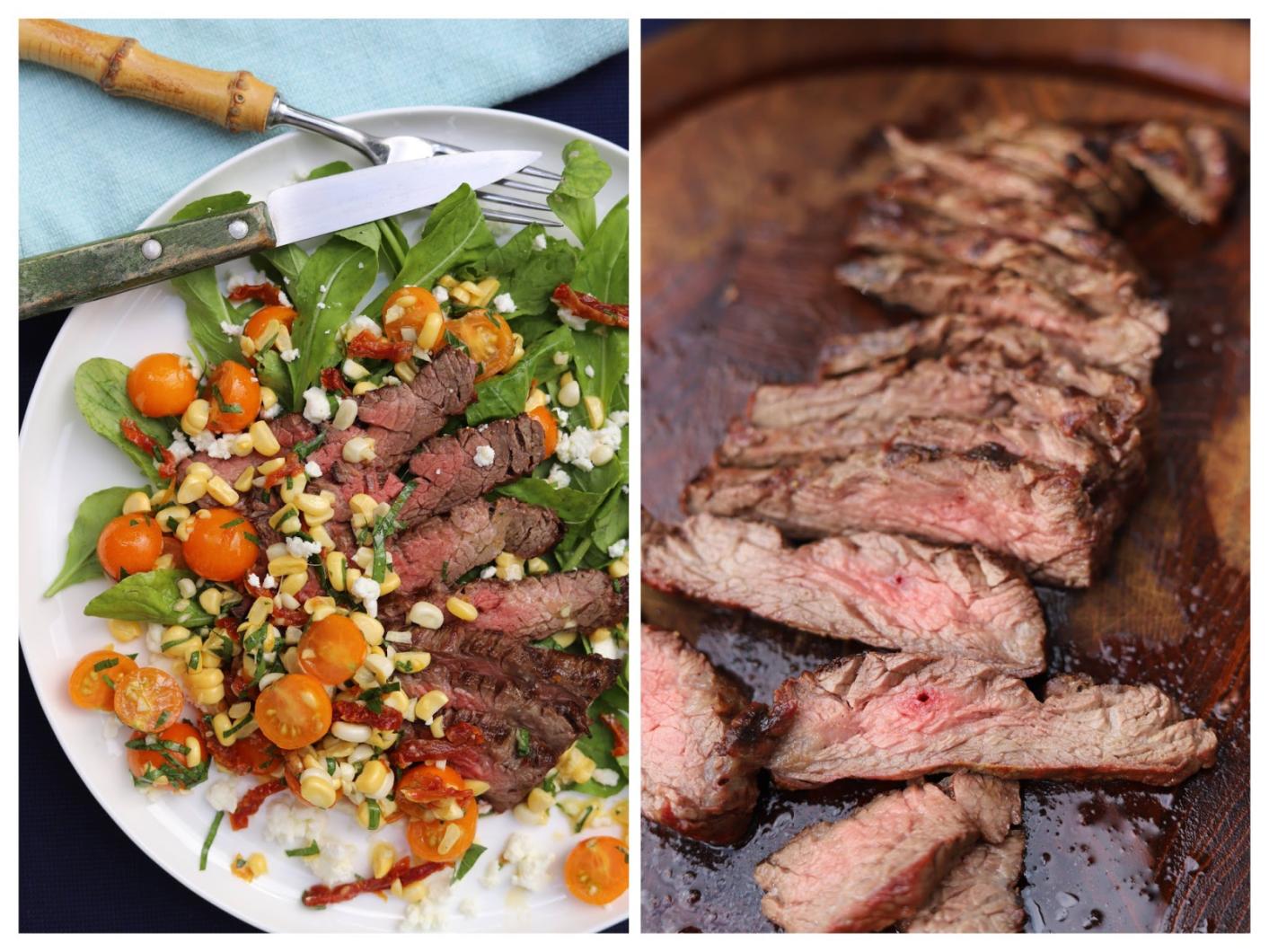 Oh and this Black Bean, Corn, Cherry Tomato, Zucchini & Herb Salad with Lemon-Ginger Dressing of course. In that case, save your corn cobs – pop them into a freezer bag and add to the bag until you've accumulated a bunch of cobs. Then simmer them with aromatics to make corn stock as a base for a summer corn soup or chowder. (More details on that later in the summer – start saving now to cut down on food waste!)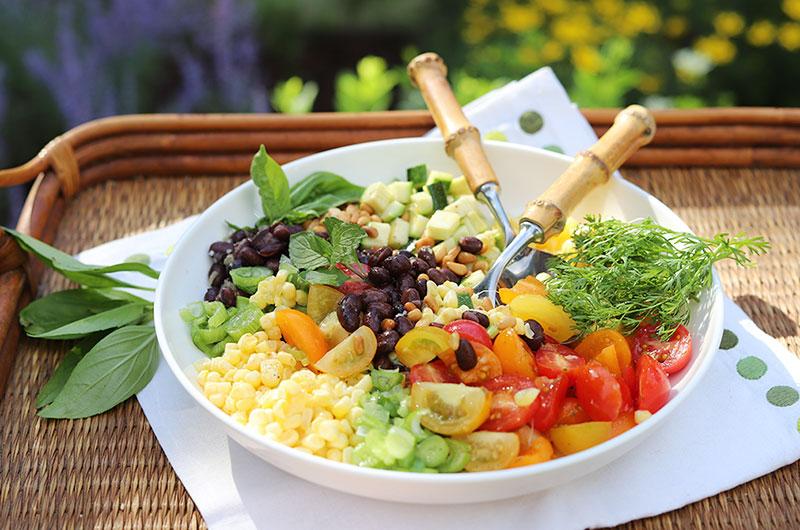 Hey, tomorrow night (Thursday, July 21 at 7:30 p.m.) best-selling cookbook author Eric Kim will be in conversation with fellow New York Times writer Ligaya Mishan about his book Korean American: Food That Tastes Like Home. Tickets are still available.
And coming up on August 2 is our exciting Cook the Vineyard event at Atria restaurant. Beyond Recipes: How Stories Shape the New Cookbook features groundbreaking cookbook authors Bryant Terry (Black Food, Vegetable Kingdom) and Nicole A. Taylor (Watermelon & Red Birds) in a provocative talk moderated by Bon Appetit editor Dawn Davis. Purchase your tickets now as the book talk and light lunch is likely to sell out.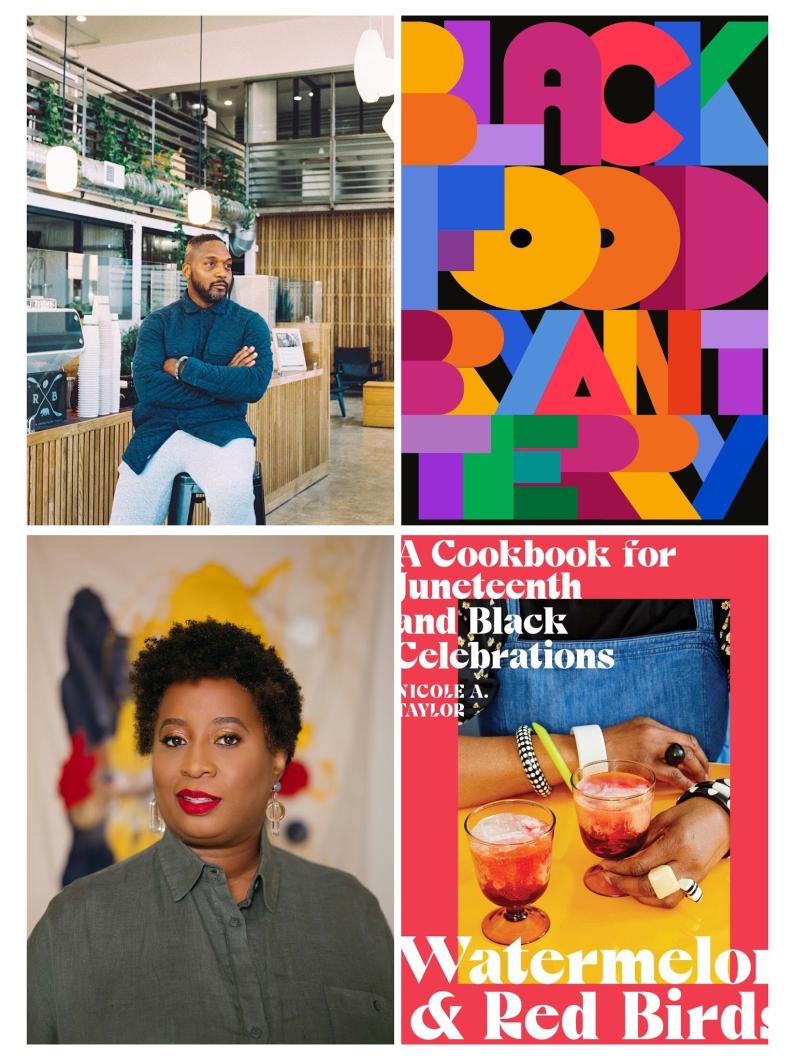 We'll see you around and on Instagram @cookthevineyard. Be sure to follow us if you haven't already!
And don't miss this week's Farm and Field Report: A Diverse Harvest.
---

What's Open on the Vineyard
OPEN
• Chef Jenny DeVivo is now cooking breakfast and dinner at The Beach Plum inn. Open to the public, breakfast is served from 8 a.m. to 10 a.m. Thursday through Sunday. Family-friendly dinners are reservation only: Friday is burger night, Saturday is taco night, Sunday is Caribbean night.
POP-UPS & EVENTS
• Tonight (Wednesday, July 20) at Grey Barn, El Gato Grande taco truck is popping up from 5 to 8 p.m with a specially curated menu featuring farm meats and veggies.
• On Thursday night at Dock Street in Edgartown, it's Super Smash Burger Night courtesy of Cinnamon Starship. Doors open at 5:30 p.m.
TOUR
• Take a Honey Bee Hive Tour with Ginny Bee Honey Farms (meet at the Norton Farm farm stand) on Saturday, July 23 from 9:30 to 11 a.m.
CLASSY
• Jenny DeVivo's Cooking from the Island: Eating What's Fresh and What's Local happens every Wednesday from 5:30 to 7 p.m. at the FARM Institute. Register for the July 27 event here.
• Beetlebung Farm continues its variety tasting experiences with cherry tomatoes this Thursday, July 21 from 5 p.m. to 6 p.m. Email mara@beetlebungfarm.org to reserve a spot.
And don't forget, you can find a complete list of open restaurants — as well as farm stands and retail stores — at What's Open on Martha's Vineyard.