This is my favorite method for grilling corn, because it is far less fussy than cooking corn in the husk. I shuck the corn completely, rub it with butter, and wrap it in foil with a few herb sprigs. The foil-wrapped corn steams on the grill – and also gets a bit of browning (even through the foil) thanks to the butter and the contact with the grill grates. So the corn takes on that roasty-toasty flavor. I like to serve it with one of these Zesty Flavored Butters for slathering.
You can butter and wrap the ears in foil several hours in advance. Keep the corn in the fridge and take out a half-hour before grilling.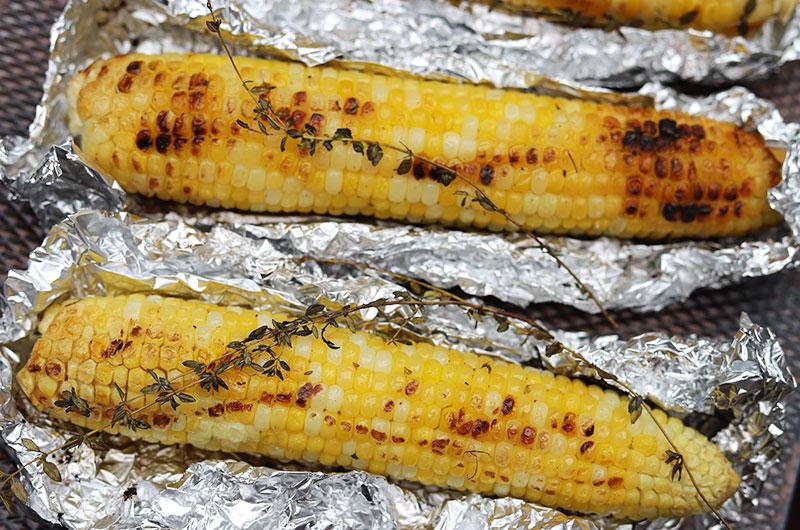 Serves 4 (or as many as you like)
4 (or more) ears of fresh corn, shucked and silk removed
1 ½ tablespoons (or more) unsalted butter, softened
Kosher salt
Fresh pepper
12 (or more) sprigs thyme (or your favorite herb)
Double recipe (or more) Zesty Flavored Butter
1. Heat a gas grill on medium high, or prepare a medium-hot charcoal grill.
2. Lay four 12 x 12 sheets of foil on your counter. Rub each ear of corn all over with about 1 teaspoon of butter and arrange one ear of corn on each piece of foil, in the center on a diagonal. Season the corn with salt and a few grinds of pepper, and tuck a few herb sprigs next to each ear. Roll the corn up in the foil, tucking in the sides of the foil as you go.
3. Arrange the foil-wrapped corn directly on the grill grate, cover and cook, turning every 5 or 6 minutes, for a total of about 15 to 18 minutes. Use tongs to turn or roll the corn over each time so that a different side has contact with the grill grates. After 15 minutes, take a peek at one ear of corn by removing it from the grill and carefully unrolling the hot foil. It should be lightly browned in places, but the kernels should still release a little juice if pressed. If you want to cook the corn longer, roll it back up in the foil and return to the grill for a few minutes. Remove all the ears from the grill.
4. Serve right away with more salt and flavored butter. (You can leave the hot corn wrapped in foil for a few minutes, but not for too long as it will continue to cook if wrapped and might get overcooked.)