I looked down at my cutting board yesterday and smiled. Summer vegetables are so cheery! The little tableau of sunny colors and fun shapes before me felt almost like a craft project. Even better that my own onions and shell peas (the last) and Thai basil were part of it. I'm especially grateful for those; gardening, like farming, is a gamble. You never really know what you're going to wind up with.
This collection went straight into the stir-fry pan for a delicious variation on a favorite recipe, Chinese Egg Noodles with Veggies in Lime-Coconut Broth. The broth is the secret here — a simple combo of coconut milk, lime juice, soy sauce, maple syrup and chili-garlic paste. With lots of cilantro, those bouncy noodles, and the quickly browned veg, a bowl of this is satisfying but still light and bright.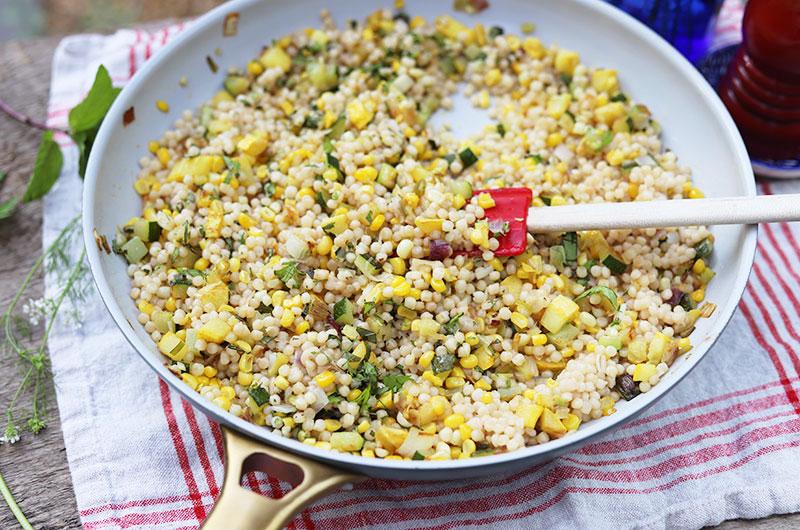 You notice I'm too impatient to wait for local corn. (At least the ears I'm buying are from only a couple states away, and sold at the Morning Glory farm stand!) I can't resist pairing it with summer squash and onions, so I'll be giving those veggies a star turn in Summer Squash, Corn, and Pearl Couscous with Coriander and Herbs. This recipe also makes a light supper or a comfy bed for grilled steak or chicken.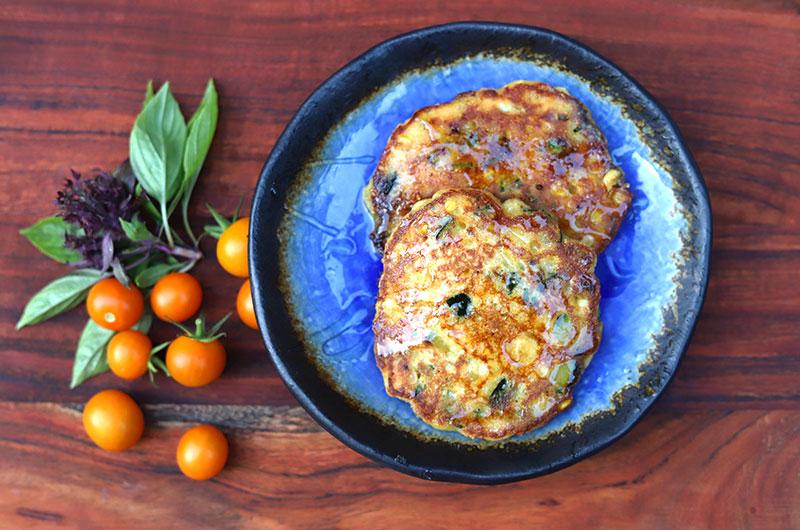 And speaking of soft landings, these Corn, Zucchini and Fresh Herb Pancakes would be mighty fine with a few slices of Grilled Rosemary Garlic Lamb (boneless leg) draped over them. Maybe with a side of Cucumber Salad with Honey-Lime-Yogurt Dressing.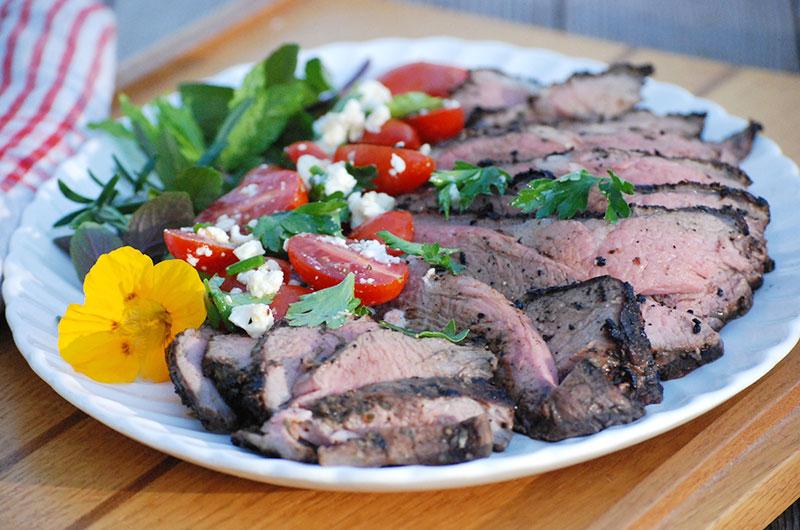 If you'd rather turn the grill on for a nice piece of fish, you can now officially make Tomato-Peach Salsa Salad with the newly arrived Goldbud peaches (exceedingly juicy and appropriately pricey) at North Tisbury Farm and Market. Island groceries have peaches now, too.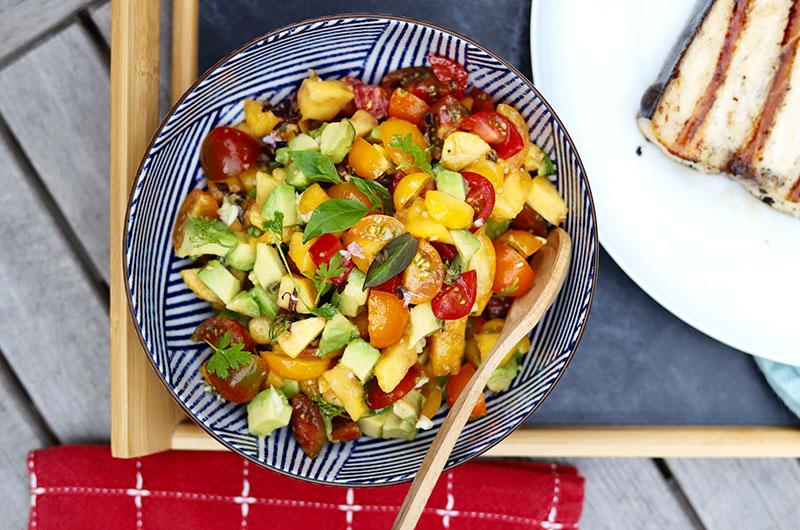 That salsa-salad is the perfect topping for Grilled Swordfish.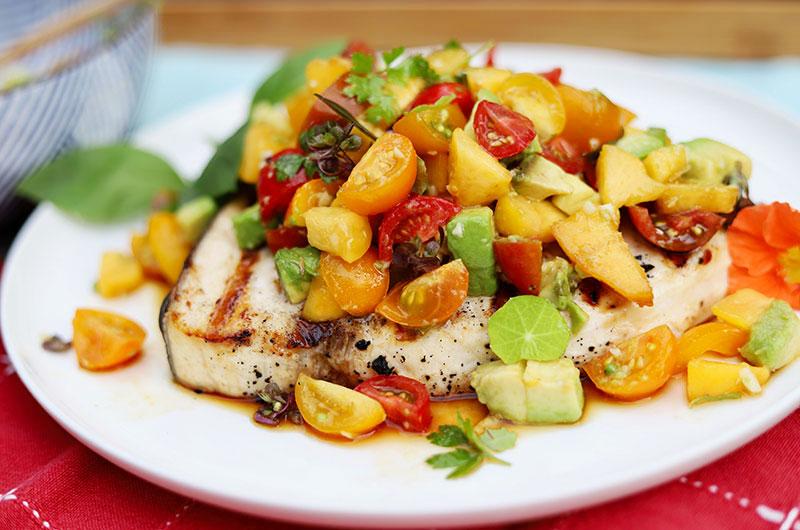 No grill? We hear that local fishermen are bringing in plenty of black sea bass right now and prices are good. We've got a few ways to prepare black sea bass, including Black Sea Bass Tacos and Black Sea Bass with Fresh Garlic-Lemon Butter.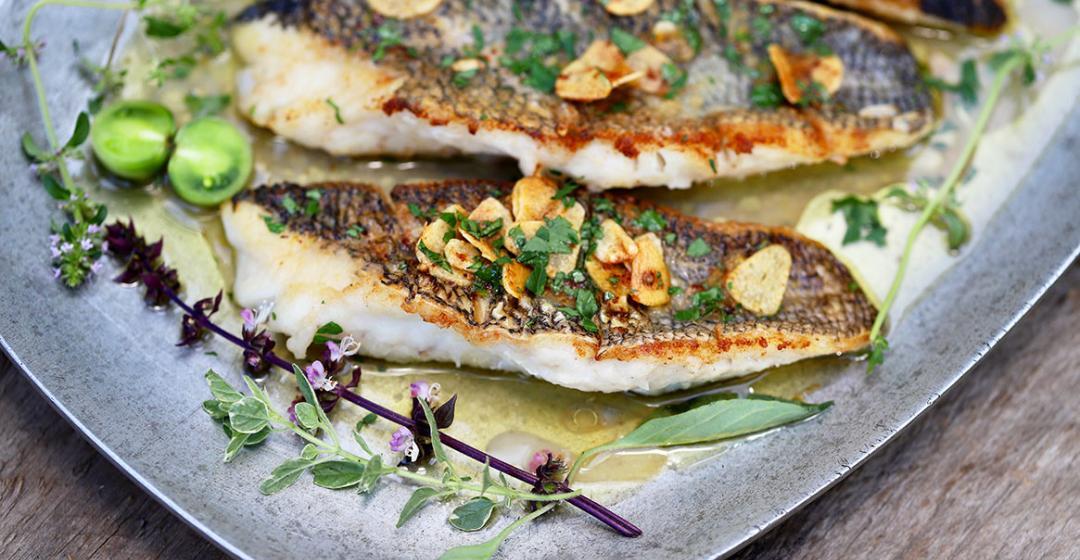 For dessert, zucchini-corn ice cream – just kidding! Actually, we've been eating slices of Abby Dodge's Glazed Lemon Pound Cake that I wrapped and froze months ago and they are still delicious. I recommend baking one of those and taking it to a potluck and/or slicing and freezing some of it for instant treats later in the summer.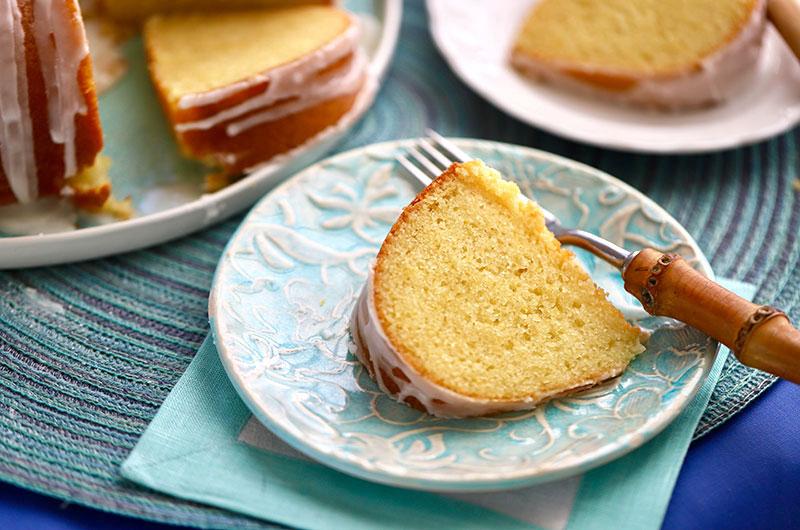 Hey, I thought you'd enjoy this guide to local food trucks that we published in the latest edition of the Vine. Find our where (and when) your favorite tacos, rotisserie chicken, French fries and doughnuts are hanging out.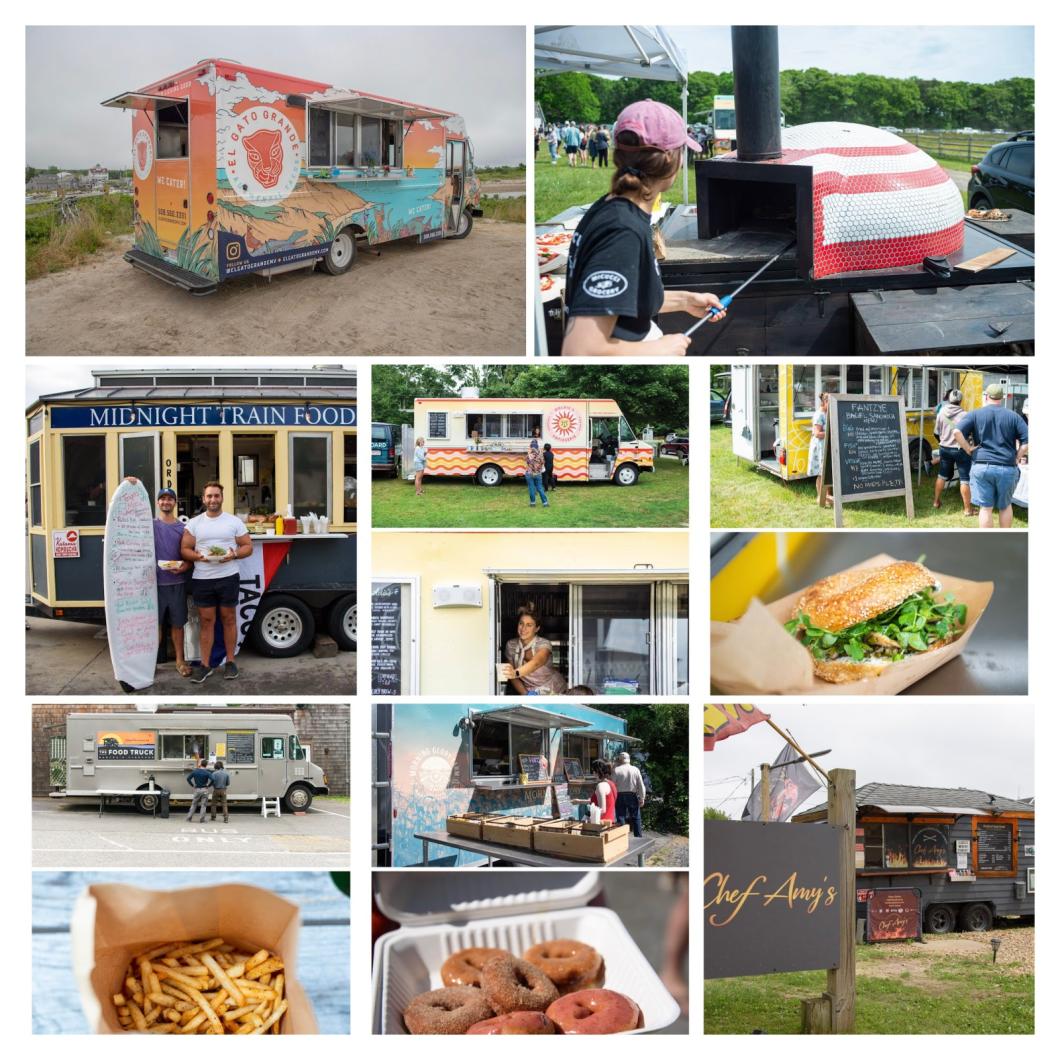 I also wanted to let you know that we've got a great Cook the Vineyard event planned for August 2 at Atria restaurant with groundbreaking cookbook authors Bryant Terry and Nicole A. Taylor. Moderated by Bon Appetit editor Dawn Davis, the book talk and light lunch is likely to sell out so find out more and purchase your tickets early if interested.
We'll see you around and on Instagram @cookthevineyard. And be sure not to miss this week's Farm and Field Report.
---
What's Open on the Vineyard
OPEN
• The Larder, newly refurbished by proprietor Rose Willett, is open for business in Vineyard Haven at 342 State Road, featuring charcuterie by The Swimming Pig's Tyler Potter as well as cheeses, bread, preserves and other gourmet items.
CLASSY
• On Friday, July 15 from 3 p.m. to 4 p.m., bring the kids and make ice cream at The FARM Institute for Ice Cream Farm Fridays. Register ahead.
• Learn tricks and tips for using and preserving herbs from chef and cookbook author Catherine Walthers and foraging farmer Rebecca Gilbert in a class this Thursday, July 14, from 4:30 to 6 p.m. at Native Earth Teaching Farm. Sign up ahead.
• Beetlebung Farm continues its variety tasting experiences with cucumbers and lettuce this Thursday, July 14 from 5 p.m. to 6 p.m. Email mara@beetlebungfarm.org to reserve a spot.
And don't forget, you can find a complete list of open restaurants — as well as farm stands and retail stores — at What's Open on Martha's Vineyard.
---