Black sea bass, that tasty bottom-feeder, is back in season. Last year, I learned that sear-roasting is a delicious way to cook it, and I developed this recipe for Sear-Roasted Black Sea Bass with Ginger-Garlic-Lime Butter and Roasted August Vegetables. With the vegetables, that is a nice dish to serve for a small get-together, maybe four people on a Friday night.
This week, I bought four filets (again about 1 ¼ pounds total) and made an easy garlic-chip and lemon butter to pour over the sear-roasted fish.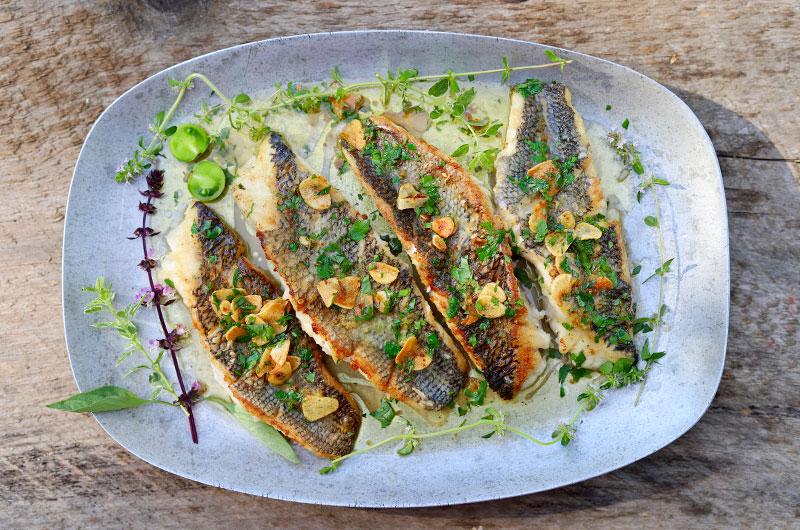 I had some freshly dug garlic and was eager to use it – it has a lovely clean flavor. You can find fresh garlic right now (mid-summer on the Vineyard) at Morning Glory and other farm stands.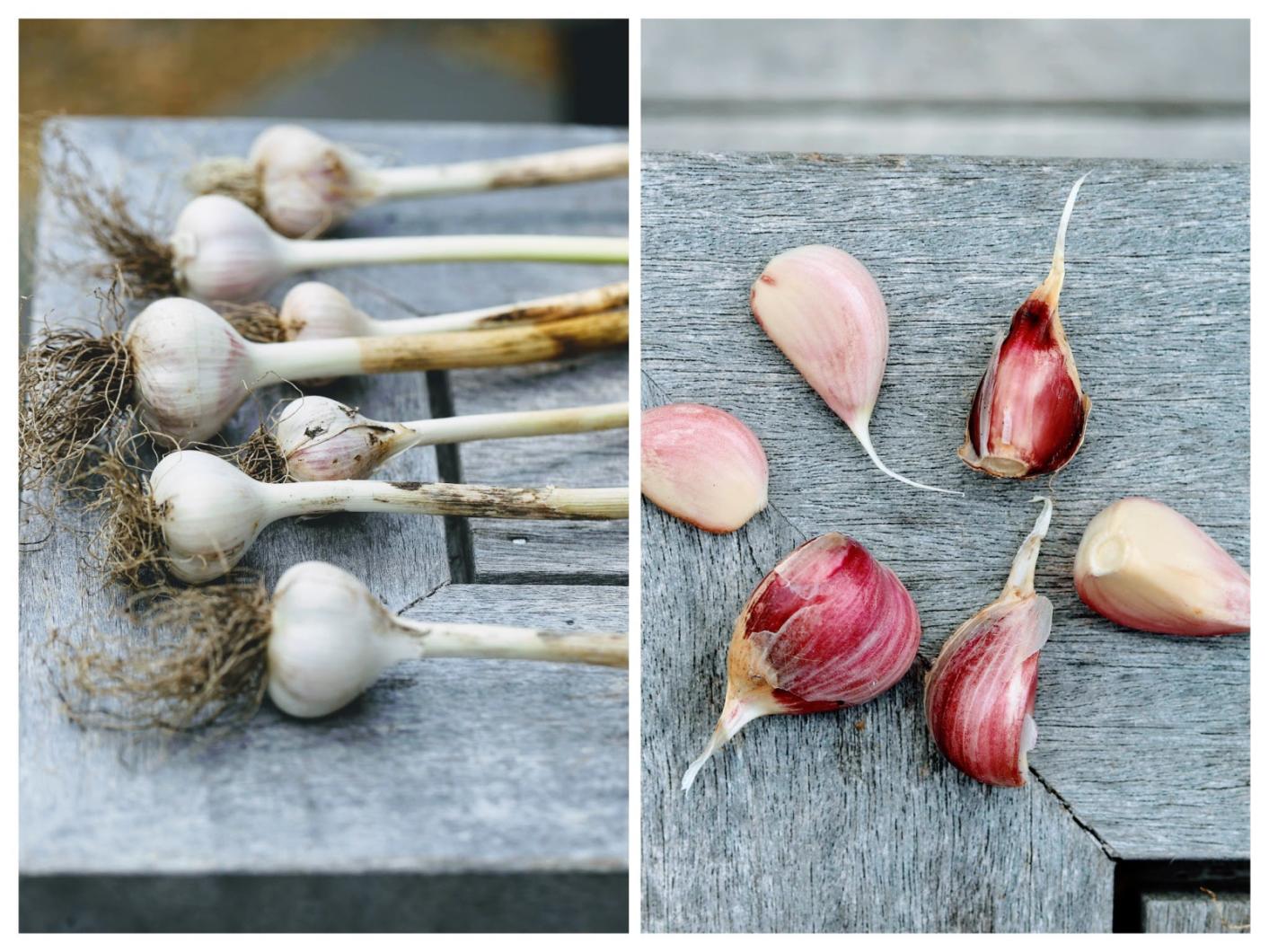 I kept the sauce deliberately simple, but you could add chopped capers or olives or anchovies or sundried tomatoes to it at the end if you wanted.)
This amount of fish will serve two to three people without any accompaniment, but with a bed of crushed potatoes or Green Rice, you could stretch to four. Or buy a fifth filet and cut them in half before cooking.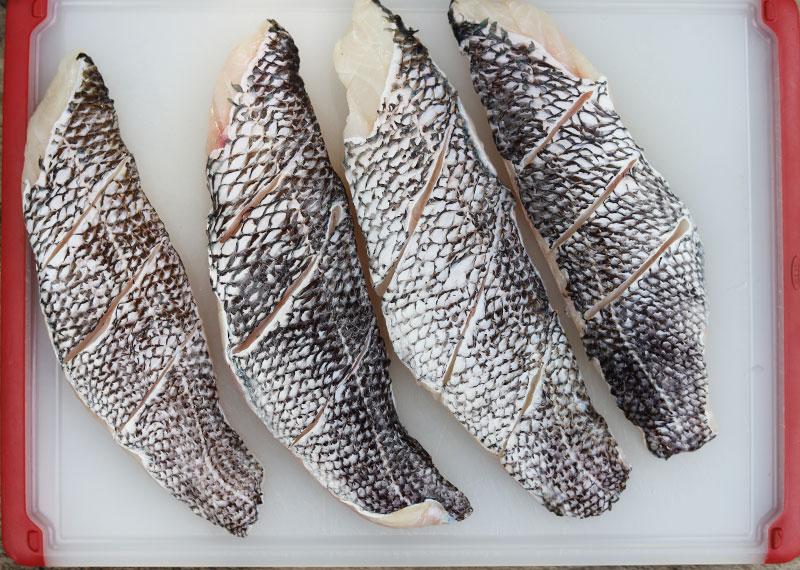 You'll be buying black sea bass filets with the skin on (it holds that rich flesh together when cooking), and you'll need to slash the skin a few times (cutting all the way through the skin with a sharp knife) to keep the filets from curling when cooking.
Also note that your filets may have some pin bones still in. You will be able to feel where they are, and you can remove them with needle nose pliers or tweezers before cooking. If you miss them, eat around them carefully! The fish is so delicious, that the effort is worth it.
Serves 3 to 4 (see note above)

For the garlic butter:
2 tablespoons olive oil
3 tablespoons unsalted butter
2 large garlic cloves (preferably fresh summer garlic), peeled and very thinly sliced crosswise
1 ½ teaspoons fresh lemon zest
1 tablespoon fresh lemon juice
Kosher salt

For the Fish:
4 skin-on black sea bass filets (about 1 ¼ pounds total)
Kosher salt
Flour
1 tablespoon extra-virgin olive oil
1 tablespoon unsalted butter
Make the garlic butter:
1. In a small skillet, combine the 2 tablespoons olive oil and 3 tablespoons unsalted butter over medium heat. When the butter has melted, add the sliced garlic and a pinch of salt, lower the heat slightly, and cook until the garlic chips (and the milk solids) are lightly golden brown (the butter will bubble quite a bit). Remove from the heat and stir in the lemon zest.
2. Let cool slightly and stir in the lemon juice and another big pinch of salt. Set aside. (Alternatively, let the garlic butter rest while cooking the fish, and reheat it gently before serving, adding the lemon juice and salt just before serving.)

Cook the fish:
1. Heat the oven to 400 degrees F.
2. Using a sharp knife, score the skin side of each filet crosswise in three places, cutting through the skin (all the way from side to side). Season the bass filets with salt on both sides. Dredge in flour and shake off excess flour so that both sides are lightly coated.
3. In a large (12-inch) nonstick skillet, heat the 1 tablespoon olive oil with the 1 tablespoon butter over medium heat (or slightly towards medium-high, depending on your stove). When the butter has melted and the pan is hot, add the four filets, skin-side down. Cook without disturbing for 4 minutes. Check with a thin spatula to see if the skin has browned. If not, continue cooking 1 to 2 minutes.
4. Flip the filets over (a second thin spatula can help here to roll the filet over) and put the whole pan in the oven for 4 to 6 minutes, or just until the fish is cooked through.
5. Arrange the filets on plates or a platter. Gently reheat the garlic butter (adding the lemon juice, zest, and salt if you haven't already) and stir in some of the chopped parsley. Spoon the garlic chips and butter over the filets and garnish with the remaining parsley.