The wild blueberries along the edge of the woods around my house are starting to color up. I look at them longingly hoping I'll be able to get some of the berries before the birds do! But I'm not counting on it, and I'm impatient. Fortunately, nice fat blueberries from not too far away are coming into the grocery store now. Better still, I have a new recipe from Abby Dodge in hand which is so easy and delicious that I could make it every week all the way through the end of blueberry season.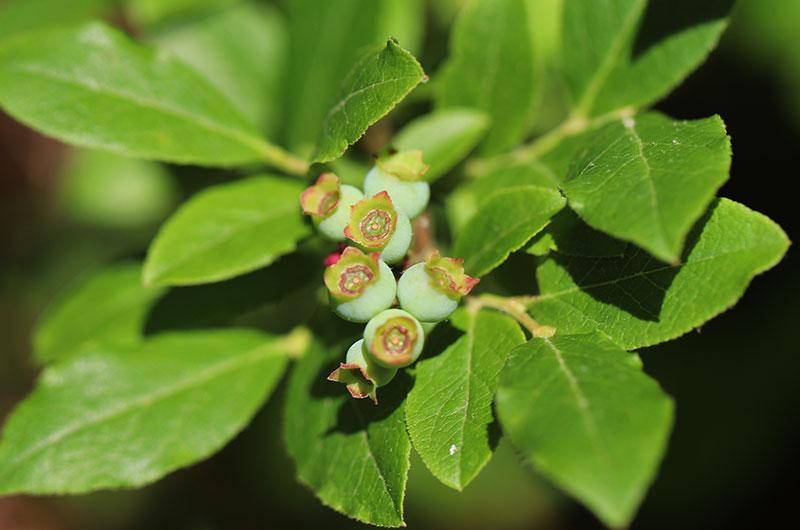 Blueberry-Lemon Cornmeal Upside-Down Cake takes no time (and no mixer) to put together and there's no fussy caramel to make (just a delicious mix of brown sugar and butter). Between the tender cake and the blueberry topping, every bite tastes like blueberry pancakes to me! Read Abby's tips in her 25th (yes 25th!) installment of Baking Together, including a good-to-know suggestion that if you run short of blueberries, you can fill in with some strawberries. Also, feel free to swap in orange zest or fresh ginger for the lemon zest.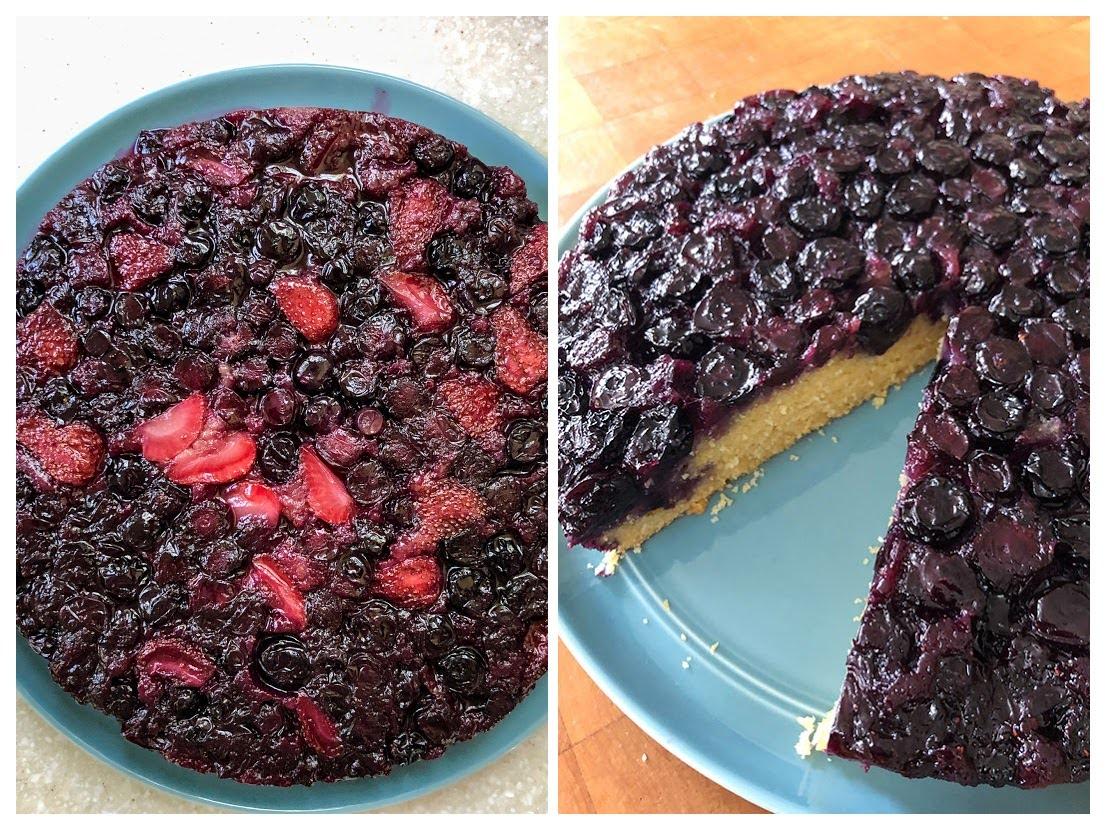 Of course I bought too many blueberries so I made a Blueberry Clafoutis for breakfast over the weekend – another easy and satisfying recipe that's great to have up your sleeve for visitor season. (Judging by the amount of people on the Island, everyone already has a house full!)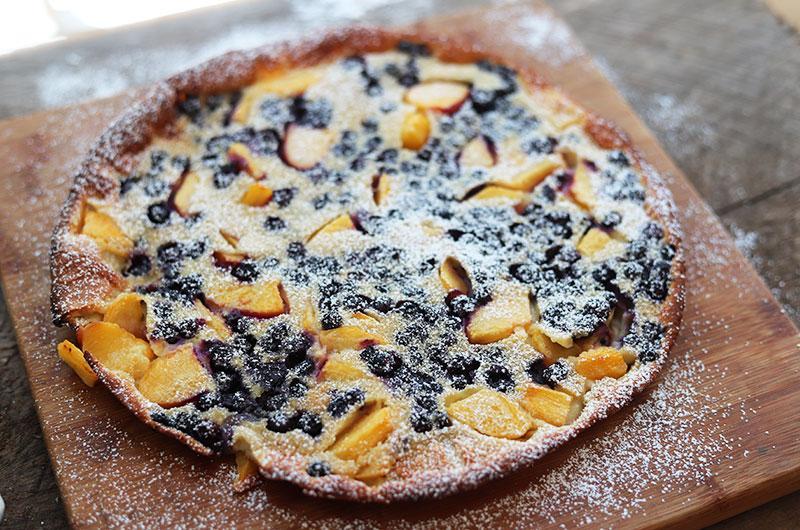 Monday was a beautiful sunny day and I woke up thinking about grilled cheese. (Go figure.) So I treated myself to a ride up the road to Grey Barn and came back with a freshly baked whole wheat boule (and an African Blue Basil plant, which is new to me).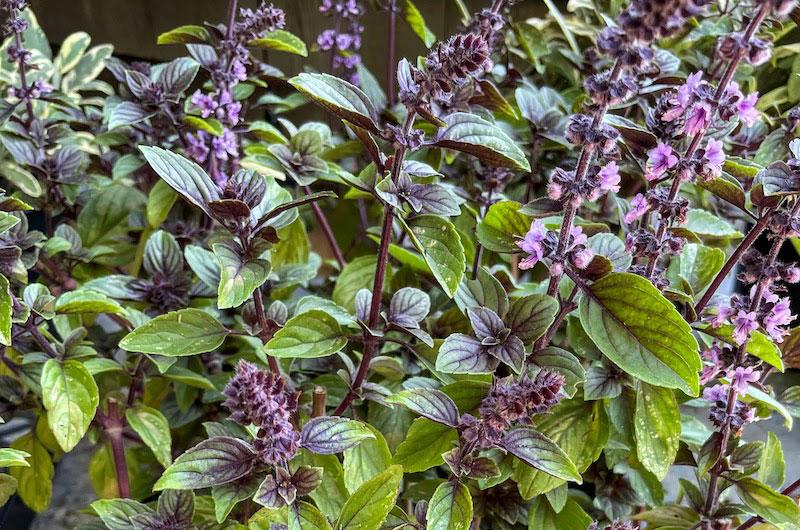 At lunch I made a crisp-meets-gooey cheddar-thyme sandwich with a bit of slivered fennel salami tucked inside, using my recipe for Custom Grilled Cheese with Vineyard Bread. I sat outside and turned my face to the sun and all was well!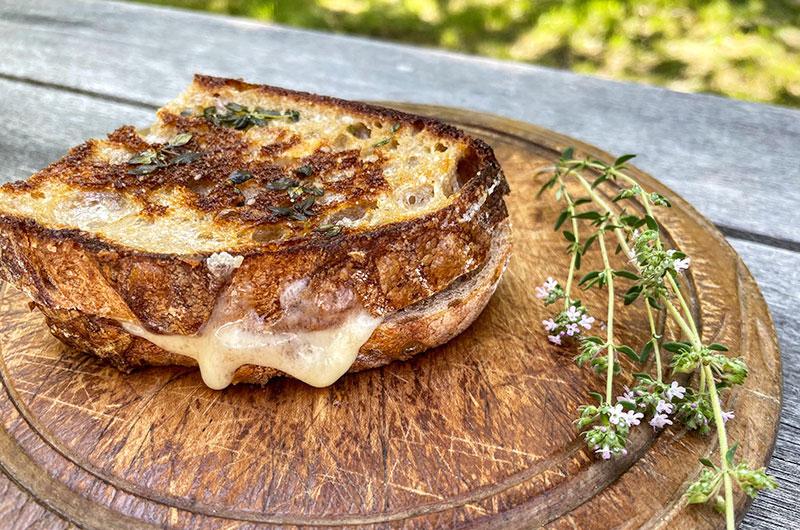 If you're just arriving on Island this summer, here's a guide to finding the best artisan bread on the Island.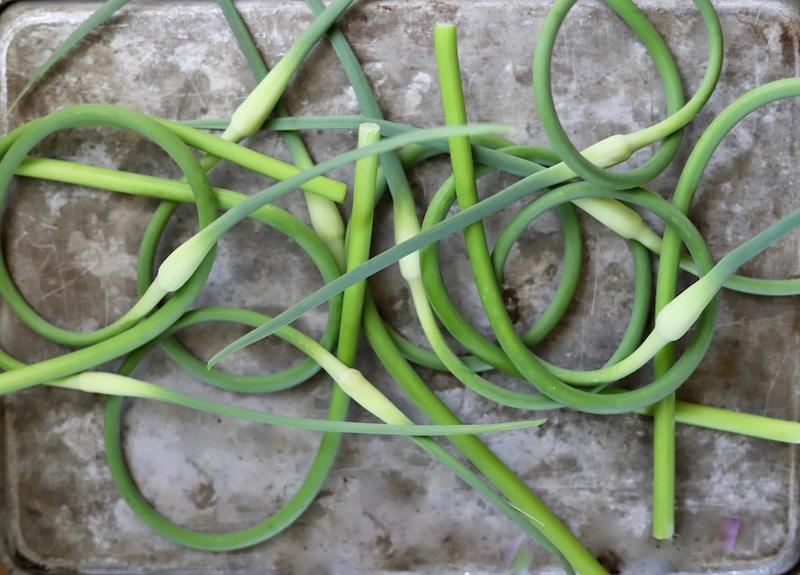 I noticed garlic scapes at the Morning Glory farmstand. I'm not growing garlic this year so I may have to pick some scapes up to make Garlic Scape Chimichurri (great on grilled fish or in, you guessed it, grilled cheese!) Scapes, which are the stalks and flower of hardneck garlic, are cut off in early summer so that garlic can turn all its energy back to the bulb for the last bit of growing. Scapes always make me smile with their curlicue shape, and they last forever in a plastic bag in the fridge. Thinly sliced, they can go into any stir-fry.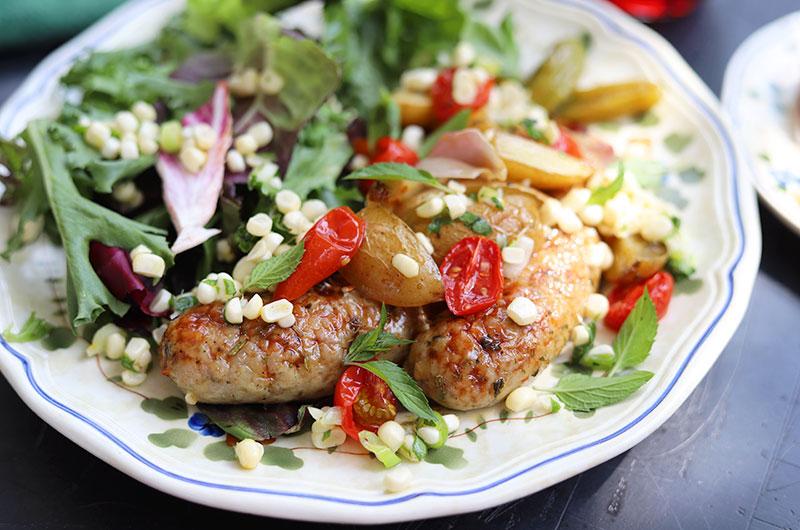 Tonight we're having Local Sausage and Vegetable Sheet Pan Dinner with some Swimming Pig sausages I got at Whippoorwill Farm. Very soon we'll be able to get @theswimmingpigmv charcuterie at The Larder, which we hear will be opening in Vineyard Haven before too long.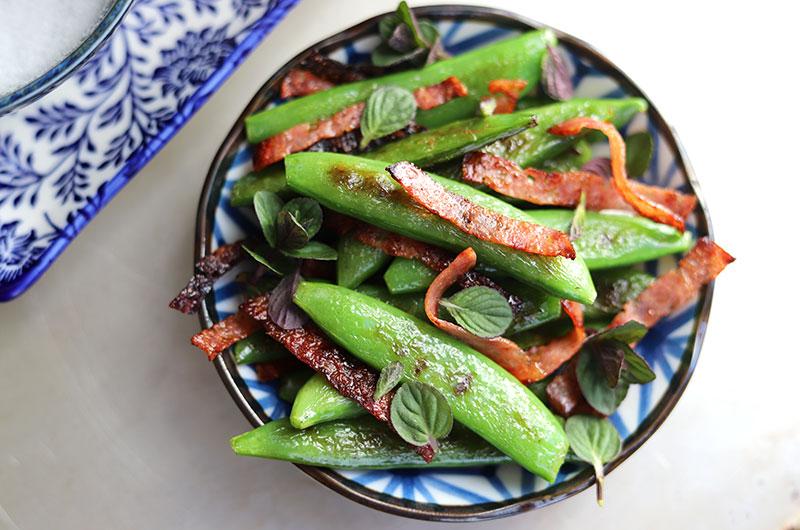 With that, a stir-fry of my very first snow and snap peas that are starting to come in. Maybe with some shallots or spring onions in place of the salami in this recipe for Sauteed Sugar Snaps with Salami Crisps.
Perhaps I'll throw in a few leaves of that African Blue Basil, too.
Happy (official) summer! We'll see you on Instagram @cookthevineyard.
P.S. Did you see Martha's Vineyard magazine's feature on Jenny DeVivo? Check out "Not Your Average Lunch Lady" and be sure to catch Jenny's latest tips in "Ask Jenny" below.
---
TASTING
• Beetlebung Farm's first variety tasting of the season is happening Wednesday, June 29 from 5 p.m. to 6 p.m. Participants will compare the flavors and characteristics of four pea varieties that are currently growing in their fields: Sugar Ann, Maxigolt, Cascadia and Oregon Giant. $20 (includes a glass of wine and small salad), rain or shine; email mara@beetlebungfarm.org to reserve a spot. Spaces are limited.
CLASSY
• The FARM Institute and Jenny DeVivo are starting a new series of classes on Wednesday evenings, starting today, from 5:30 to 7:30 called Eating What's Fresh and What's Local with Jenny DeVivo. The classes run through August; each one is individually ticketed.
• On Saturday, June 25 from 5:30 to 7 p.m., Chef Charles Granquist will offer grilling tips and cook a three course meal in Grill It Up For Summer at The FARM Institute.
And don't forget, you can find a complete list of open restaurants — as well as farm stands and retail stores — at What's Open on Martha's Vineyard.
---
Q. Help! I love buying and cooking with fresh fruits and vegetables, but I sometimes find that if I don't use them right away, they go a little soft or limp in my fridge. Any tips on how to revive my fresh produce?

A. That's a great question. Don't worry, there's an easy way to bring your fresh produce back to life using water. Yes, a little bit of cold water can bring vegetables and fruits back to life and help you reduce food waste in your home kitchen.

To revive root vegetables such as beets, carrots, potatoes, and radishes, or limp celery, asparagus or broccoli, simply trim the ends and soak the veggies in a glass bowl or mason jar of ice cold water for a few hours or overnight and the veggies will rehydrate and be crisp again.

Bring wilted lettuce, kale and chard back to life by soaking in an ice bath for an hour before using in a salad or vegetable sauté.

Soak too-soft berries in sugar water for a few hours and they'll be syrupy and perfect to top on cakes & ice cream.
---

Jenny Devivo is on a mission to show us (and our kids!) how to cut down on food waste and make the most of what's seasonal and fresh. Got a question for Jenny? Email us!
Follow Jenny @jenny.devivo
Follow us @cookthevineyard