Lightly sweetened, full-flavored and deliriously fragrant, my Blueberry-Lemon Cornmeal Upside-Down Cake takes full advantage of summer's finest blueberries. Baking underneath a layer of lemon-scented cornmeal cake batter, the blueberries simmer away in an easy-to-make caramel sauce allowing the juices to cook down and concentrate their blueberry-ness. The result is a heady flavor and glossy topper. This deceptively easy-to-make cake will add pizzazz to your summer table, whether for breakfast, lunch, or dinner. Leftovers, if you have any, are delicious.
The caramel layer is a simple mixture of melted butter and brown sugar. Once it comes to a boil and you've spread it over the bottom of the cake pan, you're ready to add the fruit. Scatter the berries in an even layer and gently press the berries into the caramel to help keep them in place after you add the cake batter.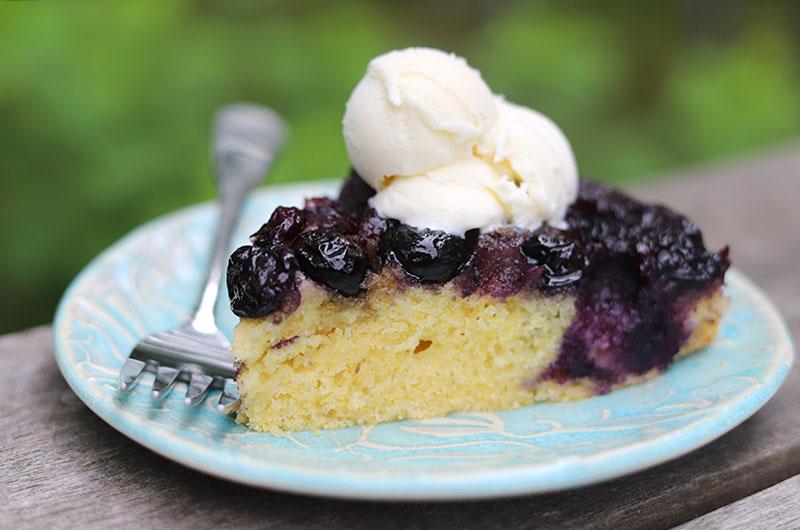 The cake is made quick bread-style: no mixer needed. Yay! Whisk up the dry ingredients in a bowl, whisk together the buttermilk, egg, lemon zest and vanilla (I do this in the same 2-cup measure that I've measured my buttermilk in), then fold the two together along with the melted butter and you're done. Easy-peasy. Spoon the batter over the berries and spread gently to avoid jostling the berries' position. Cornmeal in the batter adds a bit of crunchy texture to the cake, and as a bonus, it soaks up those blueberry juices like a boss.

I went with lemon zest as the accent flavor for its natural brightness, but feel free to go with straight-up vanilla (use a total of 1 1/2 teaspoons and omit the lemon zest) for a more earthy, blueberry-forward flavor profile. Orange is also a lovely dance partner with blueberries (use 2 to 3 teaspoons of zest in place of the lemon). Grated, fresh ginger would be delicious, too (add 1 to 2 teaspoons of finely grated ginger to the buttermilk mixture. You can keep the lemon zest in there too if you'd like). To be honest, you can't make a wrong step when it comes to flavor pairings with this cake.
Worth noting: If you run short of blueberries, add enough hulled and halved (quartered, if large) strawberries to make up the difference (I go by the total weight of fruit) and arrange them cut side up/seeded side down in the caramel. Just delicious!
Be sure to let us know how you like the cake and what flavors you used so that we can all share in each other's culinary journey. Drop a comment on the recipe page after baking! And if you are new to Baking Together, check out the other 24 delicious recipes here.)