This is the time of year when you have to bear with me about the whole rhubarb thing. I realize not everyone gets quite as excited about this vegetable-masquerading-as-a-fruit as I do, but heck, Martha's Vineyard magazine devoted six pages to it in the most recent issue. Did I talk them into that? Not exactly…though I did supply the goods.
In my passionate pursuit of rhubarb versatility, my focus this time around is a Roasted Rhubarb-Strawberry Compote. Roasting is a great technique for reducing the moisture and concentrating the flavor in both rhubarb and strawberries, and it couldn't be easier.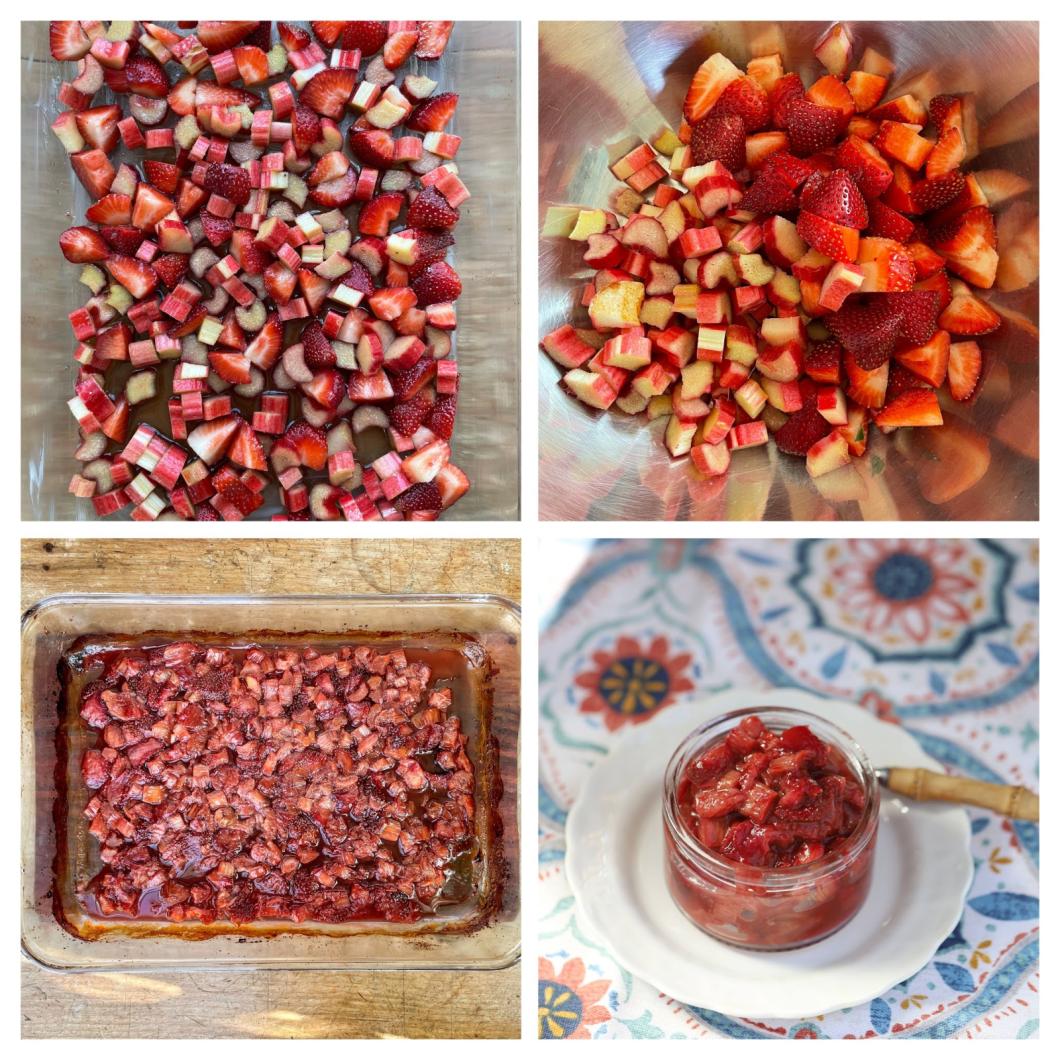 The result is tangy-sweet and has a jammy consistency perfect for filling mini Rustic Tarts. You can also swirl it with Whipped Mascarpone Cream and buttery graham cracker crumbs to make a Roasted Rhubarb Strawberry Fool (top photo). Those same ingredients can be layered in a glass to make a trifle or turned into what I call a Foolish Treat in a little mini graham cracker shell. Pretty sweet, huh?
My affection for rhubarb has a lot to do with the fact that it pokes through the ground in my garden way ahead of any other edible, and that cheery color (which can range from crimson to dusty rose to blush or even sage) is just what a winter-on-the-Vineyard survivor needs to keep going. Plus, the darn plants can live to be a hundred years old, so they deserve some respect. (Just please don't eat the leaves.)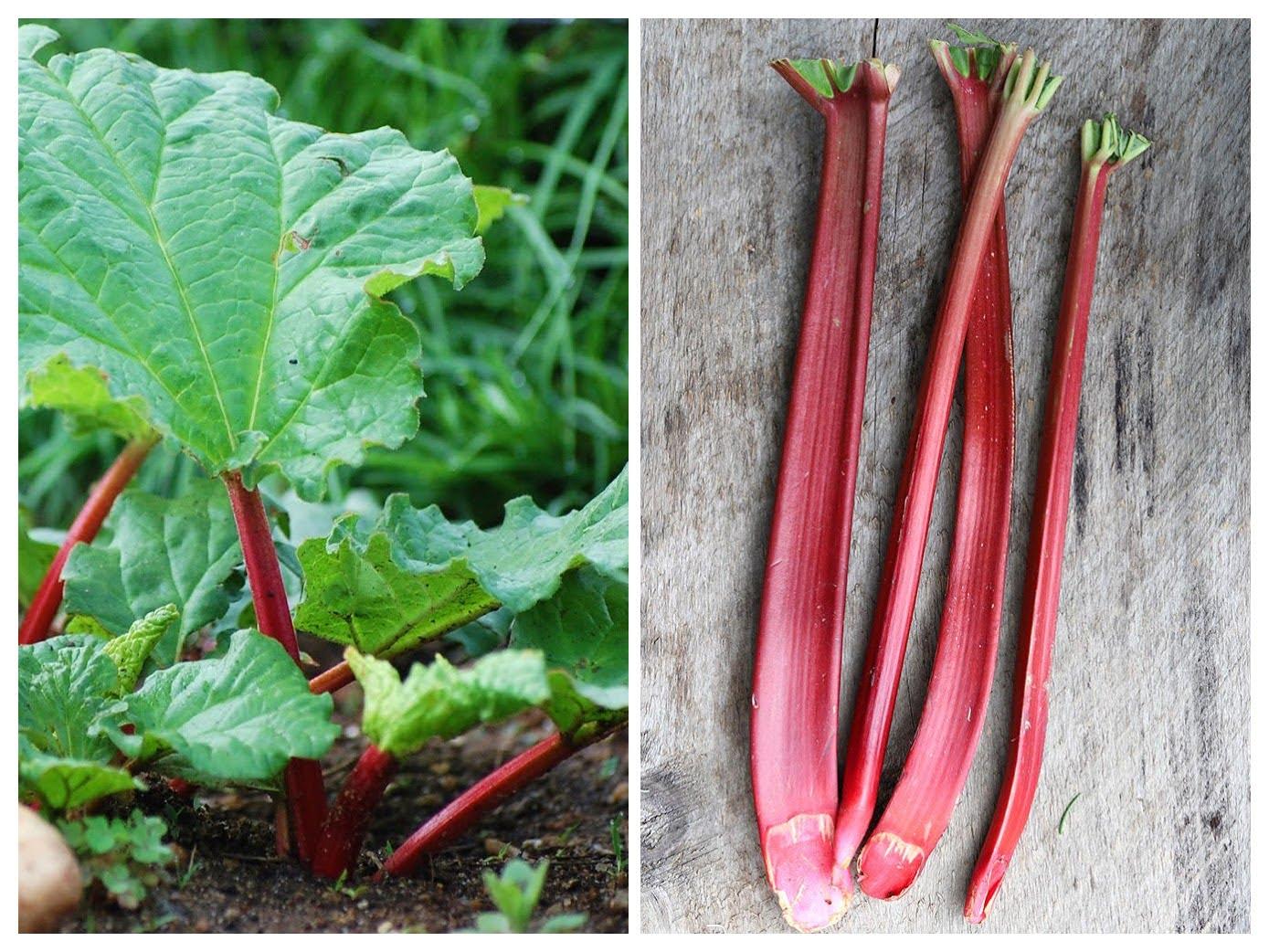 The respect part? I'll make that easy for you: Gingery Strawberry Rhubarb Crisp. So gingery, so good. Everyone likes it.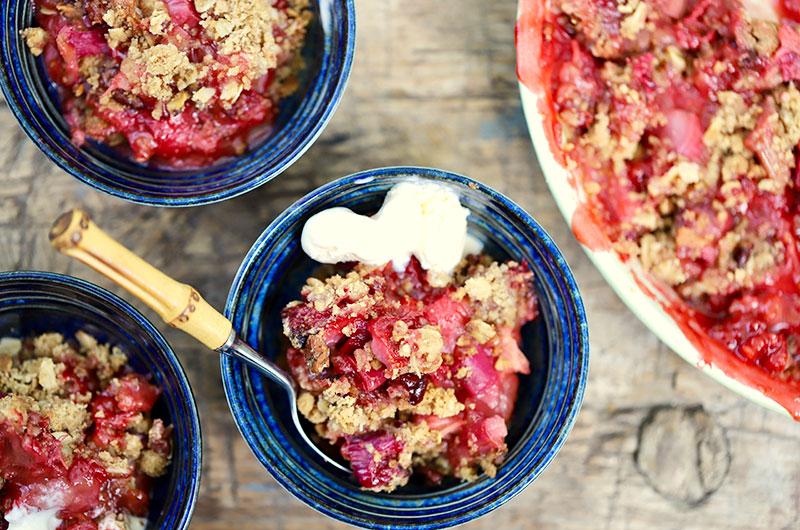 Or you could salute the savory side of rhubarb and try this Vineyard Rhubarb Chutney with grilled pork tenderloin or sausages.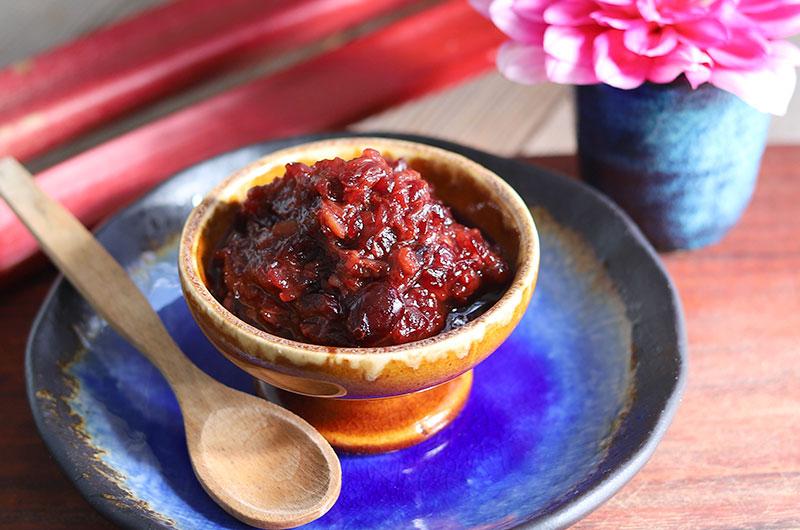 Okay, I've tortured you enough. On to asparagus! I checked in with Morning Glory and it looks like they'll try to harvest asparagus this weekend, weather dependent. Check Instagram for updates. Meanwhile my gardening friends in warmer climes (i.e., Vineyard Haven) are reporting stalks a foot high already. In anticipation of all this delicious asparagus, I offer you this Asparagus & Spring Onion Puff Pastry Tart. It would be a very nice thing to make for Mom Sunday morning.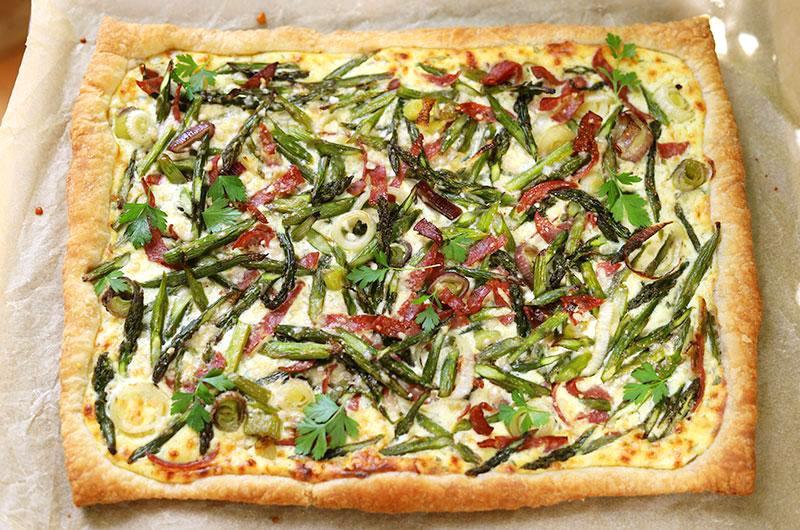 As would this Caramelized Leek Tart with Blue Cheese, Bacon & Thyme.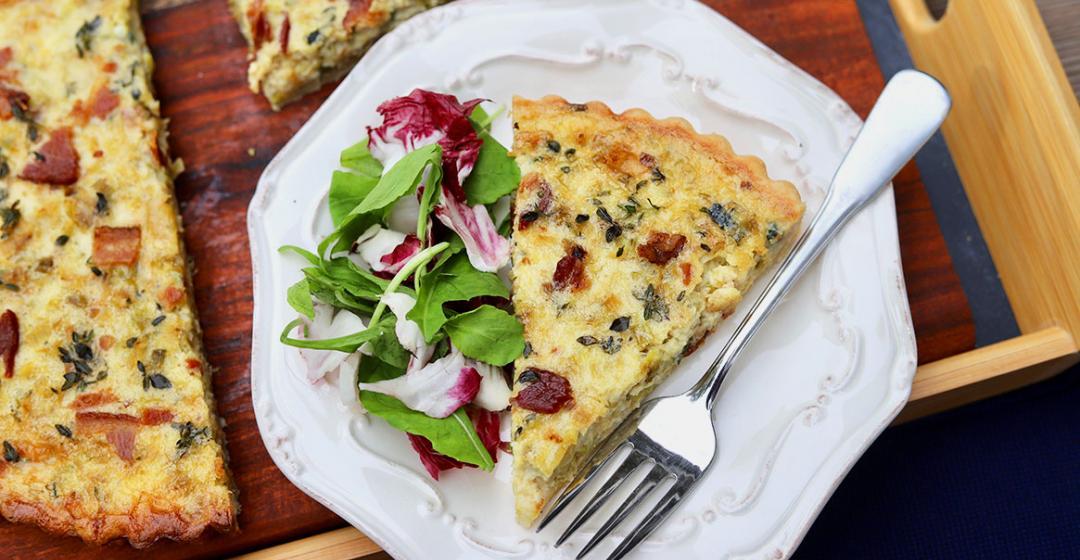 I did find beautiful farm-grown red scallions and chives at Morning Glory (as well as rhubarb!) when I went hunting for the asparagus. You could add those to either of those tarts. I've been tossing them into salads and sautés.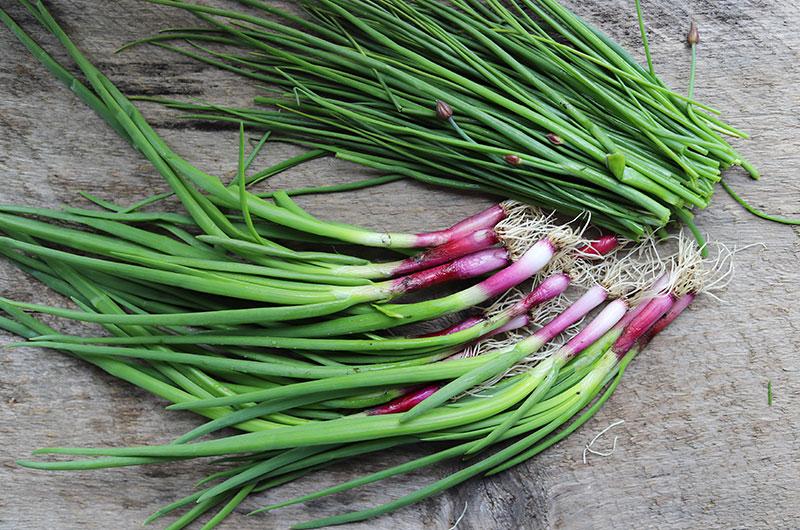 If you really want to make Mom's day, head up to Beetlebung Farm this morning (Wednesday) or Saturday morning (10 a.m. to 1 p.m.) for a Salt Rock Chocolate Spring Pop-Up and get her a box of chocolates. While you're there, pick up one of Beetlebung's new salad dressings and a bag of party mix. You're halfway to dinner.
Next week is MV Climate Action Week, and I'll be teaching a great class with Jenny Devivo at The Farm Institute on Thursday, May 12 at 5:30 p.m. It's called Tips and Techniques for Climate-Friendly Cooking, and we'll have a lot of fun showing how to make the most of what's in the fridge and how to cut down on food waste. Sign up if you'd like to join us.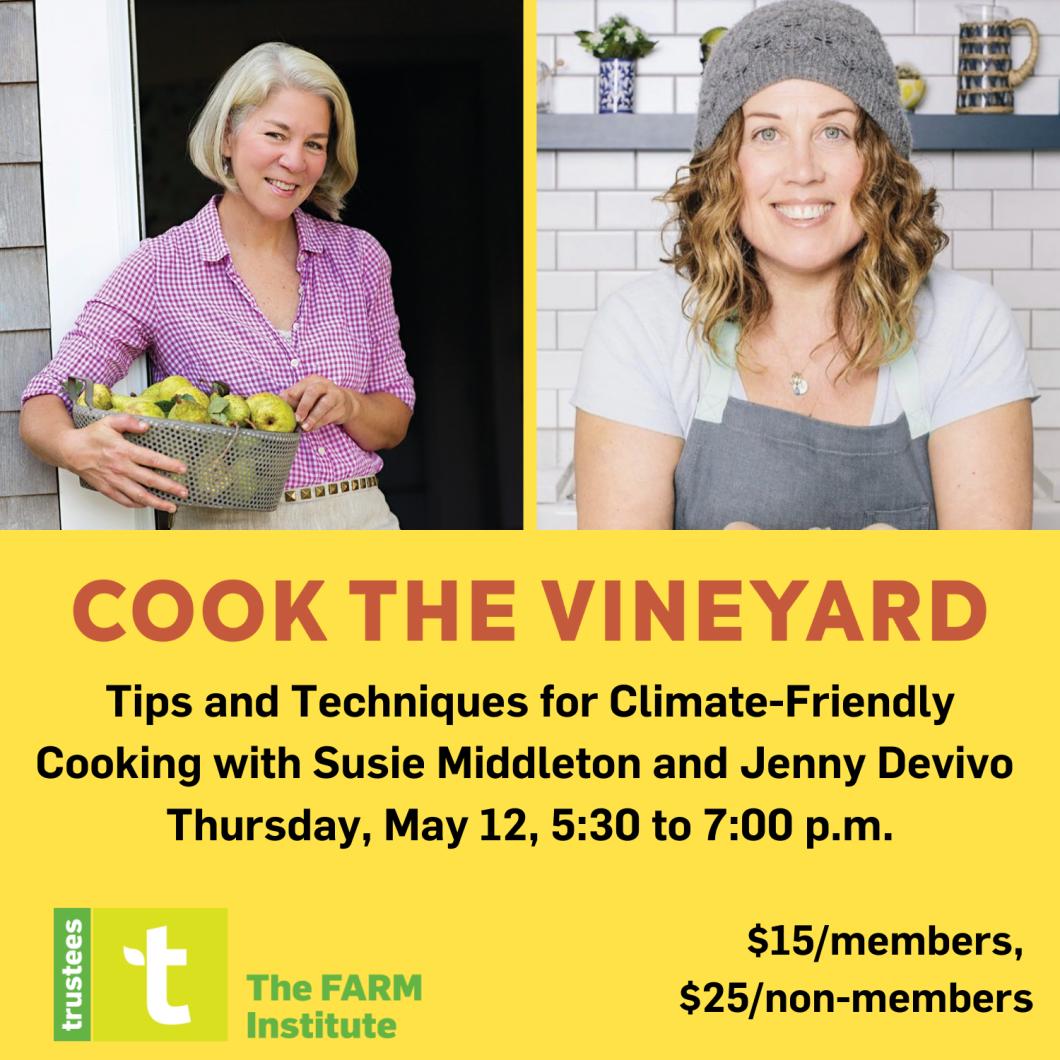 Also, next week we'll be highlighting those climate-friendly cooking tips on Instagram @cookthevineyard. So make sure you're following us, and we'll see you there!
---
What's Open on the Vineyard
EAT LOCAL
• Enjoy a 5-course prix fixe dinner focusing on local ingredients at the Sweet Life Café on Tuesday, May 10. This is a Climate Action Week event. Call The Sweet Life Café for reservations: 508-696-0200.
FOR MOM
• Fantzye Bagels will be popping up at Merry Farm Pottery on Saturday from 10 a.m. to 1 p.m. Bouquets from Piecemeal Farm will be available, too. Pre-order bagels and bouquets for pick-up.
• The Pawnee House reopens for the season on Sunday, May 8, with a Mother's Day brunch from 10 a.m. to 2 p.m.
RUN FOR THE ROSES
• Join the Kentucky Derby Party at Alchemy restaurant on Saturday, May 7 from 5 to 7 p.m.
OPEN FOR BUSINESS
• Chesca's reopens for the season today, May 4.
• Big Dipper Ice Cream & Deli/Carousel Ice Cream Factory reopens tomorrow, May 5.
• On Friday, May 6, Farm Neck Cafe reopens for the season.
• And The Ice Cream & Candy Bazaar in Edgartown opens May 6 as well.