I developed this recipe with some young, slim, purple baby bok choy (which I normally quarter lengthwise before cooking), but I've used the same method for larger baby bok choy – I just cut the heads lengthwise into six or eight pieces instead of four. This whole recipe takes less than 15 minutes to prepare so have the rest of your dinner ready before you start cooking. This serves two as a side dish, but you can increase the amounts by 1 ½ or 2 times and still use your stir-fry pan. Baby bok choy shrinks down quite a bit when it cooks.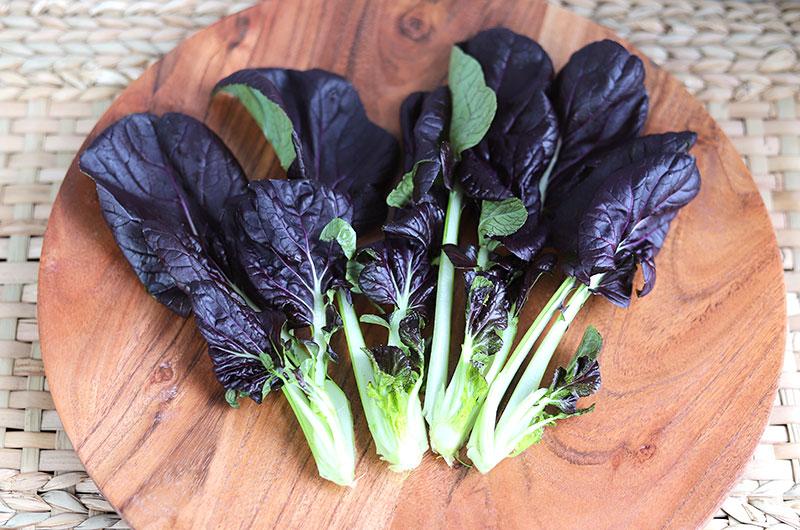 Serves 2 as a side dish
8 ounces slim baby bok choy (this will be about 5 or 6 very small heads or 2 or 3 slightly bigger heads)
2 teaspoons oyster sauce
1 teaspoon mirin
¼ teaspoon kosher salt
1 tablespoon grapeseed oil or other neutral oil
1 large garlic clove, thinly sliced

1. Cut the baby bok choy lengthwise into quarters. If the baby bok choy have not been washed, submerge the pieces in tepid water for a few minutes, swishing them around occasionally. Set on dishtowels to drip dry or spin in a salad spinner.
2. Combine the oyster sauce, mirin and a teaspoon of water in a small dish. Stir together.
3. Heat the oil in a large nonstick stir-fry pan (or wok) over medium heat and add the garlic slices. Cook, stirring, until just starting to turn brown, about 30 seconds.
4. Add the baby bok choy and the salt and turn the heat to high (or medium-high-ish, depending on how full your pan is). Using tongs, toss and spread the vegetables out in the pan and leave for a minute or two. Stir and continue cooking, tossing occasionally and then more frequently, until the bok choy stems are tender, somewhat browned, and glistening (the leaves will be very wilted), about 6 to 8 minutes.
5. Add the oyster sauce mixture, immediately drop the temperature to medium low, and stir and toss the sauce over the bok choy and garlic. Transfer immediately to serving dishes.