National Pie Day may be in January, but here on the Vineyard, the entire third week of August is Pie Week. At least it is in my mind, so I'm going to roll with this idea, and I hope you will, too. Maybe we'll get something started. After all, Pie Chicks' Chrissy Kinsman (The Life of Pie) says pie has magical powers.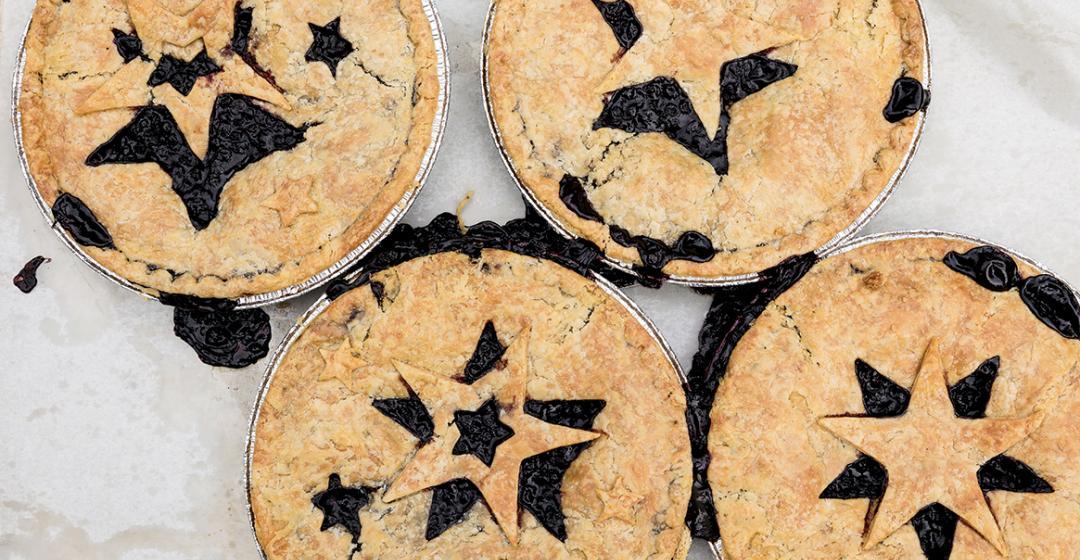 "Saving the world one pie at a time" is her motto. At this point, I'll take that!
Let Chrissy lead you down the pie road with her Master Recipe for Fruit Pie.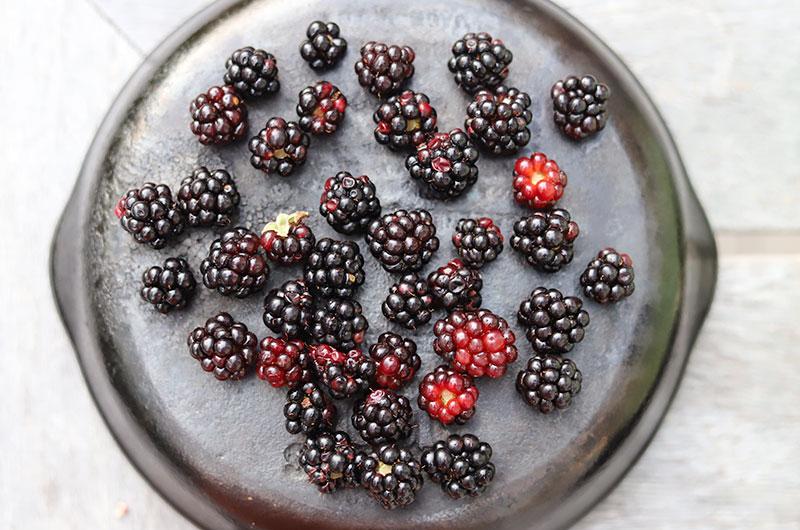 Some of us are berry-picking this week in our secret spots. Mine is a thicket of blackberry brambles in a field of Joe Pye weed. I have to lean through a cattle-panel fence and stab myself repeatedly with prickers, but I'm as happy as Pooh in a honey jar when I'm picking.
My blackberries went into rustic tarts rather than pies, as I'm a creature of habit and make these freeform pastries on repeat every summer. I made a (mini) peach one this weekend, too, and it mysteriously slipped out of sight before it was even cool…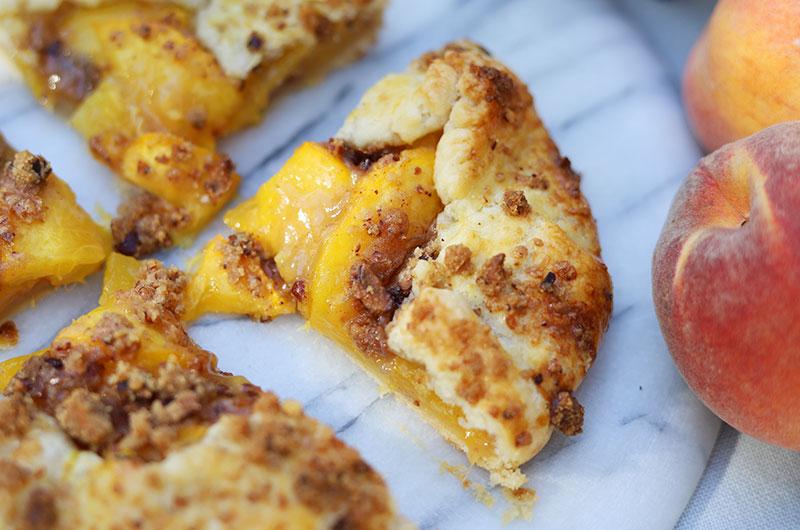 Okay, okay – you do not want to make pie dough of any sort this week, I get it. You can still get your baking endorphins going and have your fruity filling too by making a crisp. This time last summer I substituted plums for the fruit in this Gingery Strawberry Rhubarb Crisp with great success.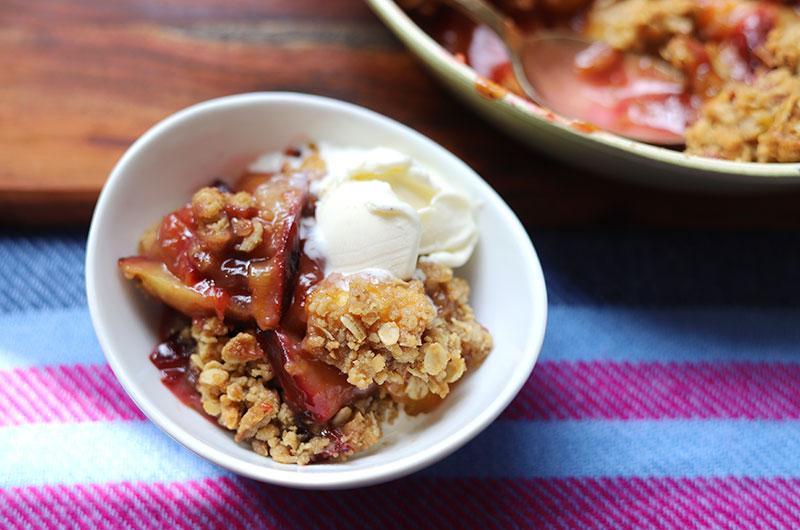 And there's always the Vineyard classic, Louise Tate King's Blueberry Crisp.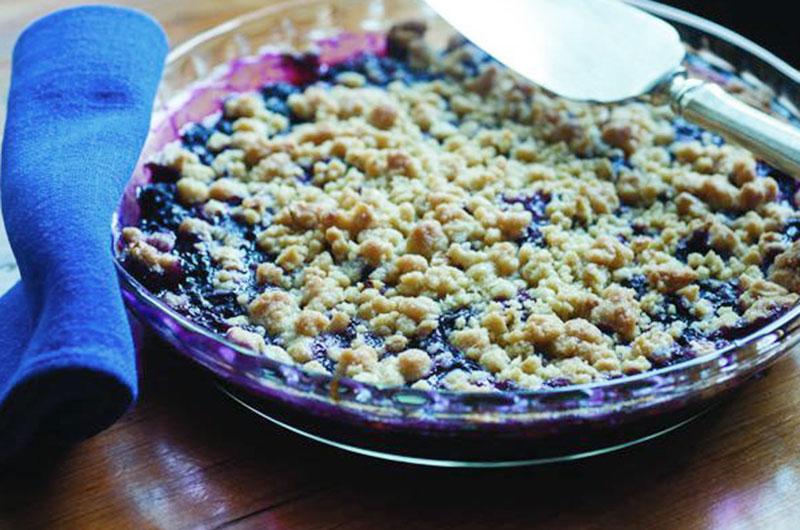 If you prefer your fruit without the butter and flour, try making jelly or jam. My friend and co-worker Steve (who will soon be haunting his secret Beach Plum patch) gathered Concord grapes from a friend's vines and made jelly this week. Two tips from Steve: throw some apples into the berry mix for the pectin they contribute (better jelling!); don't rush the process – go slow and work in small batches. You could also try Sarah Waldman's Concord Grape Jam recipe.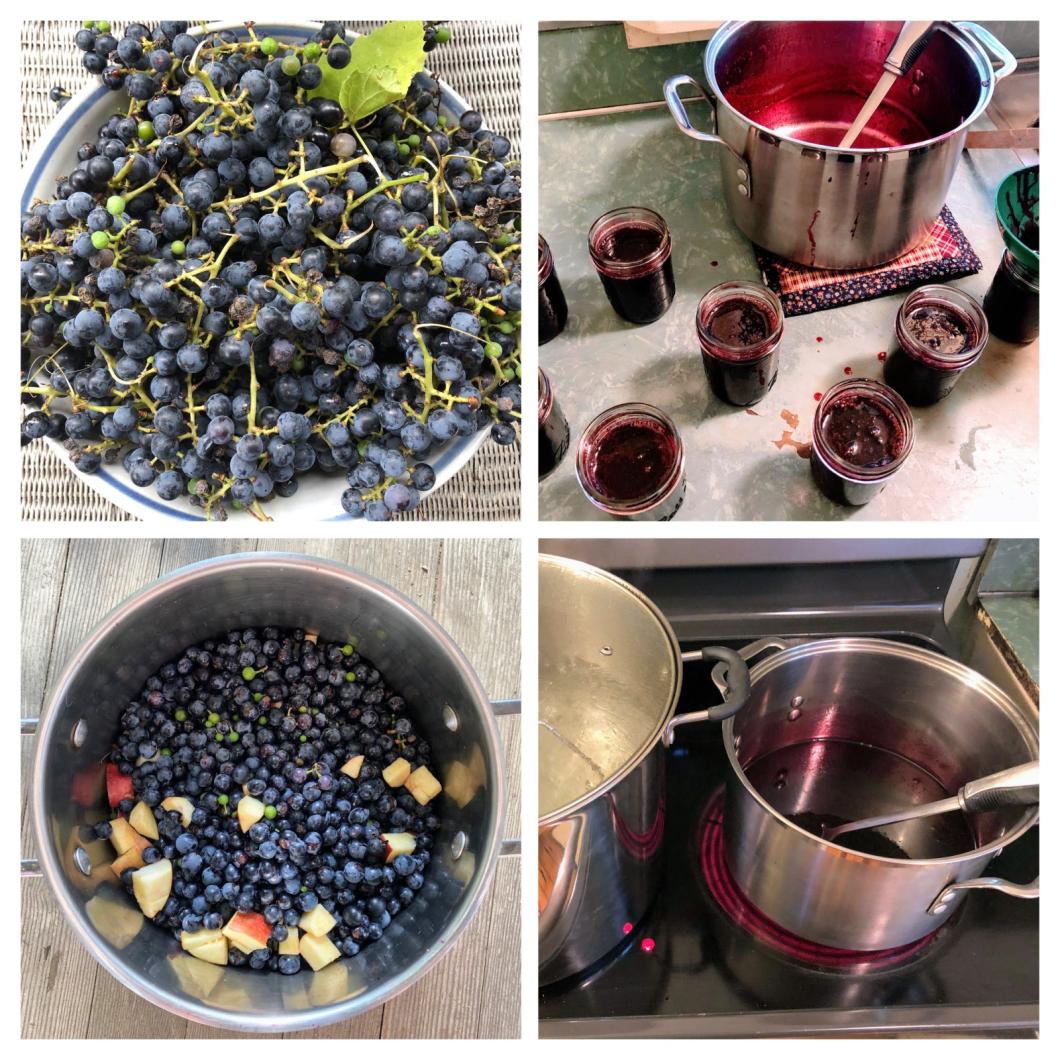 Out of the blue, I felt like cooking a whole spatchcocked chicken on the grill this week. Maybe the (slightly) cooler temps set this off, but I was also craving the heady flavors of a spice rub. (I used the one in the Spiced Chicken Brochettes recipe.)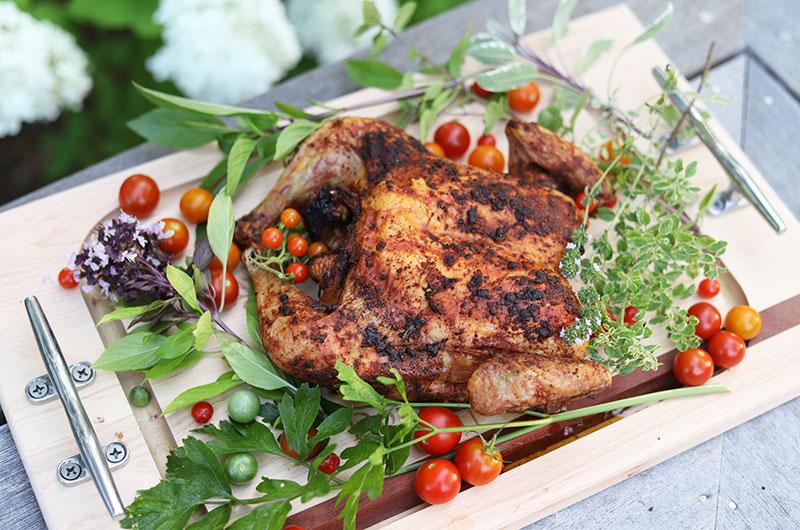 You won't believe me, but this was super easy – if you have poultry shears and can manage to snip the backbone out of a chicken, you are practically done with dinner prep. The bird cooks itself on the grill (over a cool burner or the cool side of a charcoal grill) while you water the garden, make a salad, and put together a little sauce or salsa to serve with the chicken. (I've amended the directions for Butterflied Spice-Rubbed Roast Chicken to include the grilling option. But of course that also means you can do this in your oven if you don't have a grill.)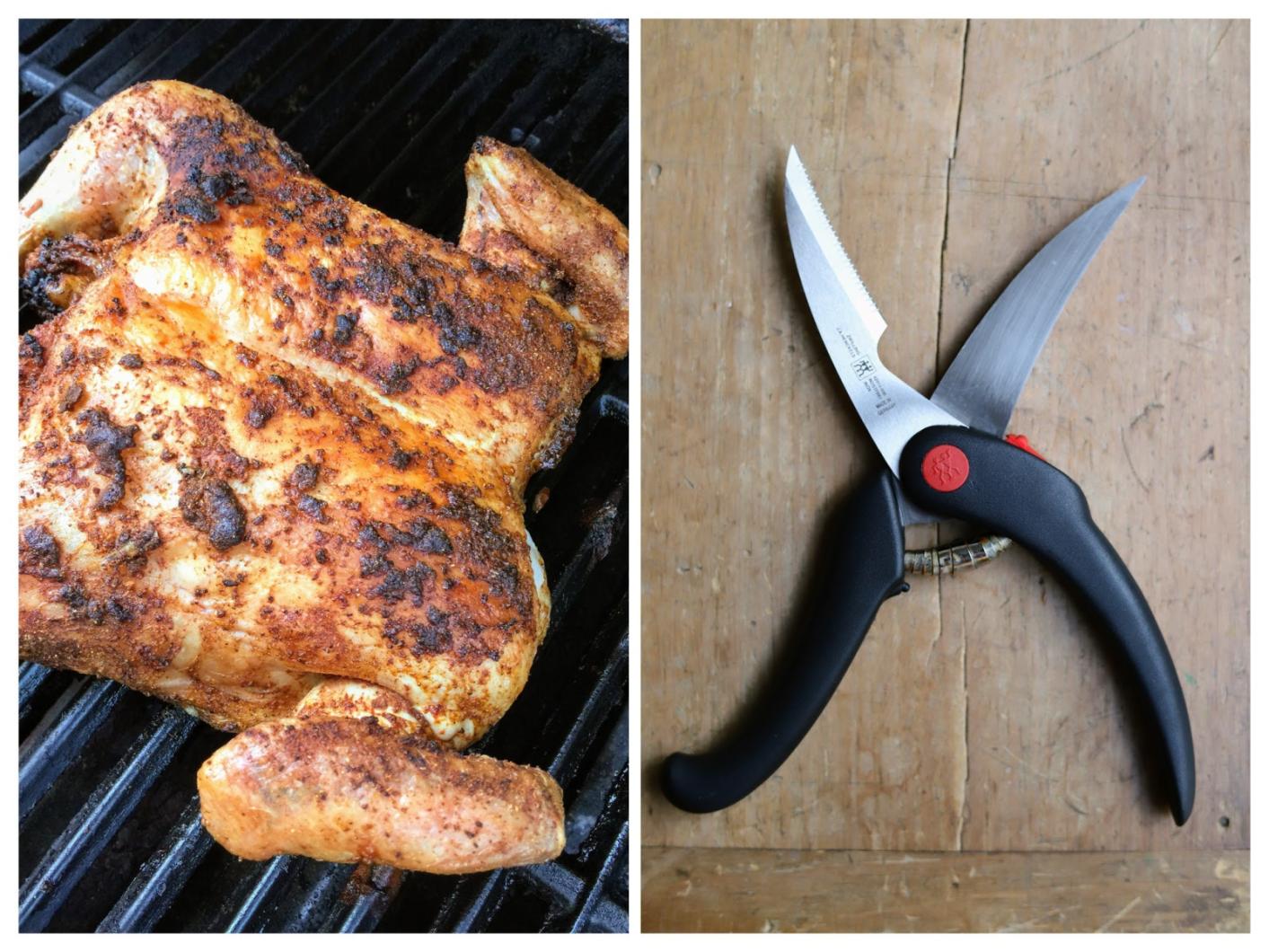 I served my chicken with something like the Double-Tomato Dressing we mentioned in last week's newsletter (scroll down to the bottom of the salad recipe). But Salsa Fresca with Serranos, Cilantro and Lime or something like this Chunky Olive and Sundried Tomato Topping might be nice. Or Limey Drizzling Sauce. Add warm tortillas if you like.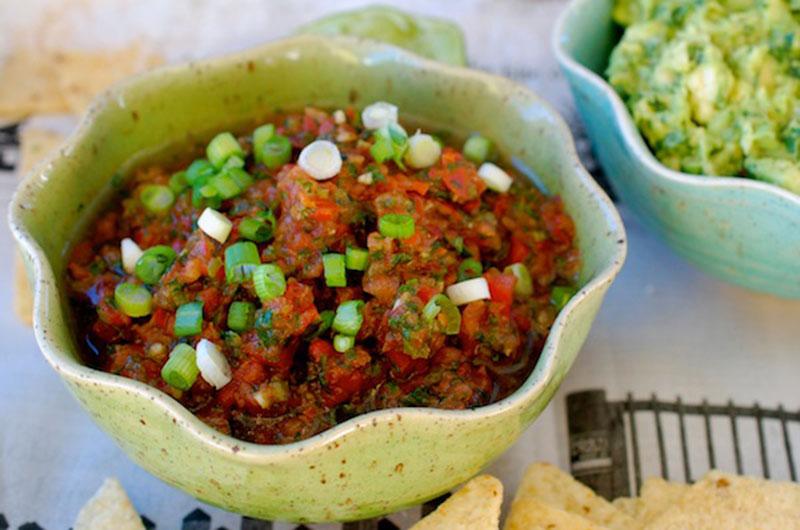 More food adventures lie ahead at the Fair if you're heading that way. (Bring a mask for indoor exhibits.) And the Farmers' Market will be set up Saturday morning near the riding ring. There's no market today during Fair set-up.
Happy Pie Week! We'll see you on Instagram @cookthevineyard.