This charming fruit-topped one layer cake is my go-to summer superhero and perhaps the most versatile number in my baking repertoire. It's a delightful morning cake, a sweet tooth satisfier alongside my afternoon cup of tea and yes, it's even a great dinner party dessert.
In addition to being my favorite dessert/snacking cake chameleon, this beauty requires only minimal time to whip up – perfect for summer days when I'd rather be gardening or beaching. Should I change its name to "low stress = big reward" cake? While true enough, I'll stick to Fruit-Topped Lemon Ricotta Snack Cake, but I hope you get the idea.
The moist, light and tender ricotta cake is a sturdy partner to just about any summer fruit you have on hand. A good handful or raspberries or blueberries or diced peaches all work well even if they are a bit past their prime. On the flip side, if you're dealing with slightly under-ripe fruit, add a squeeze of lemon juice or a touch more sugar to the topping to help bring out the flavors. One word of caution: Don't go overboard on the amount of fruit. Adding too much – even lovely ripe fruit – will weigh down the batter and leave you with a dense, heavy cake.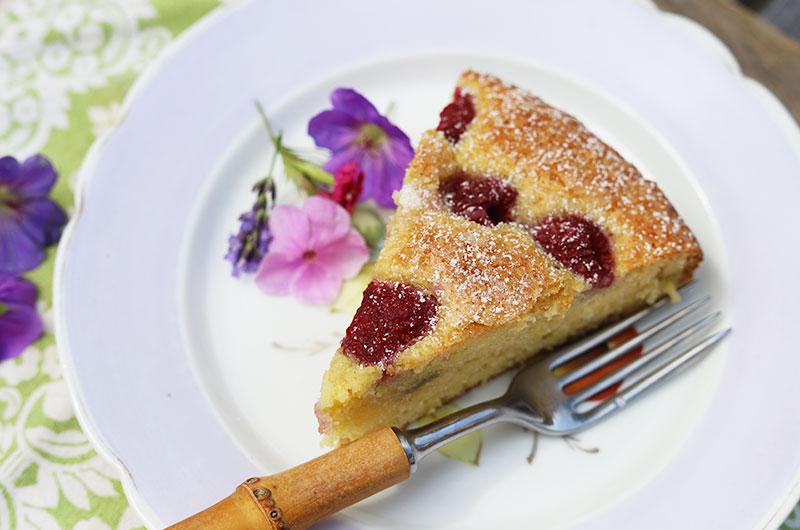 I usually serve this cake "as is" but if I'm feeling fancy, I'll top the cake with a sweet dusting of confectioners' sugar or I'll serve wedges with a drizzle of berry sauce or a dollop of lightly sweetened whipped cream. Sometimes, I'll even do all three! Of course, a scoop of vanilla ice cream would not be turned away, either.
The cake is delicious warm, just 15 or 20 minutes out of the oven, but you can make it ahead. When cool, cover and stow at room temperature. After slicing, covered leftovers will keep for up to three days.
I use a 9-inch cake pan for this and in addition to the grease-and-flour treatment, I like to add a round of parchment paper on the bottom of the pan for easier removal.
Serves 8
For the topping:
5 ounces berries (such as raspberries or blueberries, about 1 cup) or diced stone-fruit (such as peaches or nectarines, about 3/4 cup)
1 tablespoon granulated sugar
2 teaspoons all-purpose flour
For the cake:
1 1/3 cups (6 ounces) all-purpose flour
1/2 teaspoon baking powder
1/2 teaspoon table salt
1/4 teaspoon baking soda
6 tablespoons (3 ounces) unsalted butter, at room temperature
1 cup (7 ounces) granulated sugar
2 large eggs, at room temperature
1 1/2 teaspoons finely grated lemon zest
1 teaspoon pure vanilla extract
2/3 cup (5 5/8 ounces) ricotta, at room temperature (whole or part skim)
2 tablespoons coarse sanding sugar (optional)
Make the topping
1. Combine the fruit, granulated sugar and flour in a medium bowl and stir and lightly crush with a fork until the ingredients are well combined.
Make the cake
1. Position a rack in the center of the oven and heat the oven to 350°F. Lightly grease and flour a 9" x 2" round cake pan. (Optional: After greasing the pan, line the bottom with a parchment circle, lightly grease the paper and flour the bottom and sides.)
2. Whisk the flour, baking powder, salt and baking soda in a medium bowl until well blended. Put the butter in the bowl of a stand mixer fitted with the paddle attachment (or in a large bowl using an electric handheld mixer fitted with wire beaters). Beat on medium speed until creamy and smooth, about one minute. Add the sugar and beat until fluffy and lighter in color, 1 to 2 minutes.
3. Add the eggs one at a time beating on medium speed until well blended. Add the remaining egg, lemon zest and vanilla and beat on medium speed until well blended. Add half of the flour mixture and, using a rubber spatula (instead of the electric mixer), fold until the flour is just blended. Add the ricotta and fold until blended and fold in the remaining flour until just incorporated.
4. Scrape the batter into the prepared pan and spread evenly. Scatter the fruit topping evenly over the batter and sprinkle with coarse sanding sugar, if using. Bake until a toothpick inserted in the center of the cake comes out clean, about 40 to 42 minutes.
5. Move the pan to a rack and let cool for at least 15 minutes. Run a small knife around the edge of the pan to loosen the cake. Cover the cake pan with a wire rack, invert and remove the pan. Using a flat serving plate, invert again so that fruit is on top of the cake. Serve warm or at room temperature. The cake can be cooled, covered and stowed for up to 3 days at room temperature.