I have a pen pal in France (a cooking pen pal!). Mary Margaret Chappell and I have never met, but over many years of working together as food editors and writers, we became long-distance friends. Thirteen years ago, Mary Margaret moved to Cancale, France, and I moved to Martha's Vineyard – two beautiful coastal spots with a strong fishing and cooking culture.
Mary Margaret now lives right on the harbor in a 19th century stone fisherman's house where her sunny kitchen has a view of the water and all the activity it generates. She loves to dig clams, forage for greens, and shop the robust seafood markets in her small town, which is famous for its oyster farms. In normal times, when she's not developing recipes, she's cooking for friends or teaching cooking classes.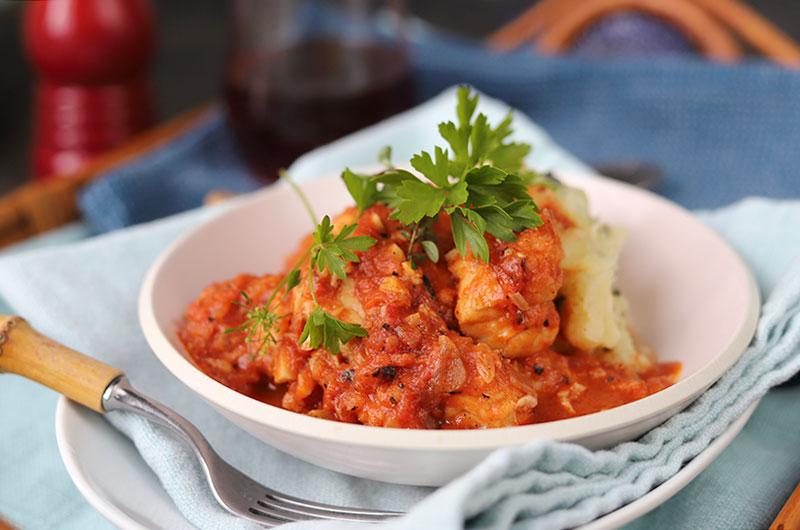 With overseas travel still difficult, I thought it might be nice if Mary Margaret transported us to Brittany with a menu completely appropriate for Martha's Vineyard. In fact when she suggested Monkfish à l'Armoricaine (a delicious seafood stew), I immediately said yes, as Mike Holtham at The Net Result and I have talked about how delicious this bottom-feeding (and very ugly!) fish is. (A bottom-feeder eats crustaceans which gives it a rich, sweet flavor.) Our local fishermen currently bring it in as bycatch when fishing for flounder. We should cook with it more.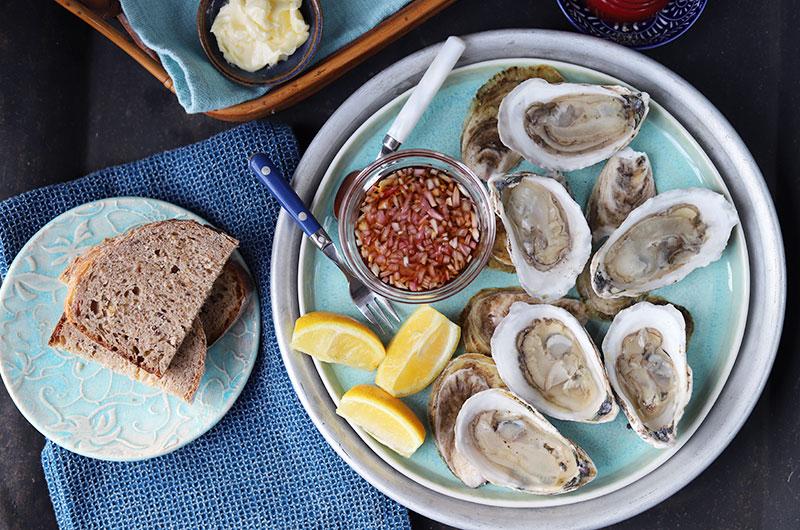 Naturally, Mary Margaret's menu begins with fresh oysters. Oysters on the Half Shell "à la Cancalaise" is a typically French presentation of fresh oysters — served with mignonette sauce and lemon wedges, with plenty of bread and butter on the side. Mary Margaret adds a twist of fresh pepper, a trick she learned from a visit to Chef Olivier Roellinger's Michelin-starred restaurant, Le Coquillage (now run by his son Hugo), in Cancale.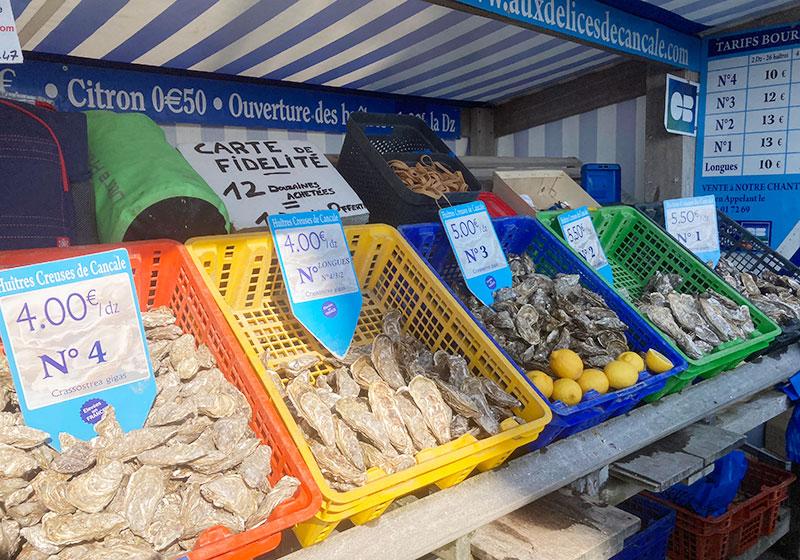 When we made the menu at home, we got a dozen Honeysuckle Oyster Farm (Katama Bay) oysters from The Net Result, and they were perfect. But since we have so many wonderful oyster farms on the Vineyard, getting some from a few different farms would be fun. (By the way, if you want to learn to shuck an oyster, watch this video from Cottage City Farm's Greg Martino.) And be sure to follow @mvoysterfest for news about this fall's Martha's Vineyard Oyster Festival.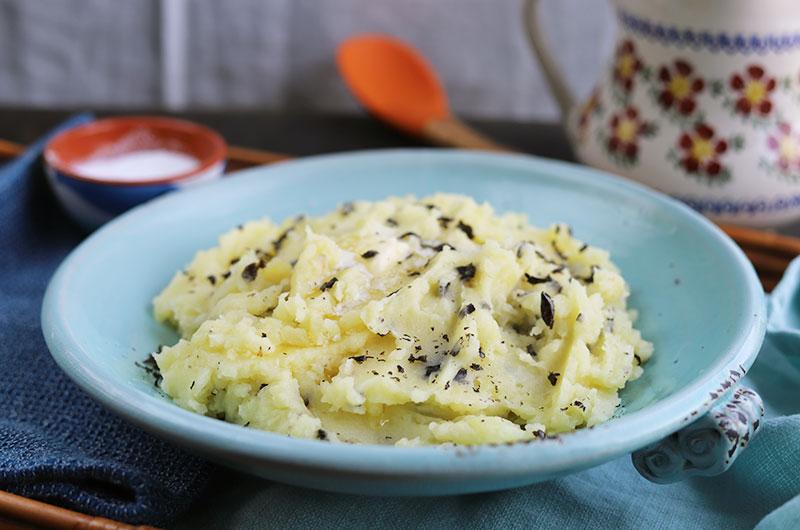 Mary Margaret serves the monkfish stew over Buttermilk-Nori Mashed Potatoes, a nod to two local ingredients. Bretons love their potatoes, she says, and seaweed is plentiful in Cancale! The stew, which I intend to make again and again, especially when friends can come over, can be served over rice, too. Or just plain Creamy Mashed Yukon Gold Potatoes.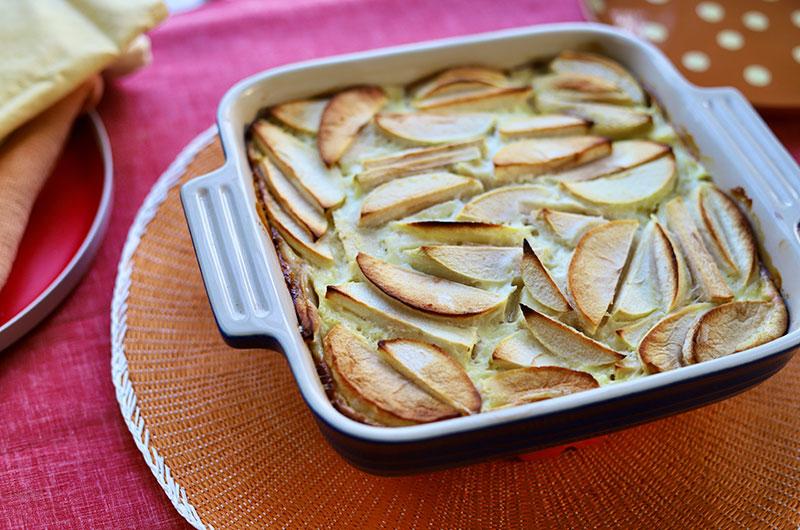 And finally for dessert, an Apple Far Breton. Far Breton is a flan-like custard, particular to Brittany. It's a bit like a clafoutis, but more refined, and oh so comforting and delicious. Often made with Armagnac-soaked prunes, this one is made with apples. You begin baking the far in a hot oven and then drop the temperature a bit to cook the custard perfectly. This technique mimics the old tradition of bringing the casserole to the town communal bread oven to bake while the fire dies. (And by the way, leftovers are good for days and make delicious snacks!)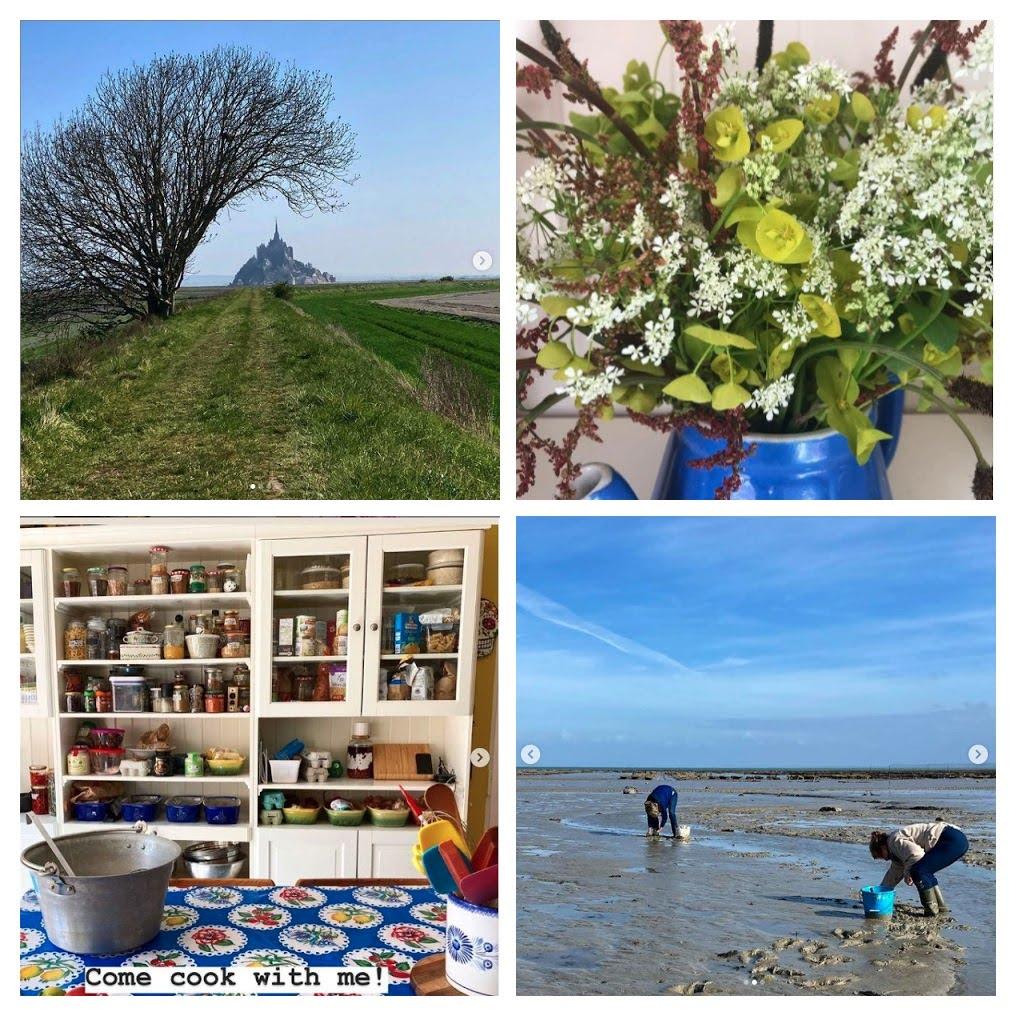 Before you start cooking, be sure to read Mary Margaret's introduction, "A Menu From My Cancale Kitchen." You'll also enjoy visiting her website, My Cancale Kitchen, and following her cooking and foraging adventures on Instagram @mycancalekitchen. And while you're on Instagram, don't forget to follow us, too, @cookthevineyard (aka FaireCuireLeVignoble!).
Bien Manger!