Now that we're all into #sheetpandinners, it's time to embrace quarter sheet pans. Yes, the commercial sheet pan size we use at home is actually called a half sheet pan, because it is half the size of a full size sheet pan used in restaurants. But you can also buy quarter sheet pans — ones that are, naturally, half the size of half sheet pans! A quarter sheet pan measures 13" x 9" x ¾", whereas a half sheet pan measures 13" x 18" x ¾".
I use my quarter sheet pans for everything, from toasting nuts to roasting vegetables. Because they're so sturdy, they never buckle. I know you won't be sorry if you add one or two to your batterie de cuisine.
So I planned this salmon and crispy potatoes to fit on a quarter sheet pan and to serve those of us with smaller households. That said, if you have a sturdy rimmed cookie sheet that's close in size, you can certainly use that instead. You can also double this recipe and put it on a half sheet pan.
The trick with this recipe is to get the layer of potatoes cooked through and starting to crisp up (but not too golden) before you add the salmon pieces to the pan. The salmon won't take long to cook through in a 425 degree oven (10 to 15 minutes), and that's just about the right amount of time for the potatoes to finish browning and give you the perfect crisp-tender layer. Take care not to overbrown the potatoes before you add the salmon, but also don't worry if some of the potato slices around the edges brown more. They'll be extra crispy!

This recipe is designed to serve two or three people, and you can use anywhere from ¾ lb. to 1 ¼ lbs. salmon, cut into either two or three pieces.
Serves 2 or 3
13 to 14 ounces small red potatoes (about 7 or 8 small or baby red potatoes)
2 tablespoons olive oil
Kosher salt
¼ cup grated Parmigiano Regianno
2 tablespoons mayonnaise
1 tablespoon Dijon mustard
2 teaspoons lemon zest
2 teaspoons fresh lemon juice
4 teaspoons roughly chopped parsley, separated, plus more parsley leaves or chopped parsley for garnish
3/4 pound to 1 ¼ pounds salmon filet (preferably Faroe Island, preferably of even thickness)
Lemon slices for garnish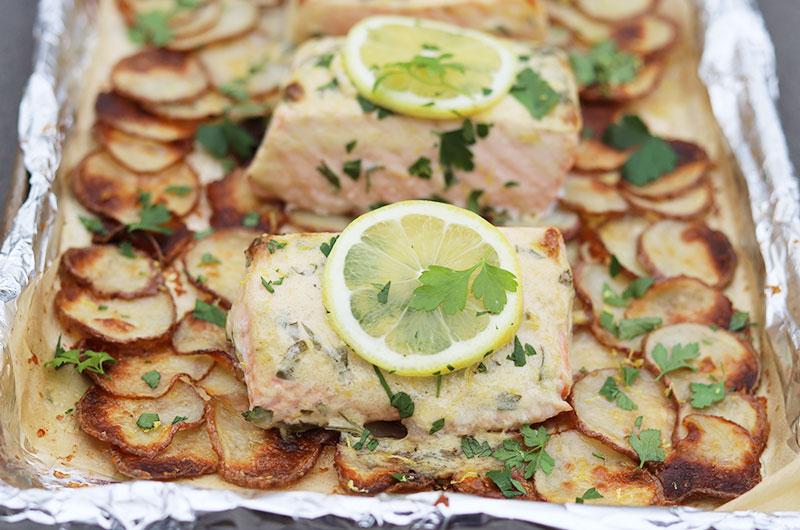 1. Heat the oven to 425 degrees F. Cover a quarter sheet pan or other heavy-duty rimmed small (13" x 9") baking pan with aluminum foil. Lay a piece of parchment paper on top of the foil.
2. Slice the red potatoes very thinly (but not paper thin), discarding the ends. Put the potatoes, olive oil, ½ teaspoon salt, and the Parmigiano in a mixing bowl and toss until well-mixed. Transfer the seasoned potatoes (scraping any oil out of the bowl with them) onto the baking sheet and arrange the potatoes in one layer, with slices slightly overlapping each other. (You don't have to make neat rows or go crazy with this; just aim for one layer of overlapping potato slices.)
3. Bake the potatoes until tender and turning a light golden brown (they will be somewhat shrunken), about 25 to 28 minutes. Remove the baking sheet from the oven.
4. In a small bowl, whisk together the mayonnaise, the mustard, one teaspoon of the lemon zest, the lemon juice, and two teaspoons of the chopped parsley. In a separate small bowl, combine the remaining teaspoon of lemon zest with the remaining two teaspoons of parsley and reserve for garnish.
5. Cut the salmon into two or three equal-sized pieces. (I prefer squares or rectangles over strips.) Season them all over with salt.
6. Arrange the salmon pieces, spaced equally apart, on top of the potatoes. Using a spoon or brush, coat the tops and sides of each piece of salmon with the mayonnaise mixture.
7. Return the pan to the oven and roast just until the salmon is tender and just cooked through, 10 to 14 minutes. The potatoes will be browned and crisp.
8. To serve, garnish each salmon piece with a lemon slice and sprinkle the reserved zest and parsley mixture over the fish and potatoes. Use a metal spatula to transfer a portion of the potatoes (cutting through some if necessary) and a piece of salmon to each plate. Serve right away.